Electrospun MnxCo0.5−xSn0.5O2 and SnO2 porous nanofibers and nanoparticles as anode materials for lithium-ion battery
Abstract
The specific capacity (781 mAh g−1) of SnO2 as anode materials for lithium-ion batteries (LIBs) is much higher than that of commercial graphite materials (372 mAh g−1), which attracts great attention from researchers. In this paper, a series of MnxCo0.5−xSn0.5O2 (x = 0.00, 0.15, 0.25, 0.35, 0.50) and SnO2 porous nanofibers and nanoparticles are prepared through a single-spinneret electrospinning technique followed by a calcination process. The electrochemical properties of porous nanofibers and nanoparticles have been measured and discussed, and the results show that porous nanofibers have better performance when doped with manganese and cobalt components. With the increase of manganese contents, the electrochemical capability of the batteries is improved. As a demonstration, the Mn0.50Co0.00Sn0.5O2 (x = 0.50) porous nanofibers present the first discharge capacity of 1347.3 mAh g−1, and after 100 cycles, Mn0.50Co0.00Sn0.5O2 possesses the higher discharge capacity of 131.6 mAh g−1 when compared with the other materials.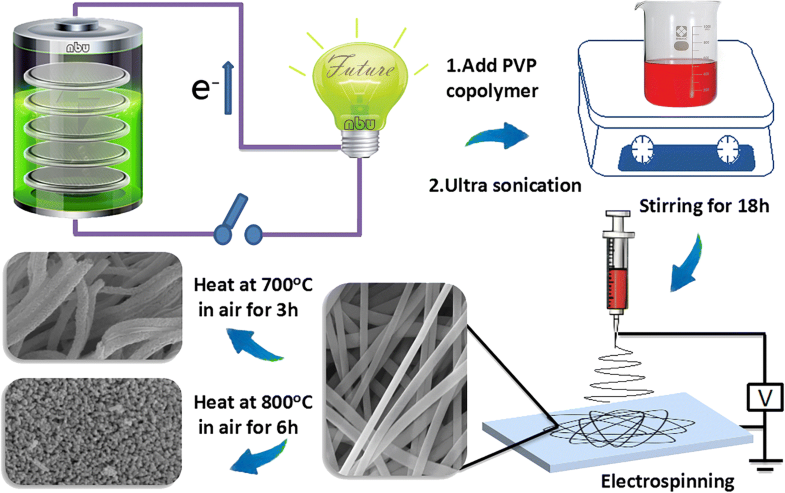 Keywords
Electrospinning 
Porous nanofibers 
Nanoparticles 
Anode materials 
Lithium-ion batteries 
Energy storage 
Notes
Funding information
The work was supported by the National Natural Science Foundation of China (21571110), the Natural Science Foundation of Zhejiang province (LY18B010003) and the K. C. Wong Magna Fund in Ningbo University.
Compliance with ethical standards
Conflict of interest
The authors declare that they have no conflict of interest.
Copyright information
© Springer Nature B.V. 2019