Targeted treatment of CD22-positive non-Hodgkin's lymphoma with sialic acid–modified chitosan-PLGA hybrid nanoparticles
Abstract
B cell–derived non-Hodgkin's lymphoma is a lymphatic system tumor that is a serious threat to human health. It is mainly treated by chemotherapy drugs. However, the lack of targeted performance of drug has always been one of the important reasons for limiting application in clinical. In this study, negatively charged sialic acid (SA)–modified PLGA nanoparticles (NPs) were prepared under the guidance of cationic chitosan, and the anti-tumor drug doxorubicin (DOX) was loaded to obtain DOX/SC-PLGA NP (195.9 ± 2.3 nm). In the drug release experiment, it was revealed that the drug-loaded nanoparticles can be destroyed under acidic conditions to rapidly release the drug due to the charge reversal. In in vitro flow cytometry experiments, SA-modified NP not only can promote more uptake by CD22-positive Raji cells but also can promote upregulation of Bax and downregulation of Bcl-2 expression, thereby promoting tumor cell apoptosis. The MTT assay also confirmed that DOX/SC-PLGA NP can effectively reduce the cell viability of Raji cells and JeKo-1 cells. In the NHL model of Raji cell transplantation tumor mice, DOX/SC-PLGA NP not only shows superior tumor targeting ability but also reduces the enrichment of DOX in the lungs and kidneys, and reduces the myelosuppressive effect of DOX. In the observation of efficacy, it was found that DOX/SC-PLGA NP significantly reduced the tumor volume of NHL. The linear relationship between tumor drug concentration and tumor volume also shows that SC-PLGA NP can better aggregate and exert therapeutic effects in NHL. The above results indicate that SA, as a ligand for CD22, can be used as a good nanomedicine targeting unit for the treatment of NHL models with high CD22 expression.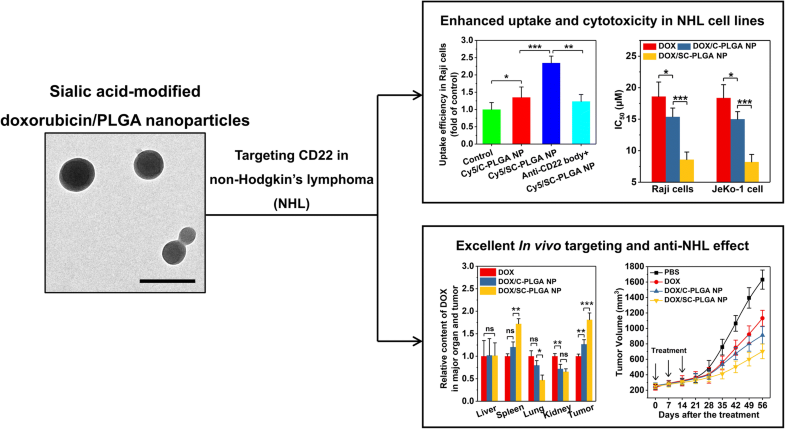 Keywords
Sialic acid 
CD22 
Nanocarrier 
Non-Hodgkin's lymphoma 
Targeted therapy 
Nanomedicine 
Notes
Acknowledgments
Thanks to the Analysis Center of Kunming University of Science and Technology for assistance with TEM.
Compliance with ethical standards
All animal experiments comply with the ARRIVE guidelines and were carried out in accordance with the UK Animals (Scientific Procedures) Act, 1986 and associated guidelines, EU Directive 2010/63/EU for animal experiments.
Conflict of interest
The authors declare that they have no competing interests.
Copyright information
© Springer Nature B.V. 2019