Abstract
Development of both specific receptors against target cancer cells and therapeutic tools using receptor-functionalized nanoplatforms are important in cancer treatment. To address these challenges, we developed KB cell–specific aptamers using systematic evolution of ligands by exponential enrichment (SELEX). Additionally, we combined the targeting properties of aptamers and photothermal characteristics of GNRs. As a result, we generated efficient aptamer-gold nanorods (Apt-GNRs) targeting KB cancer cells and exhibiting photothermal therapeutic effects. When the samples were irradiated with a light-emitting diode at 845 nm, the targeted KB cells showed ~ 80% cell death compared with the unirradiated and aptamer-free control. Based on the low toxicity, biocompatibility, and selectivity of Apt-GNRs, the proposed nanoplatform has significant potential as a cancer therapy in vivo.
This is a preview of subscription content, log in to check access.
Access options
Buy single article
Instant access to the full article PDF.
US$ 39.95
Price includes VAT for USA
Subscribe to journal
Immediate online access to all issues from 2019. Subscription will auto renew annually.
US$ 99
This is the net price. Taxes to be calculated in checkout.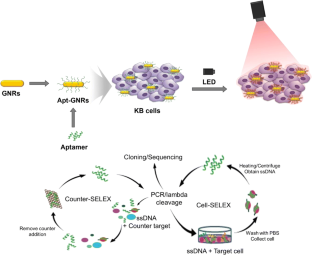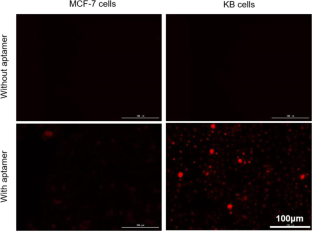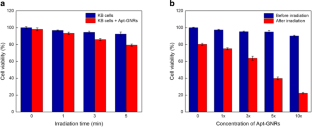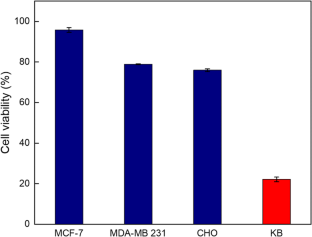 References
Alkilany AM, Thompson LB, Boulos SP, Sisco PN, Murphy CJ (2012) Gold nanorods: their potential for photothermal therapeutics and drug delivery, tempered by the complexity of their biological interactions. Adv Drug Deliv Rev 64:190–199

Black KCL, Yi J, Rivera JG, Zelasko-Leon DC, Messersmithc PB (2013) Biomimetic polydopamine coating on gold nanorods for biofunctionalization, imaging, and photothermal therapy. Proc of SPIE 8598(2013):85980D

Burrows ND, Lin W, Hinman JG, Dennison JM, Vartanian AM, Abadeer NS, Grzincic EM, Jacob LM, Li J, Murphy CJ (2016) Surface chemistry of gold nanorods. Langmuir 32:9905–9921

Cao F, Yao Q, Yang T, Zhang Z, Han Y, Feng J, Wang X (2016) Marriage of antibody–drug conjugate with gold nanorods to achieve multi-modal ablation of breast cancer cells and enhanced photoacoustic performance. RSC Adv 6:46594–46606

Chandrasekaran R, Lee AS, Yap LW, Jans DA, Wagstaff KM, Cheng W (2016) Tumor cell-specific photothermal killing by SELEX-derived DNA aptamer-targeted gold nanorods. Nanoscale 8:187–196

Charan S, Sanjiv K, Singh N, Chien FC, Chen YF, Nergui NN, Huang SH, Kuo CW, Lee TC, Chen P (2012) Development of chitosan oligosaccharide-modified gold nanorods for in vivo targeted delivery and noninvasive imaging by NIR irradiation. Bioconjug Chem 23:2173–2182

Choi J, Park Y, Choi EB, Kim HO, Kim DJ, Hong Y, Ryu SH, Lee JH, Suh JS, Yang J, Huh YM, Haam S (2014) Aptamer-conjugated gold nanorod for photothermal ablation of epidermal growth factor receptor-overexpressed epithelial cancer. J Biomed Opt 19:051203

Fekrazad R, Afzali M, Pasban-Aliabadi H, Esmaeili-Mahani S, Aminizadeh M, Mostafavi A (2017) Cytotoxic effect of thymus caramanicus jalas on human oral epidermoid carcinoma KB cells. Braz Dent J 28:72–77

Gallina ME, Zhou Y, Johnson CJ, Harris-Birtill D, Singh M, Zhao H, Ma D, Cass T, Elson DS (2016) Aptamer-conjugated, fluorescent gold nanorods as potential cancer theradiagnostic agents. Mater Sci Eng C Mater Biol Appl 59:324–332

Huang YF, Sefah K, Bamrungsap S, Chang HT, Tan W (2008) Selective photothermal therapy for mixed cancer cells using aptamer-conjugated nanorods. Langmuir 24:11860–11865

Kim H, Chang JH (2014) Dual thermal therapeutic method for selective treatment of deep-lying tissue. IEEE Int Ultrason Symp 6932195:21–24

Kim JS, Oh D, Yim MJ, Park JJ, Kang KR, Cho IA, Moon SM, Oh JS, You JS, Kim CS, Kim DK, Lee SY, Lee GJ, Im HJ, Kim SG (2015) Berberine induces FasL-related apoptosis through p38 activation in KB human oral cancer cells. Oncol Rep 33:1775–1782

Li J, Zhu B, Zhu Z, Zhang Y, Yao X, Tu S, Liu R, Jia S, Yang CJ (2015) Simple and rapid functionalization of gold nanorods with oligonucleotides using a mPEG-SH/tween 20-assisted approach. Langmuir 31:7869–7876

Li Y, Zhang Y, Zhao M, Zhou Q, Wang L, Wang H, Wang X, Zhan L (2016) A simple aptamer- functionalized gold nanorods based biosensor for the sensitive detection of MCF-7 breast cancer cells. Chem Commun 52:3959–3961

Li TK, Yin K, Chen Z, Bao Y, Zhang SX (2017) MiR-214 regulates oral cancer KB cell apoptosis through targeting RASSF5. Genet Mol Res 16:gmr16019327

Ma Z, Xia H, Liu Y, Liu B, Chen W, Zhao Y (2013) Applications of gold nanorods in biomedical imaging and related fields. Chin Sci Bull 58:2530–2536

Manivasagan P, Hoang G, Santha Moorthy M, Mondal S, Minh Doan VH, Kim H, Vy Phan TT, Nguyen TP, Oh J (2019) Chitosan/fucoidan multilayer coating of gold nanorods as highly efficient near-infrared photothermal agents for cancer therapy. Carbohydr Polym 211:360–369

Neshastehriz A, Tabei M, Maleki S, Eynali S, Shakeri-Zadeh A (2017) Photothermal therapy using folate conjugated gold nanoparticles enhances the effects of 6 MV X-ray on mouth epidermal carcinoma cells. J Photochem Photobiol B 172:52–60

Nguyen KT (2012) Photothermal therapy and nanomaterials. J Bioeng Biomed Sci 2:1000e112

Oh MH, Yu JH, Kim I, Nam YS (2015) Genetically programmed clusters of gold nanoparticles for cancer cell-targeted photothermal therapy. ACS Appl Mater Interfaces 7:22578–22586

Pang X, Cui C, Wan S, Jiang Y, Zhang L, Xia L, Li L, Li X, Tan W (2018) Bioapplications of cell-SELEX-generated aptamers in cancer diagnostics. Ther Theranostics and Biomarker Discov: A Comprehensive Review Cancers 10:E47

Qin J, Peng Z, Li B, Ye K, Zhang Y, Yuan F, Yang X, Huang L, Hu J, Lu X (2015) Gold nanorods as a theranostic platform for in vitro and in vivo imaging and photothermal therapy of inflammatory macrophages. Nanoscale 7:13991–14001

Raji V, Kumar J, Rejiya CS, Vibin M, Shenoi VN, Abraham A (2011) Selective photothermal efficiency of citrate capped gold nanoparticles for destruction of cancer cells. Exp Cell Res 317:2052–2058

Ruff J, Steitz J, Buchkremer A, Noyong M, Hartmann H, Besmehnc A, Simon U (2016) Multivalency of PEG-thiol ligands affects the stability of NIR-absorbing hollow gold nanospheres and gold nanorods. J Mater Chem B 4:2828–2841

Samim M, Prashant CK, Dinda AK, Maitra AN, Arora I (2011) Synthesis and characterization of gold nanorods and their application for photothermal cell damage. Int J Nanomedicine 6:1825–1831

Scully C (2011) Oral cancer aetiopathogenesis; past, present and future aspects. Med Oral Patol Oral Cir Bucal 3:e306–e311

Shokri R, Salouti M, Zanjani RS (2015) Anti protein an antibody-gold nanorods conjugate: a targeting agent for selective killing of methicillin resistant staphylococcus aureus using photothermal therapy method. J Microbiol 53:116–121

Siegel RL, Miller KD, Jemal A (2017) Cancer statistics, 2017. CA Cancer J Clin 67:7–30

Skouridou V, Jauset-Rubio M, Ballester P, Bashammakh AS, El-Shahawi MS, Alyoubi AO, O'Sullivan CK (2017) Selection and characterization of DNA aptamers against the steroid testosterone. Microchim Acta 184:1631–1639

Sugerman PB, Savage NW (1999) Current concepts in oral cancer. Aust Dent J 44:147–156

Wang J, Zhu G, You M, Song E, Shukoor MI, Zhang K, Altman MB, Chen Y, Zhu Z, Huang CZ, Tan W (2012) Assembly of aptamer switch probes and photosensitizer on gold nanorods for targeted photothermal and photodynamic cancer therapy. ACS Nano 6:5070–5077

Wang J, You M, Zhu G, Shukoor MI, Chen Z, Zhao Z, Altman MB, Yuan Q, Zhu Z, Chen Y, Huang CZ, Tan W (2013) Photosensitizer-gold nanorod composite for targeted multimodal therapy. Small 9:3678–3684

Wang X, Gao W, Fan H, Ding D, Lai X, Zou Y, Chen L, Chen Z, Tan W (2016) Simultaneous tracking of drug molecules and carriers using aptamer-functionalized fluorescent superstable gold nanorod-carbon nanocapsules during thermo-chemotherapy. Nanoscale 8:7942–7948

Wang L, Wang R, Chen F, Jiang T, Wang H, Slavik M, Wei H, Li Y (2017a) QCM-based aptamer selection and detection of Salmonella typhimurium. Food Chem 221:776–782

Wang H, Wang J, Wang Q, Chen X, Liu M, Chen H, Pei R (2017b) Selection and characterization of dimethylindole red DNA aptamers for the development of light-up fluorescent probes. Talanta 168:217–221

World Health Organization (2018) Fact sheet on cancer. WHO, Geneva, Switzerland

Yang Y, Liu J, Sun X, Feng L, Zhu W, Liu Z, Chen M (2016) Near-infrared light-activated cancer cell targeting and drug delivery with aptamer-modified nanostructures. Nano Res 9:139–148

Yasun E, Kang H, Erdal H, Cansiz S, Ocsoy I, Huang YF, Tan W (2013) Cancer cell sensing and therapy using affinity tag-conjugated gold nanorods. Interface Focus 3:20130006

Yasun E, Li C, Barut I, Janvier D, Qiu L, Cui C, Tan W (2015) BSA modification to reduce CTAB induced nonspecificity and cytotoxicity of aptamer-conjugated gold nanorods. Nanoscale 7:10240–10248

Yi Y, Wang H, Wang X, Liu Q, Ye M, Tan W (2017) A smart, photocontrollable drug release nanosystem for multifunctional synergistic cancer therapy. ACS Appl Mater Interfaces 9:5847–5854

Yuan B, Jiang X, Chen Y, Guo Q, Wang K, Meng X, Huang Z, Wen X (2017) Metastatic cancer cell and tissue-specific fluorescence imaging using a new DNA aptamer developed by Cell-SELEX. Talanta 170:56–62

Zelasko-Leon DC, Fuentes CM, Messersmith PB (2015) MUC1-targeted cancer cell photothermal ablation using bioinspired gold nanorods. PLoS One 10:e0128756

Zhang Z, Wang J, Chen C (2013) Gold nanorods based platforms for light-mediated theranostics. Theranostics 3:223–238

Zhang S, Li Y, He X, Dong S, Huang Y, Li X, Li Y, Jin C, Zhang Y, Wang Y (2014) Photothermolysis mediated by gold nanorods modified with EGFR monoclonal antibody induces Hep-2 cells apoptosis in vitro and in vivo. Int J Nanomedicine 9:1931–1946

Zhao J, Wang A, Si T, Hong JD, Li J (2019) Gold nanorods based multicompartment mesoporous silica composites as bioagents for highly efficient photothermal therapy. J Colloid Interface Sci 549:9–15

Zhou F, Xing D, Ou Z, Wu B, Resasco DE, Chen WR (2009) Cancer photothermal therapy in the near-infrared region by using single-walled carbon nanotubes. J Biomed Opt 14:021009

Zou L, Wang H, He B, Zeng L, Tan T, Cao H, He X, Zhang Z (2016) Current approaches of photothermal therapy in treating cancer metastasis with nanotherapeutics. Theranostics 6:762–772
Funding
This work was financially supported by grants from the Global Research Lab (GRL) Program [NRF-2013K1A1A2A02050616] and the Mid-career Researcher Program [NRF-2017R1A2B3010816] through a National Research Foundation grant funded by the Ministry of Science, ICT, and Future Planning.
Ethics declarations
Conflict of interest
The authors declare that they have no conflict of interest.
Additional information
Publisher's note
Springer Nature remains neutral with regard to jurisdictional claims in published maps and institutional affiliations.
Electronic supplementary material
About this article
Cite this article
Noh, Y., Kim, M., Mun, H. et al. Aptamer-based selective KB cell killing by the photothermal effect of gold nanorods. J Nanopart Res 21, 112 (2019). https://doi.org/10.1007/s11051-019-4561-y
Received:

Accepted:

Published:
Keywords
Systematic evolution of ligands by exponential enrichment

KB cancer cells

Aptamers

Gold nanorods

Photothermal killing

Nanomedicine