Exposure media a critical factor for controlling dissolution of CuO nanoparticles
Abstract
Dissolution is an important property that influences nanoparticle abundance and biological responses, and often becomes a critical factor in determining the safety of nanoparticles. In our study, the dissolution behavior of commercial (c-CuO) and synthesized CuO (s-CuO) nanoparticles, of size 31 ± 4 nm and 7 ± 1 nm, respectively, in a range of simulated aqueous media (artificial sea water, artificial lysosomal fluid, simulated body fluid, and 1 mM NaNO3) was assessed. The study demonstrated significant differences in the dissolution behavior of the nanoparticles based on the exposure concentration and exposure media. In biological media, both c-CuO and s-CuO demonstrated more than 80% dissolution within 12 to 24 h as compared to less than 15% dissolution in environmental media over the 7-day period. Due to the inherent size difference between c-CuO and s-CuO nanoparticles, the rate of dissolution was found to be higher in the case of s-CuO nanoparticles. To validate the role of dissolution, the microbial response of CuO nanoparticles and its ionic species was evaluated on E. coli. This study highlights the interplay between particulate and ionic form and experimentally validates how the suspension media acts as a critical factor governing the solubility of nanoparticles.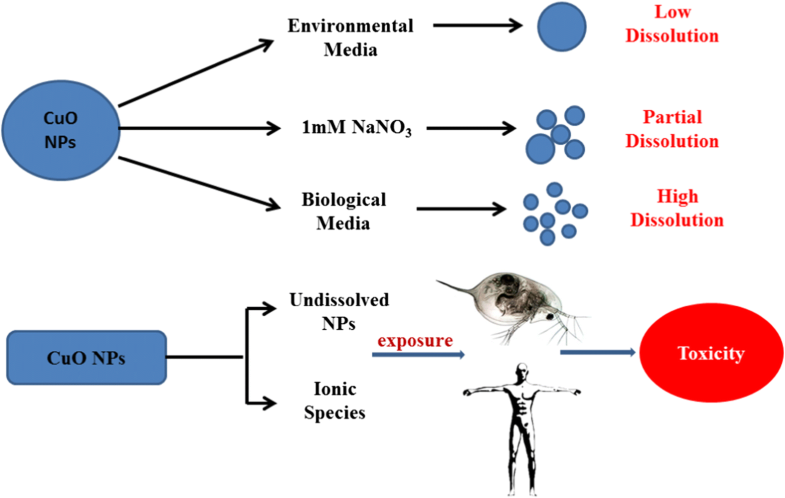 Keywords
Dissolution 
CuO nanoparticles 
Nanoparticle solubility 
Simulated media 
Transformation 
Environmental fate 
Antimicrobial effect 
Environmental safety 
Notes
Acknowledgments
We acknowledge the support of Prof. Eva Valsami-Jones in providing the commercial CuO nanoparticles. We thank Prof. Abhijit Mishra for providing the E. coli strain tested in this study.
Funding information
This project (EMR/2015/000298) was financially supported by the Department of Science and Technology (SERB), Government of India and through MHRD and GOG funded IMPRINT initiative.
Compliance with ethical standards
Conflict of interest
The authors declare that they have no conflict of interest.
Copyright information
© Springer Nature B.V. 2018