Dissociation of magnesium oxide and magnesium hydroxide nanoparticles in physiologically relevant fluids
Abstract
Magnesium oxide (MgO) and hydroxide [Mg(OH)2] are conventionally considered insoluble in water and stable at high temperatures. However, in this study, we found significant dissociation of MgO and Mg(OH)2 into ions when they were immersed in different physiologically relevant solutions in the form of 20-nm and 10-nm nanoparticles respectively, under standard cell culture conditions in vitro, i.e., a 37 °C, 5% CO2/95% air, sterile, humidified environment. The change in Mg2+ ion concentrations and pH measured in the physiologically relevant solutions (e.g., Dulbecco's modified Eagle's Medium (DMEM), simulated body fluid (SBF), relevant chloride solutions, and deionized water) confirmed their dissociation. Possible mechanisms and contributing factors for dissociation of MgO and Mg(OH)2 nanoparticles were discussed. The evidence suggests that nucleophilic substitution of OH− by Cl− in Mg(OH)2 is energetically unfavorable and it is more likely that Cl− plays a role in the stabilization of intermediate forms of MgO and Mg(OH)2 as it dissociates. The pH and buffering capability of the immersion solutions might have played the most significant role in dissociation of these nanoparticles when compared with the roles of chloride (Cl−), proteins, and different buffering agents. This article provided the first evidence on the dissociation of MgO and Mg(OH)2 nanoparticles in physiologically relevant conditions and elucidated possible factors contributing to the observed behaviors of these nanoparticles in vitro, which is important for their potential medical applications in vivo.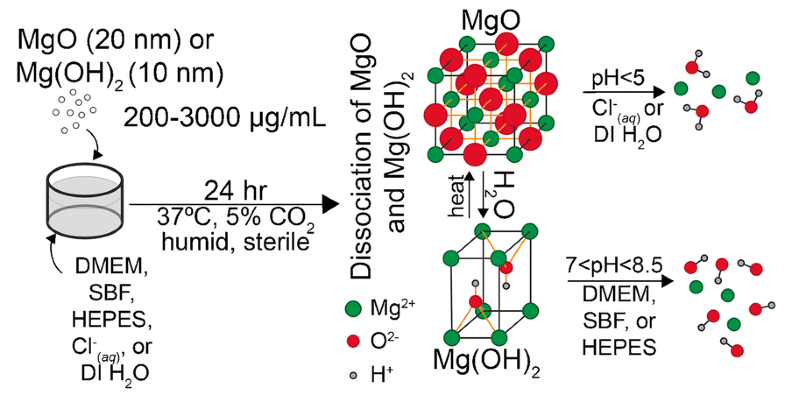 Keywords
Magnesium oxide (MgO) nanoparticles 
Magnesium hydroxide [Mg(OH)2] nanoparticles 
Biofluids 
Dulbecco's modified Eagle's Medium (DMEM) 
Simulated body fluid (SBF) 
HEPES buffer 
Chloride (Cl−) solutions 
Notes
Acknowledgements
The authors thank the Central Facility for Advanced Microscopy and Microanalysis (CFAMM) for the use of SEM FEI XL30 at the University of California at Riverside. Any opinions, findings, and conclusions or recommendations expressed in this material are those of the author(s) and do not necessarily reflect the views of the National Science Foundation.
Funding information
The authors appreciate the financial support from the U.S. National Science Foundation (NSF award 1512764, 1125801, 1545852), the Burroughs Wellcome Fund (1011235), the Hellman Faculty Fellowship (HL), and the University of California (UC) Regents Faculty Development Award (HL).
Compliance with ethical standards
Conflict of interest
The authors declare that they have no conflict of interest.
Copyright information
© Springer Nature B.V. 2018