Ultrasensitive lateral-flow assays based on quantum dot encapsulations with signal amplification
Abstract
Lateral-flow assays (LFAs), with its convenience and low cost, promise to become the in-home test format for early diagnosis and monitoring of tumor marker. However, the insufficient signal intensity was generated by signal reporters reducing the sensitivity of this format. In this study, a novel nanoscale signal reporter capable of amplifying the fluorescence signal is fabricated by encapsulating quantum dots (QDs) into modified tri-copolymer (poly(tert-butyl acrylate-co-ethyl acrylate-co-methacrylic acid)) (ODA-g-tri-copolymer). The amplified signal varied by simply adjusting the ratio of QDs to the ODA-g-tri-copolymer for obtaining QD nanospheres with high QD loading. They exhibits outstanding stability compared to the individual QDs both in the biological buffer and strong acid solutions. Here, human chorionic gonadotrophin (HCG) is employed as the model protein of LFAs. The results show that the detection limit of the QD nanospheres is pushed down to 0.016 IU/L, which is about ~ 38.5 times enhanced compared to the individual QD-based LFAs without any signal amplifying. The ultrasensitive LFAs were attributed to the signal amplification strategy, and their efficiency and robustness demonstrated the great potential in clinical applications.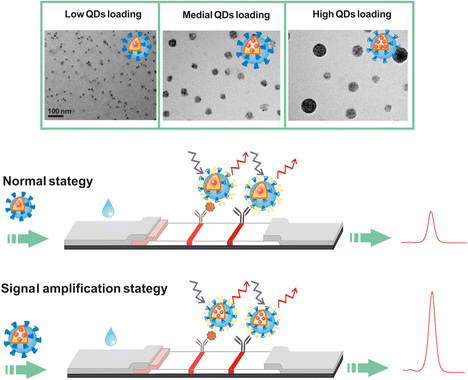 Keywords
QD nanospheres 
LFAs 
Signal amplification 
Tumor marker 
Sensitive detection 
Medical diagnosis 
Notes
Acknowledgements
The authors gratefully acknowledge the Natural Science Foundation of China (31600800) and Key Project of Tianjin Natural Science Foundation (13JCZDJC33200) for the financial support of this work.
Compliance with ethical standards
Conflict of interest
The authors declare that they have no conflict of interest.
Copyright information
© Springer Science+Business Media B.V., part of Springer Nature 2018