Enhanced photocatalytic activity of ternary CuInS2 nanocrystals synthesized from the combination of a binary Cu(I)S precursor and InCl3
Abstract
Ternary copper indium sulfide (CIS) nanocrystals (NCs) have been synthesized by mixing of binary precursor [CuI(bdpa)2][CuICl2] (1) and/or [CuI(mdpa)2][CuICl2] (2) (where, mdpa and bdpa represent methyl and benzyl ester of 3,5-dimethyl pyrazole-1-dithioic acid, respectively) with InCl3 in a low-temperature solvothermal process. The +1 oxidation state of copper and the atomic ratio Cu to S (1:2) is atomically maintained in the pyrazole-based Cu(I)–S precursor to synthesize phase pure CuInS2. Coordinating solvents like ethylene diamine (EN) and ethylene glycol (EG) have been used in the synthesis without any surfactants. No use of external surfactants in the synthesis of CIS nanoparticles reveals that precursor acts as stabilizing agent. The synthesized nanocrystals were characterized by X-ray diffraction (XRD), transmission electron microscopy (TEM), X-ray photoelectron spectroscopy (XPS), and energy dispersive X-ray spectroscopy (EDX) studies. The optical property of the nanocrystals shows a pronounced quantum confinement effect in the particles with band gap energy ca. 1.5 eV. The formation mechanism of ternary CIS has been proposed. The pore size distributions of the particles show the average pore diameters 13.1 nm from 1 and 5.3 nm from 2. The calculated values of the specific surface area are 8.123 and 9.577 m2/g for 1 and 2, respectively. The excellent photocatalytic degradation of rose bengal (RB) and rhodamine B (RhB) was demonstrated by the porous CIS nanocrystals.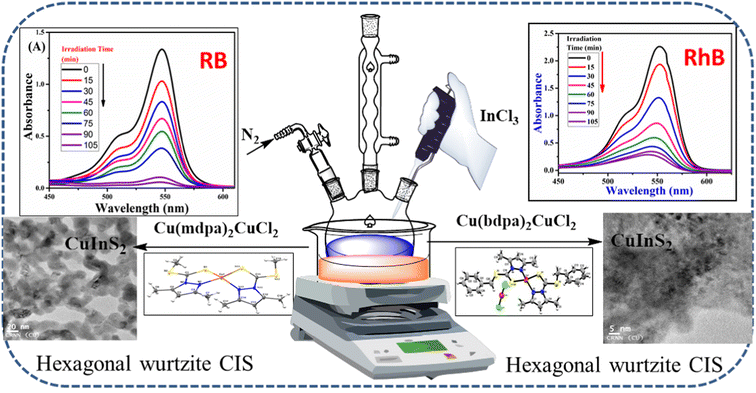 Keywords
Cu(I)-precursor 
CuInS2 nanocrystals 
Solvothermal process 
BET isotherm 
Photocatalyst 
Nanostructured catalysts 
Notes
Acknowledgments
We are thankful to the people of CRNN, Calcutta University, for TEM analysis. Dr. S. Jana acknowledges DST for SERB project (File No. PDF/2016/000107, Sanction No. SERB/F/3407/2016-17).
Funding information
We gratefully acknowledge Council for Scientific and Industrial Research (CSIR), Government of India, for the project grant (No. 1(2858)/16/EMR-II). Panskura Banamali College acknowledges the grants received from Department of Science and Technology (SR/FST/College-295 dated 18/11/ 2015), Govt. of India, through FIST program.
Compliance with ethical standards
Conflict of interest
The authors declare that they have no conflict of interest.
Copyright information
© Springer Science+Business Media B.V., part of Springer Nature 2018