Enhancing hydrogen evolution of g-C3N4 with nitrogen vacancies by ethanol thermal treatment
Abstract
A highly photoactive nitrogen-deficient g-C3N4 photocatalyst with porous frame work has been prepared by a simple, effective, and environmental-friendly method of ethanol thermal treatment. It is found that the as-synthesized catalyst exhibits an enhanced visible light photocatalytic activity for H2 evolution. The H2-evolution rate on the treated g-C3N4 is 4.2 times higher than the untreated-C3N4. The treated g-C3N4 and untreated g-C3N4 are characterized by Fourier transform-infrared spectra (FTIR), X-ray diffraction (XRD), scanning electron microscope (SEM), transmission electron microscope (TEM), X-ray photoelectron spectroscopy (XPS), photoluminescence (PL), UV-Vis absorption (UV-Vis), photocurrent measurement, and electrochemical impedance spectroscopy (EIS). Characterization results show that the ethanol thermal treatment induces nitrogen vacancies and hierarchical porous structure in g-C3N4. Such a structural reconstruction is beneficial for improving optical absorption and hindering photoinduced charger recombination on g-C3N4, resulting in the enhanced photocatalytic activity. This work would offer a reference route to develop high-performance metal-free photocatalysts.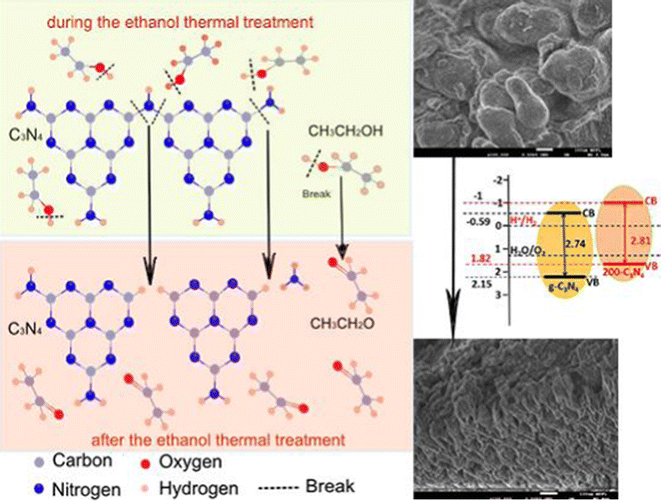 Keywords
C3N4, solvent thermal 
Photocatalyst 
Water splitting 
Hydrogen 
Notes
Acknowledgments
The authors thank the financial support from Science and Technology Planning Project of Guangdong Province, China (No. 2017A020216019) and Nature Science Basic Research Plan in Shaanxi Province of China (No. 2017JM5004).
Compliance with ethical standards
Conflict of interest
The authors declare that they have no conflict of interest.
Copyright information
© Springer Science+Business Media B.V., part of Springer Nature 2018