Immobilization of silver nanoparticles in Zr-based MOFs: induction of apoptosis in cancer cells
Abstract
Silver nanoparticles (AgNPs) are a potential class of nanomaterial for antibiosis and chemotherapeutic effects against human carcinoma cells. However, the DNA-damaging ability of free AgNPs pose the critical issues in their biomedical applications. Herein, we demonstrated a facile method to capture Ag+ ions and reduce them into active AgNPs within Zr-based metal-organic frameworks (MOFs) of UiO-66 with a mild reductant of DMF (AgNPs@UiO-66(DMF)). The average diameters of UiO-66 carriers and AgNPs were facilely controlled to be 140 and 10 nm, respectively. The obtained UiO-66 nanocarriers exhibited excellent biocompatibility and could be effectively endocytosed by cancer cells. Additionally, the AgNPs@UiO-66(DMF) could rapidly release Ag+ ions and efficiently inhibit the growth of cancer cells. The half maximal inhibitory concentration (IC50) values of the encapsulated AgNPs were calculated to be 2.7 and 2.45 μg mL−1 for SMMC-7721 and HeLa cells, respectively, which were much lower than those of free AgNPs in the reported works. Therefore, the developed AgNPs@UiO-66(DMF) not only maintained the therapeutic effect against cancer cells but also reduced the dosage of free AgNPs in chemotherapy treatment.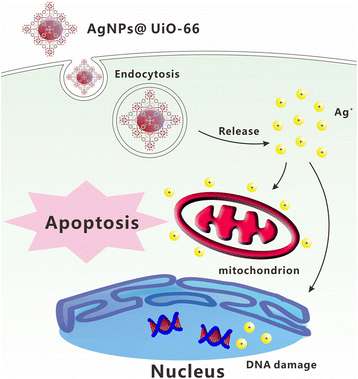 Keywords
Metal-organic frameworks 
Silver nanoparticles 
Cancer 
Induction of apoptosis 
Nanobiomedicine 
Notes
Acknowledgments
This work was financially supported by the Natural Science Foundation of China (51072053, 51372084), the Innovation Program of Shanghai Municipal Education Commission (13zz040), the Nano-Special Foundation for Shanghai Committee of Science and Technology (12 nm0502600), and the 111 Project (B14018).
Compliance with ethical standards
Conflict of interest
The authors declare no competing financial interest.
Copyright information
© Springer Science+Business Media B.V., part of Springer Nature 2018