Abstract
A range of mono- and bimetallic AumCun nanoparticles (NPs), with varying metal compositions, was prepared by using a third-generation diaminobutane poly(propylene imine) (G3 DAB-PPI) dendrimer, modified with alkyl chains, as a stabilizer. It was found that the length of the peripheral alkyl chain, (M1 (C15), M2 (C11), and M3 (C5)), had a direct influence on the average nanoparticle size obtained, confirming the importance of the nanoparticle stabilizer during synthesis. The Au NPs showed the highest degree of agglomeration and polydispersity, whereas the Cu NPs were the smallest and most monodisperse of the NPs. The bimetallic NPs sizes were found to vary between those of the monometallic NPs, depending on the metal composition. Interestingly, the bimetallic NPs were found to be the most stable, showing very little variation in size over time, even up to 9 months. The DSNs were evaluated in the catalytic oxidation of styrene, using either H2O2 or TBHP as oxidant. Here, we show that the bimetallic DSNs are indeed the superior catalysts when compared to their monometallic analogues, under the same reaction conditions, since a good compromise between stability and activity can be achieved where the Au provides catalytic activity and the Cu serves as a stabilizer. These AumCun bimetallic DSNs present a less expensive and more stable catalyst with negligible loss of activity, opening the door to green catalysis.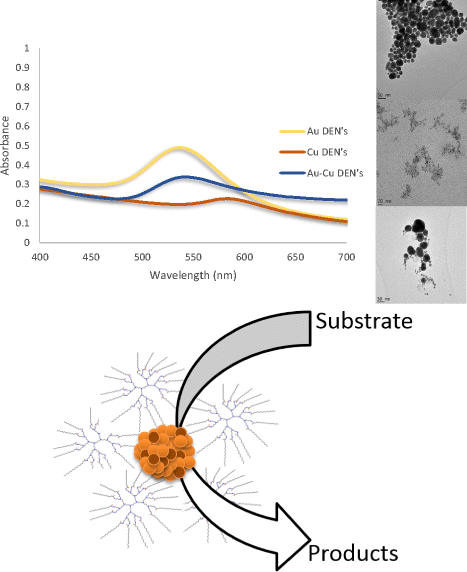 This is a preview of subscription content, log in to check access.
Access options
Buy single article
Instant access to the full article PDF.
US$ 39.95
Tax calculation will be finalised during checkout.
Subscribe to journal
Immediate online access to all issues from 2019. Subscription will auto renew annually.
US$ 79
Tax calculation will be finalised during checkout.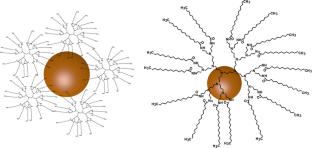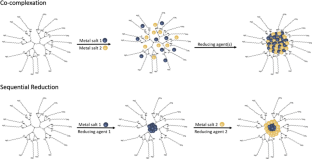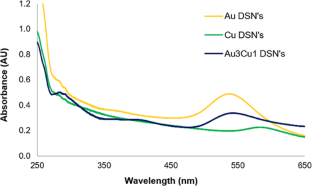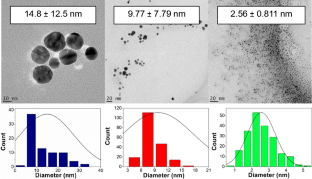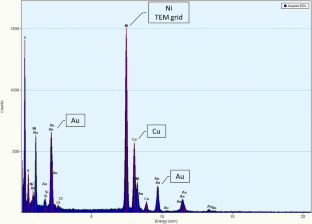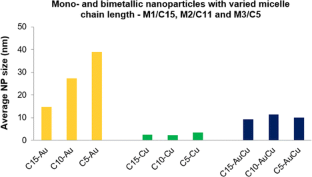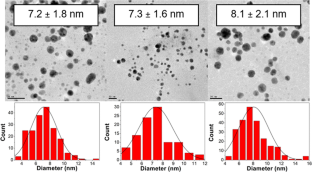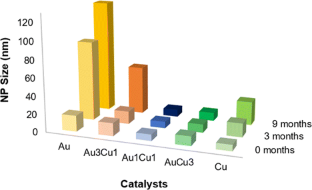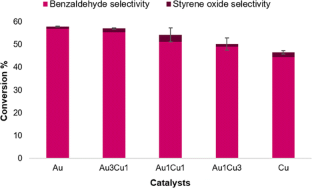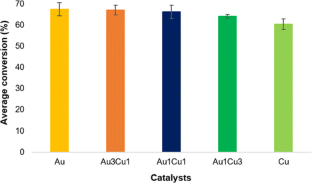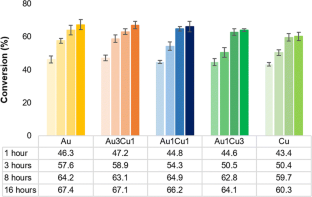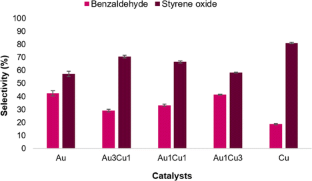 References
Anderson RM, Yancey DF, Zhang L, Chill ST, Henkelman G, Crooks RM (2015) A theoretical and experimental approach for correlating nanoparticle structure and electrocatalytic activity. Accounts Chem Res 48(5):1351–1357. https://doi.org/10.1021/acs.accounts.5b00125

Andrés R, de Jesús E, Flores JC (2007) Catalysts based on palladium dendrimers. New J Chem 31(7):1161–1191. https://doi.org/10.1039/b615761k

Boisselier E, Diallo AK, Salmon L, Ruiz J, Astruc D (2008) Gold nanoparticles synthesis and stabilization via new "clicked" polyethyleneglycol dendrimers. Chem Commun (39):4819–4821. https://doi.org/10.1039/b808987f

Chung Y, Rhee H (2004) Dendrimer-templated Ag–Pd bimetallic nanoparticles. J Colloid Interface Sci 271(1):131–135. https://doi.org/10.1016/j.jcis.2003.12.006

Crooks RM, Zhao M, Sun L, Chechik V, Yeung LK (2001) Dendrimer-encapsulated metal nanoparticles: synthesis, characterization, and applications to catalysis. Accounts Chem Res 34(3):181–190. https://doi.org/10.1021/ar000110a

Curtis AC, Duff DG, Edwards PP, Jefferson DA, Johnson BFG, Kirkland AI, Wallace AS (1988) A morphology-selective copper organosol. Angew Chem Int Ed Engl 27(11):1530–1533. https://doi.org/10.1002/anie.198815301

Daniel M-C, Astruc D (2004) Gold nanoparticles: assembly, supramolecular chemistry, quantum-size related properties, and applications toward biology, catalysis and nanotechnology. Chem Rev 104(1):293–346. https://doi.org/10.1021/cr030698+

Endo T, Kuno T, Yoshimura T, Esumi K (2005) Preparation and catalytic activity of Au–Pd, Au–Pt, and Pt–Pd binary metal dendrimer nanocomposites. J Nanosci Nanotechnol 5(11):1875–1882. https://doi.org/10.1166/jnn.2005.438

Eustis S, El-Sayed MA (2006) Why gold nanoparticles are more precious than pretty gold: noble metal surface plasmon resonance and its enhancement of the radiative and nonradiative properties of nanocrystals of different shapes. Chem Soc Rev 35(3):209–217. https://doi.org/10.1039/b514191e

Hulea V, Dumitriu E (2004) Styrene oxidation with H2O2 over Ti- containing molecular sieves with MFI, BEA and MCM-41 topologies. Appl Catal A Gen 277(1-2):99–106. https://doi.org/10.1016/j.apcata.2004.09.001

Klajnert B, Bryszewska M (2001) Dendrimers: properties and applications. Acta Biochim Pol 48(1):199–208

Krasteva N, Guse B, Besnard I, Yasuda A, Vossmeyer T (2003) Gold nanoparticle/PPI-dendrimer based chemiresistors—vapor-sensing properties as a function of the dendrimer size. Sensor Actuat B-Chem 92(1-2):137–143. https://doi.org/10.1016/S0925-4005(03)00250-8

Kuhn M, Jeschke J, Schulze S, Hietschold M, Lang H, Schwarz T (2014) Dendrimer-stabilized bimetallic Pd/Au nanoparticles: preparation, characterization and application to vinyl acetate synthesis. CATCOM 57:78–82. https://doi.org/10.1016/j.catcom.2014.08.009

Li N, Zhao P, Astruc D (2014) Anisotropic gold nanoparticles: synthesis, properties, applications, and toxicity. Angew Chem Int Ed 53(7):1756–1789. https://doi.org/10.1002/anie.201300441

Llevot A, Astruc D (2012) Applications of vectorized gold nanoparticles to the diagnosis and therapy of cancer. Chem Soc Rev 41(1):242–257. https://doi.org/10.1039/c1cs15080d

Lois C, Pluchery O (2012) Gold nanoparticles for physics, chemistry, and biology. Imperial College Press, London. https://doi.org/10.1142/p815

Myers VS, Weir MG, Carino EV, Yancey DF, Pande S, Crooks RM (2011) Dendrimer-encapsulated nanoparticles: new synthetic and characterization methods and catalytic applications. Chem Sci 2(9):1632–1646. https://doi.org/10.1039/c1sc00256b

Niu Y, Crooks RM (2003) Dendrimer-encapsulated metal nanoparticles and their applications to catalysis. C R Chimie 6(8-10):1049–1059. https://doi.org/10.1016/j.crci.2003.08.001

Peng X, Pan Q, Rempel GL (2008) Bimetallic dendrimer-encapsulated nanoparticles as catalysts: a review of the research advances. Chem Soc Rev 37(8):1619–1628. https://doi.org/10.1039/b716441f

Pileni MP, Lisiecki I (1993) Nanometer metallic copper particle synthesis in reverse micelles. Colloids Surfaces A: Physicochem Eng Aspects 80(1):63–68. https://doi.org/10.1016/0927-7757(93)80224-3

Polte J (2015) Fundamental growth principles of colloidal metal nanoparticles—a new perspective. Cryst Eng Comm 17(36):6809–6830. https://doi.org/10.1039/C5CE01014D

Pyatenko A, Yamaguchi M, Suzuki M (2005) Laser photolysis of silver colloid prepared by citric acid reduction method. J Phys Chem B 109(46):21608–21611. https://doi.org/10.1021/jp055246a

Qin Y, Ji X, Jing J, Liu H, Wu H, Yang W (2010) Size control over spherical silver nanoparticles by ascorbic acid reduction. Colloid Surface A 372(1-3):172–176. https://doi.org/10.1016/j.colsurfa.2010.10.013

Scott RWJ, Wilson OM, Oh SK, Kenik EA, Crooks RM (2004) Bimetallic palladium-gold dendrimer-encapsulated catalysts. J Am Chem Soc 126(47):15583–15591. https://doi.org/10.1021/ja0475860

Sharma S, Sinha S, Chand S (2012) Polymer anchored catalysts for oxidation of styrene using TBHP and molecular oxygen. Ind Eng Chem Res 51(26):8806–8814. https://doi.org/10.1021/ie201953y

Shi X, Sun K, Baker JR (2008) Spontaneous formation of functionalized dendrimer-stabilized gold nanoparticles. J Phys Chem C 112(22):8251–8258. https://doi.org/10.1021/jp801293a

Stevelmans S, van Hest JCM, Jansen JFGA, van Boxtel DAFJ, de Brabander-van den Berg EMM, Meijer EW (1996) Synthesis, characterization, and guest-host properties of inverted unimolecular dendritic micelles. J Am Chem Soc 118:7398–7399

Stewart ME, Anderton CR, Thompson LB, Maria J, Gray SK, Rogers JA, Nuzzo RG (2008) Nanostructured plasmonic sensors. Chem Rev 108(2):494–521. https://doi.org/10.1021/cr068126n

Sujitha MV, Kannan S (2013) Green synthesis of gold nanoparticles using citrus fruits (Citrus limon, Citrus reticulata and Citrus sinensis) aqueous extract and its characterization. Spectrochim Acta A 102:15–23. https://doi.org/10.1016/j.saa.2012.09.042

Toshima N, Yonezawa T (1998) Bimetallic nanoparticles—novel materials for chemical and physical applications. New J Chem 22:1179–1201

Wang C, Zhu G, Li J, Cai X, Wei Y, Zhang D, Qiu S (2005) Rigid nanoscopic containers for highly dispersed, stable metal and bimetal nanoparticles with both size and site control. Chem Eur J 11(17):4975–4982. https://doi.org/10.1002/chem.200500390

Zhao M, Crooks RM (1999) Intradendrimer exchange of metal nanoparticles. Chem Mater 11(11):3379–3385. https://doi.org/10.1021/cm990435
Acknowledgements
The authors would like to acknowledge financial support received from the National Research Foundation of South Africa. The Laboratory for Electron Microscopy (LEM) at North-West University is gratefully acknowledged for the collection and processing of TEM images.
Ethics declarations
Conflict of interest
The authors declare that they have no conflict of interest.
Electronic supplementary material
About this article
Cite this article
Blanckenberg, A., Kotze, G., Swarts, A.J. et al. Effect of nanoparticle metal composition: mono- and bimetallic gold/copper dendrimer stabilized nanoparticles as solvent-free styrene oxidation catalysts. J Nanopart Res 20, 44 (2018). https://doi.org/10.1007/s11051-018-4144-3
Received:

Accepted:

Published:
Keywords
Dendrimer stabilized nanoparticles

Bimetallic nanoparticles

Styrene oxidation

Solventless catalysis