Quantitative characterization of TiO2 nanoparticle release from textiles by conventional and single particle ICP-MS
Abstract
TiO2 is ubiquitously present in a wide range of everyday items, both as an intentionally incorporated additive and naturally occurring constituent. It can be found in a wide range of consumer products, including personal care products, food contact materials, and textiles. Normal use of these products may lead to consumer and/or environmental exposure to TiO2, possibly in form of nanoparticles. The aim of this study is to perform a leaching test and apply state-of-the-art methods to investigate nano-TiO2 and total Ti release from five types of commercially available conventional textiles: table placemats, wet wipes, microfiber cloths, and two types of baby bodysuits, with Ti contents ranging from 2.63 to 1448 μg/g. Released particle analysis was performed using conventional and single particle inductively coupled plasma mass spectrometry (ICP-MS and spICP-MS), in conjunction with transmission electron microscopy (TEM), to measure total and particulate TiO2 release by mass and particle number, as well as size distribution. Less than 1% of the initial Ti content was released over 24 h of leaching, with the highest releases reaching 3.13 μg/g. The fraction of nano-TiO2 released varied among fabric types and represented 0–80% of total TiO2 release. Particle mode sizes were 50–75 nm, and TEM imaging revealed particles in sizes of 80–200 nm. This study highlights the importance of using a multi-method approach to obtain quantitative release data that is able to provide an indication regarding particle number, size distribution, and mass concentration, all of which can help in understanding the fate and exposure of nanoparticles.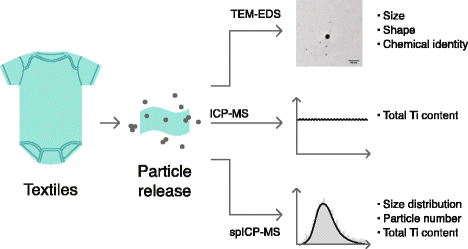 Keywords
Titanium dioxide 
Consumer products 
Nanoparticle release 
Nanomaterials 
Single-particle ICP-MS 
Textiles 
Environmental exposure 
Notes
Acknowledgements
We sincerely thank lab technicians Susanne Kruse and Sinh Hy Nguyen for their contribution to this work, as well as Marika Latsone for her help with the graphic design for the figures.
Compliance with ethical standards
This project was funded from the European Union's Seventh Framework Programme [FP7/2007-2013] under EC-GA No. 604305 'SUN'.
Conflict of interest
The authors declare that they have no conflict of interest.
Copyright information
© Springer Science+Business Media B.V., part of Springer Nature 2017