Abstract
This work uses linear and looped RGDfV sequences attached to the surface of small (1.8 nm in diameter) gold nanoparticles (AuNPs) to enhance the radiosensitizating effects of Cilengitide, a cyclic RGDf (NMe)V pentapeptide that targets αvβ3 integrin which is overexpressed in certain cancers. Following synthesis and purification, the AuNPs were evaluated in vitro against HUVEC, H460, and MCF7 cells in clonogenic assays using a 137Cs irradiator. Untargeted AuNPs induced no significant dose enhancement factors (DEFs) in any of the cell types when compared to radiation treatment alone, whereas all evaluated AuNPs functionalized with targeting peptides performed at least as well as controls (irradiation after Cilengitide treatment). The observed DEFs also suggest that cyclizing the linear peptides into more spatially constrained, looped structures may facilitate target binding. These greater dose enhancements merit future in vivo studies of drug-AuNP conjugates to assess the ability of the nanostructures to provide an improved therapeutic benefit over treatment with drug candidates and radiation alone.

Access options
Buy single article
Instant access to the full article PDF.
US$ 39.95
Tax calculation will be finalised during checkout.
Subscribe to journal
Immediate online access to all issues from 2019. Subscription will auto renew annually.
US$ 79
Tax calculation will be finalised during checkout.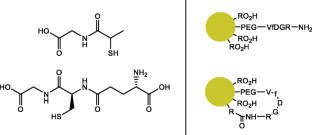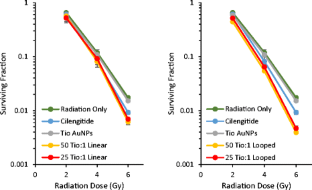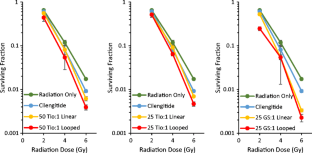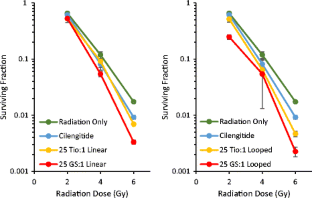 Abbreviations
AuNPs:

Gold nanoparticles

DEFs:

Dose enhancement factors

NSCLC:

Non-small cell lung carcinoma

VEGF:

Vascular endothelial growth factor

ECM:

Extracellular matrix

EPR:

Enhanced permeability and retention

Tio:

Tiopronin

GS:

Glutathione
References
Aggarwal C, Somaiah N, Simon G (2012) Antiangiogenic agents in the management of non-small cell lung cancer: where do we stand now and where are we headed? Cancer Biol Ther 13:247–263. https://doi.org/10.4161/cbt.19594

Albert JM, Cao C, Geng L et al (2006) Integrin alpha v beta 3 antagonist Cilengitide enhances efficacy of radiotherapy in endothelial cell and non-small-cell lung cancer models. Int J Radiat Oncol Biol Phys 65:1536–1543. https://doi.org/10.1016/j.ijrobp.2006.04.036

Alkilany AM, Nagaria PK, Hexel CR et al (2009) Cellular uptake and cytotoxicity of gold nanorods: molecular origin of cytotoxicity and surface effects. Small 5:701–708. https://doi.org/10.1002/smll.200801546

American Cancer Society (2016) Lung Cancer (Non-Small Cell) http://www.cancer.org/acs/groups/cid/documents/webcontent/003115-pdf.pdf. Accessed 30 Jun 2016

Arvizo R, Bhattacharya R, Mukherjee P (2010) Gold nanoparticles: opportunities and challenges in nanomedicine. Expert Opin Drug Deliv 7:753–763. https://doi.org/10.1517/17425241003777010.Gold

Campbell ID, Humphries MJ (2011) Integrin structure, activation, and interactions. Cold Spring Harb Perspect Biol 3:1–14. https://doi.org/10.1101/cshperspect.a004994

Chen K, Chen X (2011) Integrin targeted delivery of chemotherapeutics. Theranostics 1:189–200

Cun X, Chen J, Ruan S et al (2015) A novel strategy through combining iRGD peptide with tumor-microenvironment-responsive and multistage nanoparticles for deep tumor penetration. ACS Appl Mater Interfaces 7:27458–27466. https://doi.org/10.1021/acsami.5b09391

Dal Pozzo A, Ni M-H, Esposito E et al (2010) Novel tumor-targeted RGD peptide-camptothecin conjugates: synthesis and biological evaluation. Bioorg Med Chem 18:64–72. https://doi.org/10.1016/j.bmc.2009.11.019

Ellis LM (2002) Tumor angiogenesis. Horizons in Cancer Therapeutics: From Bench to Bedside 3:4–22

Fowler J, Adams G, Denekamp J (1976) Radiosensitizers of hypoxic cells in solid tumours. Cancer Treat Rev 3:227–256

Franken NAP, Rodermond HM, Stap J et al (2006) Clonogenic assay of cells in vitro. Nat Protoc 1:2315–2319. https://doi.org/10.1038/nprot.2006.339

Gerdon AE, Wright DW, Cliffel DE (2005) Hemagglutinin linear epitope presentation on monolayer-protected clusters elicits strong antibody binding. Biomacromolecules 6:3419–3424. https://doi.org/10.1021/bm050475o

Gerdon AE, Wright DW, Cliffel DE (2006) Epitope mapping of the protective antigen of B. anthracis by using nanoclusters presenting conformational peptide epitopes. Angew Chem Int Ed Engl 45:594–598. https://doi.org/10.1002/anie.200503328

Hainfeld JF, Dilmanian FA, Zhong Z et al (2010) Gold nanoparticles enhance the radiation therapy of a murine squamous cell carcinoma. Phys Med Biol 55:3045–3059. https://doi.org/10.1088/0031-9155/55/11/004

Hainfeld JF, Slatkin DN, Smilowitz HM (2004) The use of gold nanoparticles to enhance radiotherapy in mice. Phys Med Biol 49:N309–N315. https://doi.org/10.1088/0031-9155/49/18/N03

Hainfeld JF, Smilowitz HM, O'Connor MJ et al (2013) Gold nanoparticle imaging and radiotherapy of brain tumors in mice. Nanomedicine (Lond) 8:1601–1609. https://doi.org/10.2217/nnm.12.165

Harburger DS, Calderwood DA (2009) Integrin signalling at a glance. J Cell Sci 122:1472–1472. https://doi.org/10.1242/jcs.052910

Healy JM, Murayama O, Maeda T et al (1995) Peptide ligands for integrin alpha v beta 3 selected from random phage display libraries. Biochemistry 34:3948–3955

Huang K, Ma H, Liu J et al (2012) Size-dependent localization and penetration of ultrasmall gold nanoparticles in cancer cells, multicellular spheroids, and tumors in vivo. ACS Nano 6:4483–4493. https://doi.org/10.1021/nn301282m

Kerbel R (2008) Tumor angiogenesis. N Engl J Med 358:2039–2049. https://doi.org/10.1056/NEJMra0706596.Tumor

Khoshgard K, Hashemi B, Arbabi A et al (2014) Radiosensitization effect of folate-conjugated gold nanoparticles on HeLa cancer cells under orthovoltage superficial radiotherapy techniques. Phys Med Biol 59:2249–2263. https://doi.org/10.1088/0031-9155/59/9/2249

Lee H, Fonge H, Hoang B et al (2010) The effects of particle size and molecular targeting on the intratumoral and subcellular distribution of polymeric nanoparticles. Mol Pharm 7:1195–1208. https://doi.org/10.1021/mp100038h

Liao D, Johnson RS (2007) Hypoxia: a key regulator of angiogenesis in cancer. Cancer Metastasis Rev 26:281–290. https://doi.org/10.1007/s10555-007-9066-y

Lindell Å, Denneberg T, Hellgren E et al (1995) Clinical course and cystine stone formation during tiopronin treatment. Urol Res 23:111–117. https://doi.org/10.1007/BF00307941

Liu S (2009) Radiolabeled cyclic RGD peptides as integrin alpha(v)beta(3)-targeted radiotracers: maximizing binding affinity via bivalency. Bioconjug Chem 20:2199–2213

Liu Z, Wang F, Chen X (2008) NIH Public Access. Drug Dev Res 69:329–339. https://doi.org/10.1002/ddr.20265.Integrin

Maeda H (2001) The enhanced permeability and retention (EPR) effect in tumor vasculature: the key role of tumor-selective macromolecular drug targeting. Adv Enzym Regul 41:189–207. https://doi.org/10.1016/S0065-2571(00)00013-3

Manegold C, Vansteenkiste J, Cardenal F et al (2013) Randomized phase II study of three doses of the integrin inhibitor cilengitide versus docetaxel as second-line treatment for patients with advanced non-small-cell lung cancer. Investig New Drugs 31:175–182. https://doi.org/10.1007/s10637-012-9842-6

Mas-Moruno C, Rechenmacher F, Kessler H (2010) Cilengitide: the first anti-angiogenic small molecule drug candidate design, synthesis and clinical evaluation. Anti Cancer Agents Med Chem 10:753–768

Meier J, Kassler K, Sticht H, Eichler J (2012) Peptides presenting the binding site of human CD4 for the HIV-1 envelope glycoprotein gp120. Beilstein J Org Chem 8:1858–1866. https://doi.org/10.3762/bjoc.8.214

Mesbahi A (2010) A review on gold nanoparticles radiosensitization effect in radiation therapy of cancer. Reports Pract Oncol Radiother 15:176–180. https://doi.org/10.1016/j.rpor.2010.09.001

Miladi I, Alric C, Dufort S et al (2014) The in vivo radiosensitizing effect of gold nanoparticles based MRI contrast agents. Small 10:1116–1124. https://doi.org/10.1002/smll.201302303

Misawa M, Takahashi J (2011) Generation of reactive oxygen species induced by gold nanoparticles under X-ray and UV irradiations. Nanomedicine Nanotechnology, Biol Med 7:604–614. https://doi.org/10.1016/j.nano.2011.01.014

National Cancer Institute (2016) SEER Stat Fact Sheets: Lung and Bronchus Cancer http://seer.cancer.gov/statfacts/html/lungb.html. Accessed 24 Feb 2016

Reardon DA, Fink KL, Mikkelsen T et al (2008) Randomized phase II study of cilengitide, an integrin-targeting arginine-glycine-aspartic acid peptide, in recurrent glioblastoma multiforme. J Clin Oncol 26:5610–5617. https://doi.org/10.1200/JCO.2008.16.7510

Ruoslahti E (1996) RGD and other recognition sequences for integrins. Annu Rev Cell Dev Biol 12:697–715. https://doi.org/10.1146/annurev.cellbio.12.1.697

Samant RS, Shevde LA (2011) Recent advances in anti-angiogenic therapy of cancer abstract: VEGF matrix degradation MMPs sunitinib sorafenib rapamycin bFGF TGF- α bevacizumab cetuximab panitumumab erlotinib (TKI). Oncotarget 2:122–134

Schaaf TG, Knight G, Shafigullin MN, Borkman RF, Wetten RL (1998) Isolation and selected properties of a 10.4 kDa gold: glutathione cluster compound. J Phys Chem B 102:10643–10646

Shen J, Meng Q, Sui H et al (2014) IRGD conjugated TPGS mediates codelivery of paclitaxel and survivin shRNA for the reversal of lung cancer resistance. Mol Pharm 11:2579–2591. https://doi.org/10.1021/mp400576f

Simpson CA, Huffman BJ, Gerdon AE, Cliffel DE (2010) Unexpected toxicity of monolayer protected gold clusters eliminated by PEG-thiol place exchange reactions. Chem Res Toxicol 23:1608–1616. https://doi.org/10.1021/tx100209t

Simpson CA, Salleng KJ, Cliffel DE, Feldheim DL (2013) In vivo toxicity, biodistribution, and clearance of glutathione-coated gold nanoparticles. Nanomedicine 9:257–263. https://doi.org/10.1016/j.nano.2012.06.002

Stupp R, Hegi ME, Neyns B et al (2010) Phase I/IIa study of cilengitide and temozolomide with concomitant radiotherapy followed by cilengitide and temozolomide maintenance therapy in patients with newly diagnosed glioblastoma. J Clin Oncol 28:2712–2718. https://doi.org/10.1200/JCO.2009.26.6650

Su N, Dang Y, Liang G, Liu G (2015) Iodine-125-labeled cRGD-gold nanoparticles as tumor-targeted radiosensitizer and imaging agent. Nanoscale Res Lett 10:160. https://doi.org/10.1186/s11671-015-0864-9

Taherian A, Li X, Liu Y, Haas TA (2011) Differences in integrin expression and signaling within human breast cancer cells. BMC Cancer 11:293. https://doi.org/10.1186/1471-2407-11-293

Templeton AC, Chen S, Gross SM et al (1999) Water-soluble, isolable gold clusters protected by tiopronin and coenzyme A monolayers. Langmuir 15:66–76

Tsai MF, Chang SHG, Cheng FY et al (2013) Au nanorod design as light-absorber in the first and second biological near-infrared windows for in vivo photothermal therapy. ACS Nano 7:5330–5342. https://doi.org/10.1021/nn401187c

Vansteenkiste J, Barlesi F, Waller CF et al (2015) Cilengitide combined with cetuximab and platinum-based chemotherapy as first-line treatment in advanced non-small-cell lung cancer (NSCLC) patients: results of an open-label, randomized, controlled phase II study (CERTO). Ann Oncol:1734–1740. https://doi.org/10.1093/annonc/mdv219

Wang C, Li X, Wang Y et al (2013) Enhancement of radiation effect and increase of apoptosis in lung cancer cells by thio-glucose-bound gold nanoparticles at megavoltage radiation energies. J Nanopart Res 15:1–12. https://doi.org/10.1007/s11051-013-1642-1

Wängler C, Maschauer S, Prante O et al (2010) Multimerization of cRGD peptides by click chemistry: synthetic strategies, chemical limitations, and influence on biological properties. Chembiochem 11:2168–2181. https://doi.org/10.1002/cbic.201000386

Wardman P (2007) Chemical radiosensitizers for use in radiotherapy. Clin Oncol 19:397–417. https://doi.org/10.1016/j.clon.2007.03.010

Wong C, Stylianopoulos T, Cui J et al (2011) Multistage nanoparticle delivery system for deep penetration into tumor tissue. Proc Natl Acad Sci U S A 108:2426–2431. https://doi.org/10.1073/pnas.1018382108

Xiong X-B, Ma Z, Lai R, Lavasanifar A (2010) The therapeutic response to multifunctional polymeric nano-conjugates in the targeted cellular and subcellular delivery of doxorubicin. Biomaterials 31:757–768. https://doi.org/10.1016/j.biomaterials.2009.09.080

Yin H-Q, Mai D-S, Gan F, Chen X-J (2014) One-step synthesis of linear and cyclic RGD conjugated gold nanoparticles for tumour targeting and imaging. RSC Adv 4:9078. https://doi.org/10.1039/c3ra47729k

Zhang H, Forman HJ, Choi J (2005) Γ-Glutamyl transpeptidase in glutathione biosynthesis. Methods Enzymol 401:468–483. https://doi.org/10.1016/S0076-6879(05)01028-1

Zhang X-D, Wu D, Shen X et al (2012) Size-dependent radiosensitization of PEG-coated gold nanoparticles for cancer radiation therapy. Biomaterials 33:6408–6419. https://doi.org/10.1016/j.biomaterials.2012.05.047

Zhang Z, Lai Y, Yu L, Ding J (2010) Effects of immobilizing sites of RGD peptides in amphiphilic block copolymers on efficacy of cell adhesion. Biomaterials 31:7873–7882. https://doi.org/10.1016/j.biomaterials.2010.07.014
Acknowledgments
We thank the Vanderbilt Institute of Nanoscale Science and Engineering for use of the TGA and TEM instruments for particle characterization. We would also like to thank Dr. Michael Freeman of Vanderbilt University Medical Center for access to irradiation facilities. Finally, we would like to express our gratitude for the editorial assistance given by Shellie Richards in the preparation of this manuscript.
Ethics declarations
Conflict of interest
The authors declare that they have no conflict of interest.
Electronic supplementary material
Experimental methods detailing the synthesis of the Cilengitide mimic, characterization data (1H NMR, TEM, and TGA) of the AuNPs, and procedures for the place exchange and EDC/NHS coupling reactions can be found in the online supplementary information.
About this article
Cite this article
Travis, A.R., Liau, V.A., Agrawal, A.C. et al. Small gold nanoparticles presenting linear and looped Cilengitide analogues as radiosensitizers of cells expressing ανβ3 integrin. J Nanopart Res 19, 361 (2017). https://doi.org/10.1007/s11051-017-4041-1
Received:

Accepted:

Published:
Keywords
Biomimetic

Secondary structure

Radiotherapy

Lung cancer

Nanobiotechnology