Abstract
In this paper, we describe the synthesis of silica-encapsulated CdTe/MPA quantum dot (QD) nanocomposites (CdTe/MPA@SiO2) at room temperature starting from water-soluble CdTe QDs capped with 3-mercaptopropionic acid (MPA) as surface ligand (CdTe/MPA), followed by their encapsulation with a thin layer of silica using the sol–gel process. The objective of this work was to evaluate the microstructural, thermal, and chemical properties of the encapsulated material as a way to evaluate these characteristics for possible applications in different technological areas. Transmission electron microscopy results proved that CdTe QDs (2.5 nm in size) were inside the SiO2 nanoparticles, and the spherical CdTe/MPA@SiO2 nanocomposite with a 69-nm thick shell. The photoluminescence intensity was evaluated as a function of pH in the range of 2–12. The CdTe/MPA@SiO2 nanocomposite showed better chemical stability and greater intensity of photoluminescence in the pH 2–12 range than CdTe/MPA. In addition, the CdTe/MPA@SiO2 nanocomposites showed good heat stability up to 125 °C. The changes in their optical properties were also evaluated by means of photoluminescence spectroscopy. The materials were also characterized by diffuse reflectance spectroscopy, X-ray diffraction, infrared spectroscopy, and thermogravimetric analysis.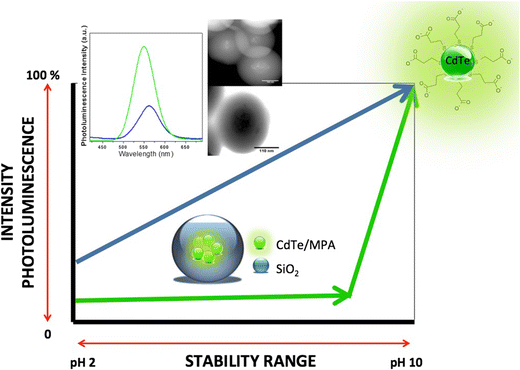 Access options
Buy single article
Instant access to the full article PDF.
USD 39.95
Price excludes VAT (USA)
Tax calculation will be finalised during checkout.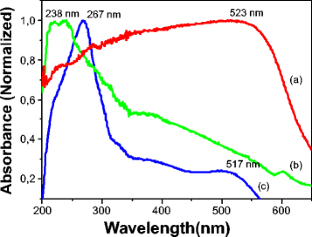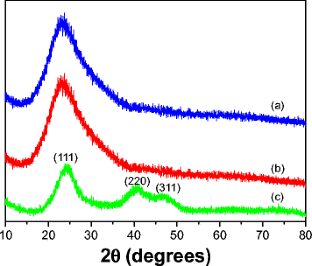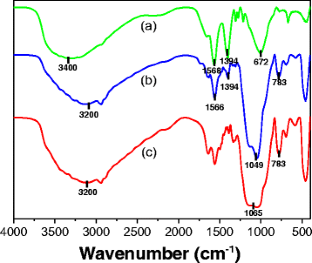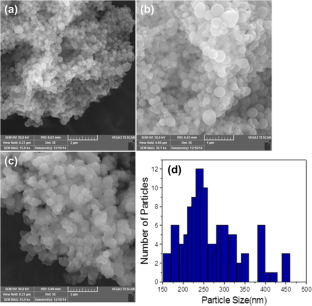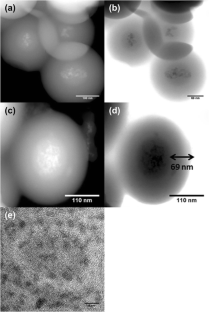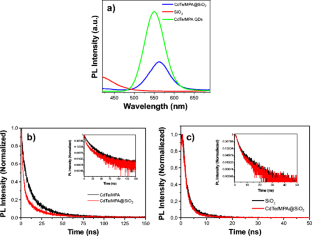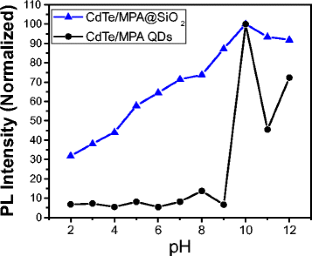 References
Darbandi M, Thomann R, Nann T (2005) Single quantum dots in silica spheres by microemulsion synthesis. Chem Mater 17:5720–5725

Dong H, Liu Y, Ye Z, Zhang W, Wang G, Liu Z, Yuan J (2009) Luminescent nanoparticles of silica-encapsulated cadmium–tellurium (CdTe) quantum dots with a core–shell structure: preparation and characterization. Helvetica Chimica Acta 92:2249–2256

Ek S, Root A, Peussa M, Niinistö L (2001) Determination of hydroxyl group content in silica by thermogravimetry and a comparison with 1H MAS NMR results. Thermochim Acta 379:201–212

El-Sadek MSA, Babu SM (2010) Growth and optical characterization of colloidal CdTe nanoparticles capped by a bifunctional molecule. Phys B Condens Matter 405:3279–3283

El-Sadek MSA, Babu SM (2011) A controlled approach for synthesizing CdTe@CrOOH (core–shell) composite nanoparticles. Curr Appl Phys 11:926–932

Gaponik N, Talapin DV, Rogach AL, Eychmüller A, Weller H (2002) Efficient phase transfer of luminescent thiol-capped nanocrystals: from water to nonpolar organic solvents. Nano Lett 2:803

Grim JQ, Manna L, Moreels I (2015) A sustainable future for photonic colloidal nanocrystals. Chem Soc Rev 44:5897–5914

Gu Z, Zou L, Fang Z, Zhu W, Zhong X (2008) One-pot synthesis of highly luminescent CdTe/CdS core/shell nanocrystals in aqueous phase. Nanotechnology 19:135604–135611

Guerrero-Martínez A, Pérez-Juste J, Liz-Marzán LM (2010) Recent progress on silica coating of nanoparticles and related nanomaterials. Adv Mater 22:1182–1195

Hetsch F, Xu X, Wang H, Kershaw SV, Rogach AL (2011) Semiconductor nanocrystal quantum dots as solar cell components and photosensitizers: material, charge transfer, and separation aspects of some device topologies. Phys Chem Lett 2:1879–1887

Huang Y, Liu J, Yu Y, Zuo S (2015) Preparation and multicolored fluorescent properties of CdTe quantum dots/polymethylmethacrylate composite films. J Alloys Compd 647:578–584

Ibrahim IAM, Zikry AAF, Sharaf MA (2010) Preparation of spherical silica nanoparticles: stober silica. J Am Sci 6(11):985–989

Jing L, Yang C, Qiao R, Niu M, Du M, Wang D, Gao M (2010) Highly fluorescent CdTe@SiO2 particles prepared via reverse microemulsion method. Chem Mater 22:420–427

Kamat PV (2013) Quantum dot solar cells. The next big thing in photovoltaics. Phys Chem Lett 4:908–918

Kango S, Kalia S, Celli A, Njuguna J, Habibi Y, Kumar R (2013) Surface modification of inorganic nanoparticles for development of organic–inorganic nanocomposites—a review. Prog Polym Sci 38:1232–1261

Karakoti AS, Shukla R, Shanker R, Singh S (2015) Surface functionalization of quantum dots for biological applications. Adv Colloid Interf Sci 215:28–45

Kyeong S, Jeong C, Kim HY, Hwang DW, Kang H, Yang JK, Lee DS, Jun BH, Lee YS (2015) Fabrication of mono-dispersed silica-coated quantum dot-assembled magnetic nanoparticles. RSC Adv 5:32072–32077

Lakowicz JR (2006) Principles of fluorescence spectroscopy 3rd ed. Springer

Lesnyak V, Voitekhovich SV, Gaponik PN, Gaponik N, Eychmüller A (2010) CdTe nanocrystals capped with a tetrazolyl analogue of thioglycolic acid: aqueous synthesis, characterization, and metal-assisted assembly. ACS Nano 4:4090–4096

Li D, Liu X, Xie G, Liu X (2013) Stable and water-soluble CdTe@SiO2 composite nanospheres: preparation, characterization and application in LED. Colloids Surf A Physicochem Eng Asp 424:33–39

Liang X, Tan S, Tang Z, Kotov NA (2004) Investigation of transversal conductance in semiconductor CdTe nanowires with and without a coaxial silica shell. Langmuir 20:1016–1020

Liu N, Yang P (2013) Highly luminescent hybrid SiO2-coated CdTe quantum dots: synthesis and properties. Luminescence 28:542–550

Ma Y, Li Y, Zhong X (2014) Silica coating of luminescent quantum dots prepared in aqueous media for cellular labeling. Mat Res Bull 60:543–551

May V, Kühn O (2011) Charge and energy transfer dynamics in molecular systems. Wiley-VCH GmbH & Co., Weinheim

Medintz IL, Uyeda HT, Goldman ER, Mattoussi H (2005) Quantum dot bioconjugates for imaging, labelling and sensing. Nat Mater 4:435–446

Mulvaney P, Liz-Marzán LM, Giersig M, Ung T (2000) Silica encapsulation of quantum dots and metal clusters. J Mater Chem 10:1259–1270

Murase N, Yang P (2009) Anomalous photoluminescence in silica-coated semiconductor nanocrystals after heat treatment. Small 5:800–803

Nann T, Mulvaney P (2004) Single quantum dots in spherical silica particles. Angew Chem Int Ed 43:5393–5396

Park KW, Know OY (2004) Interlamellar silylation of montmorillonite with 3-aminopropyl-triethoxysilane. Bull Kor Chem Soc 25(7):965–968

Patil P, Laltlanzuala C, Datta S (2014) Sensitized solar cell from type-II CdTe/CdSe core/shell nanocrystals synthesized without seed purification at low temperature. J Alloys Compd 607:230–237

Peng ZA, Peng X (2001) Formation of high-quality CdTe, CdSe, and CdS Nanocrystals Using CdO as Precursor. J Am Chem Soc 123:183–184

Petryayeva E, Algar WR, Medintz IL (2013) Quantum dots in bioanalysis: a review of applications across various platforms for fluorescence spectroscopy and imaging. Appl Spectrosc 67:215–252

Pietra F, Dijk-Moes RJAV, Ke X, Bals S, Tendeloo GV, Donega CDM, Vanmaekelbergh D (2013) Synthesis of highly luminescent silica-coated CdSe/CdS nanorods. Chem Mater 17:3427–3434

Rockenberger J, Tröger L, Rogach AL, Tischer M, Grundmann M, Eychmüller A, Weller H (1998) The contribution of particle core and surface to strain, disorder and vibrations in thiol capped CdTe nanocrystals. J Chem Phys 108:7807–7815

Rogach AL (2000) Nanocrystalline CdTe and CdTe(S) particles: wet chemical preparation, size-dependent optical properties and perspectives of optoelectronic applications. Mat Sci Eng B 69–70:435–440

Rogach AL (2008) Semiconductor nanocrystal quantum dots: synthesis, assembly, spectroscopy and applications. Springer Wien, New York

Rogach AL, Katsikas L, Koenowski A, Su D, Eychmüller A, Weller H (1996) Synthesis and characterization of thiol-stabilized CdTe nanocrystals. Ber Bunsenges Phys Chem 100:1772–1778

Rogach AL, Kornowski A, Gao M, Eychmüller A, Weller H (1999) Synthesis and characterization of a size series of extremely small thiol-stabilized CdSe nanocrystals. J Phys Chem B 103:3065–4069

Rogach AL, Franzl T, Klar AT, Feldmann J, Gaponik N, Lesnyak V, Shavel A, Eychmüller A, Rakovich YP, Donegan JF (2007) Aqueous synthesis of thiol-capped CdTe nanocrystals: state-of-the-art. J Phys Chem C 111:14628–14637

Salgueriño-Maceira V, Correa-Duarte MA, Spasova M, Liz-Marzán LM, Farle M (2006) Composite silica spheres with magnetic and luminescent functionalities. Adv Funct Mater 16:509–514

Salgueriño-Maceira V, Hoppe CE, Correa-Duarte MA (2007) Formation of fractal-like structures driven by carbon nanotubes-based collapsed hollow capsules. Adv Mater 19:4131–4144

Sigel GH Jr (1971) Vacuum ultraviolet absorption in alkali doped fused silica and glasses. J Phys Chem Solids 32:2373–2383

Silva FO, Viol LCS, Ferreira DL, Alves JLA, Schiavon MA (2010) O estado da arte da síntese de semicondutores nanocristalinos coloidais. Quím Nova 33:1933–1939

Silva FO, Carvalho MS, Mendonça R, Macedo WAA, Balzuweit K, Reiss P, Schiavon MA (2012) Effect of surface ligands on the optical properties of aqueous soluble CdTe quantum dots. Nanoscale Res Lett 7:536

Su Y, Hu M, Fan C, He Y, Li Q, Li W, Wang LH, Shen P, Huang Q (2010) The cytotoxicity of CdTe quantum dots and the relative contributions from released cadmium ions and nanoparticle properties. Biomaterials 31:4829–4834

Vale BRC, Vieira KO, Sousa JCL, Ferrari JL, Schiavon MA (2014) Efeito da estrutura molecular de ligantes de superfície em pontos quânticos de CdTe dispersos em água. Quím Nova 38:22–29

Valeur B (2001) Molecular fluorescence: principles and applications. GmbH, Wiley-VCH Verlag

Vandenberg ET, Berilsson L, Liedberg B, Uvdal K, Erlandsson R, Elwing H, Lundstrom I (1991) Structure of 3-aminopropyl triethoxy silane on silicon oxide. J Colloid Interface Sci 147:103

Viol LCS, Silva FO, Ferreira DL, Alves JLA, Schiavon MA (2011) Precipitação seletiva de tamanhos em nanopartículas semicondutoras coloidais de CdTe e CdSe: um estudo por espectroscopia UV-Vis. Quím Nova 34:595–600

Wang X, Qu L, Zhang J, Peng X, Xiao M (2003) Surface-related emission in highly luminescent CdSe quantum dots. Nano Lett 3:1103–1106

Wang C, Ma Q, Dou W, Kanwal S, Wang G, Yuan P, Su X (2009) Synthesis of aqueous CdTe quantum dots embedded silica nanoparticles and their applications as fluorescence probes. Talanta 77:1358–1364

Wang S, Li C, Yang P, Ando M, Murase N (2012) Silica encapsulation of highly luminescent hydrophobic quantum dots by two-step microemulsion method. Colloids Surf A Physicochem Eng Asp 395:24–31

Wu WC, Tracy JB (2015) Large-scale silica overcoating of gold nanorods with tunable shell thicknesses. Chem Mater 27:2888–2894

Yang Y, Gao Y (2005) Preparation of fluorescent SiO2 particles with single CdTe nanocrystal cores by the reverse microemulsion method. Adv Mater 17:2354–2357

Yang P, Murase N (2010) Preparation-condition dependence of hybrid SiO2-coated CdTe nanocrystals with intense and tunable photoluminescence. Adv Funct Mater 20:1258–1265

Yang YH, Jing LH, Yu XL, Yan DD, Gao MY (2007a) Coating aqueous quantum dots with silica via reverse microemulsion method: toward size-controllable and robust fluorescent nanoparticles. Chem Mater 19:4123–4128

Yang P, Ando M, Murase N (2007b) Encapsulation of emitting CdTe QDs within silica beads to retain initial photoluminescence efficiency. J Colloid Interface Sci 316:420–427

Yang P, Ando M, Murase N (2009) Morphology- and color-tunable bright fibers with high concentration of CdTe nanocrystals assembled through Sol–Gel reaction. Adv Mater 21:4016–4019

Yang P, Ando M, Taguchi T, Murase N (2010) Encapsulation of multiple QDs into SiO2 beads by reflux without degrading initial photoluminescence properties. J Phys Chem C 114:20962–20967

Yang P, Ando M, Murase N (2011) SiO2 beads with quantum dots: preparation and stability investigation for bioapplications. J Colloid Interface Sci 354:454–460

Ye Z, Tan M, Wang G, Yuan J (2004) Preparation, characterization, and time resolved fluorometric application of silica-coated terbium(III) fluorescent nanoparticle. Anal Chem 76:513–518

Zhou X, Kobayashi Y, Romanyuk V, Ochuchi N, Takeda M, Tsunekawa S, Kasuya A (2005) Preparation of silica encapsulated CdSe quantum dots in aqueous solution with the improved optical properties. Appl Surf Sci 242:281–286

Zhu Y, Li Z, Chen M, Cooper HM, Lu GQM, Xu ZP (2012) Synthesis of robust sandwich-like SiO2@CdTe@SiO2 fluorescent nanoparticles for cellular imaging. Chem Mater 24:421–423
Acknowledgements
The authors thank the Coordenação de Aperfeiçoamento de Pessoal de Nível Superior (CAPES), Fundação de Amparo à Pesquisa do Estado de Minas Gerais (FAPEMIG), Fundação de Amparo à Pesquisa do Estado de São Paulo (FAPESP), and Conselho Nacional de Desenvolvimento Científico e Tecnológico (CNPq). This work is a research project in collaboration with members of the Rede Mineira de Química (RQ-MG), supported by FAPEMIG (Project: CEX-RED-00010-14). They also thank UNIFRAN for scanning electron microscopy measurements and the Laboratório Nacional de Nanotecnologia (LNNano) for the transmission electron microscopy measurements.
Ethics declarations
Conflict of interest
The authors declare that they have no conflict of interest.
Electronic supplementary material
About this article
Cite this article
Tartuci, L.G., Domingos, L.F.T., Bettini, J. et al. Silica-encapsulated CdTe/MPA quantum dots: microstructural, thermal, and chemical stability characterization. J Nanopart Res 19, 250 (2017). https://doi.org/10.1007/s11051-017-3947-y
Received:

Accepted:

Published:

DOI: https://doi.org/10.1007/s11051-017-3947-y
Keywords
Quantum dots

CdTe/MPA@SiO2

Nanocomposites

Nanostructures

Silica shell

Luminescent materials