Abstract
The production of surfactant-assisted metallic nanoparticles of TbCu2 has been achieved by the combination of high-energy ball milling in tungsten carbide containers and the use of oleic acid (C18H34O2) and heptane (C7H16). The alloys were first produced in bulk pellets by arc melting and subsequently milled for only 2 and 5 h in oleic acid (15 and 30% mass weight). The powders consist of an ensemble of nanoparticles with a TbCu2 lattice cell volume of ≈215 Å3, an average particle diameter between 9 and 12 nm and inhomogeneous lattice strain of 0.2–0.4%, as deduced from X-ray diffraction data. The nanometric sizes of the crystals with defined lattice planes are close to those obtained by transmission electron microscopy. Raman spectroscopy shows the existence of inelastic peaks between 1000 and 1650 cm−1, a characteristic of C18H34O2. The magnetisation shows a peak at the antiferromagnetic-paramagnetic transition with Néel temperatures around 48 K (below that of bulk alloy) and a distinctive metamagnetic transition at 5 K up to 40 K. The Curie-Weiss behaviour above the transition reveals effective Bohr magneton numbers (≈9.1–9.9 μB) which are close to what is expected for the free Tb3+ ion using Hund's rules. The metamagnetic transition is slightly augmented with respect to the bulk value, reaching H = 24.5 kOe by the combined effect of the size reduction and the lattice strain increase and the increase of magnetic disorder. At low temperatures, there is irreversibility as a result of the existing magnetic disorder. The moment relaxation follows an Arrhenius model with uncompensated Tb moments, with activation energies between 295 and 326 K and pre-exponential factors between 10−11 and 10−13 s. The results are interpreted as a consequence of the existence of a diamagnetic surfactant which drastically decreases the magnetic coupling between interparticle moments.
Access options
Buy single article
Instant access to the full article PDF.
USD 39.95
Price includes VAT (USA)
Tax calculation will be finalised during checkout.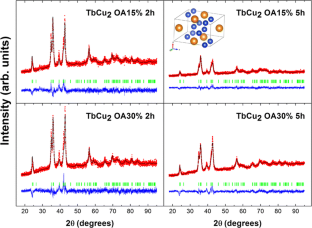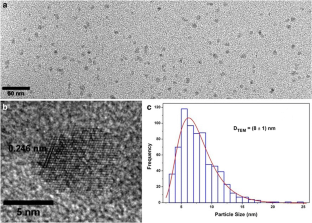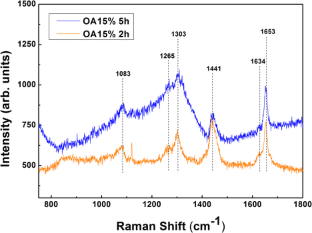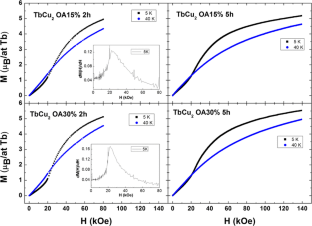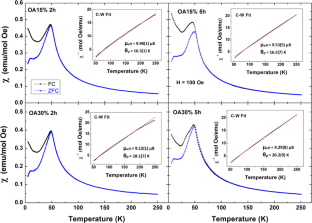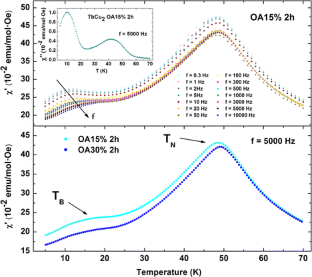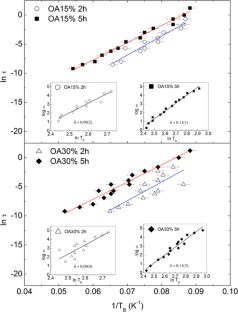 References
Akdogan NG, Hadjipanayis GC, Sellmyer DJ (2009) J Appl Phys 105:07A710

Alba Venero D, Fernández Barquín L, Alonso J, Fdez-Gubieda ML, Rodríguez Fernández L, Boada R, Chaboy J (2013) J Phys Condens Matter 25:276001

Andersson MS, Mathieu R, Su Seong L, Normile PS, Singh G, Nordblad P, De Toro JA (2015) Nanotechnology 26:475703

Bedanta S, Kleemann W (2009) J Phys D Appl Phys 42:013001

Berry CC, Curtis ASG (2003) J Phys D Appl Phys 36:R198

Chandra S, Khurshid H, Li W, Hadjipanayis GC, Phan MH, Srikanth H (2012) Phys Rev B 86:014426

Coey J M D (2010) Magnetism and magnetic materials (Cambridge University press)

Cuellar FA, Liu YH, Salafranca J, Nemes N, Iborra E, Sanchez-Santolino G, Varela M, Garcia Hernandez M, Freeland JW, Zhernenkov M, Fitzsimmons MR, Okamoto S, Pennycook SJ, Bibes M, Barthélémy A, te Velthuis SGE, Sefrioui Z, Leon C, Santamaria J (2014) Nat Commun 5:52153

De Gelder J, De Gussem K, Vandenabeele P, Moens L (2007) J Raman Spectrosc 38:1133

De Paula VG, da Silva LM, dos Santos AO, Lang R, Otubo L, Coelho AA, Cardoso LP (2016) Phys Rev B 93:094427

Dormann JL, Bessais L, Fiorani D (1988) J Phys C Solid State Phys 21:2015

Echevarria-Bonet C, Rojas DP, Espeso JI, Rodríguez Fernández J, Rodríguez Fernández J, Gorria P, Blanco JA, Fdez-Gubieda ML, Bauer E, André G, Fernández Barquín L (2013) Phys Rev B 87:180407(R)

Echevarria-Bonet C, Rojas DP, Espeso JI, Rodríguez Fernández J, de la Fuente RM, Fernández Barquín L, Rodríguez Fernández L, Gorria P, Blanco JA, Fdez-Gubieda ML, Bauer E, Damay F (2015) J Phys Condens Matter 27:496002

Estrader M, López-Ortega A, Estradé S, Golosovsky IV, Salazar-Alvarez G, Vasilakaki M, Trohidou KN, Varela M, Stanley DC, Pechan MJ, Keavney DJ, Peiró F, Surinach S, Baró MD, Nogués J (2013) Nat Commun 4:2960

Gleiter H, Schimmel T, Hahn H (2014) Nano Today 9:17–68

Hansen MF, Koch CB, Mørup S (2000) Phys Rev B 62:1124

Kilcoyne SH, Cywinski R (1995) J Magn Magn Mater 1466:140–144

Li WF, Hu XC, Cui BZ, Yang JB, Han JZ, Hadjipanayis GC (2013) J Magn Magn Mater 339:71

Lu AH, Salabas EL, Schuth F (2007) Angew Chem Int Edn Engl 46:1222

Luong N H and Franse J (1995) Handbook of magnetic materials: magnetic properties of rare Earth-Cu2 compounds. In: Buschow K H J (ed) vol 8. Elsevier, Amsterdam, p 415

Makhlouf Salah A, Parker FT, Berkowitz AE (1997) Phys Rev B 55:R14717

Morales MA, Williams DS, Shand PM, Stark C, Pekarek TM, Yue LP, Petkov V, Leslie-Pelecky DL (2004) Phys Rev B 70:184407

Moriarty P (2001) Rep Prog Phys 64:297

Mørup S, Madsen MB, Franck J, Villadsen J, Koch CJW (1983) J Magn Magn Mater 40:163

Mørup S, Hansen MF, Frandsen C (2011) Comprehensive nanoscience and Nanotechnology, vol 1. Academic, Oxford, p 437

Nogués J, Sort J, Langlais V, Skumryev V, Suriñach S, Muñoz JS, Baró MD (2005) Phys Rep 422:65

Peddis D, Rinaldi D, Ennas G, Scano A, Agostinelli E, Fiorani D (2012) Phys Chem Chem Phys 14:3162

Rinaldi-Montes N, Gorria P, Martínez-Blanco D, Fuertes AB, Fernández Barquín L, Puente-Orench I, Blanco JA (2015) Nanotechnology 26:305705

Rodríguez-Carvajal J (1993) Physica B 192:55

Rojas DP, Fernández Barquín L, Rodríguez Fernández J, Espeso JI, Gómez Sal JC (2007) J Phys Condens Matter 19:186214

Rojas DP, Fernández Barquín L, Echevarria-Bonet C, Rodríguez Fernández J (2012) J Nanosci Nanotechnol 12:7482

Sánchez-Valdés CF, Ibarra-Gaytán PJ, Sánchez Llamazares JL, Ávalos-Borja M, Álvarez-Alonso P, Gorria P, Blanco JA (2014) Appl Phys Lett 104:212401

Schneider CA, Rasband WS, Eliceiri KW (2012) Nat Methods 9:671

Simeonidis K, Sarafidis C, Papastergiadis E, Angelakeris M, Tsiaoussis I, Kalogirou O (2011) Intermetallics 19:589

Stark WJ, Stoessel PR, Wohlleben W, Hafner A (2015) Chem Soc Rev 44:5793–5805

Tartaj P, Morales MD, Veintemillas-Verdaguer S, Gonzalez-Carreno T, Serna CJ (2003) J Phys D Appl Phys 36(13):R182

Ullah M, Eaqub AM, Hamid SBA (2014) Rev Adv Mater Sci 37:1

Wang Y, Li Y, Rong C, Liu JP (2007) Nanotechnology 18:465701

Yadav TP, Yadav RM, Singh DP (2012) Nanosci Nanotechnol 2:22

Zhou GF, Bakker H (1995) Phys Rev B 52:9437

Zysler RD, Fiorani D, Testa AM, Suber L, Agostinelli E, Godinho M (2003) Phys Rev B 68 (21):212408
Acknowledgments
This work has been supported by Spanish MINECO grant MAT2014-55049-C2-R. M. de la Fuente Rodríguez work is also supported by FPI (BES-2012-058722).
Compliance with ethical standards
The authors declare that they have no conflict of interest.
About this article
Cite this article
de la Fuente Rodríguez, M., Espeso, J.I., González, J.A. et al. Surfactant-assisted production of TbCu2 nanoparticles. J Nanopart Res 19, 231 (2017). https://doi.org/10.1007/s11051-017-3931-6
Received:

Accepted:

Published:
Keywords
Rare Earth binary nanoparticles

Surfactant-assisted production

Superantiferromagnetism

Arrhenius relaxation

Synthesis