Abstract
Single-walled carbon nanotubes (SWNTs) are 1D nanostructures with distinct physical and chemical properties that have shown great promise for applications in many fields, including biomedicine. Since for biomedical application the water solubility is crucial and SWNTs have low solubility, various methods (including polymer and biopolymer wrapping, chemical modifications) have been developed to solubilize and disperse them in water. Due to their unique optical properties such as photoluminescence in the NIR and strong resonant Raman signatures, they can be used as nanoprobes in biomedical imaging and phototherapies. Furthermore, decoration of SWNTs with noble metal nanoparticles will induce an excellent surface-enhanced Raman scattering (SERS) effect of the nanoparticles-SWNTs composites, with applications in cell imaging. Herein, we present a new and facile strategy for the DNA-assisted decoration of SWNTs with gold nanoparticles (AuNPs) and their application in SERS imaging. By ultrasonication at room temperature of SWNTs with AuNPs functionalized with synthetic DNA, SWNT-AuNPs nanocomposites with enhanced Raman signal were obtained. Among the important advantages of the proposed method are the presence of the free DNA overhangs around the SWNT-AuNPs suitable for post-synthetic modification of nanocomposite through hybridization of complementary DNA strands containing molecules of interest attached by well-developed bio-conjugation chemistry.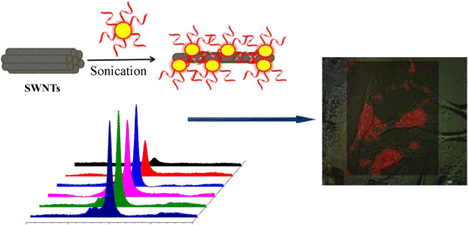 This is a preview of subscription content, log in to check access.
Access options
Buy single article
Instant access to the full article PDF.
US$ 39.95
Price includes VAT for USA
Subscribe to journal
Immediate online access to all issues from 2019. Subscription will auto renew annually.
US$ 99
This is the net price. Taxes to be calculated in checkout.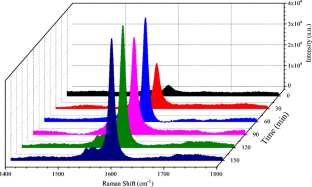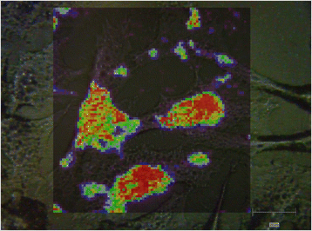 Acknowledgements
This work was supported by a grant of the Romanian National Authority for Scientific Research and Innovation, CNCS-UEFISCDI, project number PN-II-RU-TE-2014-4-1444. This publication is also part of a project that has received funding from the European Union's Horizon 2020 research and innovation programme under grant agreement no. 667387.
Ethics declarations
The authors declare that they have no conflict of interest.
Electronic supplementary material
About this article
Cite this article
Ursu, E., Doroftei, F., Peptanariu, D. et al. DNA-assisted decoration of single-walled carbon nanotubes with gold nanoparticles for applications in surface-enhanced Raman scattering imaging of cells. J Nanopart Res 19, 181 (2017). https://doi.org/10.1007/s11051-017-3876-9
Received:

Accepted:

Published:
Keywords
Single-walled carbon nanotubes

DNA

Gold nanoparticles

Surface-enhanced Raman scattering

Cell imaging

Biomedicine