Abstract
Delineating the emergence of nanotechnologies that offer new functionalities is an important element in an anticipatory approach to the governance of nanotechnology and its potential impacts. This paper examines the transition to next generation active nanotechnologies which incorporate functions that respond to the environment or systems concepts that combine devices and structures that are dynamic and which may change their states in use. We develop an approach to identifying these active nanotechnologies and then use bibliometric analysis to examine the extent of research papers and patents involving these concepts. We also examine references to environmental, health, and safety concepts in these papers, given that these next generation nanotechnologies are likely to have risk profiles that are different from those of first-generation passive nanomaterials. Our results show a steady growth overall in focus on active nanotechnologies in the research literature and in patents over the study period of 1990–2010. We also find an increase in consideration given to environmental, health, and safety topics. While gaps are highlighted in our understanding of research and innovation in active nanotechnologies, the results suggest that there is beginning to be a shift to active nanotechnologies, with the implication that governance processes need to be conscious of this shift and to prepare for it.
Access options
Buy single article
Instant access to the full article PDF.
US$ 39.95
Tax calculation will be finalised during checkout.
Subscribe to journal
Immediate online access to all issues from 2019. Subscription will auto renew annually.
US$ 79
Tax calculation will be finalised during checkout.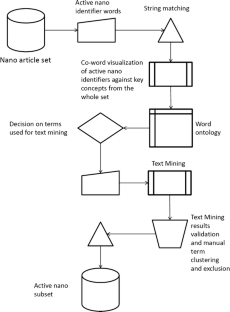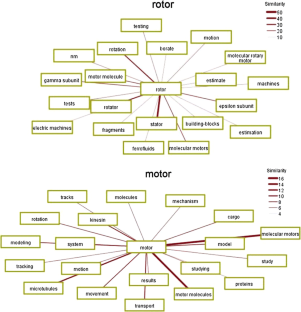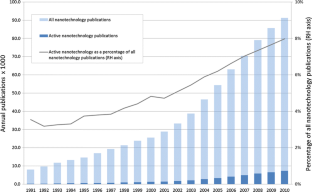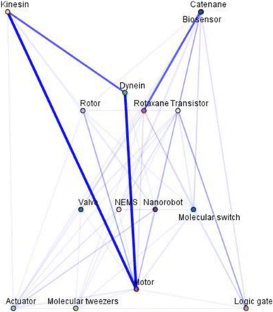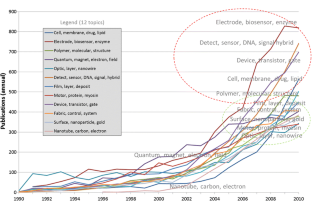 Notes
1.

Interviews were conducted with Mihail C. Roco by telephone on September 7, 2012, and in-person on February 18, 2013 at the National Science Foundation, Arlington, VA.
References
Arora SK, Porter AL, Youtie J, Shapira P (2013) Capturing new developments in an emerging technology: an updated search strategy for identifying nanotechnology research outputs. Scientometrics 95(1):351–370

Arora SK, Youtie J, Carley S, Porter AL, Shapira P (2014) Measuring the development of a common scientific lexicon in nanotechnology. J Nanopart Res 16(1):1–11

Baird D, Shew A (2004) Probing the History of Scanning Tunneling Microscopy. In: Baird D, Nordmann A, Schummer J (eds) Discovering the nanoscale. IOS Press, Amsterdam, pp 145–156

Blei DM (2012) Probabilistic topic models. Commun ACM 55(4):77. doi:10.1145/2133806.2133826

BSI (2005) Vocabulary—Nanoparticles. PAS 71:2005. London: British Standards Institute

Buckland M, Gey F (1994) The relationship between recall and precision. J Am Soc Inf Sci 45(1):12–19

Charitidis CA, Georgiou P, Koklioti MA, Trompeta A-F, Markakis V (2014) Manufacturing nanomaterials: from research to industry. Manuf Rev 1(11):1–19. doi:10.1051/mfreview/2014009

Cientifica (2011) Global funding of nanotechnologies and its impact. London. July

Dang Y, Zhang Y, Fan L, Chen H, Roco MC (2010) Trends in worldwide nanotechnology patent applications: 1991 to 2008. J Nanopart Res 12(3):687–706. doi:10.1007/s11051-009-9831-7

Drexler KE (1986) Engines of creation: the coming era of nanotechnology. Anchor Books, New York

EPO (2016) PATSTAT Online v2.2.8 User Manual. European Patent Office. http://documents.epo.org/projects/babylon/eponet.nsf/0/5AE173034539C62DC1257990004F162F/$File/patstat_online_user_manual_v2.11_en.pdf

Falagas ME, Pitsouni EI, Malietzis GA, Pappas G (2008) Comparison of PubMed, Scopus, web of science, and Google scholar: strengths and weaknesses. FASEB Journal 22:338–342

Fatehi L, Kuzma J, Najmaie P (2013) A Delphi approach to finding a cross disciplinary definition of "nano" for research, society, and regulation. Paper presented at the fifth annual meeting of the Society for the study of Nanoscience and Emerging Technologies, Boston, Massachusetts USA October 27–29, 2013

Grieneisen ML, Zhang MD (2012) The ongoing proliferation of nano journals. Nat Nanotechnol 7(5):273–274. doi:10.1038/nnano.2012.53

Griggs MB (2012) How DNA origami creates supermaterials. Popular Mechanics. March 16

Guston DH, Sarewitz D (2002) Real-time technology assessment. Technol Soc 24(1):93–109

Huang C, Notten A, Rasters N (2011) Nanoscience and technology publications and patents: a review of social science studies and search strategies. J Technol Transfer 36(2):145–172

IRGC (2007) Nanotechnology risk governance: recommendations for a global, coordinated approach to the governance of potential risks. Policy Brief. International Risk Governance Council, Geneva

ISO (2008) Nanotechnologies—Terminology and definitions for nano-objects—Nanoparticle, nanofibre and nanoplate. ISO/TS 27687:2008(E). Geneva: International Organization for Standardization

Kay L, Youtie J, Shapira P (2014) Signs of things to come? What patent submissions by small and medium-sized enterprises say, about corporate strategies in emerging technologies. Technol Forecast Soc Chang 85:17–25. doi:10.1016/j.techfore.2013.09.006

Klaessig F (2013) Setting useful nanotechnology definitions examined from the standpoint of central and peripheral claim language used in intellectual property law. In: Konrad K, Coenen C, Dijkstra A, Milburn C, van Lente H (eds) Shaping emerging technologies: governance, innovation, discourse. IOS Press, Berlin

Klaessig F, Marrapese M, Abe S (2011) Current perspectives in nanotechnology terminology and nomenclature. In: Murashov V, Howard J (eds) Nanotechnology. Springer Science + Business Media, New York, pp 21–52

Kostoff RN, Koytcheff RG, Lau CGY (2007) Global nanotechnology research literature overview. Technol Forecast Soc Chang 74(9):1733–1747. doi:10.1016/j.techfore.2007.04.004

MANCEF (2004) International micro–nano roadmap. Micro and Nano Technology Commercialization Education Foundation, Albuquerque

Mogoutov A, Kahane B (2007) Data search strategy for science and technology emergence: a scalable and evolutionary query for nanotechnology tracking. Res Policy 36:893–903

Murphy F, McAlea EM, Mullins M (eds) (2016) Managing risk in nanotechnology: topics in governance, assurance, and transfer. Springer International Publishing, Berlin

NRC (2012) a research strategy for environmental, health, and safety aspects of engineered nanomaterials. National Academies Press, Washington

NSTC (1999) Nanostructure science and technology: a worldwide study. Interagency Working Group on Nanoscience, Engineering and Technology and the National Science and Technology Council. Executive Office of the President, Washington

OECD (2014) Nanotechnology in the context of technological convergence. Directorate for Science, Technology and Innovation, Working Party on Nanotechnology, DSTI/STP/NANO(2013)10/FINAL. Paris: Organisation for Economic Cooperation and Development. http://www.oecd.org/officialdocuments/publicdisplaydocumentpdf/?cote=dsti/stp/nano(2013)10/final&doclanguage=en

O'Mathúna DP (2009) Nanoethics: big ethical issues with small technology. Continuum, London

OSTL (2002) New dimensions for manufacturing: a UK strategy for nanotechnology. UK Advisory Group on Nanotechnology Applications. UK Office of Science and Technology, London

Ouellette LL (2015) Nanotechnology and innovation policy. Harv J Law Technol 29(1):34–75

Porter AL, Youtie J, Shapira P, Schoeneck D (2008) Refining search terms for nanotechnology. J Nanopart Res 10(5):715–728

Renn O, Roco M (2006) Nanotechnology and the need for risk governance. J Nanopart Res 8:153–191

Roco MC (2004) Nanoscale science and engineering: unifying and transforming tools. AIChE J 50(5):890–897

Roco MC, Mirkin CA, Hersam MC (2010) Nanotechnology Research Directions for Societal Needs in 2020: Retrospective and Outlook. WTEC. http://www.nano.gov/sites/default/files/pub_resource/wtec_nano2_report.pdf

Royal Society (2004) Nanoscience and nanotechnologies: opportunities and uncertainties. The Royal Society and The Royal Academy of Engineering, London

Sargent JF (2016) Nanotechnology: a policy primer. Congressional Research Service. RL 34511. Washington, DC

Schummer J (2014). On the novelty of nanotechnology: a philosophical essay. In: Gordijn B, Cutter AM (eds) In pursuit of nanoethics, Springer, Netherlands, pp 15–29

Scudellari M (2012) Cyborg tissue monitors cells. Technology Review, Monday, August 27

Shapira P, Wang J (2010) Follow the money. Nature 468(7324):627–628. doi:10.1038/468627a

Shapira P, Youtie J, Kay L (2011) National innovation systems and the globalization of nanotechnology innovation. J Technol Transfer 36(6):587–604

Shatkin JA (ed) (2013) Nanotechnology: health and environmental risks, 2nd edn. CRC Press, Boca Raton

Smalley RE (2001) Of chemistry, love and nanobots. Sci Am 285(3):76–77. doi:10.1038/scientificamerican0901-76

Subramanian V, Youtie J, Porter AL, Shapira P (2010) Is there a shift to "active nanostructures"? J Nanopart Res 12(1):1–10

Tian B, Liu J, Jin L, Tsui J, Qing Q, Suo Z, Langer R, Kohane D, Lieber C (2012) Macroporous nanowire nanoelectronic scaffolds for synthetic tissues. Nat Mater. doi:10.1038/NMAT3404

Tour JM (2007) Nanotechnology: the passive, active and hybrid sides—gauging the investment landscape from the technology perspective. Nanotechnol Law Bus 2007(4):361–373

UT-Battelle (2007) Productive nanosystems: a technology roadmap. Battelle Memorial Institute and the Foresight Nanotech Institute

Vance ME, Kuiken T, Vejerano EP, McGinnis SP, Hochella MF Jr, Rejeski D, Hull MS (2015) Nanotechnology in the real world: redeveloping the nanomaterial consumer products inventory. Beilstein J Nanotechnol 6:1769–1780. doi:10.3762/bjnano.6.181

Youtie J, Shapira P, Porter AL (2008) Nanotechnology publications and citations by leading countries and blocs. J Nanopart Res 10:981–986

Youtie J, Porter A, Shapira P, Tang L, Benn T (2011) The use of environmental, health and safety research in nanotechnology research. J Nanosci Nanotechnol 11(1):158–166

Zhou X, Porter AL, Robinson DK, Shim MS, Guo Y (2014) Nano-enabled drug delivery: a research profile. Nanomed Nanotechnol Biol Med 10(5):889–896
Acknowledgments
We thank David Guston, Kathy Eggleson, and Fred Klaessig for their helpful suggestions on an earlier version of this paper, which was presented at the Workshop on the Anticipatory Governance of Complex Engineered Nanomaterials. This study was undertaken with support from the US National Science Foundation under Award # 0937591 (Center for Nanotechnology in Society at Arizona State University), Award # 1235693 (Collaborative Research: Workshop on the Anticipatory Governance of Complex Engineered Nanomaterials), and Award # 1542174 (NNCI: Southeastern Nanotechnology Infrastructure Corridor). Any opinions, findings, and conclusions are those of the authors and do not necessarily reflect the views of the sponsors.
Additional information
Guest Editors: Kathleen Eggleson, David H. Guston
This article is part of the Special Focus on Anticipatory Governance of Next Generation Nanotechnology
Appendix
Appendix
See Table 3.
About this article
Cite this article
Suominen, A., Li, Y., Youtie, J. et al. A bibliometric analysis of the development of next generation active nanotechnologies. J Nanopart Res 18, 270 (2016). https://doi.org/10.1007/s11051-016-3578-8
Received:

Accepted:

Published:
Keywords
Active nanotechnology

Systems of nanotechnology

Bibliometrics

Environmental, health, and safety

Science and technology survey