Abstract
Various inorganic nanoparticle designs have been developed and used as non-viral gene carriers. Magnetic gene carriers containing polyethyleneimine (PEI), a well-known transfection agent, have been shown to improve DNA transfection speed and efficiency in the presence of applied magnetic field gradients that promote particle–cell interactions. Here we report a method to prepare iron oxide nanoparticles conjugated with PEI that: preserves the narrow size distribution of the nanoparticles, conserves magnetic properties throughout the process, and results in efficient transfection. We demonstrate the ability of the particles to electrostatically bind with DNA and transfect human cervical cancer (HeLa) cells by the use of an oscillating magnet array. Their transfection efficiency is similar to that of Lipofectamine 2000™, a commercial transfection reagent. PEI-coated particles were subjected to acidification, and acidification in the presence of salts, before DNA binding. Results show that although these pre-treatments did not affect the ability of particles to bind DNA they did significantly enhanced transfection efficiency. Finally, we show that these magnetofectins (PEI-MNP/DNA) complexes have no effect on the viability of cells at the concentrations used in the study. The systematic preparation of magnetic vectors with uniform physical and magnetic properties is critical to progressing this non-viral transfection technology.
Access options
Buy single article
Instant access to the full article PDF.
US$ 39.95
Tax calculation will be finalised during checkout.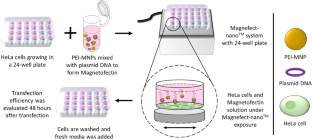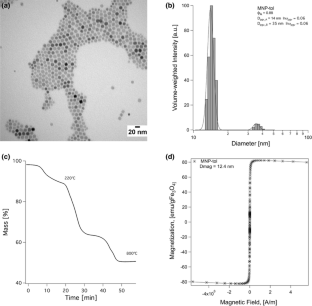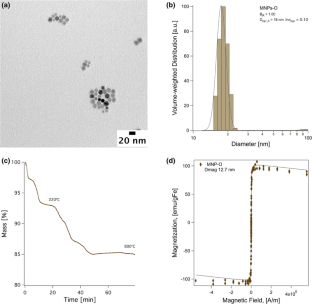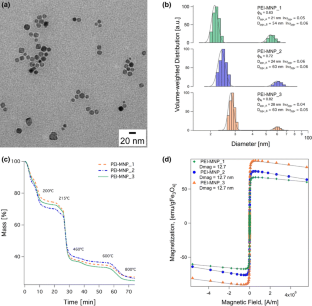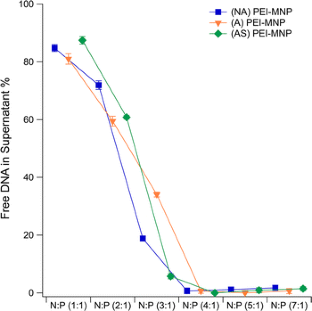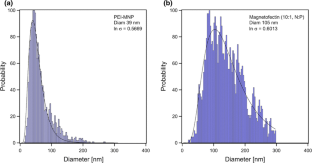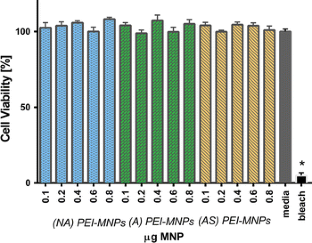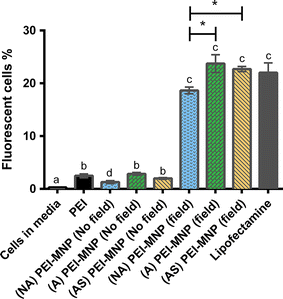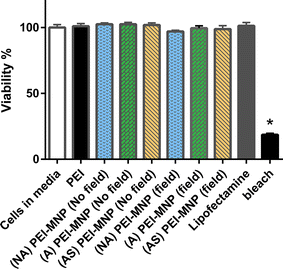 References
Al-Deen FN, Ho J, Selomulya C et al (2011) Superparamagnetic nanoparticles for effective delivery of malaria DNA vaccine. Langmuir 27:3703–3712. doi:10.1021/la104479c

Arsianti M, Lim M, Marquis CP, Amal R (2010) Assembly of polyethylenimine-based magnetic iron oxide vectors: insights into gene delivery. Langmuir 26:7314–7326. doi:10.1021/la9041919

Benjaminsen RV, Mattebjerg MA, Henriksen JR et al (2012) The possible "proton sponge" effect of polyethylenimine (PEI) does not include change in lysosomal pH. Mol Ther 21:149–157. doi:10.1038/mt.2012.185

Bonevich J, Haller W (2010) Measuring the Size of nanoparticles using transmission electron microscopy (TEM). NIST-NCL Jt Assay Protoc PCC-7 21702:1–13

Boussif O, Lezoualc'h F, Zanta MA et al (1995) A versatile vector for gene and oligonucleotide transfer into cells in culture and in vivo: polyethylenimine. Proc Natl Acad Sci USA 92:7297–7301. doi:10.1073/pnas.92.16.7297

Cheong SJ, Lee CM, Kim SL et al (2009) Superparamagnetic iron oxide nanoparticles-loaded chitosan-linoleic acid nanoparticles as an effective hepatocyte-targeted gene delivery system. Int J Pharm 372:169–176. doi:10.1016/j.ijpharm.2009.01.009

De Palma R, Peeters S, Van Bael MJ et al (2007) Silane ligand exchange to make hydrophobic superparamagnetic nanoparticles water-dispersible. Chem Mater 19:1821–1831. doi:10.1021/cm0628000

Ginn SL, Alexander IE, Edelstein ML et al (2012) Gene therapy clinical trials worldwide to 2012—an update. J Gene Med 15:65–77. doi:10.1002/jgm

Godbey WT, Wu KK, Mikos AG (1999) Poly(ethylenimine) and its role in gene delivery. J Control Release 60:149–160. doi:10.1016/S0168-3659(99)00090-5

Huth S, Lausier J, Gersting SW et al (2004) Insights into the mechanism of magnetofection using PEI-based magnetofectins for gene transfer. J Gene Med 6:923–936. doi:10.1002/jgm.577

Jäger M, Schubert S, Ochrimenko S et al (2012) Branched and linear poly(ethylene imine)-based conjugates: synthetic modification, characterization, and application. Chem Soc Rev 41:4755

Kamau SW, Hassa PO, Steitz B et al (2006) Enhancement of the efficiency of non-viral gene delivery by application of pulsed magnetic field. Nucleic Acids Res 34:1–8. doi:10.1093/nar/gkl035

Kasturi SP, Sachaphibulkij K, Roy K (2005) Covalent conjugation of polyethyleneimine on biodegradable microparticles for delivery of plasmid DNA vaccines. Biomaterials 26:6375–6385. doi:10.1016/j.biomaterials.2005.03.043

Kennedy MT, Pozharski EV, Rakhmanova VA, MacDonald RC (2000) Factors governing the assembly of cationic phospholipid-DNA complexes. Biophys J 78:1620–1633. doi:10.1016/S0006-3495(00)76714-2

Khandhar AP, Ferguson RM, Krishnan KM (2011) Monodispersed magnetite nanoparticles optimized for magnetic fluid hyperthermia: implications in biological systems. J Appl Phys 109:10–13. doi:10.1063/1.3556948

Kievit FM, Gunn JW, Lee D (2010) NIH public access. Gene 19:2244–2251. doi:10.1002/adfm.200801844.PEI-PEG-Chitosan

Kim H, Namgung R, Singha K et al (2011) Graphene oxide-polyethylenimine nanoconstruct as a gene delivery vector and bioimaging tool. Bioconjugate Chem 22:2558–2567. doi:10.1021/bc200397j

Kim N, Jiang D, Jacobi AM et al (2012) Synthesis and characterization of mannosylated pegylated polyethylenimine as a carrier for siRNA. Int J Pharm 427:123–133. doi:10.1016/j.ijpharm.2011.08.014

Leder A, Raschzok N, Schmidt C et al (2015) Micron-sized iron oxide-containing particles for microRNA-targeted manipulation and MRI-based tracking of transplanted cells. Biomaterials 51:129–137. doi:10.1016/j.biomaterials.2015.01.065

Lee JH, Lee K, Moon SH et al (2009) All-in-one target-cell-specific magnetic nanoparticles for simultaneous molecular imaging and siRNA delivery. Angew Chem Int Ed 48:4174–4179. doi:10.1002/anie.200805998

Lim J, Clements MA, Dobson J (2012) Delivery of short interfering ribonucleic acid-complexed magnetic nanoparticles in an oscillating field occurs via caveolae-mediated endocytosis. PLoS ONE. doi:10.1371/journal.pone.0051350

Mah C, Zolotukhin I, Fraites TJ, Dobson J, Batich C, Byrne B (2000) Microsphere-mediated delivery of recombinant AAV vectors in vitro and in vivo. Mol Ther 1:239–242

McBain SC, Griesenbach U, Xenariou S et al (2008) Magnetic nanoparticles as gene delivery agents: enhanced transfection in the presence of oscillating magnet arrays. Nanotechnology 19:405102. doi:10.1088/0957-4484/19/40/405102

Morishita N, Nakagami H, Morishita R et al (2005) Magnetic nanoparticles with surface modification enhanced gene delivery of HVJ-E vector. Biochem Biophys Res Commun 334:1121–1126. doi:10.1016/j.bbrc.2005.06.204

Nawwab Al-Deen F, Ma C, Xiang SD et al (2013) On the efficacy of malaria DNA vaccination with magnetic gene vectors. J Control Release 168:10–17. doi:10.1016/j.jconrel.2013.02.030

Neuringer JL, Rosensweig RE (1964) Ferrohydrodynamics. Phys Fluids 7:1927–1937

Park J, An K, Hwang Y et al (2004) Ultra-large-scale syntheses of monodisperse nanocrystals. Nat Mater 3:891–895. doi:10.1038/nmat1251

Plank C, Schillinger U, Scherer F et al (2003) The magnetofection method: using magnetic force to enhance gene delivery. J Biol Chem 384:737–747

Pradhan K, Gadgil M (2012) Effect of addition of "carrier" DNA during transient protein expression in suspension CHO culture. Cytotechnology 64:613–622. doi:10.1007/s10616-012-9435-4

Rehman ZU, Hoekstra D, Zuhorn IS (2013) Mechanism of polyplex- and lipoplex-mediated delivery of nucleic acids: real-time visualization of transient membrane destabilization without endosomal lysis. ACS Nano 7:3767–3777. doi:10.1021/nn3049494

Scherer F, Anton M, Schillinger U et al (2002) Magnetofection-enhancing and targeting gene delivery by magnetic force in vitro and in vivo.pdf. Gene Ther 9:102–109. doi:10.1038/sj/gt/3301624

Schweiger C, Pietzonka C, Heverhagen J, Kissel T (2011) Novel magnetic iron oxide nanoparticles coated with poly(ethylene imine)-g-poly(ethylene glycol) for potential biomedical application: synthesis, stability, cytotoxicity and MR imaging. Int J Pharm 408:130–137. doi:10.1016/j.ijpharm.2010.12.046

Shi Y, Zhou L, Wang R et al (2010) In situ preparation of magnetic nonviral gene vectors and magnetofection in vitro. Nanotechnology 21:115103. doi:10.1088/0957-4484/21/11/115103

Smits RG, Koper GJM, Mandel M (1993) The Influence of nearest- and next-nearest-neighbor interactions on the potentiometric titration of linear poly(ethylenimine). J phys Chem 97(21):5745–5751. doi:10.1021/j100123a047

Tang Y-S, Wang D, Zhou C et al (2011) Bacterial magnetic particles as a novel and efficient gene vaccine delivery system. Gene Ther 5:1187–1195. doi:10.1038/gt.2011.197

Thomas M, Ge Q, Lu JJ et al (2005) Cross-linked small polyethylenimines: while still nontoxic, deliver DNA efficiently to mammalian cells in vitro and in vivo. Pharm Res 22:373–380. doi:10.1007/s11095-004-1874-y

Verma IM, Somia N (1997) Gene therapy—promises, problems and prospects. Nature 389:239–242

Wang X, Zhou L, Ma Y et al (2009) Control of aggregate size of polyethyleneimine-coated magnetic nanoparticles for magnetofection. Nano Res 2:365–372. doi:10.1007/s12274-009-9035-6

Wang M, Peng M-L, Cheng W, Cui Y-L, Chao C (2011) A novel approach for transferring oleic acid capped iron oxide nanoparticles to water phase. J Nanosci Nanotechnol 11:3688–3691. doi:10.1166/jnn.2011.3751

Yiu HHP, McBain SC, Lethbridge ZAD et al (2010) Preparation and characterization of polyethylenimine-coated Fe 3O4-MCM-48 nanocomposite particles as a novel agent for magnet-assisted transfection. J Biomed Mater Res, Part A 92:386–392. doi:10.1002/jbm.a.32363

Zhang L, Li Y, Yu JC et al (2014) Assembly of polyethylenimine-functionalized iron oxide nanoparticles as agents for DNA transfection with magnetofection technique. J Mater Chem B 2:7936–7944. doi:10.1039/C4TB01577K

Ziebarth JD, Wang Y (2010) Understanding the protonation behavior of linear polyethylenimine in solutions through Monte Carlo simulations. Biomacromolecules 11:29–38. doi:10.1021/bm900842d
Acknowledgements
We thank Shehaab Savliwala for his valuable contribution with the TEM micrographs. This work was supported in part by the NSF Nanotechnology Center for Biomedical, Environmental, and Sustainability Applications at the University of Puerto Rico, Mayagüez, and funded by the US NSF (HRD-1345156).
About this article
Cite this article
Cruz-Acuña, M., Maldonado-Camargo, L., Dobson, J. et al. From oleic acid-capped iron oxide nanoparticles to polyethyleneimine-coated single-particle magnetofectins. J Nanopart Res 18, 268 (2016). https://doi.org/10.1007/s11051-016-3577-9
Received:

Accepted:

Published:
Keywords
Nanoparticles

Nanotechnology

Iron oxide

Gene delivery

DNA

Transfection

Nanomedicine