Abstract
Coating magnetic nanoparticles (MNPs) with sodium oleate (SO) is known to be an excellent method to create biocompatible, stable colloids with a narrow size distribution. However, the mechanism of oleate adsorption on the MNP surface in aqueous systems, as well as its influence on colloidal stability, is not yet fully understood. In this context, we present here a physico-chemical study to provide a deeper understanding of surfactant interaction mechanisms with nanoparticles. We examined the effect of temperature and the SO/MNP ratio (w/w) on the adsorption process in water and observed the existence of a maximum for the adsorbed oleate amount at lower temperatures, whereas at higher temperatures, the isotherm can be adapted to the Langmuir model with constant capacity after saturation. The oleate load on the MNP surface was quantified using reversed-phase high-performance liquid chromatography measurements of samples in solution. The thermogravimetric analyses of the solid residues together with infrared spectroscopy analyses indicate a bilayer-similar structure at the MNP/water interface even for low oleate loads. The oleate interacts with the iron oxide surface through a bidentate coordination of the carboxyl group. Zeta potential measurements demonstrate the high stability of the coated system. The maximal oleate load per unit mass of MNPs reaches approximately 0.35 goleate g −1MNP .
Graphical abstract

Access options
Buy single article
Instant access to the full article PDF.
USD 39.95
Price excludes VAT (USA)
Tax calculation will be finalised during checkout.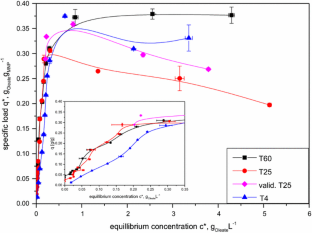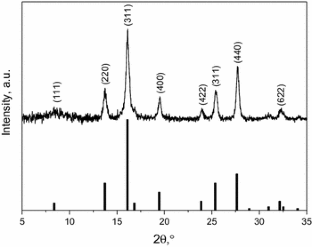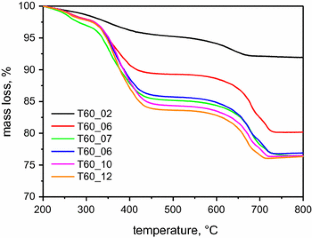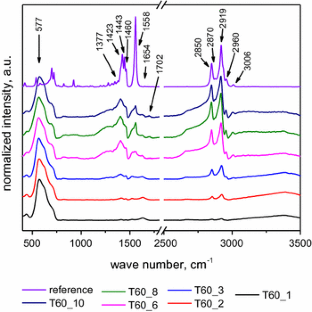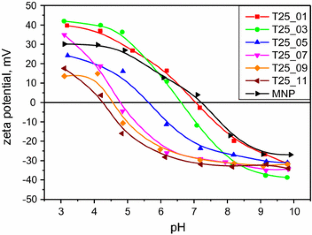 References
Arnebrant T, Bäckström K, Jönsson B, Nylander T (1989) An ellipsometry study of ionic surfactant adsorption on chromium surfaces. J Colloid Interface Sci 128(2):303–312. doi:10.1016/0021-9797(89)90344-5

Balmasova OV, Korolev VV, Yashkova VI (2010) Oleic acid adsorption–desorption isotherms on the surface of high-dispersity ferrites from a solution in carbon tetrachloride. Russ J Phys Chem 84(1):76–80. doi:10.1134/S0036024410010152

Bao Y, Wen T, Samia ACS, Khandhar A, Krishnan KM (2016) Magnetic nanoparticles: material engineering and emerging applications in lithography and biomedicine. J Mater Sci 51(1):513–553. doi:10.1007/s10853-015-9324-2

Berensmeier S (2006) Magnetic particles for the separation and purification of nucleic acids. Appl Microbiol Biotechnol 73(3):495–504. doi:10.1007/s00253-006-0675-0

Blesa MA, Figliolia NM, Maroto AJG, Regazzoni AE (1984) The influence of temperature on the interface magnetite–aqueous electrolyte solution. J Colloid Interface Sci 101(2):410–418. doi:10.1016/0021-9797(84)90052-3

Bloemen M, Brullot W, Luong TT, Geukens N, Gils A, Verbiest T (2012) Improved functionalization of oleic acid-coated iron oxide nanoparticles for biomedical applications. J Nanopart Res 14(9):1–10. doi:10.1007/s11051-012-1100-5

Brandt A, Balducci A (2013) A study about the use of carbon coated iron oxide-based electrodes in lithium-ion capacitors. Electrochim Acta 108:219–225. doi:10.1016/j.electacta.2013.06.076

Bronstein LM, Huang XL, Retrum J, Schmucker A, Pink M, Stein BD, Dragnea B (2007) Influence of iron oleate complex structure on iron oxide nanoparticle formation. Chem Mater 19(15):3624–3632. doi:10.1021/Cm062948j

Cerdeira AM, Werner IA, Mazzotti M, Gander B (2012) Simultaneous quantification of polymeric and surface active stabilizers of nanosuspensions by using near-infrared spectroscopy. Drug Dev Ind Pharm 38(11):1360–1370. doi:10.3109/03639045.2011.650864

Chen MJ, Shen H, Li X, Liu HF (2014) Facile synthesis of oil-soluble Fe3O4 nanoparticles based on a phase transfer mechanism. Appl Surf Sci 307:306–310. doi:10.1016/j.apsusc.2014.04.031

Chin AB, Yaacob II (2007) Synthesis and characterization of magnetic iron oxide nanoparticles via w/o microemulsion and Massart's procedure. J Mater Process Technol 191(1–3):235–237. doi:10.1016/j.jmatprotec.2007.03.011

de Palma R, Peeters S, van Bael MJ, van den Rul H, Bonroy K, Laureyn W, Mullens J, Borghs G, Maes G (2007) Silane ligand exchange to make hydrophobic superparamagnetic nanoparticles water-dispersible. Chem Mater 19(7):1821–1831. doi:10.1021/Cm0628000

Griffiths MJ, van Hille RP, Harrison STL (2010) Selection of direct transesterification as the preferred method for assay of fatty acid content of microalgae. Lipids 45(11):1053–1060. doi:10.1007/s11745-010-3468-2

Heinz H, Vaia RA, Farmer BL (2008) Relation between packing density and thermal transitions of alkyl chains on layered silicate and metal surfaces. Langmuir 24(8):3727–3733. doi:10.1021/La703019e

Holčapek M, Jandera P, Fischer J, Prokeš B (1999) Analytical monitoring of the production of biodiesel by high-performance liquid chromatography with various detection methods. J Chromatogr A 858(1):13–31. doi:10.1016/S0021-9673(99)00790-6

Huang JH, Parab HJ, Liu RS, Lai TC, Hsiao M, Chen CH, Sheu HS, Chen JM, Tsai DP, Hwu YK (2008) Investigation of the growth mechanism of iron oxide nanoparticles via a seed-mediated method and its cytotoxicity studies. J Phys Chem C 112(40):15684–15690. doi:10.1021/Jp803452j

Jiang W, Wu Y, He B, Zeng X, Lai K, Gu Z (2010) Effect of sodium oleate as a buffer on the synthesis of superparamagnetic magnetite colloids. J Colloid Interface Sci 347(1):1–7. doi:10.1016/j.jcis.2010.02.055

Jovanović S, Spreitzer M, Tramšek M, Trontelj Z, Suvorov D (2014) Effect of oleic acid concentration on the physicochemical properties of cobalt ferrite nanoparticles. J Phys Chem C 118(25):13844–13856. doi:10.1021/jp500578f

Khalafalla SE, Reimers GW (1980) Preparation of dilution-stable aqueous magnetic fluids. Magn IEEE Trans 16(2):178–183. doi:10.1109/Tmag.1980.1060578

Kim DK, Zhang Y, Voit W, Rao KV, Muhammed M (2001) Synthesis and characterization of surfactant-coated superparamagnetic monodispersed iron oxide nanoparticles. J Magn Magn Mater 225(1–2):30–36. doi:10.1016/S0304-8853(00)01224-5

Klevens HB (1948) Critical micelle concentrations as determined by refraction. J Phys Colloid Chem 52(1):130–148. doi:10.1021/j150457a013

Korolev VV, Ramazanova AG, Blinov AV (2002) Adsorption of surfactants on superfine magnetite. Russ Chem Bull 51(11):2044–2049. doi:10.1023/A:1021655708965

Korolev VV, Blinov AV, Ramazanova AG (2004) Adsorption of fatty acids from solutions in organic solvents on the surface of finely dispersed magnetite: 2. Heats of oleic, linoleic, and linolenic acid adsorption from carbon tetrachloride and hexane. Colloid J 66(6):705–708. doi:10.1007/s10595-005-0058-8

Korolev VV, Balmasova OV, Ramazanova AG (2009) The sorption isotherms of oleic, linoleic, and linolenic acids from solutions in cyclohexane and heptane on magnetite. Russ J Phys Chem 83(6):1018–1021. doi:10.1134/S0036024409060259

Kulkarni RD, Somasundaran P (1980) Flotation chemistry of hematite/oleate system. Colloids Surf 1(3–4):387–405. doi:10.1016/0166-6622(80)80025-4

Laurent S, Forge D, Port M, Roch A, Robic C, Vander Elst L, Muller RN (2008) Magnetic iron oxide nanoparticles: synthesis, stabilization, vectorization, physicochemical characterizations, and biological applications. Chem Rev 108(6):2064–2110. doi:10.1021/cr068445e

Lestari MLAD, Müller RH, Möschwitzer JP (2015) Systematic screening of different surface modifiers for the production of physically stable nanosuspensions. J Pharm Sci 104(3):1128–1140. doi:10.1002/jps.24266

Liu Y, Kai D (2012) Investigations of surface tension of binary nanofluids. Adv Mater Res 347–353:786–790. doi:10.4028/www.scientific.net/AMR.347-353.786

Martínez-Mera I, Espinosa-Pesqueira ME, Pérez-Hernández R, Arenas-Alatorre J (2007) Synthesis of magnetite (Fe3O4) nanoparticles without surfactants at room temperature. Mater Lett 61(23–24):4447–4451. doi:10.1016/j.matlet.2007.02.018

Massart R (1981) Preparation of aqueous magnetic liquids in alkaline and acidic media. Magn IEEE Trans 17(2):1247–1248. doi:10.1109/TMAG.1981.1061188

Moya C, Batlle X, Labarta A (2015) The effect of oleic acid on the synthesis of Fe3–xO4 nanoparticles over a wide size range. Phys Chem Chem Phys. doi:10.1039/c5cp03395k

Müller RH, Mehnert W (1997) Particle and surface characterisation methods. Wissenschaftliche Verlagsgesellschaft, Stuttgart

Nakamoto K (2006) Infrared and Raman spectra of inorganic and coordination compounds. In: Chalmers JM, Griffiths PR (eds) Handbook of vibrational spectroscopy. Wiley, New York. doi:10.1002/0470027320.s4104

Norlén L, Nicander I, Lundsjö A, Cronholm T, Forslind B (1998) A new HPLC-based method for the quantitative analysis of inner stratum corneum lipids with special reference to the free fatty acid fraction. Arch Dermatol Res 290(9):508–516. doi:10.1007/s004030050344

Pagac ES, Prieve DC, Tilton RD (1998) Kinetics and mechanism of cationic surfactant adsorption and coadsorption with cationic polyelectrolytes at the silica–water interface. Langmuir 14(9):2333–2342. doi:10.1021/LA971308F

Paria S, Khilar KC (2004) A review on experimental studies of surfactant adsorption at the hydrophilic solid–water interface. Adv Colloid Interface Sci 110(3):75–95. doi:10.1016/j.cis.2004.03.001

Paria S, Manohar C, Khilar KC (2005) Adsorption of anionic and non-ionic surfactants on a cellulosic surface. Colloids Surf A 252(2):221–229. doi:10.1016/j.colsurfa.2004.09.022

Park J, An K, Hwang Y, Park J-G, Noh H-J, Kim J-Y, Park J-H, Hwang N-M, Hyeon T (2004) Ultra-large-scale syntheses of monodisperse nanocrystals. Nat Mater 3(12):891–895. doi:10.1038/nmat1251gac

Ramimoghadam D, Bagheri S, Abd Hamid SB (2015a) Stable monodisperse nanomagnetic colloidal suspensions: an overview. Colloids Surf B. doi:10.1016/j.colsurfb.2015.02.003

Ramimoghadam D, Bagheri S, Hamid SBA (2015b) In-situ precipitation of ultra-stable nano-magnetite slurry. J Magn Magn Mater 379:74–79. doi:10.1016/j.jmmm.2014.12.005

Ramos-González R, García-Cerda LA, Quevedo-López MA (2012) Study of the surface modification with oleic acid of nanosized HfO2 synthesized by the polymerized complex derived sol–gel method. Appl Surf Sci 258(16):6034–6039. doi:10.1016/j.apsusc.2012.02.122

Reddy LH, Arias JL, Nicolas J, Couvreur P (2012) Magnetic nanoparticles: design and characterization, toxicity and biocompatibility, pharmaceutical and biomedical applications. Chem Rev 112(11):5818–5878. doi:10.1021/cr300068p

Roonasi P, Holmgren A (2009) A Fourier transform infrared (FTIR) and thermogravimetric analysis (TGA) study of oleate adsorbed on magnetite nano-particle surface. Appl Surf Sci 255(11):5891–5895. doi:10.1016/j.apsusc.2009.01.031

Roonasi P, Yang XF, Holmgren A (2010) Competition between sodium oleate and sodium silicate for a silicate/oleate modified magnetite surface studied by in situ ATR-FTIR spectroscopy. J Colloid Interface Sci 343(2):546–552. doi:10.1016/j.jcis.2009.12.002

Roth H-C, Schwaminger SP, Schindler M, Wagner FE, Berensmeier S (2015) Influencing factors in the co-precipitation process of superparamagnetic iron oxide nano particles: a model based study. J Magn Magn Mater 377:81–89. doi:10.1016/j.jmmm.2014.10.074

Rudolph M, Erler J, Peuker UA (2012) A TGA-FTIR perspective of fatty acid adsorbed on magnetite nanoparticles-decomposition steps and magnetite reduction. Colloids Surf A 397:16–23. doi:10.1016/j.colsurfa.2012.01.020

Scamehorn J, Schechter R, Wade W (1982) Adsorption of surfactants on mineral oxide surfaces from aqueous solutions: I: isomerically pure anionic surfactants. J Colloid Interface Sci 85(2):463–478. doi:10.1016/0021-9797(82)90013-3

Schilt AA (1969) Analytical applications of 1, 10-phenanthroline and related compounds, vol 32, 1st edn., International series of monographs in analytical chemistryPergamon Press, New York

Schwaminger SP, Fraga García P, Merck GK, Bodensteiner FA, Heissler S, Günther S, Berensmeier S (2015) Nature of interactions of amino acids with bare magnetite nanoparticles. J Phys Chem C 119(40):23032–23041. doi:10.1021/acs.jpcc.5b07195

Somasundaran P, Huang L (2000) Adsorption/aggregation of surfactants and their mixtures at solid–liquid interfaces. Adv Colloid Interface Sci 88(1):179–208. doi:10.1016/S0001-8686(00)00044-0

Theander K, Pugh RJ (2001) The Influence of pH and temperature on the equilibrium and dynamic surface tension of aqueous solutions of sodium oleate. J Colloid Interface Sci 239(1):209–216. doi:10.1006/jcis.2000.7543

Wang Y, Wong JF, Teng XW, Lin XZ, Yang H (2003) "Pulling" nanoparticles into water: phase transfer of oleic acid stabilized monodisperse nanoparticles into aqueous solutions of α-cyclodextrin. Nano Lett 3(11):1555–1559. doi:10.1021/Nl034731j

Wang C, Zhao X, Zhao J, Liu Y, Sheng Y, Wang Z (2007a) Biomimetic nucleation and growth of hydrophobic vaterite nanoparticles with oleic acid in a methanol solution. Appl Surf Sci 253(10):4768–4772. doi:10.1016/j.apsusc.2006.10.048

Wang X, Zhang C, Wang X, Gu H (2007b) The study on magnetite particles coated with bilayer surfactants. Appl Surf Sci 253(18):7516–7521. doi:10.1016/j.apsusc.2007.03.053

Wang Z, Lam A, Acosta E (2013) Suspensions of Iron oxide nanoparticles stabilized by anionic surfactants. J Surf Deterg 16(3):397–407. doi:10.1007/s11743-012-1425-1

Wooding A, Kilner M, Lambrick DB (1991) Studies of the double surfactant layer stabilization of water-based magnetic fluids. J Colloid Interface Sci 144(1):236–242. doi:10.1016/0021-9797(91)90254-6

Yan F, Li J, Zhang J, Liu F, Yang W (2009) Preparation of Fe3O4/polystyrene composite particles from monolayer oleic acid modified Fe3O4 nanoparticles via miniemulsion polymerization. J Nanopart Res 11(2):289–296. doi:10.1007/s11051-008-9382-3

Yang K, Peng H, Wen Y, Li N (2010) Re-examination of characteristic FTIR spectrum of secondary layer in bilayer oleic acid-coated Fe3O4 nanoparticles. Appl Surf Sci 256(10):3093–3097. doi:10.1016/j.apsusc.2009.11.079

Young AG, Al-Salim N, Green DP, McQuillan AJ (2008) Attenuated total reflection infrared studies of oleate and trioctylphosphine oxide ligand adsorption and exchange reactions on CdS quantum dot films. Langmuir 24(8):3841–3849. doi:10.1021/La703655v

Zhang L, He R, Gu HC (2006) Oleic acid coating on the monodisperse magnetite nanoparticles. Appl Surf Sci 253(5):2611–2617. doi:10.1016/j.apsusc.2006.05.023

Zhou X, Ni S, Wang X, Wu F (2007) Adsorption of sodium oleate on nano-sized fe3o4 particles prepared by coprecipitation. Curr Nanosci 3(3):259–263. doi:10.2174/157341307781422942
Acknowledgments
The authors would like to gratefully thank Prof. Dr. T. Nilges (Technical University of Munich) for his support with powder XRD and Stefan Heissler (Karlsruhe Institute of Technology, Institute of Functional Interfaces, Germany) for help with FT-IR measurements. Special gratitude is expressed to Martina Haack (Technical University of Munich, Industrial Biocatalysis Group, Germany) for performing gas chromatographic analysis. Furthermore, we would like to express our appreciation to Jonathan Ritscher for conducting part of the work in the context of student research projects. Additionally, we want to acknowledge the support of the TUM Graduate School, Technical University of Munich. We are particularly grateful for the financial support of this work by the Bavarian Ministry of Economic Affairs and Media, Energy and Technology (grant number 1340/68351/3/11), the Ministry of Education and Research (Grant number 031A173A) and Clariant.
Electronic supplementary material
Below is the link to the electronic supplementary material.
About this article
Cite this article
Roth, HC., Schwaminger, S., Fraga García, P. et al. Oleate coating of iron oxide nanoparticles in aqueous systems: the role of temperature and surfactant concentration. J Nanopart Res 18, 99 (2016). https://doi.org/10.1007/s11051-016-3405-2
Received:

Accepted:

Published:

DOI: https://doi.org/10.1007/s11051-016-3405-2
Keywords