Abstract
Silver nanoparticles (AgNPs) are currently being used in many different kinds of consumer products in order to take advantage of their antimicrobial properties. However, the potential migration of silver nanoparticles into food and subsequent consumer exposure has hardly been addressed. In the current study, we investigated four brands of commercially available plastic food storage containers and measured the total amount of silver, particle size and number concentration, and the migration rates into three different food simulants (Milli-Q grade water, 10 % ethanol, and 3 % acetic acid) for 10 days at 40 °C. The experimental setup was made according to the European Commission Directive (EU 10/2011) for articles intended to be in contact with food. The total amount of silver in plastic containers and migration solutions was quantified by ICP-MS analysis, and the size of the migrated particles was investigated by single particle ICP-MS and TEM-EDS. The total mass and median size of released particulate Ag were generally highest in 3 % acetic acid for three out of four food container brands. The total content of silver in the containers varied from 13 to 42 µg/g. The highest migration was observed in the 3 % acetic acid food simulant for all four brands of containers, with total silver release up to 3.1 ng/cm2 after 10 days. In conclusion, the experimental results show that silver has the potential of migrating into food, especially when in contact with more acidic substances.
This is a preview of subscription content, log in to check access.
Access options
Buy single article
Instant access to the full article PDF.
US$ 39.95
Price includes VAT for USA
Subscribe to journal
Immediate online access to all issues from 2019. Subscription will auto renew annually.
US$ 99
This is the net price. Taxes to be calculated in checkout.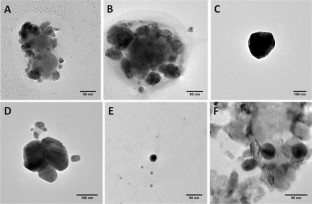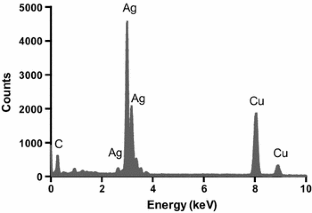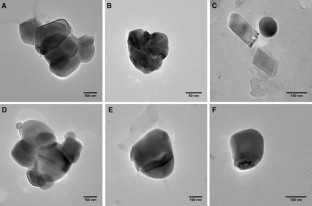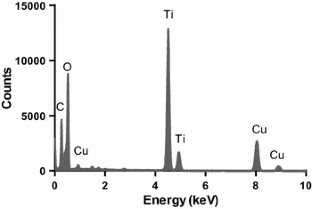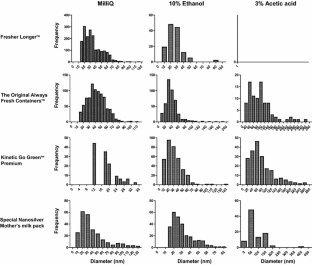 References
Akaighe N, MacCuspie RI, Navarro DA, Aga DS, Banerjee S, Sohn M, Sharma VK (2011) Humic acid-induced silver nanoparticle formation under environmentally relevant conditions. Environ Sci Technol 45:3895–3901

Artiaga G, Ramos K, Ramos L, Cámara C, Gómez-Gómez M (2014) Migration and characterisation of nanosilver from food containers by AF4-ICP-MS. Food Chem 166:76–85

Bott J, Störmer A, Franz R (2011) A comprehensive study into the migration potential of nano silver particles from food contact polyolefins. In: Benvenuto MA et al. (ed) Chemistry of food, food supplements, and food contact materials: from production to plate. American Chemical Society, pp 51–70

CFS (2014) Press release: nonprofits sue EPA for failure to regulate novel pesticide products created with nanotechnology. http://www.centerforfoodsafety.org/press-releases/3664/nonprofits-sue-epa-for-failure-to-regulate-novel-pesticide-products-created-with-nanotechnology. Accessed June 2015

Chang ALS, Khosravi V, Egbert B (2006) A case of argyria after colloidal silver ingestion. J Cutan Pathol 33:809–881

Chemical Watch (2011) Nanosilver producers refute German institute's warning. Global Business Briefing, Chemical Watch

Chou K, Lu Y, Lee H (2005) Effect of alkaline ion on the mechanism and kinetics of chemical reduction of silver. Mater Chem Phys 94:429–433

Commission European (2011) Commission Regulation (EU) No. 10/2011 of 14 January 2011 on plastic materials and articles intended to come into contact with food. Off J Eur Commun 50:1–89

Cushen M, Kerry J, Morris M, Cruz-Romero M, Cummins E (2014) Silver migration from nanosilver and a commercially available zeolite filler polyethylene composites to food simulants. Food Additi Contam 31(6):1132–1140

DuPont (2013) DuPont™ Ti-Pure® titanium dioxide. http://www2.dupont.com/Titanium_Technologies/en_US/tech_info/literature/Plastics/DTT_H88383-9_Plastics_Grade.pdf. Accessed June 2015

Echegoyen Y, Nerín C (2013) Nanoparticle release from nano-silver antimicrobial food containers. Food Chem Toxicol 62:16–22

EFSA (2006) Opinion of the Scientific Panel on food additives, flavourings, processing aids and materials in contact with food (AFC) on a request related to a 12th list of substances for food contact materials. EFSA J 395–401:1–21

Hansen SF, Baun A (2012) When enough is enough. Nat Nanotechnol 7:409–411

Hauri JF, Niece BK (2011) Leaching of silver from silver-impregnated food storage containers. J Chem Educ 88:1407–1409

Huang Y, Chen S, Bing X, Gao C, Wang T, Yuan B (2011) Nanosilver migrated into food-simulating solutions from commercially available food fresh containers. Packag Technol Sci 24:291–297

Kim YS, Kim JS, Cho HS, Rha DS, Kim JM, Park JD, Choi BS, Lim R, Chang HK, Chung YH (2008) Twenty-eight-day oral toxicity, genotoxicity, and gender-related tissue distribution of silver nanoparticles in Sprague-Dawley rats. Inhal Toxicol 20:575–583

Kim YS, Song MY, Park JD, Song KS, Ryu HR, Chung YH, Chang HK, Lee JH, Oh KH, Kelman BJ (2010) Subchronic oral toxicity of silver nanoparticles. Part Fibre Toxicol 7:20

Lin Q, Li B, Song H, Wu H (2011) Determination of silver in nano-plastic food packaging by microwave digestion coupled with inductively coupled plasma atomic emission spectrometry or inductively coupled plasma mass spectrometry. Food Addit Contam 28:1123–1128

Lin Q, Li H, Zhong H, Zhao Q, Xiao D, Wang Z (2014) Migration of Ti from nano-TiO2-polyethylene composite packaging into food simulants. Food Addit Contam 31(7):1284–1290

Liu J, Hurt RH (2010) Ion release kinetics and particle persistence in aqueous nano-silver colloids. Environ Sci Technol 44:2169–2175

Liu W, Wu Y, Wang C, Li HC, Wang T, Liao CY, Cui L, Zhou QF, Yan B, Jiang GB (2010) Impact of silver nanoparticles on human cells: effect of particle size. Nanotoxicology 4:319–330

Pace HE, Rogers NJ, Jarolimek C, Coleman VA, Higgins CP, Ranville JF (2011) Determining transport efficiency for the purpose of counting and sizing nanoparticles via single particle inductively coupled plasma mass spectrometry. Anal Chem 83:9361–9369

Park MV, Neigh AM, Vermeulen JP, de la Fonteyne Liset JJ, Verharen HW, Briedé JJ, van Loveren H, de Jong WH (2011) The effect of particle size on the cytotoxicity, inflammation, developmental toxicity and genotoxicity of silver nanoparticles. Biomaterials 32:9810–9817

Sal'nikov D, Pogorelova A, Makarov S, Vashurina IY (2009) Silver ion reduction with peat fulvic acids. Russ J Appl Chem 82:545–548

SCENIHR (2013) Opinion on Nanosilver: safety, health and environmental effects and role in antimicrobial resistance. Scientific Committee on Emerging and Newly Identified Health Risks, European Union doi:10.2772/76851

Smirnova VV, Krasnoiarova OV, Pridvorova SM, Zherdev AV, Gmoshinskii IV, Kazydub GV, Popov KI, Khotimchenko SA (2012) Characterization of silver nanoparticles migration from package materials destined for contact with foods. Vopr Pitan 81:34–39 (Article in Russian)

Song H, Li B, Lin Q, Wu H, Chen Y (2011) Migration of silver from nanosilver–polyethylene composite packaging into food simulants. Food Addit Contam 28:1758–1762

Tang J, Xiong L, Wang S, Wang J, Liu L, Li J, Wan Z, Xi T (2008) Influence of silver nanoparticles on neurons and blood-brain barrier via subcutaneous injection in rats. Appl Surf Sci 255:502–504

The Nanodatabase (2015) http://Nanodb.dk. Accessed November 2015

The Project on Emerging Nanotechnologies (PEN) (2013). http://www.nanotechproject.org. Accessed June 2015

Tiede K, Boxall AB, Tear SP, Lewis J, David H, Hassellöv M (2008) Detection and characterization of engineered nanoparticles in food and the environment. Food Addit Contam 25:795–821

US EPA (2014) News release: EPA takes action to protect public from an illegal nano silver pesticide in food containers; Cites NJ Company for Selling Food Containers with an Unregistered Pesticide Warns Large Retailers Not to Sell these Products. http://Yosemite.Epa.Gov/Opa/Admpress.Nsf/0/6469952cdbc19a4585257cac0053e637?OpenDocument. Accessed June 2015

von Goetz N, Fabricius L, Glaus R, Weitbrecht V, Gunther D, Hungerbuhler K (2013) Migration of silver from commercial plastic food containers and implications for consumer exposure assessment. Food Addit Contam 30:612–620

Wijnhoven SW, Peijnenburg WJ, Herberts CA, Hagens WI, Oomen AG, Heugens EH, Roszek B, Bisschops J, Gosens I, Van De Meent D (2009) Nano-silver-a review of available data and knowledge gaps in human and environmental risk assessment. Nanotoxicology 3:109–138

World Health Organization (2004) Guidelines for drinking-water quality: recommendations, vol. 1. World Health Organization
Acknowledgments
This project has received funding from the European Union's Seventh Framework Programme [FP7/2007–2013] under EC-GA No. 604305 'SUN.' We sincerely thank our lab technicians Susanne Kruse and Sinh Hy Nguyen for their contribution to this work.
Ethics declarations
Conflict of interest
The authors declare that there are no competing interests.
About this article
Cite this article
Mackevica, A., Olsson, M.E. & Hansen, S.F. Silver nanoparticle release from commercially available plastic food containers into food simulants. J Nanopart Res 18, 5 (2016). https://doi.org/10.1007/s11051-015-3313-x
Received:

Accepted:

Published:
Keywords
Silver nanoparticles

Consumer products

Nanoparticle release

Consumer exposure

Environmental and health effects

Food safety