Abstract
Combining both bibliometrics and citation network analysis, this research evaluates the global development of micro-electro mechanical systems (MEMS) research based on the Derwent Innovations Index database. We found that worldwide, the growth trajectory of MEMS patents demonstrates an approximate S shape, with United States, Japan, China, and Korea leading the global MEMS race. Evidenced by Derwent class codes, the technology structure of global MEMS patents remains steady over time. Yet there does exist a national competitiveness component among the top country players. The latecomer China has become the second most prolific country filing MEMS patents, but its patent quality still lags behind the global average.
Access options
Buy single article
Instant access to the full article PDF.
USD 39.95
Price excludes VAT (USA)
Tax calculation will be finalised during checkout.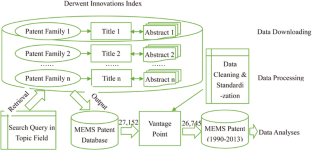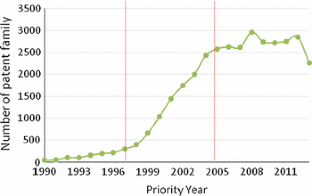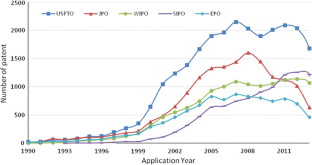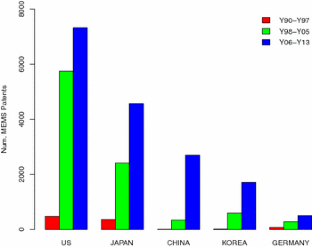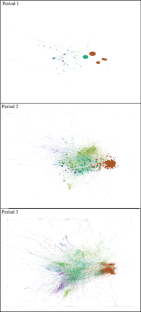 Notes
Please note the raw records extracted from DII are patent family, i.e., a group of related inventions on the same technical subject filed in different countries (Martínez 2010; Grupp and Mogee 2004). Globally it is becoming increasingly common for a single invention to be filed with multiple patent authorities for which legal protection is sought.

The patent data indexed in DII for 2013 are incomplete due to collection lag; thus, we see a bit of a downward slope for that year.

Triad patents refer to a set of patent applications related to the same invention filed at the three traditionally most prestigious patenting offices: JPO, EPO, and USPTO.
References
Allen, M. G. (2003). Microsystems Technologies in Japan. Microsystems Research in Japan, 37

Bastian M, Heymann S, Jacomy M (2009) Gephi: an open source software for exploring and manipulating networks. International AAAI Conference on Weblogs and Social Media, San Jose, CA

Bathrinarayanan A, Tamizhchelvan M (2013) MEMS output in scopus database: a bibliometric analysis. J Adv Libr Inf Sci 2(2):100–104

Chang PL, Wu CC, Leu HJ (2010) Using patent analyses to monitor the technological trends in an emerging field of technology: a case of carbon nanotube field emission display. Scientometrics 82(1):5–19

Choudhary N, Kaur D (2015) Vibration damping materials and their applications in nano/micro-electro-mechanical systems: a review. J Nanosci Nanotechnol 15(3):1907–1924

Dang Y, Zhang Y, Fan L, Chen H, Roco MC (2010) Trends in worldwide nanotechnology patent applications: 1991 to 2008. J Nanopart Res 12(3):687–706

Girshick SL (2008) Aerosol processing for nanomanufacturing. J Nanopart Res 10(6):935–945

Glanzel W, Debackere K, Meyer M (2008) ''Triad'' or ''Tetrad''? On global changes in a dynamic world. Scientometrics 74(1):59–76

Grupp H, Mogee ME (2004) Indicators for national science and technology policy: how robust are composite indicators? Res Policy 33(9):1373–1384

Hu GY, Carley S, Tang L (2012) Visualizing nanotechnology research in canada: evidence from publication activities, 1990–2009. J Technol Transfer 35(4):550–562

Jacomy M, Venturini T, Heymann S, Bastian M (2014) ForceAtlas2, a continuous graph layout algorithm for handy network visualization designed for the Gephi software. PLoS ONE 9(6):e98679. doi:10.1371/journal.pone.0098679

Kaur N, Choudhary N, Goyal RN, Viladkar S, Matai I, Gopinath P et al (2013) Magnetron sputtered Cu3 N/NiTiCu shape memory thin film heterostructures for MEMS applications. J Nanopart Res 15(3):1–16

Ko WH (2007) Trends and frontiers of MEMS. Sens Actuators A 136(1):62–67

Lee J (1997) Overview and perspectives on Japanese manufacturing strategies and production practices in machinery industry. J Manuf Sci Eng 119(4B):726–731

Lee YG, Lee JD, Song YI, Lee SJ (2007) An in-depth empirical analysis of patent citation counts using zero-inflated count data model: The case of KIST. Scientometrics 70(1):27–39

Lux Research (2009) The recession's ripple effect on nanotech. State of the market report. Lux Research Inc, New York

Ma YD (2015) MEMS research collaboration in Shanghai. Thesis. (in Chinese)

Ma J, Porter AL (2015) Analyzing patent topical information to identify technology pathways and potential opportunities. Scientometrics 102(1):811–827

Martínez C (2010) Patent families: when do different definitions really matter? Scientometrics 86(1):39–63

Meyer M (2000a) Does science push technology? patens citing scientific literature? Res Policy 29:409–434

Meyer M (2000b) What is special about patent citations? Differences between scientific and patent citations. Scientometrics 49(1):93–123

Milanez DH, Lopes de Faria LI, do Amaral RM, Leiva DR, Rodrigues Gregolin JA (2014) Patents in nanotechnology: an analysis using macro-indicators and forecasting curves. Scientometrics 101(2):1097–1112

Murray F, Stern S (2007) Do formal Intellectual property rights hinder the free flow of scientific knowledge? J Econ Behav Organ 63(4):648–687

Narin F (1994) Patent bibliometrics. Scientometrics 30(1):147–155

OECD (2009) OECD patent statistics manual. doi 10.1787/9789264056442-en. Accessed 28 Jan 2013

Roco MC (2005) International perspective on government nanotechnology funding in 2005. J Nanopart Res 7(6):707–712

Seidel AH (1949) Citation system for patent office. J Patent Office Soc 31:554–567

Sun L, Zhou Z, Gong Z (2002) The research development of MEMS and National strategies. Roberts Technol Appl 1:2–4

Tang L, Hu GY (2013) Tracing the footprint of knowledge spillover: evidence from U.S.-China Collaboration in Nanotechnology. J Am Soc Inf Sci Technol 66(9):1923–1932

Tang L, Shapira P (2011a) China-US scientific collaboration in nanotechnology: patterns and dynamics. Scientometrics 88(1):1–16

Tang L, Shapira P (2011b) Regional development and interregional collaboration in the growth of nanotechnology research in China. Scientometrics 86(2):299–315

Tang L, Shapira P, Youtie J (2015) Is there a clubbing effect underlying Chinese research citation increases? J Assoc Inf Sci Technol 66(9):1923–1932

Wang G, Guan J (2012) Value chain of nanotechnology: a comparative study of some major players. J Nanopart Res 14(2):702–715

Yole Développement (2014) Status of the MEMS industry report. The electronic version is available at http://www.yole.fr/MEMS-Market-MIS.aspx#.VeKbc31q_R0

Youtie J, Porter A, Shapira P, Tang L, Benn T (2011) The use of environmental health and safety research in nanotechnology research. J Nanosci Nanotechnol 11(1):158–166
Acknowledgments
We acknowledge support from the National Natural Science Foundation of China (#71273030) and Shanghai Soft Science Key Project (#14692102900). The findings and observations contained in this paper are those of the authors and do not necessarily reflect the views of the funding agencies.
About this article
Cite this article
Hu, G., Liu, W. Nano/micro-electro mechanical systems: a patent view. J Nanopart Res 17, 465 (2015). https://doi.org/10.1007/s11051-015-3273-1
Received:

Accepted:

Published:

DOI: https://doi.org/10.1007/s11051-015-3273-1
Keywords
MEMS

Research and development

Derwent Innovations Index

Text mining