Abstract
Iron oxide nanoparticles exhibit highly size-dependent physicochemical properties that are important in applications such as catalysis and environmental remediation. In order for these size-dependent properties to be effectively harnessed for industrial applications scalable and cost-effective techniques for size-controlled synthesis or size separation must be developed. The synthesis of monodisperse iron oxide nanoparticles can be a prohibitively expensive process on a large scale. An alternative involves the use of inexpensive synthesis procedures followed by a size-selective processing technique. While there are many techniques available to fractionate nanoparticles, many of the techniques are unable to efficiently fractionate iron oxide nanoparticles in a scalable and inexpensive manner. A scalable apparatus capable of fractionating large quantities of iron oxide nanoparticles into distinct fractions of different sizes and size distributions has been developed. Polydisperse iron oxide nanoparticles (2–20 nm) coated with oleic acid used in this study were synthesized using a simple and inexpensive version of the popular coprecipitation technique. This apparatus uses hexane as a CO2 gas-expanded liquid to controllably precipitate nanoparticles inside a 1L high-pressure reactor. This paper demonstrates the operation of this new apparatus and for the first time shows the successful fractionation results on a system of metal oxide nanoparticles, with initial nanoparticle concentrations in the gram-scale. The analysis of the obtained fractions was performed using transmission electron microscopy and dynamic light scattering. The use of this simple apparatus provides a pathway to separate large quantities of iron oxide nanoparticles based upon their size for use in various industrial applications.
Graphical Abstract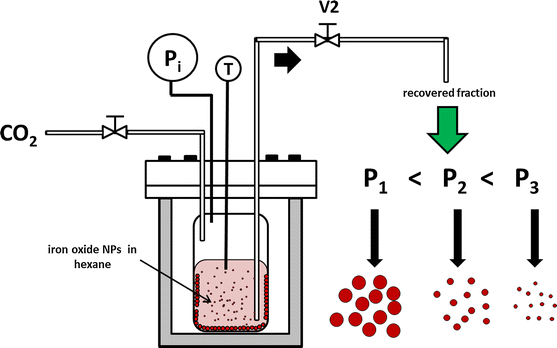 Access options
Buy single article
Instant access to the full article PDF.
USD 39.95
Price includes VAT (USA)
Tax calculation will be finalised during checkout.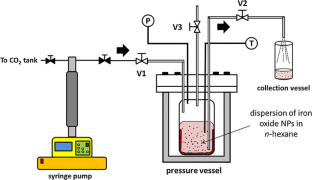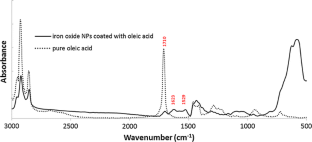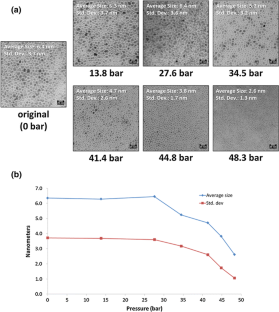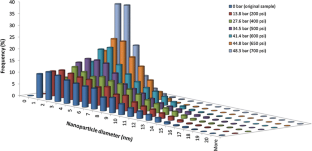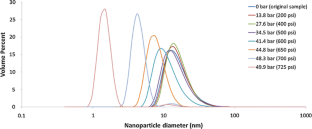 References
Amendola V, Meneghetti M (2009) Size Evaluation of Gold Nanoparticles by UV−vis Spectroscopy. J Phys Chem C 113:4277–4285. doi:10.1021/jp8082425

Anand M, McLeod MC, Bell PW, Roberts CB (2005) Tunable solvation effects on the size-selective fractionation of metal nanoparticles in CO2 gas-expanded solvents. J Phys Chem B 109:22852–22859. doi:10.1021/jp0547008

Anand M, Odom LA, Roberts CB (2007) Finely controlled size-selective precipitation and separation of CdSe/ZnS semiconductor nanocrystals using CO2-gas-expanded liquids. Langmuir 23:7338–7343. doi:10.1021/la700325z

Andreas K, Georgieva R, Ladwig M et al (2012) Highly efficient magnetic stem cell labeling with citrate-coated superparamagnetic iron oxide nanoparticles for MRI tracking. Biomaterials 33:4515–4525. doi:10.1016/j.biomaterials.2012.02.064

Babes L, Denizot B, Tanguy G et al (1999) Synthesis of iron oxide nanoparticles used as MRI contrast agents: a parametric study. J Colloid Interface Sci 212:474–482. doi:10.1006/jcis.1998.6053

Baran Jr, Jimmie R., Cabrera OJ (2003) Use of surface-modified nanoparticles for oil recovery

Binks BP, Whitby CP (2005) Nanoparticle silica-stabilised oil-in-water emulsions: improving emulsion stability. Colloids Surf A 253:105–115. doi:10.1016/j.colsurfa.2004.10.116

Bishop KJM, Wilmer CE, Soh S, Grzybowski BA (2009) Nanoscale forces and their uses in self-assembly. Small 5:1600–1630. doi:10.1002/smll.200900358

Bulte JWM, Kraitchman DL (2004) Iron oxide MR contrast agents for molecular and cellular imaging. NMR Biomed 17:484–499. doi:10.1002/nbm.924

Chen C-J, Lai H-Y, Lin C-C et al (2009) Preparation of monodisperse iron oxide nanoparticles via the synthesis and decomposition of iron fatty acid complexes. Nanoscale Res Lett 4:1343–1350. doi:10.1007/s11671-009-9403-x

Duggan JN, Roberts CB (2014) Aggregation and precipitation of gold nanoparticle clusters in carbon dioxide-gas-expanded liquid dimethyl sulfoxide. J Phys Chem C 118:14595–14605. doi:10.1021/jp502151p

Fletcher D (1991) Fine particle high gradient magnetic entrapment. IEEE Trans Magn 27:3655–3677. doi:10.1109/20.102936

Haiss W, Thanh NTK, Aveyard J, Fernig DG (2007) Determination of size and concentration of gold nanoparticles from UV-vis spectra. Anal Chem 79:4215–4221. doi:10.1021/ac0702084

Haruta M, Daté M (2001) Advances in the catalysis of Au nanoparticles. Appl Catal A 222:427–437. doi:10.1016/S0926-860X(01)00847-X

Hong RY, Feng B, Chen LL et al (2008) Synthesis, characterization and MRI application of dextran-coated Fe3O4 magnetic nanoparticles. Biochem Eng J 42:290–300. doi:10.1016/j.bej.2008.07.009

Hosseinian A, Rezaei H, Mahjoub A (2011) Preparation of nanosized iron oxide and their photocatalytic properties for congo red. World Acedemy Sci Eng Technol 52:736–739

Hu F, Jia Q, Li Y, Gao M (2011) Facile synthesis of ultrasmall PEGylated iron oxide nanoparticles for dual-contrast T(1)- and T(2)-weighted magnetic resonance imaging. Nanotechnology 22:245604. doi:10.1088/0957-4484/22/24/245604

Hyeon T, Lee SS, Park J et al (2001) Synthesis of highly crystalline and monodisperse maghemite nanocrystallites without a size-selection process. J Am Chem Soc 123:12798–12801

Jain TK, Morales MA, Sahoo SK et al (2005) Iron oxide nanoparticles for sustained delivery of anticancer agents. Mol Pharm 2:194–205. doi:10.1021/mp0500014

Jessop PG, Subramaniam B (2007) Gas-expanded liquids. Chem Rev 107:2666–2694. doi:10.1021/cr040199o

Jo J, Aoki I, Tabata Y (2010) Design of iron oxide nanoparticles with different sizes and surface charges for simple and efficient labeling of mesenchymal stem cells. J Control Release 142:465–473. doi:10.1016/j.jconrel.2009.11.014

Kang Y, Lee D, Stroeve P (1998) FTIR and UV-vis spectroscopy studies of Langmuir-Blodgett films of stearic acid/γ-Fe2O3 nanoparticles. Thin Solid Films 329:541–544

Kebede A, Singh AK, Rai PK et al (2013) Controlled synthesis, characterization, and application of iron oxide nanoparticles for oral delivery of insulin. Lasers Med Sci 28:579–587. doi:10.1007/s10103-012-1106-3

Khedr MH, Abdel Halim KS, Soliman NK (2009) Synthesis and photocatalytic activity of nano-sized iron oxides. Mater Lett 63:598–601. doi:10.1016/j.matlet.2008.11.050

Klačanová K, Fodran P, Šimon P (2013) Formation of Fe (0)-nanoparticles via reduction of Fe(II) compounds by amino acids and their subsequent oxidation to iron oxides. J Chem. doi:10.1155/2013/961629

Kwak B (2005) Synthesis of MRI contrast agent by coating superparamagnetic iron oxide with chitosan. IEEE Trans Magn 41:4102–4104. doi:10.1109/TMAG.2005.855338

Lee S-Y, Harris MT (2006) Surface modification of magnetic nanoparticles capped by oleic acids: characterization and colloidal stability in polar solvents. J Colloid Interface Sci 293:401–408. doi:10.1016/j.jcis.2005.06.062

Lim J, Yeap SP, Che HX, Low SC (2013) Characterization of magnetic nanoparticle by dynamic light scattering. Nanoscale Res Lett 8:381. doi:10.1186/1556-276X-8-381

Lu Y, Lu X, Mayers BT et al (2008) Synthesis and characterization of magnetic Co nanoparticles: a comparison study of three different capping surfactants. J Solid State Chem 181:1530–1538. doi:10.1016/j.jssc.2008.02.016

Maity D, Agrawal DC (2007) Synthesis of iron oxide nanoparticles under oxidizing environment and their stabilization in aqueous and non-aqueous media. J Magn Magn Mater 308:46–55. doi:10.1016/j.jmmm.2006.05.001

McLeod MC, Anand M, Kitchens CL, Roberts CB (2005a) Precise and rapid size selection and targeted deposition of nanoparticle populations using CO2 gas expanded liquids. Nano Lett 5:461–465. doi:10.1021/nl047966j

McLeod MC, Kitchens CL, Roberts CB (2005b) CO2-expanded liquid deposition of ligand-stabilized nanoparticles as uniform, wide-area nanoparticle films. Langmuir 21:2414–2418. doi:10.1021/la047576c

Mikami Y, Dhakshinamoorthy A, Alvaro M, García H (2013) Catalytic activity of unsupported gold nanoparticles. Catal Sci Technol 3:58. doi:10.1039/c2cy20068f

Morales MA, Jain TK, Labhasetwar V, Leslie-Pelecky DL (2005) Magnetic studies of iron oxide nanoparticles coated with oleic acid and Pluronic® block copolymer. J Appl Phys 97:10Q905. doi:10.1063/1.1850855

Morales M, Finotelli P, Coaquira J et al (2008) In situ synthesis and magnetic studies of iron oxide nanoparticles in calcium-alginate matrix for biomedical applications. Mater Sci Eng 28:253–257. doi:10.1016/j.msec.2006.12.016

Murray CB, Kagan CR, Bawendi MG, Murray C (2000) Synthesis and characterization of monodisperse nanocrystals and close-packed nanocrystal assemblies. Annu Rev Mater 30:545–610

Novak JP, Nickerson C, Franzen S, Feldheim DL (2001) Purification of molecularly bridged metal nanoparticle arrays by centrifugation and size exclusion chromatography. Anal Chem 73:5758–5761

Orbell JD, Godhino L, Bigger SW et al (1997) Oil spill remediation using magnetic particles: an experiment in environmental technology. J Chem Educ 74:1446. doi:10.1021/ed074p1446

Park J, Lee E, Hwang N-M et al (2005) One-nanometer-scale size-controlled synthesis of monodisperse magnetic iron oxide nanoparticles. Angew Chemie 117:2932–2937. doi:10.1002/ange.200461665

Park J-Y, Lee Y-J, Khanna PK et al (2010) Alumina-supported iron oxide nanoparticles as Fischer-Tropsch catalysts: effect of particle size of iron oxide. J Mol Catal A 323:84–90. doi:10.1016/j.molcata.2010.03.025

Qiao R, Yang C, Gao M (2009) Superparamagnetic iron oxide nanoparticles: from preparations to in vivo MRI applications. J Mater Chem 19:6274. doi:10.1039/b902394a

Rajeshwar K, de Tacconi NR (2009) Solution combustion synthesis of oxide semiconductors for solar energy conversion and environmental remediation. Chem Soc Rev 38:1984–1998. doi:10.1039/b811238j

Rao CNR, Kulkarni GU, Thomas PJ, Edwards PP (2002) Size-dependent chemistry: properties of nanocrystals. Chemistry 8:28–35

Saunders SR, Roberts CB (2009) Size-selective fractionation of nanoparticles at an application scale using CO2 gas-expanded liquids. Nanotechnology 20:475605. doi:10.1088/0957-4484/20/47/475605

Saunders SR, Roberts CB (2011) Tuning the precipitation and fractionation of nanoparticles in gas-expanded liquid mixtures. J Phys Chem C 115:9984–9992. doi:10.1021/jp2019878

Saunders SR, Roberts CB (2012) Nanoparticle separation and deposition processing using gas expanded liquid technology. Curr Opin Chem Eng 1:1–11. doi:10.1016/j.coche.2011.12.004

Sharma P, Brown S, Walter G et al (2006) Nanoparticles for bioimaging. Adv Colloid Interface Sci 123–126:471–485. doi:10.1016/j.cis.2006.05.026

Surugau N, Urban PL (2009) Electrophoretic methods for separation of nanoparticles. J Sep Sci 32:1889–1906. doi:10.1002/jssc.200900071

Thorek DLJ, Chen AK, Czupryna J, Tsourkas A (2006) Superparamagnetic iron oxide nanoparticle probes for molecular imaging. Ann Biomed Eng 34:23–38. doi:10.1007/s10439-005-9002-7

Torres Galvis HM, Bitter JH, Khare CB et al (2012) Supported iron nanoparticles as catalysts for sustainable production of lower olefins. Science 335:835–838. doi:10.1126/science.1215614

Van Der Walt H, Chown L, Harris R et al (2010) Fe3O4 and Fe3O4@ Au nanoparticles: synthesis and functionalisation for biomolecular attachment. World Acedemy Sci Eng Technol 4:1048–1052

Vengsarkar P, Roberts C (2013) Effect of ligand and solvent structure on size-selective nanoparticle dispersability and fractionation in gas expanded liquid (GXL) systems. J Phys Chem C 117:14362–14373

Vengsarkar PS, Roberts CB (2014) Solid-stabilized emulsion formation using stearoyl lactylate coated iron oxide nanoparticles. J Nanopart Res 16:2627. doi:10.1007/s11051-014-2627-4

Von White G, Mohammed FS, Kitchens CL (2011) Small-angle neutron scattering investigation of gold nanoparticle clustering and ligand structure under antisolvent conditions. J Phys Chem C 115:18397–18405. doi:10.1021/jp112020r

Wang CY, Hong JM, Chen G et al (2010) Facile method to synthesize oleic acid-capped magnetite nanoparticles. Chin Chem Lett 21:179–182. doi:10.1016/j.cclet.2009.10.024

Von White G, Kitchens C (2010) Small-angle neutron scattering of silver nanoparticles in gas-expanded hexane. J Phys Chem C 114:16285–16291

Xu Z, Shen C, Tian Y et al (2010) Organic phase synthesis of monodisperse iron oxide nanocrystals using iron chloride as precursor. Nanoscale 2:1027–1032. doi:10.1039/b9nr00400a

Yavuz CT, Mayo JT, Yu WW et al (2006) Low-field magnetic separation of monodisperse Fe3O4 nanocrystals. Science 314:964–967. doi:10.1126/science.1131475

Yu WW, Falkner JC, Yavuz CT, Colvin VL (2004) Synthesis of monodisperse iron oxide nanocrystals by thermal decomposition of iron carboxylate salts. Chem Commun (Camb) 20:2306–2307. doi:10.1039/b409601k

Yu WW, Chang E, Sayes CM et al (2006) Aqueous dispersion of monodisperse magnetic iron oxide nanocrystals through phase transfer. Nanotechnology 17:4483–4487. doi:10.1088/0957-4484/17/17/033

Zhang W (2003) Nanoscale iron particles for environmental remediation: an overview. J Nanopart Res 5:323–332

Zhang L, He R, Gu H (2006) Oleic acid coating on the monodisperse magnetite nanoparticles. Appl Surf Sci 253:2611–2617. doi:10.1016/j.apsusc.2006.05.023

Zhao H, Zhu Q, Gao Y et al (2013) Iron oxide nanoparticles supported on pyrolytic graphene oxide as model catalysts for Fischer Tropsch synthesis. Appl Catal A 456:233–239. doi:10.1016/j.apcata.2013.03.006

Zhou J, Wang L, Qiao X et al (2012) Pickering emulsions stabilized by surface-modified Fe3O4 nanoparticles. J Colloid Interface Sci 367:213–224. doi:10.1016/j.jcis.2011.11.001
Acknowledgements
This research was made possible in part from a grant from the Gulf of Mexico Research Initiative through the Consortium for Molecular Engineering of Dispersant Systems. The authors also thank Dr. Michael Miller and the Auburn University Research and Instrumentation Facility for access to the transmission electron microscope. The authors also greatly appreciate the assistance in the use of characterization equipment by Dr. Allan David and Steven Moore at Auburn University.
Additional information
Pranav S. Vengsarkar and Rui Xu have contributed equally to this work.
About this article
Cite this article
Vengsarkar, P.S., Xu, R. & Roberts, C.B. Scalable fractionation of iron oxide nanoparticles using a CO2 gas-expanded liquid system. J Nanopart Res 17, 387 (2015). https://doi.org/10.1007/s11051-015-3196-x
Received:

Accepted:

Published:
Keywords
Gas-expanded liquids

Iron oxide nanoparticles

Nanoparticle synthesis

Nanoparticle processing

Coprecipitation