Abstract
A method is presented for using a single laser pulse to transform polymorphic polycrystalline gold nanoparticles (Au NPs) into crystalline nanospheres. Transmission electron microscope analysis of the nominally 60-nm-diameter Au NP starting material and the product suspension confirms the production of slightly smaller particles that exhibit greater crystallinity and feature reduced caliper diameter aspect ratios and anisotropy. Centrifugation followed by ultrasonic resuspension into citrate solution separates the nanospheres from the <15 nm ablation fragments, providing a route to monodisperse spherical crystalline Au NPs.
Access options
Buy single article
Instant access to the full article PDF.
USD 39.95
Price excludes VAT (USA)
Tax calculation will be finalised during checkout.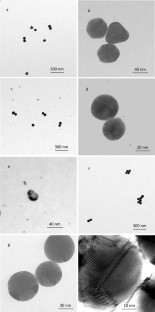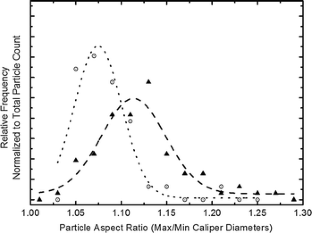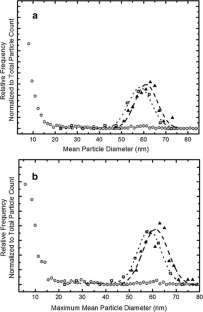 Notes
The full description of the procedures used in this paper requires the identification of certain commercial products and their suppliers. The inclusion of such information should in no way be construed as indicating that such products or suppliers are endorsed by NIST or are recommended by NIST or that they are necessarily the best materials, instruments, software, or suppliers for the purposes described.
Abbreviations
DLS:

Dynamic light scattering

FWHM:

Full width at half maximum

HR:

High resolution

NP:

Nanoparticle

TEM:

Transmission electron microscope/microscopy

UV–Vis:

Ultraviolet–visible spectroscopy
References
Bright DS (1995) MacLispix: a special purpose public domain image analysis program for the Macintosh. Microbeam Anal 4:151–163

Cavicchi RE, Meier DC, Presser C, Prabhu VM, Guha S (2013) Single laser pulse effects on suspended-Au-nanoparticle size distributions and morphology. J Phys Chem C 117:10866–10875

Daniel M-C, Astruc D (2004) Gold nanoparticles: assembly, supramolecular chemistry, quantum-size-related properties, and applications toward biology, catalysis, and nanotechnology. Chem Rev 104:293–346

Garcia MA (2011) Surface plasmons in metallic nanoparticles: fundamentals and applications. J Phys D Appl Phys 44:283001

Goss CA, Charych DH, Majda M (1991) Application of (3-mercaptopropyl)trimethoxysliane as a molecular adhesive in the fabrication of vapor-deposited gold electrodes on glass substrates. Anal Chem 63:85–88

Jain PK, Huang XH, El-Sayed IH, El-Sayed MA (2008) Noble metals on the nanoscale: optical and photothermal properties and some applications in imaging, sensing, biology, and medicine. Acc Chem Res 41:1578–1586

Kimling J, Maier M, Okenve B, Kotaidis V, Ballot H, Plech A (2006) Turkevich method for gold nanoparticle synthesis revisited. J Phys Chem B 110:15700–15707

Link S, El-Sayed MA (2000) Shape and size dependence of radiative, non-radiative and photothermal properties of gold nanocrystals. Int Rev Phys Chem 19:409–453

NIST (2012) Report of investigation, reference material 8013, gold nanoparticles, nominal 60 nm diameter. NIST RM 8013. National Institute of Standards and Technology, Gaithersburg

Noguez C (2007) Surface plasmons on metal particles: the influence of shape and physical environment. J Phys Chem C 111:3806–3819

Pelton M, Aizpurua J, Bryant G (2008) Metal-nanoparticle plasmonics. Laser Photonics Rev 2:136–159

Perrault SD, Chan WCW (2009) Synthesis and surface modification of highly monodispersed, spherical gold nanoparticles of 50–200 nm. J Am Chem Soc 131:17042–17043

Perrault SD, Chan WCW (2010) Synthesis and surface modification of highly monodispersed, spherical gold nanoparticles of 50–200 nm. J Am Chem Soc 132:11824

Pyrz WD, Buttrey DJ (2008) Particle size determination using TEM: a discussion of image acquisition and analysis for the novice microscopist. Langmuir 24:11350–11360

Schneider CA, Rasband WS, Eliceiri KW (2012) NIH Image to ImageJ: 25 years of image analysis. Nat Methods 9:671–675

Schwartzberg AM, Zhang JZ (2008) Novel optical properties and emerging applications of metal nanostructures. J Phys Chem C 112:10323–10337

Taylor BN, Kuyatt CE (1994) Guidelines for evaluating and expressing the uncertainty of NIST measurement results. NIST Technical Note 1297. National Institute of Standards and Technology, Gaithersburg

Turkevich J, Stevenson PC, Hillier J (1951) A study of the nucleation and growth processes in the synthesis of colloidal gold. Discuss Faraday Soc 11:55–75
Acknowledgments
We gratefully acknowledge Cary Presser for use of his laser apparatus and Andy Herzing and Garnett Bryant for their helpful discussions and comments on this manuscript.
Electronic supplementary material
Below is the link to the electronic supplementary material.
About this article
Cite this article
Meier, D.C., Cavicchi, R.E. Forming spherical gold nanoparticles from polymorphic nanoparticles using a single laser pulse. J Nanopart Res 16, 2460 (2014). https://doi.org/10.1007/s11051-014-2460-9
Received:

Accepted:

Published:

DOI: https://doi.org/10.1007/s11051-014-2460-9
Keywords
Transmission electron microscope

Gold nanoparticles

Anisotropy

Laser ablation

Resuspension