Abstract
A novel fast sol–gel method, using polyethylene glycol and polyacrylamide as bi-templates, to prepare the pure, Fe-doped, N-doped, and Fe–N co-doped mesoporous TiO2 samples has been developed. The reaction time is reduced to a few hours for the present work. The IR spectrum has been used to investigate the reaction mechanism of the fast sol–gel method. The results indicate that the fast sol–gel process has been achieved due to the polymerization crosslink between hydrolysates of Ti alkoxides and templates by the intermolecular hydrogen bond. The prepared samples have been characterized by X-ray diffraction, transmission electron microscopy, X-ray photoelectron spectroscopy, N2 adsorption–desorption, and UV–vis spectroscopy. The results show that the samples have a typical ordered mesoporous structure. The crystallite size, pore size, and surface area of Fe–N co-doped TiO2 are about 13.6, 18.4 nm, and 172.08 m2 g−1, respectively. The iron species as the Fe3+ oxidation state are substitutionally doped into the TiO2 lattice, and the doped nitrogen atom is incorporated into the TiO2 lattice as the interstitial N. The co-doping of nitrogen and iron can enhance the absorption of visible region and inhibit the recombination of photogenerated charge carriers, leading to higher photocatalytic activity for the co-doped sample than pure TiO2 and solely doped with iron or nitrogen for degradation of methyl orange under visible light irradiation.
Access options
Buy single article
Instant access to the full article PDF.
USD 39.95
Price excludes VAT (USA)
Tax calculation will be finalised during checkout.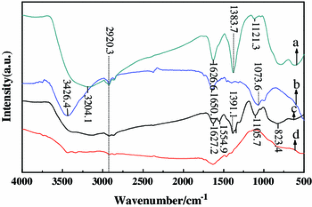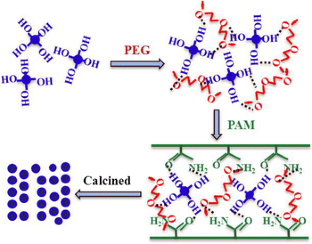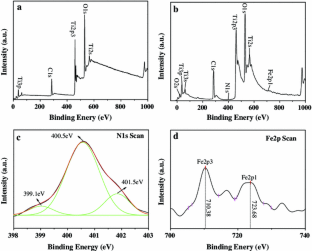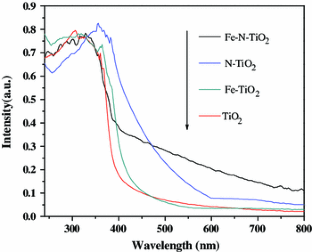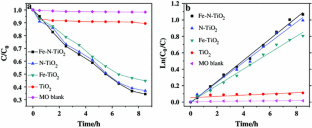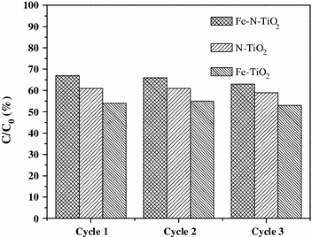 Acknowledgments
This work was supported by the Science and Technology Planning Project of Shaanxi Province (2013K09-04) and the Scientific Research Project of the Provincial College Key Laboratory of Shaanxi Province (2010JS007).
About this article
Cite this article
Zhang, K., Wang, X., Guo, X. et al. Preparation of highly visible light active Fe–N co-doped mesoporous TiO2 photocatalyst by fast sol–gel method. J Nanopart Res 16, 2246 (2014). https://doi.org/10.1007/s11051-014-2246-0
Received:

Accepted:

Published:

DOI: https://doi.org/10.1007/s11051-014-2246-0
Keywords
Mesoporous TiO2

Fast sol–gel

Fe–N co-doped

Photocatalysis