Abstract
Mexico is the second country in Latin America with regard to Nanoscience and Nanotechnology Research and Development, according to various indicators. Nanoscience and Nanotechnologies are viewed as strategic areas in government policy since 2001. In the last few decades, important policy changes in Science and Technology (S&T) have been implemented with an aim to integrate the business sector with government scientific research. This article reviews information from the Web of Science relevant to articles on nanoscience and nanotechnology stretching back 12 years, and explains the changes in S&T policy. The information uncovered leads to three conclusions: the participation of the business sector is negligible; there is a significant concentration of scientific production among a very few institutions; and the country is essentially divided geographically, with scientific production concentrated in the center and north of the country.
Access options
Buy single article
Instant access to the full article PDF.
USD 39.95
Price excludes VAT (USA)
Tax calculation will be finalised during checkout.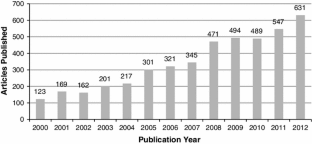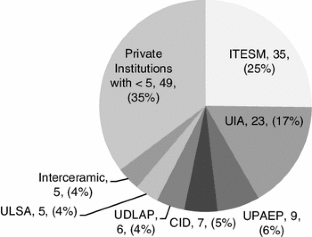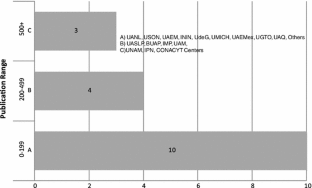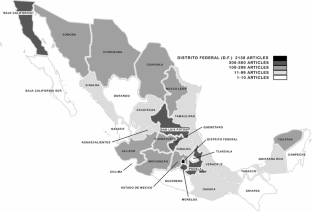 Notes
Luna-Morales writes about scientific publications and refers to Coll azo-Reyes: "The accumulated number of published papers had reached the 8000 mark by the late 1970s, a figure equivalent to the number of articles published annually in mainstream journals in recent years by Mexican researchers" (Luna-Morales 2012, p. 736).

"The recent [March 2006] meeting of President Bush, Mexican President Vicente Fox and Canadian Prime Minister Stephen Harper in Cancun underscores the importance of establishing and maintaining strong economic collaborations among the NAFTA partners to fulfill the Security and Prosperity Partnership program for enhanced North American competitiveness. We expect the BNSL to provide a unique and important mechanism for achieving the economic goals of our governments and the aspirations of their citizens in the border region" (Acosta 2006a).

Monterrey Institute of High Technology.

Ibero-American University.

Public Autonomous University of the State of Puebla.

Some authors believe that the largest part of the public funding for R&D destined for businesses were in fact received by transnational corporations that do not conduct research in the country (Loyola Díaz and Paredes López 2009).

The majority of the 35 Mixed Funds incorporated (32 state and 3 municipal) were created in 2001, with the exception of the DF, which began in 2007.
References
Acosta M (2006a) Building businesses on the border: the bi-national sustainability laboratory as an engine of economic change. Economic Development America. Washington DC, p 7–9

Acosta M (2006b) Building businesses on the border: the bi-national sustainability laboratory as an engine of economic change. Economic Development America. Washington DC, p 7–9

Catozzela A, Vivarelli M (2007) Beyond the knowledge production function: the role of R&D in a multi-faceted innovative process. J Econ Res Papers, 087

CIMAV (2008) Prospectiva de la nanotecnología en México. CIMAV (Centro de Investigaciones en Materiales Avanzados). http://www.nanotech.cimav.edu.mx/. Accessed 26 Aug 2013

CONACYT (2002) Programa Especial de Ciencia y Tecnología 2001–2006. Consejo Nacional de Ciencia y Tecnología

CONACYT (2006) Resultados de la convocatoria para crear laboratorios nacionales. Consejo Nacional de Ciencia y Tecnología. www.conacyt.mx/fondos/institucinoales/Ciencia/Laboratoriosn-Nacionales/. Accessed 3 June 2010

CONACYT (2013) Red Temática de Nanociencias y Nanotecnología. CONACYT (Consejo Nacional de Ciencia y Tecnología). Dirección de Redes. DAIC. http://www.conacyt.mx/Redes/Redes-Tematicas/Red-Nanociencias-y-Nanotecnologia.pdf. Accessed 12 July 2013

Coneval (2013) Informe de Evaluación de Desarrollo Social en México 2012. Medición de la Pobreza. Consejo Nacional de Evaluación de la Política Económica y Social. http://www.coneval.gob.mx/medicion/Paginas/Medici%C3%B3n/Pobreza-2010.aspx. Accessed 2 Jan 2013

CYTED (2003) Subprograma IX Microelectrónica. Memoria 2001–2002. CYTED (Programa Iberoamericano de Ciencia y Tecnología para el Desarrollo). http://biblioteca.ciens.ucv.ve/CYTED/09%20Subprograma%20IX.pdf. Accessed 2 Feb 2013

FM-Nuevo León (Fondos Mixtos Nuevo León) (2013) Convocatorias históricas de fondos mixtos del estado de Nuevo León. http://www.conacyt.gob.mx/FondosyApoyos/Mixtos/Constituidos/NuevoLeon/Paginas/default.aspx. Accessed 3 June 2013

González Amador R (2009) México destina sólo 0.4% del PIB a la investigación científica. La Jornada, México, DF, p 28

Kay L, Shapira P (2009) Developing nanotechnology in Latin America. J Nanopart Res 11(2):259–278

Kostoff RN, Murday JS, Lau CGY, Tolles WM (2006) The seminal literature of nanotechnology research. J Nanopart Res 8(2):193–213

Loyola Díaz R, Paredes López O (2009) La ciencia y la innovación en México, en la encrucijada. Crónica. http://www.cronica.com.mx/nota.php?id_nota=412902. Accessed 8 May 2013

Luna-Morales ME (2012) Determinants of the maturing process of the Mexican research output: 1980–2009. Intersciencia 37(10):736–742

Maldonado–Maldonado A, Rodríguez-Sabiote C (2000) Los organismos internacionales y la educación en México. El caso de la educación superior y el Banco Mundial. Perfiles Educativos, 87. http://www.redalyc.org/articulo.oa?id=13208704. Accessed 3 April 2013

María y Campos M (2002) Pequeñas y medianas empresas industriales y política tecnológica: el caso mexicano de las últimas tres décadas. Cepal, Santiago de Chile

Mogoutov A, Kahane B (2007) Data search strategy for science and technology emergence: a scalable and evolutionary query for nanotechnology tracking. Res Policy 36:893–903

OCDE (1994) Review of national science and technology policy: México examiners report DSTI/STP (94) 11. OECD (Organisation for Economic Co-operation and Development)

OICTeI (2008) La nanotecnología en Iberoamérica. Situación actual y tendencias. OICTeI (Observatorio Iberoamericano de Ciencia, Tecnología e Innovación del Centro de Altos Estudios Universitarios de la OEI). http://www.oei.es/salactsi/nano.pdf. Accessed 10 March 2013

PECITi (2008) Programa Especial de Ciencia y Tecnología e Innovación 2008-–2012. http://www.conacyt.gob.mx/Acerca/Documentos%20Normatividad/Programa-Especial-de-Ciencia-y-Tecnologia_2008-2012.pdf. Accessed 10 April 2013

PNUD (Programa de las Naciones Unidas para el Desarrollo) (2010) El Indice de Desarrollo Humano en México: cambios metodológicos e información para las entidades federativas. PNUD, México, DF

Robles-Belmont E, Vinck D (2011) A panorama of nanoscience developments in Mexico based on the comparison and crossing of nanoscience monitoring methods. J Nanosci Nanotechnol 11(06):5499–5507

Rocha A, López R (2003) Política en ciencia y tecnología en México: un análisis retrospectivo. In Innovación, aprendizaje y creación de capacidades tecnológicas (Jaime Aboites and Gabriela Dutrénit (Coord.), p 103–132). Miguel Ángel Porrúa, México, DF

Sandia National Laboratories (2005) BiNational Sustainability Laboratory opens, hopes to create "necklace of labs" along Mexican border. EurekAlert! http://www.eurekalert.org/pub_releases/2005-12/dnl-bsl121205.php. Accessed 15 April 2013

SNI (Sistema Nacional de Investigadores) (2013) Reglamento vigente del SNI. http://www.conacyt.gob.mx/SNI/Paginas/Reglamento.aspx. Accessed 3 June 2013

Takeuchi N, Mora Ramos ME (2011) Divulgación y formación en nanotecnología en México. Mundo Nano 4(2):59–64

World Bank (1998) Project appraisal document on a proposed loan in the amount of US $300 million to Mexico for a knowledge and innovation project. World Bank

Záyago Lau E (2011) A nanotech cluster in Nuevo Leon, Mexico. Reflections on its Social Significance. Nanotehcnol Law Bus J 8(1):49–59

Záyago E, Foladori G, Arteaga E (2012) Toward an inventory of nanotechnology companies in Mexico. Nanotechnol Law Bus J 9:283–292
Acknowledgments
This material is based, in part, upon work supported by the National Science Foundation under Cooperative Agreement No. 0938099. Any opinions, findings, and conclusions or recommendations expressed in this material are those of the author(s) and do not necessarily reflect the views of the National Science Foundation.
Edgar Zayago Lau would like to thank PROMEP & CONACYT for the support provided.
About this article
Cite this article
Lau, E.Z., Frederick, S. & Foladori, G. Twelve years of nanoscience and nanotechnology publications in Mexico. J Nanopart Res 16, 2193 (2014). https://doi.org/10.1007/s11051-013-2193-1
Received:

Accepted:

Published:

DOI: https://doi.org/10.1007/s11051-013-2193-1
Keywords
Nanotechnology

Nanoscience

Bibliometrics

Mexico

Science and Technology