Abstract
This work reports on preparation, characterization, and antibacterial activity of graphene oxide (GO) decorated with biogenic silver nanoparticles (Bio-AgNPs) produced by the fungus Fusarium oxysporum. This nanocomposite (Bio-GOAg) was prepared by an ex situ process through the physical mixture of a GO dispersion with the previously prepared Bio-AgNPs. The adsorption of the Bio-AgNPs onto the GO sheets was confirmed by transmission electron microscopy. The average size of the Bio-AgNPs anchored onto the GO surface was found to be 3.5 nm. The antibacterial activity of the Bio-GOAg nanocomposite against Gram-positive and Gram-negative microorganisms was investigated and a very promising result was found for the Gram-negative strains. In addition, the Bio-GOAg nanocomposite displayed a very strong biocidal activity against the Salmonella typhimurium strain at a concentration of 2.0 μg/mL. The antibiofilm activity toward S. typhimurium adhered on stainless steel surfaces was also investigated. The results showed 100 % inhibition of the adhered cells after exposure to the Bio-GOAg nanocomposite for 1 h.
Access options
Buy single article
Instant access to the full article PDF.
US$ 39.95
Tax calculation will be finalised during checkout.
Subscribe to journal
Immediate online access to all issues from 2019. Subscription will auto renew annually.
US$ 79
Tax calculation will be finalised during checkout.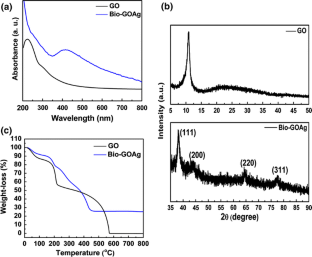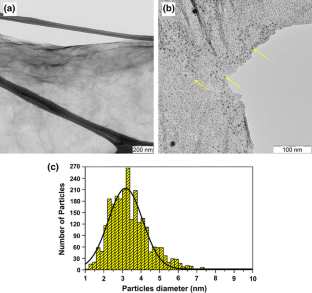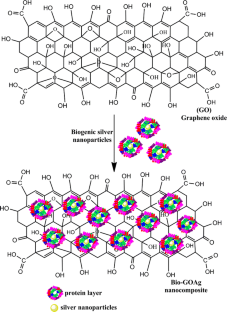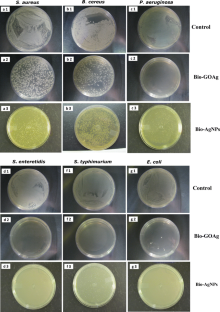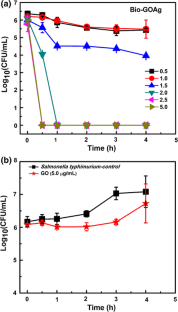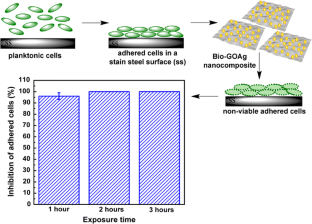 References
Ahmad A, Mukherjee P, Senapati S, Mandal D, Khan MI, Kumar R, Sastry M (2003) Extracellular biosynthesis of silver nanoparticles using the fungus Fusarium oxysporum. Colloids Surf B 28(4):313–318. doi:10.1016/S0927-7765(02)00174-1

Akaighe N, MacCuspie RI, Navarro DA, Aga DS, Banerjee S, Sohn M, Sharma VK (2011) Humic acid-induced silver nanoparticle formation under environmentally relevant conditions. Environ Sci Technol 45(9):3895–3901. doi:10.1021/es103946g

Allen MJ, Tung VC, Kaner RB (2009) Honeycomb carbon: a review of graphene. Chem Rev 110(1):132–145. doi:10.1021/cr900070d

Austin JW, Sanders G, Kay WW, Collinson SK (1998) Thin aggregative fimbriae enhance Salmonella enteritidis biofilm formation. FEMS Microbiol Lett 162(2):295–301. doi:10.1111/j.1574-6968.1998.tb13012.x

Bao Q, Zhang D, Qi P (2011) Synthesis and characterization of silver nanoparticle and graphene oxide nanosheet composites as a bactericidal agent for water disinfection. J Colloid Interface Sci 360(2):463–470. doi:10.1016/j.jcis.2011.05.009

Basavaraja S, Balaji SD, Lagashetty A, Rajasab AH, Venkataraman A (2008) Extracellular biosynthesis of silver nanoparticles using the fungus Fusarium semitectum. Mater Res Bull 43(5):1164–1170. doi:10.1016/j.materresbull.2007.06.020

Bhainsa KC, D'Souza SF (2006) Extracellular biosynthesis of silver nanoparticles using the fungus Aspergillus fumigatus. Colloids Surf B 47(2):160–164. doi:10.1016/j.colsurfb.2005.11.026

Cai X, Lin M, Tan S, Mai W, Zhang Y, Liang Z, Lin Z, Zhang X (2012) The use of polyethyleneimine-modified reduced graphene oxide as a substrate for silver nanoparticles to produce a material with lower cytotoxicity and long-term antibacterial activity. Carbon 50(10):3407–3415. doi:10.1016/j.carbon.2012.02.002

Collins T (2007) ImageJ for microscopy. Biotechniques 43(1 Suppl):25–30

Das MR, Sarma RK, Saikia R, Kale VS, Shelke MV, Sengupta P (2010) Synthesis of silver nanoparticles in an aqueous suspension of graphene oxide sheets and its antimicrobial activity. Colloids Surf B Biointerfaces 1:16–22. doi:10.1016/j.colsurfb.2010.10.033

de Faria AF, Martinez DST, Meira SMM, de Moraes ACM, Brandelli A, Filho AGS, Alves OL (2014) Anti-adhesion and antibacterial activity of silver nanoparticles supported on graphene oxide sheets. Colloids Surf B 113:115–124. doi:10.1016/j.colsurfb.2013.08.006

Durán N, Marcato P, Alves O, De Souza G, Esposito E (2005) Mechanistic aspects of biosynthesis of silver nanoparticles by several Fusarium oxysporum strains. J Nanobiotechnol 3(1):8. doi:10.1186/1477-3155-3-8

Durán N, Marcato PD, De Souza GIH, Alves OL, Esposito E (2007) Antibacterial effect of silver nanoparticles produced by fungal process on textile fabrics and their effluent treatment. J Biomed Nanotechnol 3(2):203–208. doi:10.1166/jbn.2007.022

Durán N, Marcato PD, Conti RD, Alves OL, Costa FTM, Brocchi M (2010) Potential use of silver nanoparticles on pathogenic bacteria, their toxicity and possible mechanisms of action. J Braz Chem Soc 21:949–959. doi:10.1590/S0103-50532010000600002

Faramarzi MA, Sadighi A (2013) Insights into biogenic and chemical production of inorganic nanomaterials and nanostructures. Adv Colloid Interface Sci 189–190:1–20. doi:10.1016/j.cis.2012.12.001

Faria AF, Martinez DST, Moraes ACM, Maia da Costa MEH, Barros EB, Souza Filho AG, Paula AJ, Alves OL (2012) Unveiling the role of oxidation debris on the surface chemistry of graphene through the anchoring of Ag nanoparticles. Chem Mater 24(21):4080–4087. doi:10.1021/cm301939s

Gadd GM, Griffiths AJ (1977–1978) Microorganisms and heavy metal toxicity. Microbial Ecol 4(4):303–317

García B, Latasa C, Solano C, Portillo FG-D, Gamazo C, Lasa I (2004) Role of the GGDEF protein family in Salmonella cellulose biosynthesis and biofilm formation. Mol Microbiol 54(1):264–277. doi:10.1111/j.1365-2958.2004.04269.x

Gulrajani ML, Gupta D, Periyasamy S, Muthu SG (2008) Preparation and application of silver nanoparticles on silk for imparting antimicrobial properties. J Appl Polym Sci 108(1):614–623. doi:10.1002/app.27584

Hebbalalu D, Lalley J, Nadagouda MN, Varma RS (2013) Greener techniques for the synthesis of silver nanoparticles using plant extracts, enzymes, bacteria, biodegradable polymers, and microwaves. ACS Sustain Chem Eng 1(7):703–712. doi:10.1021/sc4000362

Holtz RD, Lima BA, Souza Filho AG, Brocchi M, Alves OL (2012) Nanostructured silver vanadate as a promising antibacterial additive to water-based paints. Nanomed Nanotechnol Biol Med 8(6):935–940. doi:10.1016/j.nano.2011.11.012

Hu W, Peng C, Luo W, Lv M, Li X, Li D, Huang Q, Fan C (2010) Graphene-based antibacterial paper. ACS Nano 4(7):4317–4323. doi:10.1021/nn101097v

Ingle A, Rai M, Gade A, Bawaskar M (2009) Fusarium solani: a novel biological agent for the extracellular synthesis of silver nanoparticles. J Nanopart Res 11(8):2079–2085. doi:10.1007/s11051-008-9573-y

Kim JS, Kuk E, Yu KN, Kim J-H, Park SJ, Lee HJ, Kim SH, Park YK, Park YH, Hwang C-Y, Kim Y-K, Lee Y-S, Jeong DH, Cho M-H (2007) Antimicrobial effects of silver nanoparticles. Nanomed Nanotechnol Biol Med 3(1):95–101. doi:10.1016/j.nano.2006.12.001

Kora A, Arunachalam J (2011) Assessment of antibacterial activity of silver nanoparticles on Pseudomonas aeruginosa and its mechanism of action. World J Microbiol Biotechnol 27(5):1209–1216. doi:10.1007/s11274-010-0569-2

Kumar AS, Abyaneh M, Gosavi SW, Kulkarni S, Pasricha R, Ahmad A, Khan MI (2007) Nitrate reductase-mediated synthesis of silver nanoparticles from AgNO3. Biotechnol Lett 29(3):439–445. doi:10.1007/s10529-006-9256-7

Li J, Liu C (2010) Ag–graphene heterostructures: synthesis, characterization and optical properties. Eur J Inorg Chem:1099–0682. doi:10.1002/ejic.200901048

Liu J, Fu S, Yuan B, Li Y, Deng Z (2010) Toward a universal "adhesive nanosheet" for the assembly of multiple nanoparticles based on a protein-induced reduction/decoration of graphene oxide. J Am Chem Soc 132(21):7279–7281. doi:10.1021/ja100938r

Liu L, Wang Y, Yan X, Sun DD (2011a) Facile synthesis of monodispersed silver nanoparticles on graphene oxide sheets with enhanced antibacterial activity. New J Chem 35:1418–1423. doi:10.1039/C1NJ20076C

Liu S, Zeng TH, Hofman M, Burcombe E, Wei J, Jiang R, Kong J, Chen Y (2011b) Antibacterial activity of graphite, graphene oxide, and reduced graphene oxide: membrane and oxidative stress. ACS Nano 5(9):6971–6980. doi:10.1021/nn202451x

Ma J, Zhang J, Xiong Z, Yong Y, Zhao XS (2011) Preparation, characterization and antibacterial properties of silver-modified graphene oxide. J Mater Chem 21(10):3350–3352. doi:10.1039/C0JM02806A

Marambio-Jones C, Hoek EV (2010) A review of the antibacterial effects of silver nanomaterials and potential implications for human health and the environment. J Nanopart Res 12(5):1531–1551. doi:10.1007/s11051-010-9900-y

Mühling M, Bradford A, Readman JW, Somerfield PJ, Handy RD (2009) An investigation into the effects of silver nanoparticles on antibiotic resistance of naturally occurring bacteria in an estuarine sediment. Mar Environ Res 68(5):278–283. doi:10.1016/j.marenvres.2009.07.001

Nadagouda MN, Varma RS (2008) Green synthesis of silver and palladium nanoparticles at room temperature using coffee and tea extract. Green Chem 10(8):859–862. doi:10.1039/B804703K

Narayanan KB, Sakthivel N (2010) Biological synthesis of metal nanoparticles by microbes. Adv Colloid Interface Sci 156(1–2):1–13. doi:10.1016/j.cis.2010.02.001

Nies DH (1999) Microbial heavy-metal resistance. Appl Microbiol Biotechnol 51:730–750

Pasricha R, Gupta S, Srivastava A (2009) A facile and novel synthesis of Ag–graphene-based nanocomposites. Small 20:2253–2259. doi:10.1002/smll.20090072

Pillai ZS, Kamat PV (2003) What factors control the size and shape of silver nanoparticles in the citrate ion reduction method? J Phys Chem B 108(3):945–951. doi:10.1021/jp037018r

Prasad TVKV, Kambala V, Naidu R (2013) Phyconanotechnology: synthesis of silver nanoparticles using brown marine algae Cystophora moniliformis and their characterisation. J Appl Phycol 25(1):177–182. doi:10.1007/s10811-012-9851-z

Rao CNR, Sood AK, Subrahmanyam KS, Govindaraj A (2009) Graphene: the new two-dimensional nanomaterial. Angew Chem 48:7752–7777. doi:10.1002/anie.200901678

Raveendran P, Fu J, Wallen SL (2003) Completely "green" synthesis and stabilization of metal nanoparticles. J Am Chem Soc 125(46):13940–13941. doi:10.1021/ja029267j

Roe D, Karandikar B, Bonn-Savage N, Gibbins B, Roullet J-B (2008) Antimicrobial surface functionalization of plastic catheters by silver nanoparticles. J Antimicrob Chemother 61(4):869–876. doi:10.1093/jac/dkn034

Ruiz ON, Fernando KA, Wang B, Brown NA, Luo PG, McNamara ND, Vangsness M, Sun Y-P, Bunker CE (2011) Graphene oxide: a nonspecific enhancer of cellular growth. ACS Nano 5(10):8100–8107. doi:10.1021/nn202699t

Sanchez VC, Jachak A, Hurt RH, Kane AB (2011) Biological interactions of graphene-family nanomaterials: an interdisciplinary review. Chem Res Toxicol 25(1):15–34. doi:10.1021/tx200339h

Shahverdi AR, Minaeian S, Shahverdi HR, Jamalifar H, Nohi A-A (2007) Rapid synthesis of silver nanoparticles using culture supernatants of Enterobacteria: a novel biological approach. Process Biochem 42(5):919–923. doi:10.1016/j.procbio.2007.02.005

Sheng Z, Liu Y (2011) Effects of silver nanoparticles on wastewater biofilms. Water Res 45(18):6039–6050. doi:10.1016/j.watres.2011.08.065

Simões M, Simões L, Vieira MJ (2010) A review of current and emergent biofilm control strategies. Food Sci Technol 43:573–583. doi:10.1016/j.lwt.2009.12.008

Soldano C, Mahmood A, Dujardin E (2010) Production, properties and potential of graphene. Carbon 48:2127–2150. doi:10.1016/j.carbon.2010.01.058

Suber L, Sondi I, Matijević E, Goia DV (2005) Preparation and the mechanisms of formation of silver particles of different morphologies in homogeneous solutions. J Colloid Interface Sci 288(2):489–495. doi:10.1016/j.jcis.2005.03.017

Thakkar KN, Mhatre SS, Parikh RY (2010) Biological synthesis of metallic nanoparticles. Nanomed Nanotechnol Biol Med 6(2):257–262. doi:10.1016/j.nano.2009.07.002

Tjoa V, Jun W, Dravid V, Mhaisalkar S, Mathews N (2011) Hybrid graphene–metal nanoparticle systems: electronic properties and gas interaction. J Mater Chem 21(39):15593–15599. doi:10.1039/C1JM12676H

Xu C, Wang X (2009) Fabrication of flexible metal-nanoparticle films using graphene oxide sheets as substrates. Smalls 5(19):2212–2217. doi:10.1002/smll.200900548

Xu W-P, Zhang L-C, Li J-P, Lu Y, Li H–H, Ma Y-N, Wang W-D, Yu S-H (2011) Facile synthesis of silver@graphene oxide nanocomposites and their enhanced antibacterial properties. J Mater Chem 21:4593–4597. doi:10.1039/C0JM03376F

Yuan W, Jiang G, Che J, Qi X, Xu R, Chang MW, Chen Y, Lim SY, Dai J, Chan-Park MB (2008) Deposition of silver nanoparticles on multiwalled carbon nanotubes grafted with hyperbranched poly(amidoamine) and their antimicrobial effects. J Phys Chem C 112(48):18754–18759. doi:10.1021/jp807133j

Zhou X, Huang X, Qi X, Wu S, Xue C, Boey FYC, Yan Q, Chen P, Zhang H (2009) In situ synthesis of metal nanoparticles on single-layer graphene oxide and reduced graphene oxide surfaces. J Phys Chem C 113(25):10842–10846. doi:10.1021/jp903821n
Acknowledgments
A.F.F., P.D.M., D.S.T.M., A.C.M.M., N.D., and O.L.A. acknowledge the financial support of São Paulo State Research Foundation (FAPESP), National Council for Technological and Scientific Development (CNPq), National Institute of Science, Technology, and Innovation in Complex Functional Materials (INCT-Inomat), Brazilian Nanotoxicology Network (Cigenanotox), and NanoBioss-SisNano (MCTI). A.G.S.F. acknowledges the financial support of INCT NanoBioSimes (MCT-CNPq), Capes-Nanobiotec network, and Funcap through the grant Pronex (PR 2-0054-00022.01.00/11). A.B. acknowledges the financial support of CNPq and Capes. The authors acknowledge Prof.Amauri Jardim de Paula for his contributions to the transmission electron microscopy (TEM) analysis.
About this article
Cite this article
de Faria, A.F., de Moraes, A.C.M., Marcato, P.D. et al. Eco-friendly decoration of graphene oxide with biogenic silver nanoparticles: antibacterial and antibiofilm activity. J Nanopart Res 16, 2110 (2014). https://doi.org/10.1007/s11051-013-2110-7
Received:

Accepted:

Published:
Keywords
Graphene oxide

Biogenic silver nanoparticles

Fusarium oxysporum

Antibacterial activity

Salmonella typhimurium

Microbiology