Abstract
Zn-doped MgAl-layered double hydroxides (LDHs) with M2+/M3+ = 2 and different molar ratios of Mg/Zn have been synthesized by modified homogeneous co-precipitation method and characterized by powder X-ray diffraction, Transmission electron microscopy, Fourier transform infrared spectrum and thermogravimetry, and differential thermal analysis techniques. The thermal stabilizing effects of different LDHs on PVC were studied by Congo red test and thermal aging test. All of the nanoparticles show plate-like morphology and the average diameter of particles is around 90 nm. Results show that the introduction of Zn increased the average bond length and area of the layers of LDHs, therefore enhanced the adsorption ability on HCl gas which was generated during degradation of PVC to improve the thermal stability of PVC. LDHs with molar ratio of Mg/Zn = 1.0 shows the best thermal stabilizing effect on PVC.
Access options
Buy single article
Instant access to the full article PDF.
US$ 39.95
Tax calculation will be finalised during checkout.
Subscribe to journal
Immediate online access to all issues from 2019. Subscription will auto renew annually.
US$ 79
Tax calculation will be finalised during checkout.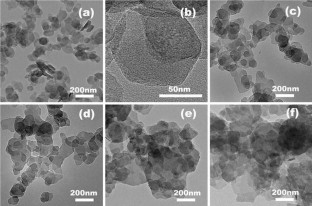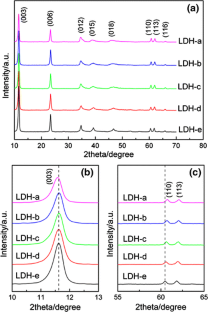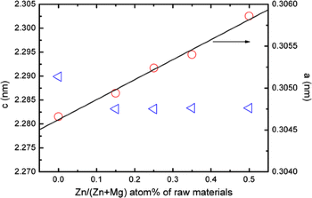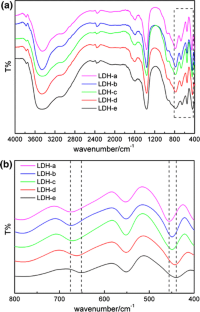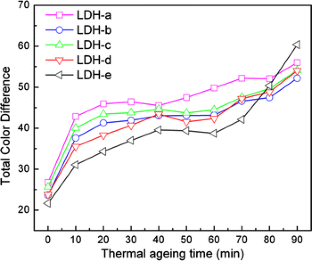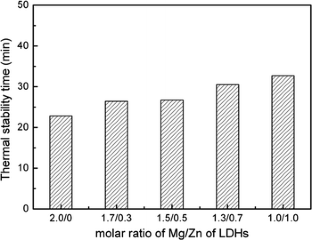 References
Adams WA, Xu Y, Little JC, Fristachi AF, Rice GE, Impellitteri CA (2011) Predicting the migration rate of dialkyl organotins from PVC pipe into water. Environ Sci Technol 45(16):6902–6907

Al-Malack MH (2001) Migration of lead from unplasticized polyvinyl chloride pipes. J Hazard Mater 82(3):263–274

Bao YZ, Huang ZM, Li SX, Weng ZX (2008) Thermal stability, smoke emission and mechanical properties of poly(vinyl chloride)/hydrotalcite nanocomposites. Polym Degrad Stab 93(2):448–455

Bhatnagar A, Sillanpää M (2011) A review of emerging adsorbents for nitrate removal from water. Chem Eng J 168(2):493–504

Cavani F, Trifiro F, Vaccari A (1991) Hydrotalcite-type anionic clays: preparation properties and applications. Catal Today 11(2):173–301

Duan X (2010) Structure and properties of layered inorganic materials. Particuology 8(3):187

Evans DG, Duan X (2006) Preparation of layered double hydroxides and their applications as additives in polymers, as precursors to magnetic materials and in biology and medicine. Chem Commun 5:485–496

Evans D, Slade RT (2006) Structural Aspects of Layered Double Hydroxides. In: Duan X, Evans D (eds) Layered double hydroxides, vol. 119 structure and bonding. Springer, Berlin, pp 1–87

Fisch MH, Bacaloglu R, Biesiada K, Brecker LR (1999) Mechanism of organotin stabilization of poly(vinyl chloride) 1 The structure and equilibria of alkyltin thioqlycolates and their compatibility with PVC. J Vinyl Addit Techn 5(1):40–44

González-Ortiz LJ, Arellano M, Sánchez-Peña MJ, Mendizábal E, Jasso-Gastinel CF (2006) Effect of stearate preheating on the thermal stability of plasticized PVC compounds. Polym Degrad Stab 91(11):2715–2722

Gupta S, Agarwal DD, Banerjee S (2009) Synergistic combination of metal stearates and beta-diketones with hydrotalcites in poly(vinyl chloride) stabilization. J Appl Polym Sci 112(2):1056–1062

Hernandez-Moreno M, Ulibarri M, Rendon JL, Serna C (1985) IR characteristics of hydrotalcite-like compounds. Phys Chem Miner 12(1):34–38

Kaczmarek H, Kowalonek J, Oldak D (2003) The influence of UV-irradiation on poly(vinyl chloride) modified by iron and cobalt chlorides. Polym Degrad Stab 79(2):231–240

Kalouskova R, Novotna M, Vymazal Z (2004) Investigation of thermal stabilization of poly(vinyl chloride) by lead stearate and its combination with synthetic hydrotalcite. Polym Degrad Stab 85(2):903–909

Khan AI, Lei LX, Norquist AJ, O'Hare D (2001) Intercalation and controlled release of pharmaceutically active compounds from a layered double hydroxide. Chem Commun 22:2342–2343

Kloprogge JT, Hickey L, Frost RL (2005) The effect of varying synthesis conditions on zinc chromium hydrotalcite: a spectroscopic study. Mater Chem Phys 89(1):99–109

Lin YJ, Li DQ, Evans DG, Duan X (2005) Modulating effect of Mg–Al–CO3 layered double hydroxides on the thermal stability of PVC resin. Polym Degrad Stab 88(2):286–293

Lin YJ, Wang JR, Evans DG, Li DQ (2006) Layered and intercalated hydrotalcite-like materials as thermal stabilizers in PVC resin. J Phys Chem Solids 67(5–6):998–1001

Liu J, Chen GM, Yang JP, Ding LP (2010) Thermal stability of poly(vinyl chloride)/layered double hydroxide nanocomposites. J Appl Polym Sci 116(4):2058–2064

Malherbe F, Besse JP (2000) Investigating the effects of guest–host interactions on the properties of anion-exchanged mg–al hydrotalcites. J Solid State Chem 155(2):332–341

Martinsson E, Hjertberg T, Soervik E (1988) Catalytic effect of hydrochloric acid dehydrochlorination of PVC. Macromolecules 21(1):136–141

Miyata S, Kuroda M (1981) Method for inhibiting the thermal or ultraviolet degradation of thermoplastic resin and thermoplastic resin composition having stability to thermal or ultraviolet degradation. US Patent 4:299–759

Newman S, Jones W, Jones W, Rao C (2001) Supramolecular organization and materials design. Cambridge University Press, Cambridge

Palmer SJ, Frost RL (2010) Use of hydrotalcites for the removal of toxic anions from aqueous solutions. Ind Eng Chem Res 49(19):8969–8976

Pausch I, Lohse HH, Schuermann K, Allmann R (1986) Syntheses of disordered and Al-rich hydrotalcite-like compounds. Clays Clay Miner 34(5):507–510

Tong ML, Chen HY, Yang ZH, Wen RJ (2011) The effect of Zn-Al-Hydrotalcites composited with calcium stearate and beta-diketone on the thermal stability of PVC. Int J Mol Sci 12(3):1756–1766

van der Ven L, van Gemert MLM, Batenburg LF, Keern JJ, Gielgens LH, Koster TPM, Fischer HR (2000) On the action of hydrotalcite-like clay materials as stabilizers in polyvinylchloride. Appl Clay Sci 17(1–2):25–34

Wang H, Lai XY, Xia W, Yu RB, Mao D, Xing CJ, Yao JX, Wang D, Li XT (2008) Preparation and electrode performance of ferrihydrites for rechargeable lithium batteries. Chem Res Chinese U 24(3):383–384

Wang DY, Das A, Costa FR, Leuteritz A, Wang YZ, Wagenknecht U, Heinrich G (2010) Synthesis of organo cobalt − aluminum layered double hydroxide via a novel single-step self-assembling method and its use as flame retardant nanofiller in PP. Langmuir 26(17):14162–14169

Williams GR, O'Hare D (2006) Towards understanding, control and application of layered double hydroxide chemistry. J Mater Chem 16(30):3065–3074

Xia W, Meng WQ, Yu RB, Xing XR, Wang D, Chen YF, Takano M (2006) an effective route for porous ferrihydrite preparation from layered double hydroxide precursors. Chem Lett 35(6):656–657

Xu ZP, Zhang J, Adebajo MO, Zhang H, Zhou CH (2011) Catalytic applications of layered double hydroxides and derivatives. Appl Clay Sci 53(2):139–150

Zhang XF, Zhao TB, Pi H, Guo SY (2012) Preparation of intercalated Mg–Al layered double hydroxides and its application in PVC thermal stability. J Appl Polym Sci 124(6):5180–5186

Zhao CX, Liu Y, Wang DY, Wang DL, Wang YZ (2008) Synergistic effect of ammonium polyphosphate and layered double hydroxide on flame retardant properties of poly(vinyl alcohol). Polym Degrad Stab 93(7):1323–1331
Acknowledgments
The authors are grateful for financial support from the National Natural Science Foundation of China (Nos. 21031005, 21203201, 91122014, 51172235, 20971125, 21006116), the Foundation for State Key Laboratory of Multiphase Complex Systems (No. MPCS-2012-A-08).
Additional information
Gongling Wang, Mei Yang and Zhiwen Li have contributed equally to this study.
Electronic supplementary material
Below is the link to the electronic supplementary material.
About this article
Cite this article
Wang, G., Yang, M., Li, Z. et al. Synthesis and characterization of Zn-doped MgAl-layered double hydroxide nanoparticles as PVC heat stabilizer. J Nanopart Res 15, 1882 (2013). https://doi.org/10.1007/s11051-013-1882-0
Received:

Accepted:

Published:
Keywords
Layered double hydroxide

Molar ratio of Mg/Zn

Thermal stability

PVC