Abstract
A novel one-step synthesis method to prepare Pt–Sn bimetallic nanoparticles supported on mesoporous silica with high surface area (SBA-15, 700 m2/g) and narrow pore size distribution (around 9.5 nm) was developed. Tin incorporation plays an important dual role, to create active sites into the silica walls that serve as particles anchors center, and to grow Pt–Sn core–shell nanoparticles. High-resolution transmission and scanning electron microscopy, and X-ray diffraction pattern confirm the formation of the Pt–Sn core–shell type nanoparticles (≈1–10 nm). The metal loading was 2.2 and 2.3 wt% for Pt and Sn, respectively. Electron microscopy results show that the metal nanoparticles were deposited not only on the matrix, but also inside of it. Structural, textural, and morphological features of the SBA-15 were slightly affected after the nanoparticles deposition, maintaining its high surface area. The results obtained suggest that Pt–Sn on SBA-15 could be attractive material for several catalytic applications, due to the narrow particle size distribution achieved (from 1 to 10 nm) the high dispersion on the support, as well as the Pt–Sn alloy developed.
Graphical Abstract

Access options
Buy single article
Instant access to the full article PDF.
USD 39.95
Price excludes VAT (USA)
Tax calculation will be finalised during checkout.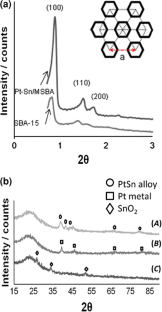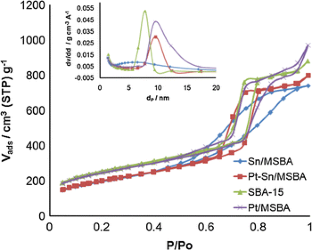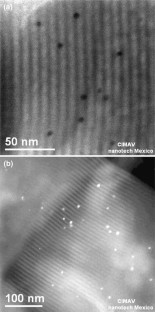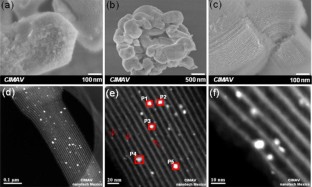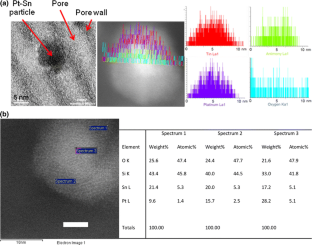 References
Aksoylu AE, Freitas AMM, Figueiredo JL (2000) Bimetallic Pt–Sn catalysts supported on activated carbon: I. The effects of support modification and impregnation strategy. Appl Catal A 192(1):29–42

Alonso-Lemus I, Verde-Gómez Y, Aguilar-Elguézabal A and Alvararez-Contreras L (2010) Metal nanoparticles supported on Al-MCM-41 via in situ aqueous synthesis. J Nanomater doi:10.1155/2010/302898

Antolini E, Gonzalez ER (2009) Ceramics materials as support for low-temperature fuel cell catalyst. Solid State Ion 180:746–763

Antolini E, Gonzalez ER (2010) The electro-oxidation of carbon monoxide, hydrogen/carbon monoxide and methanol in acid medium on Pt–Sn catalysts for low-temperature fuel cells: a comparative review of the effect of Pt–Sn structural characteristics. Electrochim Acta 56(1):1–14

Arenz M, Stamenkovic V, Blizanac BB, Mayrhofer KJ, Markovic NM, Ross PN (2005) Carbon-supported Pt–Sn electrocatalysts for the anodic oxidation of H2, CO, and H2/CO mixtures: part II: the structure–activity relationship. J Catal 232(2):402–410

Bariås AO, Holmen A, Blekkan EA (1996) Propane dehydrogenation over supported Pt and Pt–Sn catalysts: catalyst preparation, characterization, and activity measurements. J Catal 158(1):1–12

Beck JS, Vartulli JC, Roth WJ, Leonowicz ME, Kresge CT, Schmitt KD, Chu CTW, Olson DH, Sheppard EW (1992) A new family of mesoporous molecular sieves prepared with liquid crystal templates. J Am Chem Soc 114(27):10834–10843

Colmati F, Antolini E, Gonzalez ER (2005) Pt–Sn/C electrocatalysts for methanol oxidation synthesized by reduction with formic acid. Electrochim Acta 50(28):5496–5503

Corma A, Nemeth LT, Renz M, Valencia S (2001) Sn-zeolite beta as a heterogeneous chemoselective catalyst for Baeyer–Villiger oxidations. Nature 412(6845):423–425

Corro G, Montiel R (2002) Improved effect on the reduction of NO by propane under oxidizing conditions on sulfated Pt–Sn/Al2O3 catalysts. J. Mol. Catal. A 184(1–2):443–449

Corro G, Fierro JLG, Montiel R, Castillo S, Moran M (2003) A highly sulfur resistant Pt–Sn/γ-Al2O3 catalyst for C3H8–NO–O2 reaction under lean conditions. Appl Catal B Environ 46(2):307–317

Cortriht RD, Dumesic JA (1994) Microcalorimetric, spectroscopic, and kinetic studies of silica supported Pt and Pt/Sn catalysts for isobutane dehydrogenation. J Catal 148(2):771–778

Dua LK, De A, Chakraborty S, Biswas PK (2008) Study of spin coated high antimony content Sn–Sb oxide films on silica glass. Mater Charact 59(5):578–586

García-Rodríguez S, Somodi F, Borbáth I, Margitfalvi JL, Peña MA, Fierro JLG, Rojas S (2009) Controlled synthesis of Pt–Sn/C fuel cell catalysts with exclusive Sn–Pt interaction: application in CO and ethanol electrooxidation reactions. Appl Catal B Environ 91(1–2):83–91

González-Marcos MP, Iñarra B, Guil JM, Gutierrez-Ortiz MA (2005) Development of an industrial characterisation method for naphtha reforming bimetallic Pt–Sn/Al2O3 catalysts through n-heptane reforming test reactions. Catal Today 107–108:685–692

Honma I, Toda T (2003) Temperature dependence of kinetics of methanol electro-oxidation on Pt–Sn alloys. J Electrochem Soc 150(12):A1689–A1692

Ismagilov ZR, Matus EV, Yakutova AM, Protasova LN, Ismagilov IZ, Kerzhetsev MA, Rebrov EV, Schouten JC (2009) Design of Pt–Sn catalysts on mesoporous titania films for microreactor application. Catal Today 147(Suppl 1):S81–S86

Khadakov AY, Griboval-Constant A, Bechara R, Zholobenko VL (2002) Pore size effects in Fischer Tropsch synthesis over cobalt-supported mesoporous silicas. J Catal 206(2):230–241

Kumar MS, Perez-Ramirez J, Debbagh MN, Smarsly B, Bentrup U, Brückner A (2006) Evidence of the vital role of the pore network on various catalytic conversions of N2O over Fe-silicalite and Fe-SBA-15 with the same iron constitution. Appl Catal B Environ 62(3–4):244–254

Kumar MS, Chen D, Holmen A, Walmsley JC (2009a) Dehydrogenation of propane over Pt-SBA-15 and Pt–Sn-SBA-15: effect of Sn on the dispersion of Pt and catalytic behavior. Catal Today 142(1–2):17–23

Kumar MS, Hammer N, Rønning M, Holmen A, Chen D, Walmsley JC, Øye G (2009b) The nature of active chromium species in Cr-catalysts for dehydrogenation of propane: new insights by a comprehensive spectroscopic study. J Catal 261(1):116–128

Lázár K, Rhodes WD, Borbáth I, Hegedüs M, Margitfalvi JL (2002) Reaction-induced transformations in Pt–Sn/SiO2 catalysts: in situ 119Sn Mössbauer study. Hyperfine Interact 139–140(1–4):87–96

Lee S, Ragupathy D, Gopalan A, Lee K (2012) Development of novel catalysts by γ-irradiation-induced distribution of Pt-Sn nanoparticles onto multiwalled carbon nanotubes. J Nanoelectron Optoe 7(5):444–448

Li G, Kawi S (1999) MCM-41 modified SnO2 gas sensors: sensitivity and selectivity properties. Sens Actuator B 59(1):1–8

Lu Z, Ji S, Liu H, Li C (2008) Preparation and characterization of Pt–Sn/SBA-15 catalysts and their catalytic performances for long chain alkane dehydrogenation. Chin J Chem Eng 16(5):740–745

Neri G, Rizzo G, Arico' AS, Crisafulli C, De Luca L, Donato A, Musolino MG, Pietropaolo R (2007) One-pot synthesis of naturanol from α-pinene oxide on bifunctional Pt–Sn/SiO2 heterogeneous catalysts: part I: the catalytic system. Appl Catal A Gen 325(1):15–24

Ni J, Zhao X, Zheng X, Zhao J, Liu B (2009) Electrical, structural, photoluminescence and optical properties of p-type conducting, antimony-doped SnO2 thin films. Acta Mater 57(1):278–285

Okumura M, Tsubota S, Iwamoto M, Haruta M (1998) Chemical vapor deposition of gold nanoparticles on MCM-41 and their catalytic activities for the low-temperature oxidation of CO and of H2. Chem Lett 27(4):315–316

Panpranot J, Goodwin JG Jr, Sayari A (2002a) Synthesis and characteristics of MCM-41 supported CoRu catalysts. Catal Today 77(3):269–284

Panpranot J, Goodwin JG Jr, Sayari A (2002b) CO hydrogenation on Ru-promoted Co/MCM-41 catalysts. J Catal 211(2):530–539

Pavlova SN, Sadykov VA, Frovola YV, Saputina NF, Vedekin PM, Zolotarskii IA, Kuzmin VA (2003) The effect of the catalytic layer design on oxidative dehydrogenation of propane over monoliths at short contact times. Chem Eng J 91(2–3):227–234

Raja R, Khimyak T, Thomas JM, Hermans S, Johnson BFG (2001) Single-step, highly active, and highly selective nanoparticle catalysts for the hydrogenation of key organic compounds. Angew Chem Int Ed 40(24):4638–4642

Ramaswamy V, Shah P, Lazar K, Ramaswamy AV (2008) Synthesis, characterization and catalytic activity of Sn-SBA-15 mesoporous molecular sieves. Catal Surv Asia 12(4):283–309

Rhodes WD, Lázár K, Kovalchuk VI, d'Itri JL (2002) Hydrogen-assisted 1,2-dichloroethane dechlorination catalyzed by Pt–Sn/SiO2: effect of the Pt/Sn atomic ratio. J Catal 211(1):173–182

Rhodes WD, Margitfalvi JL, Borbáth I, Lázár K, Kovalchuk VI, d'Itri JL (2005) Hydrogen-assisted 1,2-dichloroethane dechlorination catalyzed by Pt–Sn/SiO2 catalysts of different preparations. J Catal 230(1):86–97

Ribeiro-Carrott MML, Conceicão FL, Lopes JM, Carrott PJM, Bernardes C, Rocha J, Ramôa-Ribeiro F (2006) Comparative study of Al-MCM materials prepared at room temperature with different aluminium sources and by some hydrothermal methods. Microporous Mesoporous Mater 92(1–3):270–285

Salmones J, Wang JA, Galicia JA, Aguilar-Rios G (2002) H2 reduction behaviors and catalytic performance of bimetallic tin-modified platinum catalysts for propane dehydrogenation. J Mol Catal A 184(1–2):203–213

Santos AL, Profeti D, Olivi P (2005) Electrooxidation of methanol on Pt microparticles dispersed on SnO2 thin films. Electrochim Acta 50(13):2615–2621

Serrano-Ruiz JC, Sepúlveda-Escribano A, Rodríguez-Reinoso F, Duprez D (2007) Pt–Sn catalysts supported on highly-dispersed ceria on carbon: application to citral hydrogenation. J Mol Catal A 268(1–2):227–234

Shah P, Ramaswamy V (2008) Thermal stability of mesoporous SBA-15 and Sn–SBA-15 molecular sieves: an in situ HTXRD study. Microporous Mesoporous Mater 114(1–3):270–280

Shah P, Ramaswamy AV, Lazar K, Ramaswamy V (2007) Direct hydrothermal synthesis of mesoporous Sn–SBA-15 materials under weak acidic conditions. Microporous Mesoporous Mater 100(1–3):210–226

Shephard DS, Maschmeyer T, Sankar G, Thomas JM, Ozkaya D, Johnson BFG, Raja R, Oldroyd RD, Bell RG (1998) Preparation, characterisation and performance of encapsulated copper–ruthenium bimetallic catalysts derived from molecular cluster carbonyl precursors. Chem Eur J 4(7):1214–1224

Sinfelt JH (1983) Bimetallic catalysts: discoveries, concepts, and applications. Wiley, New York

Taniya K, Yu CH, Tsang SC, Ichihashi Y, Nishiyama S (2011) Preparation of SiO2-encapsulated Sn–Pt nanoparticle catalysts for selective hydrogenation of unsaturated aldehyde. Catal Commun 14(1):6–9

Wang X, Altmann L, Stoever J, Zielasek V, Baeumer M, Al-Shamery K, Borchert H, Parisi J, Kolny-Olesiak J (2013) Pt/Sn intermetallic, core/shell and alloy nanoparticles: colloidal synthesis and structural control. Chem Mater 25(8):1400–1407

Yang C, Kalwei M, Schüth F, Chao KJ (2003) Gold nanoparticles in SBA-15 showing catalytic activity in CO oxidation. Appl Catal A Gen 254(2):289–296

Yokoyama C, Bharadwaj SS, Schmidt LD (1996) Platinum–tin and platinum–copper catalysts for autothermal oxidative dehydrogenation of ethane to ethylene. Catal Lett 38(3–4):181–188

Zhou W, Thomas JM, Shephard DS, Johnson BFG, Maschmeyer T, Bell RG, Ge Q (1998) Ordering of ruthenium cluster carbonyls in mesoporous silica. Science 280(5364):705–708
Acknowledgments
The authors gratefully acknowledge financial support from CONACyTunder Project No. 26067. We also thank Carlos Ornelas, Daniel Lardizabal, Luis de la Torre and Enrique Torres for their invaluable technical support. The authors would also like to acknowledge the support of the Center for Electrochemical Engineering Research at Ohio University.
About this article
Cite this article
Álvarez-Contreras, L., Alonso-Lemus, I., Botte, G.G. et al. Synthesis of Pt–Sn core–shell nanoparticles deposited on SBA-15 modified. J Nanopart Res 15, 1799 (2013). https://doi.org/10.1007/s11051-013-1799-7
Received:

Accepted:

Published:

DOI: https://doi.org/10.1007/s11051-013-1799-7
Keywords