Abstract
Hydrophobic and hydrophilic particles of iron oxide (magnetite/maghemite) with diameter of 6–10 nm were prepared by hydrothermal hydrolysis of iron oleate in water/pentanol/oleic acid system at 180 °C. The hydrophobic/hydrophilic nature of resulting particles was controlled by the presence of sodium oleate and by manipulating the ionic strength (with NaCl). The final particle size was controlled by additional organic solvent (octanol or toluene) and by seed growth. Hydrophilic particles (6 nm) were further modified by carboxymethyl-dextran in water to obtain stable and well-dispersed superparamagnetic nanoparticles suitable for biomedical application. The prepared particles were characterized by transmission electron microscopy, thermogravimetry, Fourier-transform infrared spectroscopy, magnetic measurements, Mössbauer spectroscopy, dynamic light scattering, and zeta-potential measurement.
Access options
Buy single article
Instant access to the full article PDF.
US$ 39.95
Tax calculation will be finalised during checkout.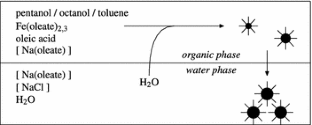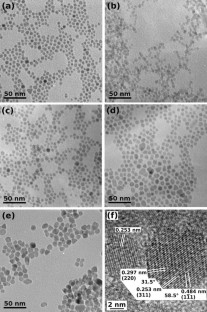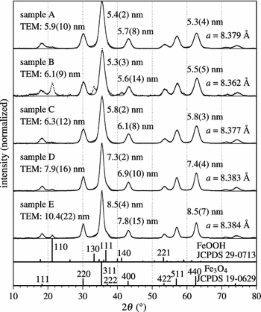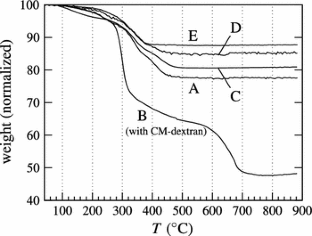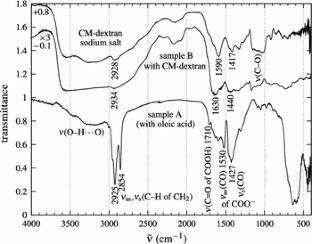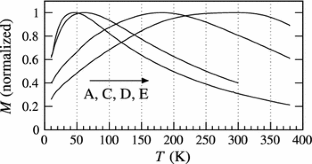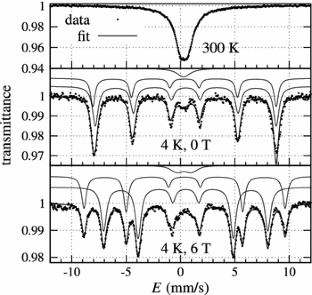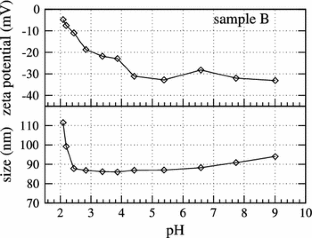 References
Barrera C, Herrera A, Zayas Y, Rinaldi C (2009) Surface modification of magnetite nanoparticles for biomedical applications. J Magn Magn Mater 321(10):1397–1399 doi:10.1016/j.jmmm.2009.02.046

De Palma R, Peeters S, Van Bael MJ, Van den Rul H, Bonroy K, Laureyn W, Mullens J, Borghs G, Maes G (2007) Silane ligand exchange to make hydrophobic superparamagnetic nanoparticles water-dispersible. Chem Mater 19(7):1821–1831 doi:10.1021/cm0628000

Dean JA (1999) Lange's handbook of chemistry, 15th edn. McGraw-Hill, New York

Duguet E, Vasseur S, Mornet S, Devoisselle JM (2006) Magnetic nanoparticles and their applications in medicine. Nanomedicine 1(2):157–168 doi:10.2217/17435889.1.2.157

Geng BY, Ma JZ, Liu XW, Du QB, Kong MG, Zhang LD (2007) Hydrophilic polymer assisted synthesis of room-temperature ferromagnetic Fe3O4 nanochains. Appl Phys Lett 90(4):043120. doi:10.1063/1.2432248

Huynh R, Chaubet F, Jozefonvicz J (1998) Carboxymethylation of dextran in aqueous alcohol as the first step of the preparation of derivatized dextrans. Angew Makromol Chem 254(1):61–65. doi:10.1002/(SICI)1522-9505(19980201)254:1<61::AID-APMC61>3.0.CO;2-0

Jun YW, Huh YM, Choi JS, Lee JH, Song HT, Kim S, Yoon S, Kim KS, Shin JS, Suh JS, Cheon J (2005) Nanoscale size effect of magnetic nanocrystals and their utilization for cancer diagnosis via magnetic resonance imaging. J Am Chem Soc 127(16):5732–5733 doi:10.1021/ja0422155

Liang X, Wang X, Zhuang J, Chen Y, Wang D, Li Y (2006) Synthesis of nearly monodisperse iron oxide and oxyhydroxide nanocrystals. Adv Funct Mater 16(14):1805–1813 doi:10.1002/adfm.200500884

Liu G, Hong RY, Guo L, Li YG, Li HZ (2011) Preparation, characterization and MRI application of carboxymethyl dextran coated magnetic nanoparticles. Appl Surf Sci 257(15):6711–6717 doi:10.1016/j.apsusc.2011.02.110

Park YI, Piao Y, Lee N, Yoo B, Kim BH, Choi SH, Hyeon T (2011) Transformation of hydrophobic iron oxide nanoparticles to hydrophilic and biocompatible maghemite nanocrystals for use as highly efficient MRI contrast agent. J Mater Chem 21(31):11472–11477 doi:10.1039/c1jm10432b

Repko A, Niznansky D, Poltierova-Vejpravova J (2011) A study of oleic acid-based hydrothermal preparation of CoFe2O4 nanoparticles. J Nanopart Res 13(10):5021–5031 doi:10.1007/s11051-011-0483-z

Roca AG, Niznansky D, Poltierova-Vejpravova J, Bittova B, Gonzalez-Fernandez MA, Serna CJ, Morales MP (2009) Magnetite nanoparticles with no surface spin canting. J Appl Phys 105(11):114309. doi:10.1063/1.3133228

Sun S, Zeng H (2002) Size-controlled synthesis of magnetite nanoparticles. J Am Chem Soc 124(28):8204–8205 doi:10.1021/ja026501x

Sun SH, Zeng H, Robinson DB, Raoux S, Rice PM, Wang SX, Li GX (2004) Monodisperse MFe2O4 (M = Fe, Co, Mn) nanoparticles. J Am Chem Soc 126(1):273–279 doi:10.1021/ja0380852
Acknowledgements
The work was supported by the Grant Agency of the Czech Republic under project no. P108/10/1250 and by the Long-Term Research Plan of the Ministry of Education of the Czech Republic (MSM0021620857). We thank Carla Cannas and Andrea Ardu from Università degli studi di Cagliari, Italy for TEM measurements. Magnetization experiments were performed in MLTL (see: http://mltl.eu), which is supported within the program of Czech Research Infrastructures (project no. LM2011025).
About this article
Cite this article
Repko, A., Nižňanský, D., Matulková, I. et al. Hydrothermal preparation of hydrophobic and hydrophilic nanoparticles of iron oxide and a modification with CM-dextran. J Nanopart Res 15, 1767 (2013). https://doi.org/10.1007/s11051-013-1767-2
Received:

Accepted:

Published:
Keywords
Superparamagnetism

Magnetite

Carboxymethyl dextran

Hydrothermal synthesis

Nanocrystals