Abstract
A large amount of radioactive cesium (Cs) has been released into natural environment following the nuclear accident in Fukushima, Japan in 2011. Much effort has been directed at capturing Cs and remediation of the contaminated environment. However, conventional sorbents, such as Prussian blue and zeolites cannot be easily recovered once spread into an open environment. Here, we develop new nano-sorbent based on the magnetic nanoparticles (MNP) functionalized with Prussian blue (PB) that possess both high Cs adsorption capacity (96 mg Cs/g sorbent) and large distribution coefficient (3.2 × 104 mL/g at 0.5 ppm Cs concentration). The developed sorbents possess good value of saturation magnetization (20 emu/g) allowing for rapid and ease of sorbent separation from the Cs solution after treatment using magnetic field. This Cs magnetic nano-sorbent can offer high potential for the use in large scale remediation of a Cs contaminated environment as well as the possibility of novel Cs decorporation drugs that can be magnetically assisted for accelerated excretion of radiocesium from the human body.
Access options
Buy single article
Instant access to the full article PDF.
USD 39.95
Price excludes VAT (USA)
Tax calculation will be finalised during checkout.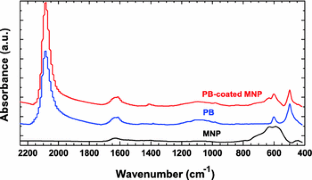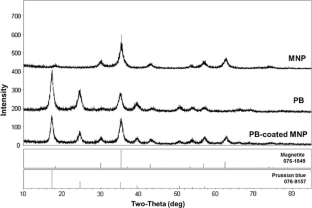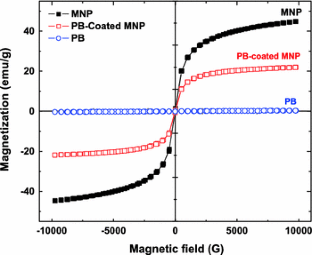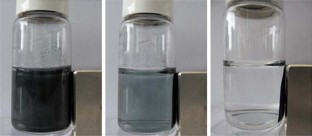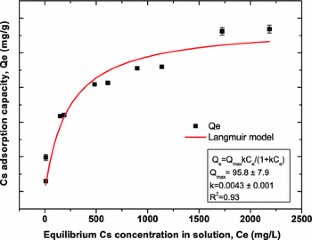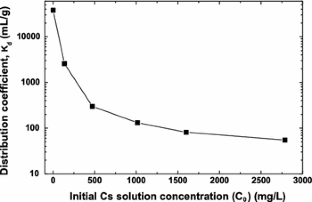 References
Armin D, Ebner JAR, Navratil James D (2001) Adsorption of cesium, strontium, and cobalt ions on magnetite and a magnetite-silica composite. Ind Eng Chem Resolut 40:1615–1623

Avramenko V, Bratskaya S, Zheleznov V, Sheveleva I, Voitenko O, Sergienko V (2011) Colloid stable sorbents for cesium removal: preparation and application of latex particles functionalized with transition metals ferrocyanides. J Hazard Mater 186(2–3):1343–1350. doi:10.1016/j.jhazmat.2010.12.009

Beresford NA, Howard BJ (2011) An overview of the transfer of radionuclides to farm animals and potential countermeasures of relevance to Fukushima releases. Integr Environ Assess Manag 7(3):382–384

Borai EH, Harjula R, malinen L, Paajanen A (2009) Efficient removal of cesium from low-level radioactive liquid waste using natural and impregnated zeolite minerals. J Hazard Mater 172(1):416–422. doi:10.1016/j.jhazmat.2009.07.033

Buesseler KO, Jayne SR, Fisher NS, Rypina II, Baumann H, Baumann Z, Breier CF, Douglass EM, George J, Macdonald AM, Miyamoto H, Nishikawa J, Pike SM, Yoshida S (2012) Fukushima-derived radionuclides in the ocean and biota off Japan. Proc Natl Acad Sci USA 109(16):5984–5988. doi:10.1073/pnas.1120794109

Chang C-Y, Chau L-K, Hu W-P, Wang C-Y, Liao J-H (2008) Nickel hexacyanoferrate multilayers on functionalized mesoporous silica supports for selective sorption and sensing of cesium. Microporous Mesoporous Mater 109(1–3):505–512. doi:10.1016/j.micromeso.2007.05.057

Conway BE (1981) Ionic hydration in chemistry and biophysics. Elsevier Scientific Pub. Co, Amsterdam

Crane RA, Dickinson M, Popescu IC, Scott TB (2011) Magnetite and zero-valent iron nanoparticles for the remediation of uranium contaminated environmental water. Water Res 45(9):2931–2942. doi:10.1016/j.watres.2011.03.012

Cuc D, Bouguet-Bonnet S, Morel-Desrosiers N, Morel J-P, Mutzenhardt P, Canet D (2009) Behavior of cesium and thallium cations inside a calixarene cavity as probed by nuclear spin relaxation. evidence of cation−π interactions in water. J Phys Chem B 113(31):10800–10807. doi:10.1021/jp902787n

Daou TJ, Grenèche JM, Pourroy G, Buathong S, Derory A, Ulhaq-Bouillet C, Donnio B, Guillon D, Begin-Colin S (2008) Coupling agent effect on magnetic properties of functionalized magnetite-based nanoparticles. Chem Mater 20(18):5869–5875. doi:10.1021/cm801405n

Demuth S (1999) A cost comparison of organic versus inorganic ion exchange resin for remediation of high-level wasteIn: Remediation, vol 10. Los Alamos National Laboratory, New Mexico

Dickinson M, Scott TB (2010) The application of zero-valent iron nanoparticles for the remediation of a uranium-contaminated waste effluent. J Hazard Mater 178(1–3):171–179. doi:10.1016/j.jhazmat.2010.01.060

Faustino PJ, Yang Y, Progar JJ, Brownell CR, Sadrieh N, May JC, Leutzinger E, Place DA, Duffy EP, Houn F, Loewke SA, Mecozzi VJ, Ellison CD, Khan MA, Hussain AS, Lyon RC (2008) Quantitative determination of cesium binding to ferric hexacyanoferrate: Prussian blue. J Pharm Biomed Anal 47(1):114–125. doi:10.1016/j.jpba.2007.11.049

Fesenko SV, Alexakhin RM, Balonov MI, Bogdevitch IM, Howard BJ, Kashparov VA, Sanzharova NI, Panov AV, Voigt G, Zhuchenka YM (2007) An extended critical review of twenty years of countermeasures used in agriculture after the Chernobyl accident. Sci Total Environ 383(1–3):1–24. doi:10.1016/j.scitotenv.2007.05.011

Fetisov VB, Ermakov AN, Belysheva GM, Pastukhov EA, Kamyshov VM, Korchemkina NV (2003) Electrochemical dissolution of magnetite in acid solutions. Dokl Phys Chem 388(4–6):57–59

Hao R, Xing R, Xu Z, Hou Y, Gao S, Sun S (2010) Synthesis, functionalization, and biomedical applications of multifunctional magnetic nanoparticles. Adv Mater 22(25):2729–2742. doi:10.1002/adma.201000260

Hu M, Furukawa S, Ohtani R, Sukegawa H, Nemoto Y, Reboul J, Kitagawa S, Yamauchi Y (2012) Synthesis of Prussian blue nanoparticles with a hollow interior by controlled chemical etching. Angew Chem Int Ed 51(4):984–988. doi:10.1002/anie.201105190

Kaminski M, Landsberger S, Nuñez L, Vandegrift GF (1997) Sorption capacity of ferromagnetic microparticles coated with CMPO. Sep Sci Technol 32(1–4):115–126. doi:10.1080/01496399708003190

Kosaka K, Asami M, Ohkubo K, Terada H, Kishida N, Akiba M (2012) Removal of radioactive iodine and cesium in water purification processes after an explosion at a nuclear power plant due to the Great East Japan earthquake. Water Research 46(14):4397–4404. doi:10.1016/j.watres.2012.05.055

Langmuir I (1916) The constitution and fundamental properties of solids and liquids. Part I. solids. J Am Chem Soc 38(11):2221–2295. doi:10.1021/ja02268a002

Narbutt J, Bilewicz A, Bartoś B (1994) Composite ion exchangers: prospective nuclear applications. J Radioanal Nucl Chem 183(1):27–32

Nilchi A, Khanchi A, Atashi H, Bagheri A, Nematollahi L (2006) The application and properties of composite sorbents of inorganic ion exchangers and polyacrylonitrile binding matrix. J Hazard Mater 137(3):1271–1276. doi:10.1016/j.jhazmat.2006.04.043

Okoli C, Boutonnet M, Järås S, Rajarao-Kuttuva G (2012) Protein-functionalized magnetic iron oxide nanoparticles: time efficient potential-water treatment. J Nanopart Res 14(10):1–9. doi:10.1007/s11051-012-1194-9

Shylesh S, Schünemann V, Thiel WR (2010) Magnetically separable nanocatalysts: bridges between homogeneous and heterogeneous catalysis. Angew Chem Int Ed 49(20):3428–3459. doi:10.1002/anie.200905684

Stohs SJ, Bagchi D (1995) Oxidative mechanisms in the toxicity of metal ions. Free Radic Biol Med 18(2):321–336. doi:10.1016/0891-5849(94)00159-H

Sun J, Zhou S, Hou P, Yang Y, Weng J, Li X, Li M (2007) Synthesis and characterization of biocompatible Fe3O4 nanoparticles. J Biomed Mater Res, Part A 80A(2):333–341. doi:10.1002/jbm.a.30909

Sushma G (1996) Determination of Cs-137 in environmental water by ion-exchange chromatography. J Chromatogr A 733(1–2):57–71. doi:10.1016/0021-9673(95)00906-x

Thammawong C, Sreearunothai P, Petchsuk A, Tangboriboonrat P, Pimpha N, Opaprakasit P (2012) Preparation and characterizations of naproxen-loaded magnetic nanoparticles coated with PLA-g-chitosan copolymer. J Nanopart Res 14(8):1–12. doi:10.1007/s11051-012-1046-7

Thanaporn Sangvanich VS, Wiacek Robert J, Grudzien Rafal M, Fryxell Glen E, Shane Addleman R, Timchal C, Yantasee W (2010) Selective capture of cesium and thallium from natural waters and simulated wastes with copper ferrocyanide functionalized mesoporous silica. J Hazard Mater 182:225–231. doi:10.1016/j.jhazmat.2010.06.019

Thompson DF, Church CO (2001) Prussian blue for treatment of radiocesium poisoning. pharmacotherapy. J Hum Pharmacol Drug Ther 21(11):1364–1367. doi:10.1592/phco.21.17.1364.34426

Timchalk C, Creim JA, Sukwarotwat V, Wiacek R, Addleman RS, Fryxell GE, Yantasee W (2010) In vitro and In vivo evaluation of a novel ferrocyanide functionalized nanoporous silica decorporation agent for cesium (Cs) in rats. Health Phys 99(3):420–429. doi:10.1097/HP.0b013e3181bca9b0

Valsala TP, Roy SC, Shah JG, Gabriel J, Raj K, Venugopal V (2009) Removal of radioactive caesium from low level radioactive waste (LLW) streams using cobalt ferrocyanide impregnated organic anion exchanger. J Hazard Mater 166(2–3):1148–1153. doi:10.1016/j.jhazmat.2008.12.019

Verzijl JM, Joore JCA, Av Dijk, Glerum JH, Savelkoul TJF, Sangster B, Schip VH (1992) In vitro binding characteristics for caesium of Prussian blue, activated charcoal and resonium A. J Toxicol Clin Toxicol 30(2):215–222

White AF, Peterson ML, Hochella MF Jr (1994) Electrochemistry and dissolution kinetics of magnetite and ilmenite. Geochim Cosmochim Acta 58(8):1859–1875. doi:10.1016/0016-7037(94)90420-0

Yan F, Sun L, Li F, Zhuang J, Wang H, Yang W (2011) Mesoporous silica-coated superparamagnetic particles prepared by pseudomorphic transformation and their application in purification of plasmid DNA. J Nanopart Res 13(12):6613–6620. doi:10.1007/s11051-011-0569-7

Yang Y, Brownell C, Sadrieh N, May J, Grosso AD, Place D, Leutzinger E, Duffy E, He R, Houn F, Lyon R, Faustino P (2007) Quantitative measurement of cyanide released from Prussian blue. Clin Toxicol 45(7):776–781. doi:10.1080/15563650601181562

Yasunari TJ, Stohl A, Hayano RS, Burkhart JF, Eckhardt S, Yasunari T (2011) Cesium-137 deposition and contamination of Japanese soils due to the Fukushima nuclear accident. Proc Natl Acad Sci USA 108(49):19530–19534. doi:10.1073/pnas.1112058108
Acknowledgments
This work is supported by the National Research University Project of Thailand, Office of Higher Education Commission and the Thailand Research Fund. Financial supports provided from The Thailand Research Fund/Thailand Office of Higher Education Commission (RTA5480007) to P.T. is gratefully acknowledged. C.T. thanks the support from SIIT, Thammasat University. P.S. gratefully acknowledges research grant from the Thailand Research Fund (MRG5580196). We are grateful to Manoj Yomjinda at Asian Institute of Technology for his kind assistance in ICP measurement.
Electronic supplementary material
Below is the link to the electronic supplementary material.
About this article
Cite this article
Thammawong, C., Opaprakasit, P., Tangboriboonrat, P. et al. Prussian blue-coated magnetic nanoparticles for removal of cesium from contaminated environment. J Nanopart Res 15, 1689 (2013). https://doi.org/10.1007/s11051-013-1689-z
Received:

Accepted:

Published:

DOI: https://doi.org/10.1007/s11051-013-1689-z
Keywords