Organometallic approach to polymer-protected antibacterial silver nanoparticles: optimal nanoparticle size-selection for bacteria interaction
Abstract
The optimal size-specific affinity of silver nanoparticles (Ag NPs) towards E. coli bacteria has been studied. For this purpose, Ag NPs coated with polyvinylpyrrolidone (PVP) and cellulose acetate (CA) have been prepared using an organometallic approach. The complex NBu4[Ag(C6F5)2] has been treated with AgClO4 in a 1:1 molar ratio giving rise to the nanoparticle precursor [Ag(C6F5)] in solution. Addition of an excess of PVP (1) or CA (2) and 5 h of reflux in tetrahydrofuran (THF) at 66 °C leads to Ag NPs of small size (4.8 ± 3.0 nm for PVP-Ag NPs and 3.0 ± 1.2 nm for CA-Ag NPs) that coexist in both cases with larger nanoparticles between 7 and 25 nm. Both nanomaterials display a high antibacterial effectiveness against E. coli. The TEM analysis of the nanoparticle–bacterial cell membrane interaction shows an optimal size-specific affinity for PVP-Ag NPs of 5.4 ± 0.7 nm in the presence of larger size silver nanoparticles.
Graphical Abstract
An organometallic approach permits the synthesis of small size silver nanoparticles (ca 5 nm) as a main population in the presence of larger size nanoparticles. Optimal silver nanoparticle size-selection (5.4 nm) for the interaction with the bacterial membrane is achieved.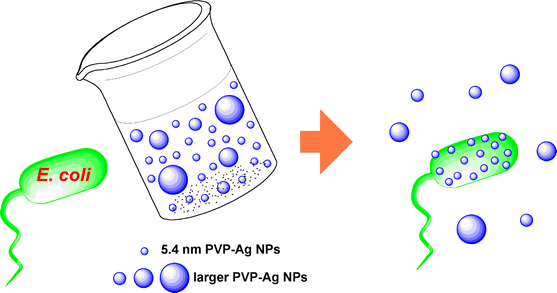 Keywords
Silver nanoparticles 
Polymers 
Antibacterial 
TEM 
Notes
Acknowledgments
The D.G.I. (MEC)/FEDER (CTQ2010-20500-C02-02) and European Commission, POCTEFA (METNANO, EFA 17/08) projects are acknowledged for financial support. J. Crespo thanks the Comunidad Autónoma de La Rioja (CAR) for a grant. We thank the Servicio de Microscopía Electrónica de Materiales (Servicio General de Apoyo a la Investigación), Universidad de Zaragoza and at the Universidad de Cantabria (SERMET) for microscopy facilities.
Copyright information
© Springer Science+Business Media Dordrecht 2012