Abstract
Nanoparticle (NP) tracking in complex media is still a challenge since NP concentrations are expected to be low compared to elemental background levels as it can be found in environmental matrices. This study presents a new method for radiolabeling of commercial silver nanopowder (Ag0-NPs, dp < 100 nm) with 110mAg radionuclides (t 1/2 = 249.9 days) that provide an adequate time frame for particle detection, localization, and tracking under various experimental conditions. The radiolabeling procedure insures high efficiency, stability, and consistency of important particle properties such as size and morphology. Detection of Ag0-NP in concentrations as low as 125 ng kg−1 could be reached. For the first time, an appropriate tool for life-cycle studies of commercial Ag0-NPs is provided without changing chemical composition of the material. This is of great importance e.g., for research in the field of nanotoxicology.
Access options
Buy single article
Instant access to the full article PDF.
US$ 39.95
Tax calculation will be finalised during checkout.
Subscribe to journal
Immediate online access to all issues from 2019. Subscription will auto renew annually.
US$ 79
Tax calculation will be finalised during checkout.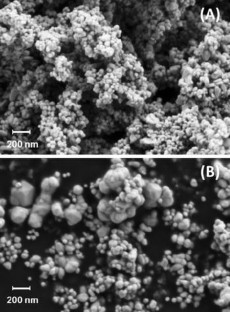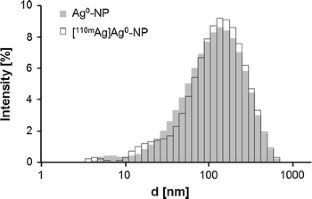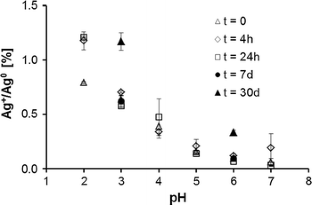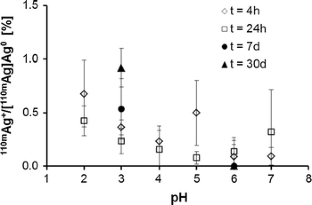 References
Abbas K, Cydzik I, Del Torchio R, Farina M, Forti E, Gibson N, Holzwarth U, Simonelli F, Kreyling W (2010) Radiolabelling of TiO2 nanoparticles for radiotracer studies. J Nanopart Res 12:2435–2443. doi:10.1007/s11051-009-9806-8

Beke DL, Erdélyi Z, Szabó IA, Cserháti C (2004) Nanoscale effects in diffusion. J Metastable Nanocryst Mater 19:107–128. doi:10.4028/www.scientific.net/JMNM.19.107

Brar SK, Verma M, Tyagi RD, Surampalli RY (2010) Engineered nanoparticles in wastewater and wastewater sludge–Evidence and impacts. Waste Manage 30:504–520. doi:10.1016/j.wasman.2009.10.012

Burley G (1963) Photolytic behavior of silver iodide. J Res Nat Bur Stand 67A:301–307

Cervantes-Sodi F, McNicholas TP, Simmons JG Jr, Liu J, Gabor Csányi G, Ferrari AC, Curtarolo S (2010) Viscous state effect on the activity of Fe nanocatalysts. ACS Nano 4:6950–6956. doi:10.1021/nn101883s

Chrastina A, Schnitzer JE (2010) Iodine-125 radiolabeling of silver nanoparticles for in vivo SPECT imaging. Int J Nanomed 5:653–659. doi:10.2147/IJN.S11677

Elzey S, Grassian VH (2010) Agglomeration, isolation and dissolution of commercially manufactured silver nanoparticles in aqueous environments. J Nanopart Res 12:1945–1958. doi:10.1007/s11051-009-9783-y

Ferreira da Silva B, Pérez S, Gardinalli P, Singhal RK, Mozeto AA, Barceló D (2011) Analytical chemistry of metallic nanoparticles in natural environments. Trends Anal Chem 30:528–540. doi:10.1016/j.trac.2011.01.008

Gallego-Urrea JA, Tuoriniemi J, Hassellöv M (2011) Applications of particle-tracking analysis to the determination of size distributions and concentrations of nanoparticles in environmental, biological and food samples. Trends Anal Chem 30:473–483. doi:10.1016/j.trac.2011.01.005

Gerischer H, Tischer RP (1954) Isotopenaustausch und umlagerungsvorgange in silberoberflachen. Z Elektrochem 10:819–827

Gibson N, Holzwarth U, Abbas K, Simonelli F, Kozempel J, Cydzik I, Cotogno G, Bulgheroni A, Gilliland D, Ponti J, Franchini F, Marmorato P, Stamm H, Kreyling W, Wenk A, Semmler-Behnke M, Buono S, Maciocco L, Burgio N (2011) Radiolabelling of engineered nanoparticles for in vitro and in vivo tracing applications using cyclotron accelerators. Arch Toxicol 85:751–773. doi:10.1007/s00204-011-0701-6

Kim NH, Kim J-Y, Ihn KJ (2007) Preparation of silver nanoparticles having low melting temperature through a new synthetic process without solvent. J Nanosci Nanotechnol 7:3805–3809. doi:10.1166/jnn.2007.044

Kittler S, Greulich C, Diendorf J, Köller M, Epple M (2010) Toxicity of silver nanoparticles increases during storage because of slow dissolution under release of silver ions. Chem Mater 22:4548–4554. doi:10.1021/cm100023p

Marambio-Jones C, Hoek EMV (2010) A review of the antibacterial effects of silver nanomaterials and potential implications for human health and the environment. J Nanopart Res 12:1531–1551. doi:10.1007/s11051-010-9900-y

Müller M, Albe K (2007) Concentration of thermal vacancies in metallic nanoparticles. Acta Mater 55:3237–3244. doi:10.1016/j.actamat.2007.01.022

Navarro E, Piccapietra F, Wagner B, Marconi F, Kaegi R, Odzak N, Sigg L, Behra R (2008) Toxicity of silver nanoparticles to Chlamydomonas reinhardtii. Environ Sci Technol 42:8959–8964

Roduner E (2006) Size matters: why nanomaterials are different. Chem Soc Rev 35:583–592

Tomizuka CT, Sonder E (1956) Self-diffusion in silver. Phys Rev 103:1182–1184

Witt E, Jager E, Kasper L (2009) Strahlenschutzverordnung, 15th edn. Carl Heymanns, Cologne

Zuykov M, Pelletier E, Demers S (2011) Colloidal complexed silver and silver nanoparticles in extrapallial fluid of Mytilus edulis. Mar Environ Res 71:17–21. doi:10.1016/j.marenvres.2010.09.004
Acknowledgments
We acknowledge C. Buetow, C. Schoessler, and N. Willnow for technical assistance in the lab. A. Freyer and A. Prager (Leibniz Institute of Surface Modification, Leipzig, Germany) are acknowledged for the SEM imaging of the Ag0 nanopowder samples. This study is financially supported by the German Federal Ministry of Education and Research within the NanoNature initiative (project NanoTrack, support code: 03X0078A).
About this article
Cite this article
Hildebrand, H., Franke, K. A new radiolabeling method for commercial Ag0 nanopowder with 110mAg for sensitive nanoparticle detection in complex media. J Nanopart Res 14, 1142 (2012). https://doi.org/10.1007/s11051-012-1142-8
Received:

Accepted:

Published:
Keywords
Radiolabeling

Nanoparticle

Silver

Nanoparticle detection

Nanoparticle tracking