Aggregation of gold nanoparticles followed by methotrexate release enables Raman imaging of drug delivery into cancer cells
Abstract
This study refers an aqueous synthesis of methotrexate (MTX)-conjugated gold nanoparticles (GNPs), their interaction with HepG2 cells, and the use of Raman imaging to observe cellular internalization and drug delivery. GNPs of average size 3.5–5 nm were stabilized using the amine terminated bifunctional biocompatible copolymer and amended by conjugating MTX, an anticancer drug. The nanoparticles were released MTX at a faster rate in acidic pH and subsequently found to form aggregates. The Raman signals of cellular components were found to be enhanced by the aggregated particles enabling the mapping to visualize site-specific drug delivery. The methodology seems to have potential in optimizing the characteristics of nanodrug carriers for emptying the cargo precisely at specified sites.
Graphical Abstract
Drug release induced particle aggregation enhances Raman signals to aid in imaging.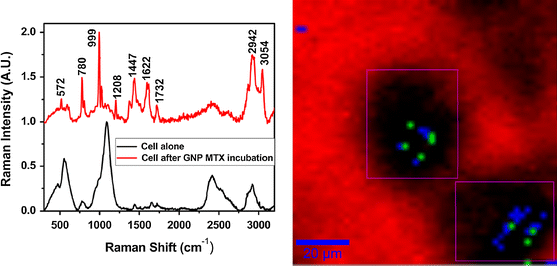 Keywords
Gold nanoparticle 
Raman imaging 
Methotrexate 
Targeted drug delivery 
HepG2 cells 
Notes
Acknowledgments
This work was supported by the Department of Science and Technology, Govt. of India through the project "Facility for nano/microparticle based biomaterials - advanced drug delivery systems" #8013, under the Drugs and Pharmaceuticals Research Programme. The authors also acknowledge the support extended by Dr. Annie John (TEM division). C.V. Durgadas wish to thank the Lady Tata foundation for the senior research scholarship in science.
Copyright information
© Springer Science+Business Media B.V. 2012