Ultra-long palladium nanoworms by polymer grafts
Abstract
Chemically and morphologically stable, non-aggregating palladium nanoworms with diameters of 2 nm and lengths of up to 10 nm with a graft-to polystyrene shell were synthesized in a straight-forward one-phase system, and proof for the mechanism of formation is presented. The synthesis has been achieved by the application of ω-2,2′-bipyridyl-polystyrene as stabilizer, which led to a "graft-to" structure of palladium nanoworms with polystyrene shell. The nanoworms have been characterized by TEM, XRD, and coupled GPC-UV/Vis measurement. It was possible to show that the formation of nanoworms proceeds by agglomeration of spherical palladium nanoparticles. This mechanism was transferred to ω-thiol-polystyrene as stabilizer, which results in either spherical nanoparticles (low ratio Pd:Polymer, <2 nm diameter) or high aspect ratio nanoworms (high ratio Pd:Polymer, up to 10 × 120 nm), proving that the formation of palladium nanoworms was not exclusive for pyridine/amine-based ligands.
Graphical abstract
In a straight-forward one-phase synthesis, palladium nanoworms with a graft-to polymer shell are synthesized by metal salt reduction. The picture shows a sample of palladium nanoworms with diameter of 10 nm and lengths of up to 120 nm, stabilized by ω-thiol-polystyrene.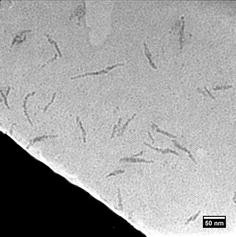 Keywords
Core/shell materials 
Gel permeation chromatography 
Nanostructures 
Nanoparticles 
Palladium 
Notes
Acknowledgments
The authors thank Dr. A. Schaper and Michael Hellwig of the Center for Materials Science Marburg for technical support for TEM measurements and DFG, Germany for the financial support.
Copyright information
© Springer Science+Business Media B.V. 2012