Abstract
Three different batches of pure nanoparticles (NPs) of nicergoline (NIC) were prepared by spray drying a water:ethanol solution by a new Nano Spray Dryer Büchi B-90. Spherical pure NPs were obtained, and several analytical techniques such as differential scanning calorimetry and X-ray powder diffractometry permitted to assess their amorphous character. A comparison of the solubility, intrinsic dissolution, and drug release of original particles and pure amorphous NPs were determined, revealing an interesting improvement of biopharmaceutical properties of amorphous NPs, due to both amorphous properties and nanosize dimensions. Since in a previous work, the high-thermodynamic stability of amorphous NIC was demonstrated, this study is addressed toward the formulation of NIC as pure amorphous NPs.
Access options
Buy single article
Instant access to the full article PDF.
USD 39.95
Price excludes VAT (USA)
Tax calculation will be finalised during checkout.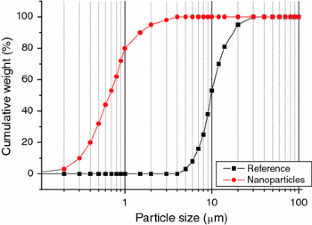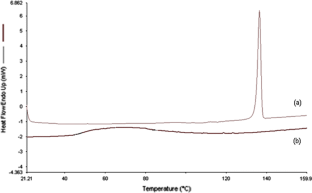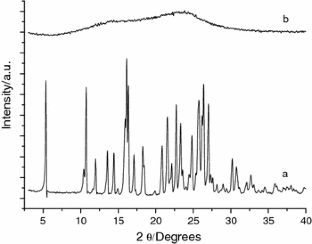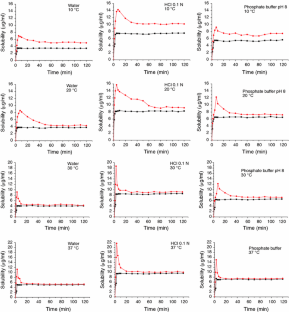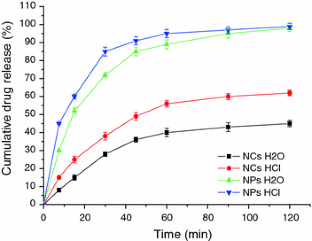 References
Ahlneck C, Zografi G (1990) The molecular basis of moisture effects on the physical and chemical stability of drugs in the solid state. Int J Pharm 62:87–95

Andronis V, Yoshioka M, Zografi G (1997) Effects of sorbed water on the crystallization of indomethacin from the amorphous state. J Pharm Sci 86:346–351

Banakar UV (1992) In: Swarbrick J (ed) Pharmaceutical dissolution testing. Marcel Dekker, New York, pp 55–105

Brossi A (1990) The alkaloids. Chemistry and pharmacology, 38. Academic Press Inc, San Diego, p 142

Crowley KJ, Zografi G (2002) Water vapour absorption into amorphous hydrophobic drug/poly(vinylpyrrolidone) dispersions. J Pharm Sci 90:2150–2165

Elversson J, Millqvist-Fureby A, Alderborn G, Eloffson U (2003) Droplet and particle size relationship and shell thickness of inhalable lactose particles during spray drying. J Pharm Sci 92:900–910

Gao L, Zhang D, Chen M (2008) Drug nanocrystals for the formulation of poorly soluble drugs and its application as a potential drug delivery system. J Nanopart Res 10:845–862

Goo D, Palosi E, Szporny L (1988) Comparison of the effects of vinpocetine, vincamine, and nicergoline on the normal and hypoxia-damaged learning process in spontaneously hypertensive rats. Drug Dev Res 15:75–85

Hamaura T, Newton JM (1999) Interaction between water and poly(vinylpyrrolidone) containing polyethylene glycol. J Pharm Sci 88:1228–1232

Hancock BC, Parks M (2000) What is the true solubility advantage for amorphous pharmaceuticals? Pharm Res 17:397–403

Heitz C, Descombes JJ, Miller RC, Stoclet JC (1986) α-Adrenoceptor antagonistic and calcium antagonistic effects of nicergoline in the rat isolated aorta. Eur J Pharmacol 123:279–285

ICH Topic Q 1 A (R2) (2003) Stability testing of new drug substances and products. Note for guidance on stability testing: stability testing of new drug substances and products. (CPMP/ICH/2736/99). EMEA, London, pp 1–20

Junghanns JAH, Müller RH (2008) Nanocrystal technology, drug delivery and clinical applications. Int J Nanomed 3:295–309

Kontny MJ, Zografi G (1995) Sorption of water by solids. In: Brittain HG (ed) Physical characterization of pharmaceutical solids. Marcel Dekker, New York, pp 387–418

Maa YF, Nguyen PA, Sweeney T, Shire SJ, Hsu CC (1999) Protein inhalation powders: spray drying vs spray freeze drying. Pharm Res 16:249–254

Malaj L, Censi R, Capsoni D, Pellegrino L, Bini M, Ferrari S, Gobetto R, Massarotti V, Di Martino P (2011) Characterization of nicergoline polymorphs crystallized in several organic solvents. J Pharm Sci 100:2610–2622

Martena V, Censi R, Hoti E, Malaj L, Di Martino P (2011) Physicochemical characterization of nicergoline and cabergoline in its amorphous state. J Therm Anal Calorim doi: 10.1007/s10973-011-1954-2

Mauludin R, Müller RH, Keck CM (2009) Development of an oral rutin nanocrystal formulation. Int J Pharm 370:202–209

Merisko-Liversidge E (2002) Nanocrystals: resolving pharmaceutical formulation issues associated with poorly water-soluble compounds. In: Marty JJ (Ed) Particles. Marcel Dekker, Orlando

Noyes A, Whitney WR (1897) The rate of solution of solid substances in their own solutions. J Am Chem Soc 19:930–934

Pastoris O, Vercesi L, Allorio F, Dossena M (1988) Effect of hypoxia, aging and pharmacological treatment on muscular metabolites and enzyme activities. Il Farmaco Ed Sci 43:627–642

Schmitt E, Davis CW, Long ST (1996) Moisture-dependent crystallization of amorphous lamotrigine mesylate. J Pharm Sci 85:1215–1219

Shamblin SL, Zografi G (1999) The effects of absorbed water on the properties of amorphous mixtures containing sucrose. Pharm Res 16:1119–1124

Shegokar R, Müller RH (2010) Nanocrystals: industrially feasible multifunctional formulation technology for poorly soluble actives. Int J Pharm 399:129–139

Speiser PP (1998) Poorly soluble drugs: a challenge in drug delivery. In: Benita S, Böhm B, Müller RH (eds) Emulsions and nanosuspensions for the formulation of poorly soluble drugs. Medpharm Scientific Publishers, Stuttgart, pp 15–28

Taylor LS, Shamblin SL (2009) Amorphous solids. In: Brittain HG (ed) Polymorphism. Informa Healthcare, New York, pp 594–596

Triulzi E, Devizzi S, Margonato A (1981) Use of nicergoline in acute myocardial infarction with diastolic hypertension. Il Farmaco (ed Prat) 36:449–455

Venn RD (1980) Review of clinical studies with ergots in gerontology. In: Goldstein M, Liberman A, Calne DB, Thorner MO (eds) Ergot compounds and brain function. Raven Press, New York, pp 363–377

Zografi G (1988) States of water associated with solids. Drug Dev Ind Pharm 14:1905–1926
About this article
Cite this article
Martena, V., Censi, R., Hoti, E. et al. A new nanospray drying method for the preparation of nicergoline pure nanoparticles. J Nanopart Res 14, 934 (2012). https://doi.org/10.1007/s11051-012-0934-1
Received:

Accepted:

Published:

DOI: https://doi.org/10.1007/s11051-012-0934-1
Keywords
Nicergoline

Nanoparticles

Amorphous

Nanospray drying