Immobilization of platinum nanoparticles on 3,4-diaminobenzoyl-functionalized multi-walled carbon nanotube and its electrocatalytic activity
Abstract
Multi-walled carbon nanotubes (MWCNTs) are functionalized at the sp2 C–H defect sites with 3,4-diaminobenzoic acid by a "direct" Friedel–Crafts acylation reaction in a mild polyphosphoric acid/phosphorous pentoxide medium. Owing to enhanced surface polarity, the resulting 3,4-diaminobenzoyl-functionalized MWCNTs (DAB-MWCNT) are highly dispersible in polar solvents, such as ethanol, N-methyl-2-pyrrolidone, and methanesulfonic acid. The absorption and emission properties of DAB-MWCNT in solution state are qualitatively shown to be sensitive to the pH in the environment. The DAB-MWCNT is used as a stable platform on which to deposit platinum nanoparticles (PNP). The PNP/DAB-MWCNT hybrid displays high electrocatalytic activity with good electrochemical stability for an oxygen reduction reaction under an alkaline condition.
Graphical Abstract
Multi-walled carbon nanotubes (MWCNTs) were functionalized with 3,4-diaminobenzoic acid to produce 3,4-diaminobenzoyl-functionalized MWCNT (DAB-MWCNT). Platinum nanoparticles (PNP) were deposited to DAB-MWCNT. The resulting PNP/DAB-MWCNT hybrid displayed high electrocatalytic activity.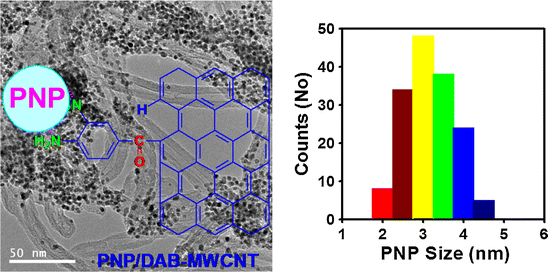 Keywords
Platinum nanoparticles 
Multi-walled carbon nanotubes 
Functionalization 
Electrocatalytic activity 
Notes
Acknowledgments
This project was supported by funding from World Class University (WCU), US-Korea NBIT, and Basic Research Laboratory (BRL) programs supported by the National Research Foundation (NRF) and the Ministry of Education, Science and Technology (MEST) of Korea, US Air Force Office of Scientific Research, and Asian Office of Aerospace R&D (AFOSR-AOARD).
Copyright information
© Springer Science+Business Media B.V. 2012