Abstract
We report on the hydrogen storage behaviour of Mg nanoparticles (NPs) (size range 100 nm–1 μm) with metal-oxide core–shell morphology synthesized by inert gas condensation and decorated by transition metal (TM) (Pd or Ti) clusters via in situ vacuum deposition. The structure and morphology of the as-prepared and hydrogenated NPs is studied by electron microscopy, X-ray diffraction including in situ experiments and X-ray absorption spectroscopy, in order to investigate the relationships with the hydrogen storage kinetics measured by the volumetric Sieverts method. With both Pd and Ti, the decoration deeply improves the hydrogen sorption properties: previously inert NPs exhibit complete hydrogenation with fast transformation kinetics, good stability and reversible gravimetric capacity that can attain 6 wt%. In the case of Pd-decoration, the occurrence of Mg–Pd alloying is observed at high temperatures and in dependence of the hydrogen pressure conditions. These structural transformations modify both the kinetics and thermodynamics of hydride formation, while Ti-decoration has an effect only on the kinetics. The experimental results are discussed in relation with key issues such as the amount of decoration, the heat of mixing between TM and Mg and the binding energy between TM and hydrogen.
Access options
Buy single article
Instant access to the full article PDF.
US$ 39.95
Tax calculation will be finalised during checkout.
Subscribe to journal
Immediate online access to all issues from 2019. Subscription will auto renew annually.
US$ 79
Tax calculation will be finalised during checkout.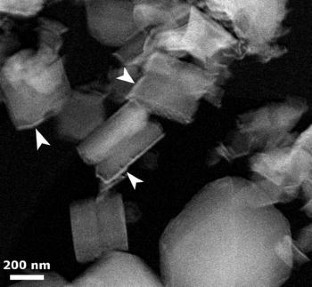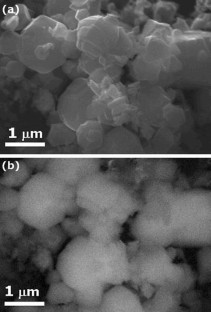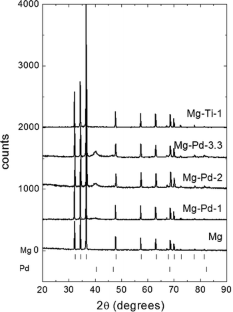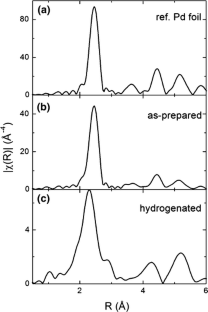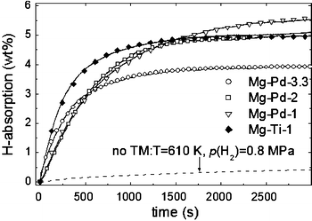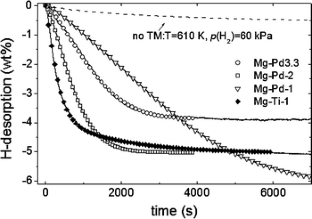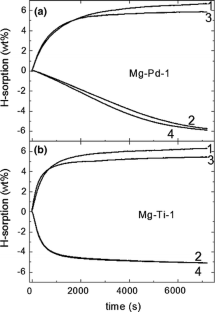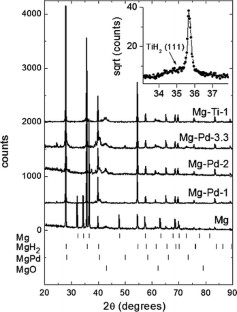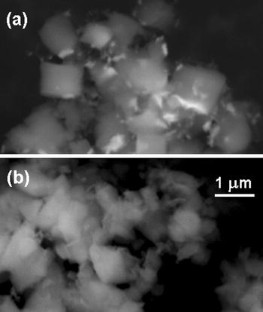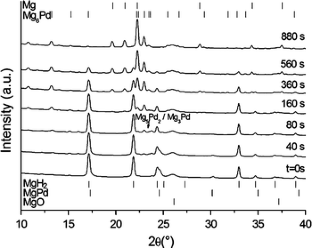 References
Barkhordarian G, Klassen T, Bormann R (2006) Catalytic mechanism of transition-metal compounds on Mg hydrogen sorption reaction. J Phys Chem B 110:11020–11024

Boscherini F, de Panfilis S, Weissmuller J (1998) Determination of local structure in nanophase palladium by X-ray absorption spectroscopy. Phys Rev B 57:3365–3374

Callini E, Pasquini L, Piscopiello E, Montone A, Vittori Antisari M, Bonetti E (2009) Hydrogen sorption in Pd-decorated Mg-MgO core–shell nanoparticles. Appl Phys Lett 94:221905

Callini E, Pasquini L, Rude LH, Nielsen TK, Jensen TR, Bonetti E (2010) Hydrogen storage and phase transformations in Mg-Pd nanoparticles. J Appl Phys 108:073513

Eberle U, Felderhoff M, Schüth F (2009) Chemical and physical solutions for hydrogen storage. Angew Chem Int Ed 48:6608–6630

Friedrichs O, Olodziejczyk L, Sánchez-Lápez JC, López-Cartés C, Fernández A (2007) Synthesis of nanocrystalline MgH2 powder by gas-phase condensation and in situ hydridation: TEM, XPS and XRD study. J Alloys Compd 434–435:721–724

Gremaud R, Baldi A, Gonzalez-Silveira M, Dam B, Griessen R (2008) Chemical short-range order and lattice deformations in MgyTi1−yHx thin films probed by hydrogenography. Phys Rev B 77:144204

Gross AF, Ahn CC, Van Atta SL, Liu P, Vajo JJ (2009) Fabrication and hydrogen sorption behaviour of nanoparticulate MgH2 incorporated in a porous carbon host. Nanotechnology 20:204005

Huot J, Yonkeu A, Dufour J (2009) Rietveld analysis of neutron powder diffraction of Mg6Pd alloy at various hydriding stages. J Alloys Compd 475:168–172

Jones DJ, Rozière J, Aleandri LE, Bogdanović B, Huckett SC (1992) Intermetallic phases in the magnesium-palladium system: X-ray absorption spectroscopic characterization of the amorphous alloy MgPdCxHy. Chem Mater 4:620–625

Krishnan G, Kooi BJ, Palasantzas G, Pivak Y, Dam B (2010) Thermal stability of gas phase magnesium nanoparticles. J Appl Phys 107:053504

Li WY, Li CS, Ma H, Chen J (2007) Magnesium nanowires: enhanced kinetics for hydrogen absorption and desorption. J Am Chem Soc 129:6710

Lutterotti L (2010) Total pattern fitting for the combined size–strain–stress–texture determination in thin film diffraction. Nucl Instrum Methods Phys Res B 268:334–340

Makongo JP, Prots Y, Burkhardt U, Niewa R, Kudla C, Kreiner G (2006) A case study of complex metallic alloy phases: structure and disorder phenomena of Mg-Pd compounds. Philos Mag 86:427–433

Montone A, Grbovic J, Vittori Antisari M, Bassetti A, Bonetti E, Fiorini AL, Pasquini L, Mirenghi L, Rotolo P (2007) Nano-microMgH2·Mg2NiH4 composites: tayloring a multichannel system with selected hydrogen sorption properties. Int J Hyd Energy 32:2926–2934

Newville M (2001) IFEFFIT: interactive XAFS analysis and FEFF fitting. J Synchrotron Radiat 8:322–324

Nielsen TK, Manickam K, Hirscher M, Besenbacher F, Jensen TR (2009) Confinement of MgH2 nanoclusters within nanoprous aerogel scaffold materials. ACS Nano 3:3521–3528

Pasquini L, Callini E, Piscopiello E, Montone A, Vittori Antisari M, Bonetti E (2009) Metal-hydride transformation kinetics in Mg nanoparticles. Appl Phys Lett 94:041918

Rosi NL, Eckert J, Eddaoudi M, Vodak DT, Kim J, O'Keeffe M, Yaghi OM (2003) Hydrogen storage in microporous metal-organic frameworks. Science 300:1127–1129

Wu G, Zhang J, Wu Y, Li Q, Chou K, Bao X (2009) Adsorption and dissociation of hydrogen on MgO surface: a first principle study. J Alloys Compd 480:788–793

Yoon M, Yang S, Hicke C, Wang E, Geohegan D, Zhang Z (2008) Calcium as the superior coating metal in functionalization of carbon fullerenes for high-capacity hydrogen storage. Phys Rev Lett 100:206806
Acknowledgments
The work was supported by the Italian Ministry for University and Research under project FISR-TEPSI, the Danish National Research Foundation (Center for Materials Crystallography), the Danish Strategic Research Council (Center for Energy Materials) and the Danish Research Council for Nature and Universe (Danscatt). We are grateful to the Carlsberg Foundation.
About this article
Cite this article
Pasquini, L., Callini, E., Brighi, M. et al. Magnesium nanoparticles with transition metal decoration for hydrogen storage. J Nanopart Res 13, 5727–5737 (2011). https://doi.org/10.1007/s11051-011-0509-6
Received:

Accepted:

Published:

Issue Date:
Keywords
Hydrogen storage

Nanoparticles

Inert gas condensation

Magnesium

Transition metals

Transformation kinetics

Energy storage