Abstract
This study focuses and discusses the effects of temperature and humidity on electrospun conductive nanofibers, made with different polymer blends, deposited directly on interdigitated electrodes. The selected conductive polymers were based on blends of polyaniline emeraldine salt form and three different carrier hosting polymers: polyvinilpyrrolidone, polystyrene, and polyethylene oxide respectively. The obtained fibrous layers were investigated by the electrical measurements and morphological analysis (scanning electron microscopy). The study was made on the correlation between the electrical changes and morphological discrepancies due to temperature treatment. Moreover, this article reports the effects of relative humidity variations on electrical parameters. Since polyaniline is a well-known sensing material for different gases and volatile organic compounds, this study could be considered a supportive study for employing of the mentioned polymer blends as chemical interactive materials in gas sensor applications.
Access options
Buy single article
Instant access to the full article PDF.
US$ 39.95
Tax calculation will be finalised during checkout.
Subscribe to journal
Immediate online access to all issues from 2019. Subscription will auto renew annually.
US$ 79
Tax calculation will be finalised during checkout.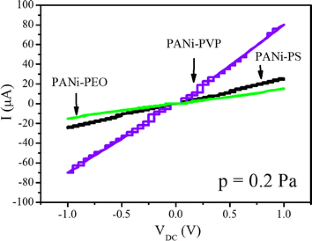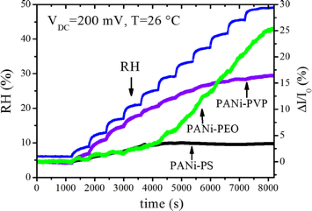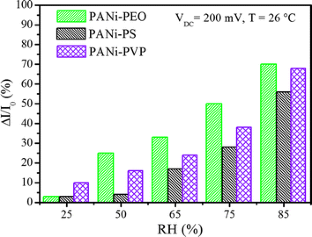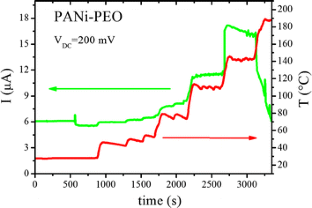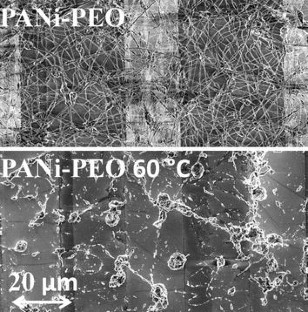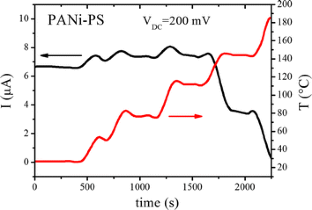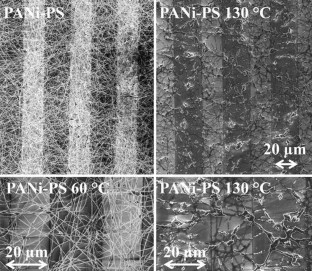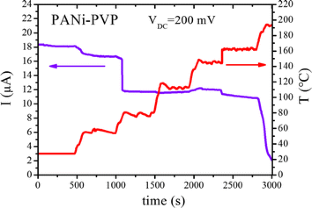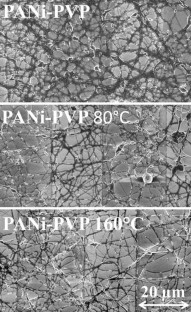 References
Aderson DA, Freeman ES (1961) The kinetics of the thermal degradation of polystyrene and polyethylene. J Polym Sci 54:253–260. doi:10.1002/pol.1961.1205415920

Blazquez E, Mustarelli P, Pasini D, Righetti PP, Tomasi C (2004) Thermal and conductivity properties of poly(ethylene glycol) based cyclopolymers. J Mater Chem 14:2524–2529. doi:10.1039/b402677b

Conklin JA, Huang SC, Huang SM, Wen T, Kaner RB (1995) Thermal properties of polyaniline and poly(aniline-co-o-ethylaniline). Macromolecules 28:6522–6527. doi:10.1021/ma00123a019

De Cesare F, Pantalei S, Zampetti E, Macagnano A (2008) Electronic nose and SPME techniques to monitor phenanthrene biodegradation in soil. Sens Actuators B 131:63–70. doi:10.1016/j.snb.2007.12.012

Debarnot DN, Epaillard FP (2003) Polyaniline as a new sensitive layer for gas sensors. Anal Chim Acta 475:1–15. doi:10.1016/S0003-2670(02)01229-1

Ding B, Wang M, Yu J, Sun G (2009) Gas sensors based on electrospun nanofibers. Sensors 9:1609–1624. doi:10.3390/s90301609

Dong G, Xiao X, Liu X, Qian B, Ma Z, Ye S, Chen D, Qiu J (2010) Preparation and characterization of Ag nanoparticle embedded polymer electrospun nanofibers. J Nanopart Res 12:1319–1329. doi:10.1007/s11051-009-9665-3

Fang Q, Chetwynd DG, Covington JA, Toh CS, Gardner JW (2002) Micro-gas-sensor with conducting polymers. Sens Actuators B 84:66–71. doi:10.1016/S0925-4005(01)01076-0

Gardner JW, Shin HW, Hines EL (2000) An electronic nose system to diagnose illness. Sens Actuators B 70:19–24. doi:10.1016/S0925-4005(00)00548-7

Ge JJ, Hou H, Li Q, Graham MJ, Greiner A, Reneker DH, Harris FW, Cheng SZD (2004) Assembly of well-aligned multiwalled carbon nanotubes in confined polyacrylonitrile environments: electrospun composite nanofiber sheets. J Am Chem Soc 126:15754. doi:10.1021/ja048648p

Haaf F, Sanner A, Straub F (1985) Polymers of N-vinylpyrrolidone: synthesis, characterization and uses. Polym J 17:143–152. doi:10.1295/polymj.17.143

Hao Q, Kulikov V, Mirsky VM (2003) Investigation of contact and bulk resistance of conducting polymers by simultaneous two- and four-point technique. Sens Actuators B 94:352–357. doi:10.1016/S0925-4005(03)00456-8

Hosseini SH, Entezami AA (2001) Preparation and characterization of polyaniline blends with polyvinyl acetate, polystyrene and polyvinyl chloride for toxic gas sensors. Polym Adv Technol 12:482–493. doi:10.1002/pat.107

Huang ZM, Zhang YZ, Kotaki M, Ramakrishna S (2003) A review on polymer nanofibers by electrospinning and their applications in nanocomposites. Compos Sci Technol 63:2223. doi:10.1016/S0266-3538(03)00178-7

Janata J, Josowicz M (2003) Conducting polymers in electronic chemical sensors. Nat Mater 2:19–24. doi:10.1038/nmat768

Ko F, Gogotsi Y, Ali A, Naguib N, Ye H, Yang G, Li C, Willis P (2003) Electrospinning of continuous carbon nanotube-filled nanofiber yarns. Adv Mater 15:1161. doi:10.1002/adma.200304955

Lakin KM (1974) Electrode resistance effects in interdigital transducers. IEEE Trans Microw Theory Tech 22:418–424

Li P, Li Y, Ying B, Yang M (2009) Electrospun nanofibers of polymer composite as a promising humidity sensitive material. Sens Actuators B 141:390–395. doi:10.1016/j.snb.2009.07.006

Liu H, Kameoka J, Czaplewski DA, Craighead HG (2004) Polymeric nanowire chemical sensor. Nano Lett 4:671–675. doi:10.1021/nl049826f

Macagnano A, Zampetti E, Pantalei S, et al (2009) Array of nanofibrous polyaniline-based sensors with different chemostructural assembling. AIP Conference Proceedings, ISBN: 978-0-7354-0674-2, 1137: 373–376

Madler L, Sahm T, Gurlo A, Grunwaldt JD, Barsan N, Weimar U, Pratsinis SE (2006) Sensing low concentrations of CO using flame-spray-made Pt/SnO2 nanoparticles. J Nanopart Res 8:783–796. doi:10.1007/s11051-005-9029-6

Mark JE (2007) Physical properties of polymers handbook. Springer, Berlin

Norris ID, Shaker MM, Ko F, MacDiarmid AG (2000) Electrostatic fabrication of ultrafine conducting fibers: polyaniline/polyethylene oxide blends. Synth Met 114:109. doi:10.1016/S0379-6779(00)00217-4

Pearce R, Vancso GJ (1997) Imaging of melting and crystallization of poly(ethylene oxide) in real-time by hot-stage atomic force microscopy. Macromolecules 30:5843–5848. doi:10.1021/ma970463y

Ramakrishna S, Fujihara K, Teo WE, Yong T, Zuwei Ma, Ramakrishna R (2006) Electrospun nanofibers: solving global issues. Mater Today 9:40–50. doi:10.1016/S1369-7021(06)71389-X

Reneker DH, Chun I (1996) Nanometre diameter fibres of polymer, produced by electrospinning. Nanotechnology 7:216. doi:10.1088/0957-4484/7/3/009

Rieger J (1996) The glass transition temperature of polystyrene results of a round robin test. J Therm Anal Calorim 46:965–972. doi:10.1007/BF01983614

Smith JA, Josowicz M, Janata J (2003) Polyaniline-gold nanocomposite system. J Electrochem Soc 150:E384–E388. doi:10.1149/1.1589762

Zampetti E, Pantalei S, Pecora A, Valletta A, Maiolo L, Minotti A, Macagnano A, Fortunato G, Bearzotti A (2009) Design and optimization of an ultra thin flexible capacitive humidity sensor. Sens Actuators B 143:302–307. doi:10.1016/j.snb.2009.09.004

Zampetti E, Pantalei S, Scalese S, Bearzotti A, De Cesare F, Spinella C, Macagnano A (2011) Biomimetic sensing layer based on electrospun conductive polymer webs. Biosens Bioelectron 26:2460–2465. doi:10.1016/j.bios.2010.10.032
Acknowledgments
The authors wish to thank the technical staff of the MIR Medical International Research S.r.l for their support and, in particular, Ing. Paolo Boschetti Sacco. This study was partially financed by MIR in the framework of the project "NOESIS" FILAS Regione Lazio–Bando DTB 2009-2011.
About this article
Cite this article
Zampetti, E., Muzyczuk, A., Macagnano, A. et al. Effects of temperature and humidity on electrospun conductive nanofibers based on polyaniline blends. J Nanopart Res 13, 6193–6200 (2011). https://doi.org/10.1007/s11051-011-0310-6
Received:

Accepted:

Published:

Issue Date:
Keywords
Nanofibers

Conductive polymers

Electrospinning

Sensor

Temperature treatment

Humidity

Polyaniline