Abstract
Copper doped ZnO nanoparticles were synthesized by a chemical technique based on a hydrothermal method. The crystallite sizes, estimated by XRD and TEM/SEM for different doping percentage of Cu2+ (1–10%), were found to be in the range of ~10–15 nm. TEM/SEM images showed formation of uniform nanorods, the aspect ratio of which varied with doping percentage. Photoluminescence (PL) measurement showed strong green visible emission and PL intensity was found enhanced with increase in doping percentage. The increase in the PL intensity was mainly due to Cu incorporation in ZnO lattice. Currently, light-emitting diodes (LEDs) giving ultraviolet emission have been combined with broad-band visible green phosphors to make white-light LEDs. Thus, green luminescent ZnO:Cu2+ nanoparticles are seen as necessary and condemnatory constituent for white-light generation from UV LEDs, underlying the importance of the current work.
Access options
Buy single article
Instant access to the full article PDF.
US$ 39.95
Tax calculation will be finalised during checkout.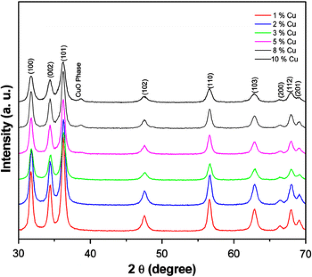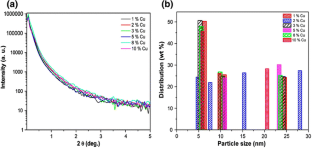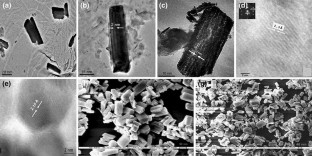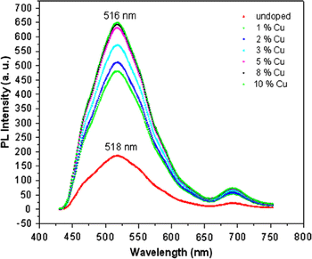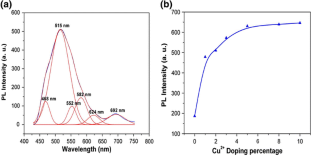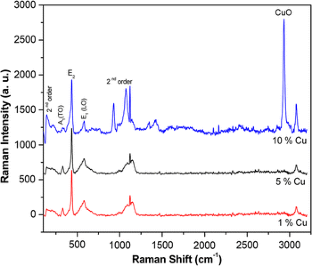 References
Bannemainn DW, Kormann C, Hoffmann MR (1987) Preparation and characterization of quantum size zinc oxide: a detailed spectroscopic study. J Phys Chem 91:3789–3798

Cetin A, Kibar R, Ayvacikli M, Can N, Buchal Ch, Townsend PD, Stepanov AL, Karali T, Selvi S (2006) Optical properties of Cu implanted ZnO. Nucl Instrum Methods Phys Res B 249:474–477

Damen TC, Porto SPS, Tell B (1996) Raman effect in zinc oxide. Phys Rev 142:570–574

Fan Z, Lu JG (2005) Zinc oxide nanostructures: synthesis and properties. J Nanosci Nanotechnol 5:1561–1573

Gavces NY, Wang L, Bai L, Giles NC, Halliburtan LE, Cantwell G (2004) Role of copper in the green luminescence from ZnO crystals. Appl Phys Lett 81(4):622–624

Hans J, Song JW, Yang C-H, Park SH, Park J-H, Jeong YH, Rhie KW (2002) A key to room-temperature ferromagnetism in Fe-doped ZnO: Cu. Appl Phys Lett 81:4212–4214

Honma I, Hirakowa S, Yamada K, Bae JM (1999) Synthesis of organic/inorganic nanocomposites protonic conducting membrane through sol–gel processes. Solid State Ionics 118:29–36

Hoyer P, Wellar H (1994) Size-dependent redox potentials of quantized zinc oxide measured with an optically transparent thin layer electrode. Chem Phys Lett 221:379–384

Hu J, Odom TW, Lieber CM (1999) Chemistry and physics in one dimension: synthesis and properties of nanowires and nanotubes. Acc Chem Res 32:435–445

Hu JQ, Bandu Y, Zhan HJ, Li BY, Sekiguchi T (2003) Two-dimensional micrometer-sized single-crystalline ZnO thin nanosheets. Appl Phys Lett 83:4414–4416

Huang MH, Wu YY, Feich HN, Tran N, Weber E, Yang PD (2001) Catalytic growth of zinc oxide nanowires by vapor transport. Adv Mater 13:113–116

Hui KN, Fu WY, Ng WN, Leung CH, Lai PT, Wong KKY, Choi HW (2008) Polychromatic light-emitting diodes with a fluorescent nanosphere opal coating. Nanotechnology 19:355203–355208

Karpina VA, Lazorenko VI, Lashkarev CV, Dobrowolski VD, Kopylova LI, Baturin VA, Lytuyn SA, Ovsyannikov VP, Mauvenko EA (2004) Zdinc oxide—analogue of GaN with new perspective possibilities. Cryst Res Technol 39:980–992

Koyano M, Quoc Bao P, Thanh Binh LT, Hong Ha L, Ngoc Long N, Katayama SI (2002) Photoluminescence and Raman spectra of ZnO thin films by charged liquid cluster beam technique. Phys Status Solid A 193:125–131

Kryshtab TG, Khomchenko VS, Papsha VP, Mazin MO, Tzykunov YA (2002) Thin ZnS:Cu, Ga and ZnO:Cu, Ga film phosphors. Thin Solid Films 403–404:76–80

Liu M, Kitai AH, Mascher P (1992) Point defects and luminescence centres in zinc oxide and zinc oxide doped with manganese. J Lumin 54:35–42

Mendoza-Galvain A, Trejo-Cruz C, Lee J, Bhattacharya D, Metson J, Evans PJ, Pala U (2006) Effect of metal-ion doping on the optical properties of nanocrystalline ZnO thin films. J Appl Phys 99:14306–14311

Mirkin CA (1999) Tweezers for the nanotool kit. Science 286:2095–2096

Nakamura S (1998) The roles of structural imperfections in InGaN-based blue light-emitting diodes and laser diodes. Science 281:956–961

Phely-Bobin TS, Muisener RJ, Koberstein JT, Papadinmitrakopoulos F (2001) Site-specific self-assembly of Si/SiO x nanoparticles on micropatterned poly(dimethylsiloxane) thin films. Synth Met 116:439–443

Prokes SM, Wang KL (1999) Novel methods of nanoscale wire formation. Mater Res Sci Bull 24:13–19

Sharma PK, Dutta RK, Pandey AC (2009) Doping dependent room-temperature ferromagnetism and structural properties of dilute magnetic semiconductor ZnO: Cu2+ nanorods. J Magn Magn Mater 321:4001–4005

Spanhel L, Anderson MA (1991) Semiconductor clusters in the sol–gel process: quantized aggregation, gelation, and crystal growth in concentrated zinc oxide colloids. J Am Chem Soc 113:2826–2833

Studenikin SA, Golego Kiclolcy, Cocivera Michael (1998) Fabrication of green and orange photoluminescent, undoped ZnO films using spray pyrolysis. J Appl Phys 84:2287–2294

Vanheusden K, Warren WL, Seager CH, Tallanl DR, Voigt JA, Gandu BE (1996) Mechanisms behind green photoluminescence in ZnO phosphor powders. J Appl Phys 79:7983–7990

Wang Z, Zhang H, Zhang L, Yang J, Yan S, Wang C (2003) Low-temperature synthesis of ZnO nanoparticles by solid-state pyrolytic reaction. Nanotechnology 14:11–15

Wu XL, Siu GG, Fu CL, Ong HC (2001) Photoluminescence and cathodoluminescence studies of stoichiometric and oxygen-deficient ZnO films. Appl Phys Lett 78:2285–2287

Zhang Z, Huang B, Yu Y, Guo D (2001) Synthesis of Mg2Si1–x Ge x thermoelectric compound by solid phase reaction. Mater Sci Eng B 86:195–199

Zhang J, Sun L, Yin J, Su H, Liao C, Yon C (2002) Control of ZnO morphology via a simple solution route. Chem Mater 14:4172–4177

Zhao X, Komuro S, Isshiki H, Aoyagi Y, Sugamo T (2000) Fabrication and optical transition dynamics of Er-doped ZnO thin films formed on Si substrates. J Lumin 87–89:1254–1256
Acknowledgments
Authors are thankful to DST and CSIR, India for supporting "Nanotechnology Application Centre" under 'IRHPA', 'Nano-Mission', and 'NMITLI'.
Electronic supplementary material
Below is the link to the electronic supplementary material.
About this article
Cite this article
Sharma, P.K., Kumar, M. & Pandey, A.C. Green luminescent ZnO:Cu2+ nanoparticles for their applications in white-light generation from UV LEDs. J Nanopart Res 13, 1629–1637 (2011). https://doi.org/10.1007/s11051-010-9916-3
Received:

Accepted:

Published:

Issue Date:
Keywords
Nanocrystalline materials

Energy

HRTEM

Photoluminescence

Raman spectroscopy