Abstract
Development of green nanotechnology is generating interest of researchers toward ecofriendly biosynthesis of nanoparticles. In this study, biosynthesis of stable silver nanoparticles was done using Tulsi (Ocimum sanctum) leaf extract. These biosynthesized nanoparticles were characterized with the help of UV–vis spectrophotometer, Atomic Absorption Spectroscopy (AAS), Dynamic light scattering (DLS), X-ray diffraction (XRD), Fourier transform infrared spectroscopy (FTIR), and Transmission electron microscopy (TEM). Stability of bioreduced silver nanoparticles was analyzed using UV–vis absorption spectra, and their antimicrobial activity was screened against both gram-negative and gram-positive microorganisms. It was observed that O. sanctum leaf extract can reduce silver ions into silver nanoparticles within 8 min of reaction time. Thus, this method can be used for rapid and ecofriendly biosynthesis of stable silver nanoparticles of size range 4–30 nm possessing antimicrobial activity suggesting their possible application in medical industry.
Access options
Buy single article
Instant access to the full article PDF.
USD 39.95
Price excludes VAT (USA)
Tax calculation will be finalised during checkout.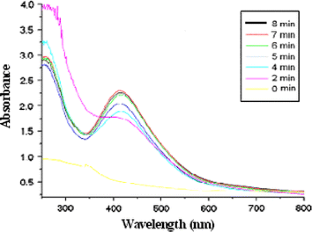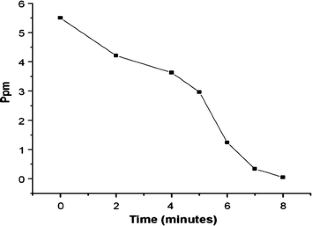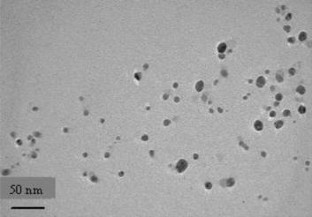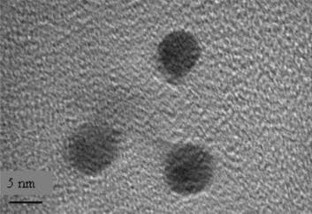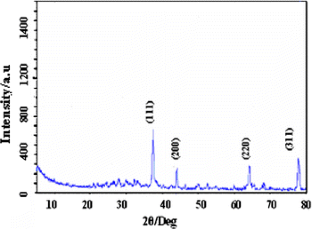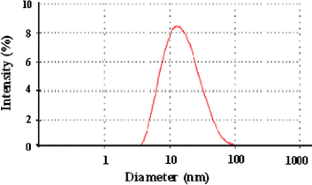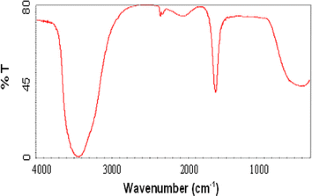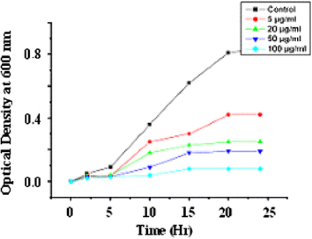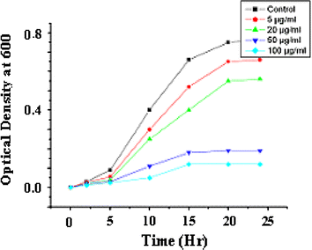 References
Ahmad A, Senapati S, Khan IM, Kumar R, Sastry M (2003a) Extracellular biosynthesis of monodisperse gold nanoparticles by a novel extremophilic actinomycete Thermomonospora sp. Langmuir 19:3550–3553

Ahmad A, Mukherjee P, Senapati S, Mandal D, Khan MI, Kumar R et al (2003b) Extracellular biosynthesis of silver nanoparticles using fungus Fusarium oxysporium. Colloids Surf B Biointerfaces 28:313–318

Arangasamy L, Munusamy V (2008) Tapping the unexploited plant resources for the synthesis of silver nanoparticles. Afr J Biotechnol 7(17):3162–3165

Becker RO (1999) Silver ions in the treatment of local infections. Met Based Drugs 6:297–300

Catauro M, Raucci MG, De Gaaetano FD, Marotta A (2005) Sol–gel processing of drug delivery materials and release kinetics. J Mater Sci Mater Med 16(3):261–265

Chandran SP, Chaudhary M, Pasricha R, Ahmad A, Sastry M (2000) Synthesis of gold nanotriangles and silver nanoparticles using Aloe vera plant extract. Biotechnol Prog 22:577–583

Crabtree JH, Brruchette RJ, Siddiqi Ra, Huen IT, Handott LL, Fishman A (2003) The efficacy of silver-ion implanted catheters in reducing peritoneal dialysis-related infections. Perit Dial Int 23(4):368–374

Dickson DPE (1999) Nanostructured magnetism in living systems. J Magn Magn Mater 203:46–49

Duran N, Marcato PD, Alves OL, De Souza GIH, Esposito E (2005) Mechanistic aspects of biosynthesis of silver nanoparticles by several Fusarium oxysporum strains. J Nanobiotechnol 3:8–14

Eftink MK, Ghiron CA (1981) Fluorescence quenching studies with proteins. Anal Biochem 114:199–227

Fayaz AM, Balaji K, Girilal M, Yadav R, Kalaichelvan PT, Venketesan R (2010) Biogenic synthesis of silver nanoparticles and their synergistic effect with antibiotics: a study against gram-positive and gram-negative bacteria. Nanomed Nanotechnol Biol Med 6:103–109

Huang J, Li Q, Sun D, Lu Y, Su Y, Yang X, Wang H, Wang Y, Shao W, He N, Hong J, Chen C (2007) Biosynthesis of silver and gold nanoparticles by novel sundried Cinnamomum camphora leaf. Nanotechnology 18:105104–105114

Huang NM, Lim HN, Radiman S, Khiew PS, Chiu WS, Hashin R, Chia CH (2010) Sucrose ester micellar-mediated synthesis of Ag nanoparticles and their antibacterial properties. Colloids Surf 353:69–76

Jiang H, Manolache S, Wong ACL, Denes FS (2004) Plasma enhanced deposition of silver nanoparticles onto polymer and metal surfaces for the generation of antimicrobial characteristics. J Appl Polym Sci 93:1411–1422

Jilie K, Shaoning YU (2007) Fourier transform infrared spectroscopic analysis of protein secondary structures. Acta Biochim Biophys Sin 39(8):549–559

Joerger R, Klaus T, Granqvist CG (2001) Bio-logically produced silver–carbon composite materials for optically functional thin-film coating. Adv Mater 12:407–409

Klaus T, Joerger R, Olsson E, Granqvist C-G (1999) Silver-based crystalline nanoparticles, microbially fabricated. Proc Natl Acad Sci USA 96:13611–13614

Klug HP, Alexander LE (1967) X-ray diffraction procedures for polycrystalline and amorphous materials. Wiley, New York

Krolikowska A, Kudelski A, Michota A, Bukowska J (2003) SERS studies on the structure of thioglycolic acid monolayers on silver and gold. Surf Sci 532:227–232

Li S, Shen Y, Xie A, Yu X, Qiu L, Zhang L, Zhang O (2007) Green synthesis of silver nanoparticles using Capsicum annuum L. extract. Green Chem 9:852–858

Macdonald IDG, Smith WE (1996) Orientation of cytochrome C adsorbed on a citrate-reduced silver colloid surface. Langmuir 12:706–713

Mayr-Harting A, Hedges A, Berkeley R, eds (1972) Methods for studying bactericides. Academic Press, New York, p 74

Mukherjee P, Ahmad A, Mandal DS, Senapati S, Sainkar R, Khan MI, Parishcha R, Ajaykumar PV, Alam M, Kumar R, Sastry M (2001) Fungus-mediated synthesis of silver nanoparticles and their immobilization in the mycelial matrix: a novel biological approach to nanoparticle synthesis. Nano Lett 1:515–519

Mulvaney P (1996) Surface plasmon spectroscopy of nanosized metal particles. Langmuir 12:788–800

Nair B, Pradeep T (2002) Coalescence of nanoclusters and the formation of sub-micron crystallites assisted by Lactobacillus strains. Cryst Growth Des 2:293–298

Pum D, Sleytr UB (1999) The application of bacterial S-layers in molecular nanotechnology. Trends Biotechnol 17:8–12

Sathyavathi R, Krishna MB, Rao SV, Saritha R, Rao DN (2010) Biosynthesis of silver nanoparticles using Coriandrum Sativum leaf extract and their application in nonlinear optics. Adv Sci Lett 3:1–6

Shankar SS, Ahmad A, Pasricha R, Sastry M (2003) Bioreduction of chloroaurate ions by geranium leaves and its endophytic fungus yields gold nanoparticles of different shapes. J Mater Chem 13:1822–1826

Shankar SS, Rai A, Ahmad A, Sastry M (2004) Rapid synthesis of Au, Ag, and bimetallic Au core-Ag shell nanoparticles using Neem (Azadirachta indica) leaf broth. J Colloid Interface Sci 275:496–502

Shankar SS, Rai A, Ahmad A, Sastry M (2005) Controlling the optical properties of lemongrass extract synthesized gold nanotriangles and potential application in infrared-absorbing optical coatings. Chem Mater 17:566–572

Shrivastava S, Bera T, Roy A, Singh G, Ramachandrarao P, Dash D (2007) Characterization of enhanced antibacterial effects of novel silver nanoparticles. Nanotechnology 18:225103

Silver S (2003) Bacterial silver resistance: molecular biology and uses and misuses of silver compounds. FEMS Microbiol Rev 27:341–353

Sondi I, Goia DV, Matijevi′c E (2003) Preparation of highly concentrated stable dispersions of uniform silver nanoparticles. J Colloid Interface Sci 260:75–81

Song JY, Kim BS (2009) Rapid biological synthesis of silver nanoparticles using plant leaf extracts. Bioprocess Biosyst Eng 32:79–84

Spring H, Schleifer KH (1995) Diversity of magnetotactic bacteria. Syst Appl Microbiol 18(2):147–153

Zhao G, Stevens JS (1998) Multiple parameters for the comprehensive evaluation of the susceptibility of Escherichia coli to the silver ion. Biometals 11:27
Acknowledgments
We heartly acknowledge Dr. A. K. Chauhan for their support and providing facilities for the fulfillment of this study. We also acknowledge Dr. Richa Krishna for her guidance.
About this article
Cite this article
Singhal, G., Bhavesh, R., Kasariya, K. et al. Biosynthesis of silver nanoparticles using Ocimum sanctum (Tulsi) leaf extract and screening its antimicrobial activity. J Nanopart Res 13, 2981–2988 (2011). https://doi.org/10.1007/s11051-010-0193-y
Received:

Accepted:

Published:

Issue Date:

DOI: https://doi.org/10.1007/s11051-010-0193-y
Keywords