Abstract
We report a simple and cost effective way for synthesis of metallic nanoparticles (Au and Ag) using natural precursor clove. Au and Ag nanoparticles have been synthesized by reducing the aqueous solution of AuCl4 and AgNO3 with clove extract. One interesting aspect here is that reduction time is quite small (few minutes instead of hours as compared to other natural precursors). We synthesized gold and silver nanoparticles of different shape and size by varying the ratio of AuCl4 and AgNO3 with respect to clove extract, where the dominant component is eugenol. The evolution of Au and Ag nanoparticles from the reduction of different ratios of AuCl4 and AgNO3 with optimised concentration of the clove extract has been evaluated through monitoring of surface plasmon behaviour as a function of time. The reduction of AuCl4 and AgNO3 by eugenol is because of the inductive effect of methoxy and allyl groups which are present at ortho and para positions of proton releasing –OH group as two electrons are released from one molecule of eugenol. This is followed by the formation of resonating structure of the anionic form of eugenol. The presence of methoxy and allyl groups has been confirmed by FTIR. To the best of our knowledge, use of clove as reducing agent, the consequent very short time (minutes instead of hours and without any scavenger) and the elucidation of mechanism of reduction based on FTIR analysis has not been attempted earlier.
This is a preview of subscription content, log in to check access.
Access options
Buy single article
Instant access to the full article PDF.
US$ 39.95
Price includes VAT for USA
Subscribe to journal
Immediate online access to all issues from 2019. Subscription will auto renew annually.
US$ 99
This is the net price. Taxes to be calculated in checkout.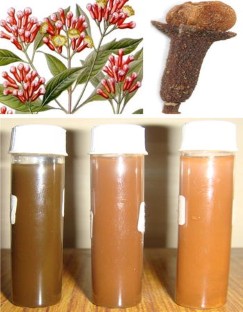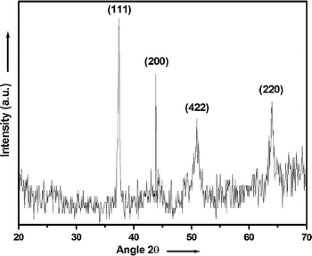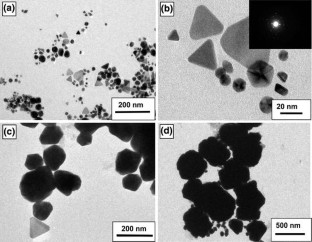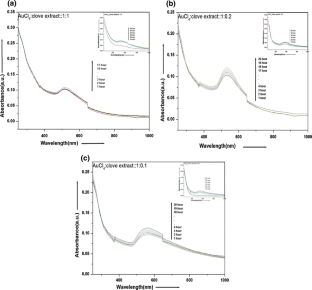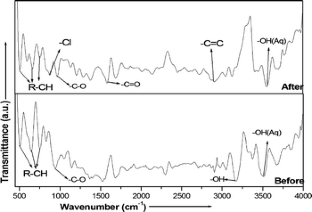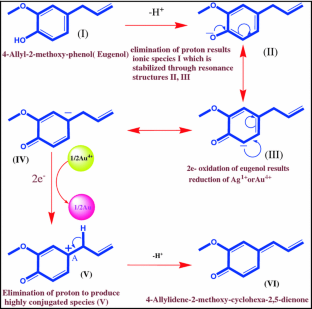 References
Ahmad A, Mukherjee P, Senapati S, Mandal D, Khan MI, Kumar R, Sastry M (2003) Extracellular biosynthesis of silver nanoparticles using the fungus Fusarium oxysporum. Colloids Surf B 28:313–318

Ahmad A, Mukherjee P, Senapati S, Khan MI, Kumar R, Sastry M (2005) Extra-/intracellular biosynthesis of gold nanoparticles by an alkalotolerant fungus Trichothecium sp. J Biomed Nanotech 1:47–53

Chandran SP, Chaudhary M, Pasricha R, Ahmad A, Sastry M (2008) Synthesis of gold nanotriangles and silver nanoparticles using aloevera plant extract. Biotech Progress 22:577–583

Gardea-Torresdey JL, Parsons JG, Gomez E, Peralta-Videa J, Troiani HE, Santiago P, Yacaman MJ (2002) Formation and growth of Au nanoparticles inside live Alfalfa plants. Nano Lett 2:397–401

Jain PK, El-Sayed IH, El-Sayed MA (2007) Au nanoparticles target cancer. Nano Today 2:18–29

Jirovetz L, Buchbauer G, Stoilova I, Stoyanova A, Krastanov A, Schmidt E (2006) Chemical composition and antioxidant properties of clove leaf essential oil. J Agric Food Chem 54:6303–6307

Mandal D, Bolander ME, Mukhopadhyay D, Sarkar G, Mukherjee P (2006) The use of microorganisms for the formation of metal nanoparticles and their application. Appl Microbiol Biotechnol 69:485–492

Mukherjee P, Ahmad D, Mandal A, Senapati S, Sainkar SR, Khan MI, Parishcha R, Ajaykumar PV, Alam M, Kumar R, Sastry M (2002) Extracellular synthesis of gold nanoparticles by the fungus Fusarium oxysporum. Chem BioChem 3:461–463

Richardson HH (2006) Thermo optical properties of gold nanoparticles embedded in ice: characterization of heat generation and melting. Nano Lett 4:783–788

Shankar SS, Ahmad A, Pasricha R, Sastry M (2003) Bioreduction of chloroaurate ions by geranium leaves and its endophytic fungus yields gold nanoparticles of different shapes. J Mater Chem 13:1822–1826

Shankar SS, Rai A, Ahmad A, Sastry M (2004) Rapid synthesis of Au, Ag, and bimetallic Au core–Ag shell nanoparticles using Neem (Azadirachta indica) leaf broth. J Colloid Interface Sci 275:496–502

Willets KA, Van Duyne RP (2007) Localized surface plasmon resonance spectroscopy and sensing. Annu Rev Phys Chem 58:267–297

Zhao J, Zhang XY, Yonzon CR, Haes AJ, Van Duyne RP (2006) Localized surface plasmon resonance biosensors. Nanomedicine 1:219–228
Acknowledgements
The authors are extremely grateful to Prof. C. N. R. Rao, Prof. A. S. K. Sinha (Chemical Engineering, IT-BHU), Ashish Singh (Department of Chemistry, BHU), Kumari Bhoomika and Samantha Pyngrope (Department of Bio-Chemistry, BHU) for their encouragements and fruitful discussions. The authors acknowledge with gratitude the financial support from DST: UNANST, Council of Scientific and Industrial Research (CSIR), University Grant Commission (UGC) and Ministry of New and Renewable Energy, New Delhi, India.
Electronic supplementary material
Below is the link to the electronic supplementary material.
About this article
Cite this article
Singh, A.K., Talat, M., Singh, D.P. et al. Biosynthesis of gold and silver nanoparticles by natural precursor clove and their functionalization with amine group. J Nanopart Res 12, 1667–1675 (2010). https://doi.org/10.1007/s11051-009-9835-3
Received:

Accepted:

Published:

Issue Date:
Keywords
Au nanoparticles

Ag nanoparticles

Clove extract

Eugenol

Functionalization

Nanobiotechnology