Abstract
This article reports on titanium dioxide (TiO2)-coated nanofibers deposited on a filter surface by the electrospinning process. After depositing a micrometer-thick film of polyamide 11 nanofibers on polypropylene fabric, TiO2 nanoparticles can be directly electrosprayed onto the nanofibers. X-ray diffraction and Raman spectroscopy showed minimal change in the phase composition (anatase and rutile) and no change in the particle size of nanocrystalline TiO2 after coating. Scanning electron microscopy demonstrated that nanofibers were uniformly coated by titanium dioxide nanoparticles without agglomeration. TiO2-coated filters showed excellent photocatalytic-bactericidal activity and photo-induced hydrophilicity.
Access options
Buy single article
Instant access to the full article PDF.
US$ 39.95
Tax calculation will be finalised during checkout.
Subscribe to journal
Immediate online access to all issues from 2019. Subscription will auto renew annually.
US$ 79
Tax calculation will be finalised during checkout.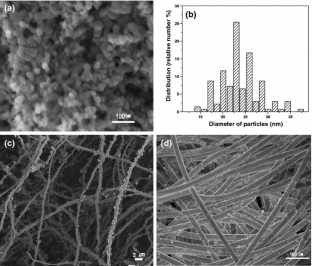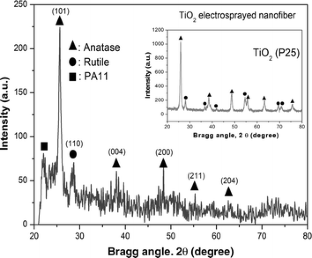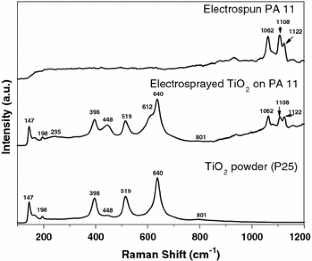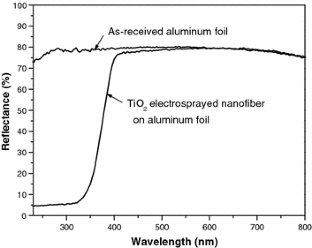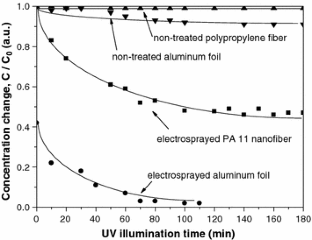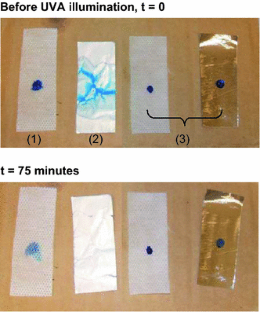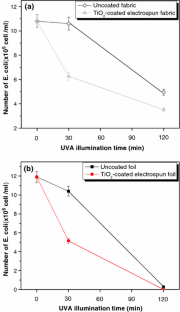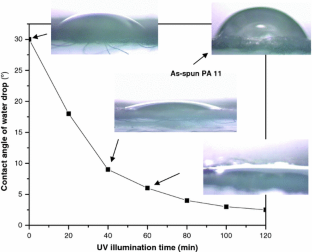 References
Arabatzis I, Antonaraki S, Stergiopoulos T, Hiskia A, Papaconstantinou E, Bernard M, Falaras P (2002) Preparation, characterization and photocatalytic activity of nanocrystalline thin film TiO2 catalysts towards 3,5-dichlorophenol degradation. J Photochem Photobiol A 149:237–245

Behler K, Havel M, Gogotsi Y (2007) New solvent for polyamides and its application to the electrospinning of polyamides 11 and 12. Polymer 48:6617–6621

Bosc F, Ayral A, Guizard C (2006) Mixed TiO2-SiO2 mesostructured thin films. Thin Solid Films 495:252–256

Burger C, Hsiao B, Chu B (2006) Nanofibrous materials and their applications. Annu Rev Mater Res 36:333–368

Cui X, Yan D (2005) Preparation, characterization and crystalline transitions of odd-even polyamides 11, 12 and 11, 10. Eur Polym J 41:863–870

Degussa (2005) Technical information Aeroxide and Aeroperl titanium dioxide as photocatalyst. TI No 1243

Havel M, Behler K, Korneva G, Gogotsi Y (2008) Transparent thin films of multiwalled carbon nanotubes self-assembled on polyamide 11 nanofibers. Adv Funct Mater 18:2322–2327

Hernandez M, Servant L, Grondin J, Lassègues J (1995) Spectroscopic characterization of metal chloride/polyamide complexes. Ionics 5–6:454–468

Horikoshi S, Watanabe N, Onishi H, Hidaka H, Serpone N (2002) Photodecomposition of a nonylphenol polyethoxylate surfactant in a cylindrical photoreactor with TiO2 immobilized fiberglass cloth. Appl Catal B 37:117–129

Im J, Kim M, Lee Y (2008) Preparation of PAN-based electrospun nanofiber webs containing TiO2 for photocatalytic degradation. Mater Lett 62:3652–3655

Kau J, Sun D, Huang H, Wong M, Lin H, Chang H (2009) Role of visible light-activated photocatalyst on the reduction of anthrax spore-induced morality in mice. PLoS ONE 4:e4167

Ko F (2006) Nanofiber technology. In: Gogotsi Y (ed) Nanomaterials handbook. CRC Press, Boca Raton, pp 553–564

Ko F, Gogotsi Y, Ali A, Naguib N, Ye H, Yang G, Li C, Willis P (2003) Electrospinning of continuous carbon nanotube-filled nanofiber yarns. Adv Mater 15:1161–1165

Ko F, Lam H, Titchenal N, Ye H, Gogotsi Y (2006) Coelectrospinning of carbon nanotube reinforced nanocomposite fibrils. Polym Nanofibers 918:231–245

Kosmulski M (2002) The significance of the difference in the point of zero charge between rutile and anatase. Adv Colloid Interface Sci 99(3):255–264

Li D, Xia Y (2003) Fabrication of titania nanofibers by electrospinning. Nano Lett 3:555–560

Li D, Xia Y (2004) Electrospinning of nanofibers: reinventing the wheel? Adv Mater 16:1151–1170

Li D, Wang Y, Xia Y (2003) Electrospinning of polymeric and ceramic nanofibers as uniaxially aligned arrays. Nano Lett 3:1167–1171

Malati M (1999) Experimental inorganic/physical chemistry: an investigate, integrated approach to practical project work. Horwood Publishing, West Sussex

Mattia D, Bau H, Gogotsi Y (2006) Wetting of CVD carbon films by polar and nonpolar liquids and implications for carbon nanopipes. Langmuir 22:1789–1794

Miao L, Tanemura S, Toh S, Kaneko K, Tanemura M (2004) Fabrication, characterization and Raman study of anatase-TiO2 nanorods by a heating-sol-gel template process. J Cryst Growth 264:246–252

Nuansing W, Ninmuang S, Jarernboon W, Maensiri S, Seraphin S (2006) Structural characterization and morphology of electrospun TiO2 nanofibers. Mater Sci Eng B 131:147–155

Ocaña M, Garcia-Ramos J, Serna C (1992) Low-temperature nucleation of rutile observed by Raman spectroscopy during crystallization of TiO2. J Am Ceram Soc 75:2010–2012

Spurr R, Myers H (1957) Quantitative analysis of anatase-rutile mixtures with an X-ray diffractometer. Anal Chem 29:760–762

Ye H, Lam H, Titchenal N, Gogotsi Y, Ko F (2004) Reinforcement and rupture behavior of carbon nanotubes-polymer nanofibers. Appl Phys Lett 85:1775–1777

Zhao J, Jia C, Duan H, Li H, Xie E (2008) Structural properties and photoluminescence of TiO2 nanofibers were fabricated by electrospinning. J Alloys Compd 461:447–450
Acknowledgments
This work was supported in part by Amerinova LLC, USA, and Drexel University College of Medicine. The authors are grateful to Lou Schiliro (Amerinova) for helpful discussions and to Arkema, Inc. for providing PA 11. M.E.K. was supported by ArtCraft Glass, Inc., Kutahya, Turkey. K. B. was supported by the NSF Graduate Student Research Fellowship.
About this article
Cite this article
Lee, BY., Behler, K., Kurtoglu, M.E. et al. Titanium dioxide-coated nanofibers for advanced filters. J Nanopart Res 12, 2511–2519 (2010). https://doi.org/10.1007/s11051-009-9820-x
Received:

Accepted:

Published:

Issue Date:
Keywords
Electrospinning

Titanium dioxide

Photocatalyst

Filter

Fibers

Electrospraying

Nanomanufacturing