Abstract
In this work, the acute oral toxicity of 20- and 120-nm ZnO powder at doses of 1-, 2-, 3-, 4-, 5-g/kg body weight was evaluated referred to the OECD guidelines for testing of chemicals. As the results, both 20- and 120-nm ZnO belong to non-toxic chemicals according to the Globally Harmonized Classification System (GHS) for the classification of chemicals. The distribution determination showed that Zn was mainly retained in the bone, kidney and pancreas after 20- and 120-nm ZnO administration. However, the results of blood measurement suggest that the increase in blood viscosity could be induced by low and median dose of 20-nm ZnO but high dose of 120-nm ZnO. The pathological examination showed that the 120-nm ZnO treated mice had dose–effect pathological damages in stomach, liver, heart and spleen, whereas, 20-nm ZnO displayed negative dose–effect damages in liver, spleen and pancreas. Therefore, we conclude that the liver, spleen, heart, pancreas and bone are the target organs for 20- and 120-nm ZnO oral exposure. More attention should be paid on the potential toxicity induced by low dose of 20-nm ZnO oral exposure.
This is a preview of subscription content, log in to check access.
Access options
Buy single article
Instant access to the full article PDF.
US$ 39.95
Price includes VAT for USA
Subscribe to journal
Immediate online access to all issues from 2019. Subscription will auto renew annually.
US$ 99
This is the net price. Taxes to be calculated in checkout.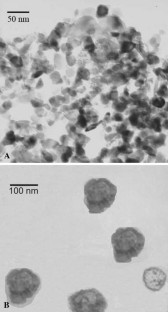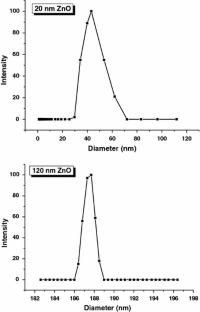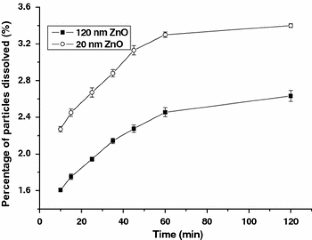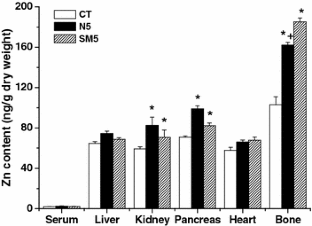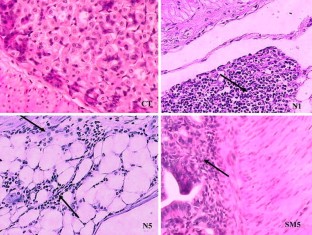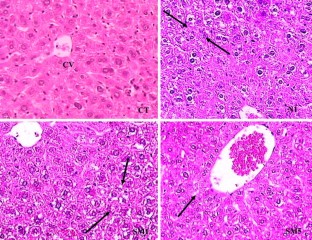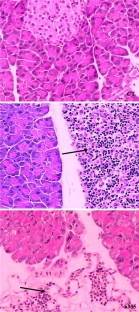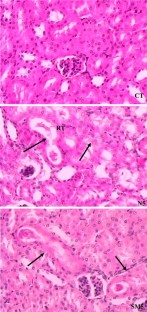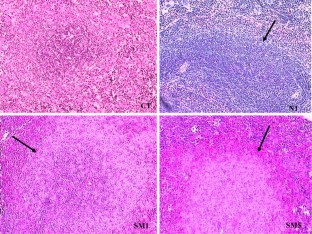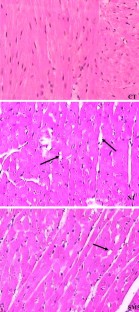 References
Akins PT, Glenn S, Nemeth PM, Derdeyn CP (1996) Carotid artery thrombus associated with severe iron-deficiency anemia and thrombocytosis. Stroke 27:1002–1005

Ballou B, Lagerholm BC, Ernst LA, Bruchez MP, Waggoner AS (2004) Non-invasive imaging of quantum dots in mice. Bioconjugate Chem 15:79–86

Banerjee S, Dan A, Chakravorty D (2002) Review synthesis of conducting nanowires. J Mater Sci 37:4261–4271

Cagle DW, Kenmnel SJ, Mirzadeh S, Alford JM, Wilson LJ (1999) In vivo studies of fullerene based materials using endohedral metallofullerene radiotracers. Proc Natl Acad Sci 96:5182–5187

Carpenter JW, Andrews GA, Beyer WN (2004) Zinc toxicosis in a free-flying trumpeter swan (cygnus buccinator). J Wildlife Dis 40(4):769–774

Chen RH, Qin R, Wang FD, Wang JP, Lu TX (1992) The effects of oral excess zinc on the zinc level and morphology of tissues. Zhonghua Yixue Zazhi 72(7):391–393

Ding H, Peng R, Chen J (1998) Effects of high dietary zinc on liver function, hepatic drug metabolism enzymes and membrane fluidity in mice. Wei Sheng Yan Jiu 27(3):180–182

Donaldson K, Stone V (2003) Current hypotheses on the mechanisms of toxicity of ultrafine particles. Ann Ist Super Sanit`a 39(3):405–410

Gatlin III DM, Phillips HF, Torrans EL (1989) Effects of various levels of dietary copper and zinc on channel catfish. Aquaculture 76:127–134

Gibaud S, Demoy M., Andreux JP, Weingarten C, Gouritin B, Couvreur P (1996) Cells involved in the capture of nanoparticles in hematopoietic organs. J Pharm Sci 85(9):944–950

Grodzki K (2000) Establishing a globally harmonised hazard classification and labelling system for dangerous substances and preparations. Tutb Newsletter 14:17–23

Han CY, Bian JC, Yang XX, Wang L, Zhang HF, Xiang YZ, Shi BE (2001) The effects of Zn on blood viscosity and Prothormbin time. Studies of Trace Elements and Health 18(1):13–14

Hein MS (2003) Copper deficiency anemia and nephrosis in zinc-toxicity: a case report. S D J Med 56(4):143–147

Hoffman HN, Phyliky RL, Fleming CR (1988) Zinc-induced cop-per deficiency. Gastroenterology 94(2):508–512

Kannel WB, Wolf PA, Castelli WP, D'Agostino RB (1987) Fibrinogen and risk of cardiovascular disease. The Framingham Study. JAMA 258(9):1183–1186

Kellerman J (1995) In: Blood test. Signet Book, Reprint edition, Chicago, USA

Kodama H, Fukuda J, Karube H, Matsui T, Shimizu Y, Tanaka T (1996) Status of the coagulation and fibrinolytic system in ovarian hyperstimulation syndrome. Fertil Steril 66(3):417–424

Lam CW, James JT, McCluskey R, Hunter RL (2004) Pulmonary toxicity of single-wall carbon nanotubes in mice 7 and 90 days after intratracheal instillation. Toxicol Sci 77:126–134

Latimer KS, Jain AV, Inglesby HB, Clarkson WD, Johnson GB (1989) Zinc-induced hemolytic anemia caused by ingestion of pennies by a pup. J Am Vet Med Assoc 195(1):77–80

Lee CJ, Lee TJ, Lyu SC, Zhang Y, Ruh H, Lee HJ (2002) Field emission from well-aligned zinc oxide nanowires grown at a low temperature. Appl Phys Lett 81(19):3648–3650

Lee DD, Lee DS (2001) Environmental gas sensors. IEEE Sens J 1(3):214–224

Lee TH, Goldman L (1986) Serum enzyme assays in the diagnosis of acute myocardial infarction. Ann Intern Med 105:221–223

Llobet JM, Domingo JL, Colomina MT, Mayayo E, Corbella J (1988) Subchronic oral toxicity of zinc in rats. Bull Environ Contam Toxicol 41:36–43

Long T, Saleh N, Tilton RD, Lowry GV, Veronest B (2006) Titanium dioxide (P25) produces reactive oxygen species in immortalized brain microglia (BV2): implications for nanoparticle neurotoxicity. Environ Sci Technol 40(14):4346–4352

Nitsche EK (2004) Erythrocytosis in dogs and cats: diagnosis and management. Compend. Cont Educ Pract Vet 26:104–118

Oberdörster G, Ferin J, Lehnert BE (1994) Correlation between particle size, in vivo particle persistence and lung injury. Environ Health Perspect 102:173–179

Oberdörster G, Finkelstein JN, Johnston C (2000) Acute pulmonary effects of ultrafine particles in rats and mice. Res Rep Health Eff Inst 96:5–74

Oberdörster G, Maynard A, Donaldson K, Castranova V, Fitzpatrick J, Ausman K, Carter J, Karn B, Kreyling W, Lai D, Olin S, Monteiro-Riviere N, Warheit D, Yang H (2005) Principles for characterizing the potential human health effects from exposure to nanomaterials: elements of a screening strategy. Part Fibre Toxicol 6:2(8)

OECD (2001) OECD Guidelines for Testing of Chemicals. No 425: Acute Oral Toxicity-UP-and-Down Procedure. Organisation for Economic Co-operation and Development, Paris, Adopted: 17th December

Pekkanen J, Peters A, Hoek G, Tiittanen P, Brunekreef B, de Hartog J, Heinrich J, Ibald-Mulli A, Kreyling WG, Lanki T, Timonen KL, Vanninen E (2002) Particulate air pollution and risk of ST-segment depression during repeated submaximal exercise tests among subjects with coronary heart disease: the exposure and risk assessment for fine and ultrafine particles in ambient air [ultra] study. Circulation 106:933–938

Penttinen P, Timonen KL, Tiittanen P, Mirme A, Ruuskanen J, Pekkanen J (2001) Ultrafine particles in urban air and respiratory health among adult asthmatics. Eur Resp J 17(3):428–435

Peters A, Doring A, Wichmann HE, Koenig W (1997a) Increased plasma viscosity during an air pollution episode: a link to mortality? Lancet 349:1582–1587

Peters A, Wichmann HE, Tuch T, Heinrich J, Heyder J (1997b) Respiratory effects are associated with the number of ultrafine particles. Am Respir Crit Care Med 155:1376–1383

Qiang JL (2001) The surface properties and photocatalytic activities of ZnO ultrafine particles. Appl Surf Sci 180:308–314

Rahman Q, Lohani M, Dopp E, Pemsel H, Jonas L, Weiss DG, Schiffman D (2002) Evidence that ultrafine titanium dioxide induces micronuclei and apoptosis in syrian hamster embryo fibroblasts. Environ Health Perspect 110:797–800

Samet JM, Dominici F, Curriero FC, Coursac I, Zeger SL (2000) Fine particulate air pollution and mortality in 20 U.S. cities, 1987–1994. N Engl J Med 343(24):1742–1749

Sandoval M, Henry PR, Littell RC, Miles RD, Butcher GD, Ammerman DB (1999) Effect of dietary zinc source and method of oral administration on performance and tissue trace mineral concentration of broiler chicks. J Anim Sci 77:1788–1799

SCIENTIFIC COMMITTEE ON COSMETIC PRODUCTS AND NON-FOOD PRODUCTS (SCCNFP.) (2003) Evaluation and opinion on: Zinc oxide. 24th plenary meeting, Brussels

Stoeger T, Reinhard C, Takenaka S, Schroeppel A, Karg E, Ritter B, Heyder J, Schulz H (2006) Instillation of six different ultrafine carbon particles indicates a surface area threshold dose for acute lung inflammation in mice. Environ Health Perspect 114:328–333

Teeguarden JG, Hinderliter PM, Orr G, Thrall BD, Pounds JG (2007) Particokinetics in vitro: dosimetry considerations for in vitro nanoparticle toxicity assessments. Toxicol Sci 95(2):300–312

The Royal Society & the Royal Academy of Engineering (2004) Nanoscience and nanotechnologies: opportunities and uncertainties. 29 July

Torrance AG, Fulton RB Jr (1987) Zinc-induced hemolytic anemia in a dog. J Am Vet Med Assoc 191(4):443–444

Von Klot S, Wolke G, Tuch T, Heinrich J, Dockery DW, Schwartz J, Kreyling WG, Wichmann HE, Peters A (2002) Increased asthma medication use in association with ambient fine and ultrafine particles. Eur Respir J 20:691–702

Wang B, Feng WY, Wang TC, Jia G, Wang M, Shi JW, Zhang F, Zhao YL, Chai ZF (2006) Acute toxicity of nano- and micro-scale zinc powder in healthy adult mice. Toxicol Lett 161(2):115–123

Warheit DB, Webb TR, Sayes CM, Colvin VL, Reed KL (2006) Pulmonary instillation studies with nanoscale TiO2 rods and dots in rats: toxicity is not dependent upon particle size and surface area. Toxicol Sci 91:227–236

Wichmann HE, Cyrys J, Stölzel M, Spix C, Wittmaack K, Tuch T, Pitz M, Peters A, Wölke G, Menzel N, Hietel B, Schulz F, Heinrich J, Kreyling WG, Heyder J (2002) Sources and elemental composition of ambient particles in Erfurt, Germany. In: Wichmann HE, Schlipkoter HW, Fulgraff G (eds) Fortschritte in der Umweltmedizin. Ecomed Publishers, Erfurt, Germany

Wittmaack K (2006) In Search of the most relevant parameter for quantifying lung inflammatory response to nanoparticle exposure: particle number, surface area, or what? Environ Health Perspect 114:187–194
Acknowledgements
The authors are grateful to the foundations of National Basic Research Program of China (2006CB705605), National Natural Science Foundation of China (10490180, 10675139) and the Chinese Academy of Sciences (Grant No. KJCX2-SW-N01) and the special foundation for excellent doctoral dissertation.
About this article
Cite this article
Wang, B., Feng, W., Wang, M. et al. Acute toxicological impact of nano- and submicro-scaled zinc oxide powder on healthy adult mice. J Nanopart Res 10, 263–276 (2008). https://doi.org/10.1007/s11051-007-9245-3
Received:

Accepted:

Published:

Issue Date:
Keywords
Acute oral toxicity

Nano-meter zinc oxide powder

Submicro-meter zinc oxide powder

Mice

Toxicology

Health effects

Medicine