Abstract
Recent links between computer science and synthetic biology allow for construction of many kinds of algorithmic processes within cells, obtained either by a direct engineered design or by an evolutionary search. In the latter case, horizontal gene transfer and especially transfer of plasmids by conjugation is generally respected as a crucial source of genetic diversity in bacteria. While some previous studies focused on mutations as the crucial principle to obtain diversity for engineered evolution, here we consider conjugation itself as a tool to generate diversity from a pre-determined library of biocircuits basic components. The recent development of CRISPR-Cas9 and its programmable DNA cutting ability makes it a powerful selection tool able to remove nonfunctional biocircuits from a cell population. In this paper, we describe a framework for controlled bacterial evolution of biocircuits based on conjugation and on CRISPR-Cas9, resulting in a direct biological implementation of an evolutionary algorithm. In silico experiments provide data to estimate the computational/search capability of plasmid-based engineered evolution.
Access options
Buy single article
Instant access to the full article PDF.
USD 39.95
Price includes VAT (USA)
Tax calculation will be finalised during checkout.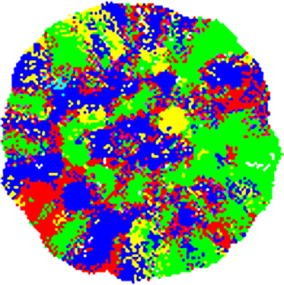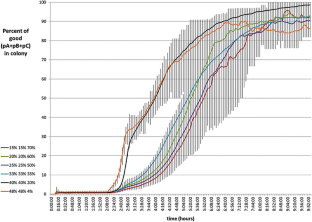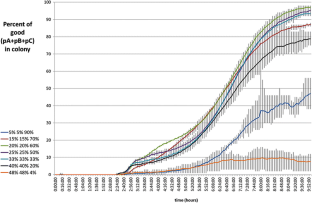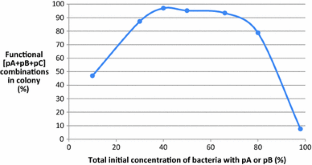 References
Amos M et al (2015) Bacterial computing with engineered populations. Philos Trans R Soc A. doi:10.1098/rsta.2014.0218

Barrick JE et al (2009) Genome evolution and adaptation in a long-term experiment with Escherichia coli. Nature 461:1243–1247

Beneš D, Sosík P, Rodríguez-Patón A (2015) An autonomous in vivo dual selection protocol for Boolean genetic circuits. Artif Life 21:247–260

Cameron DE, Bashor CJ, Collins JJ (2014) A brief history of synthetic biology. Nat Rev Microbiol 12(5):381–390

del Campo I et al (2012) Determination of conjugation rates on solid surfaces. Plasmid 67(2):174–182

Elowitz MB, Leibler S (2000) A synthetic oscillatory network of transcriptional regulators. Nature 403(6767):335–338

Esvelt KM, Wang HH (2012) Genome-scale engineering for systems and synthetic biology. Mol Syst Biol 9:641

Esvelt KM, Carlson JC, Liu DR (2011) A system for the continuous directed evolution of biomolecules. Nature 472(7344):499–503

Frost LS, Leplae R, Summers AO, Toussaint A, Edmonton A (2005) Mobile genetic elements: the agents of open source evolution. Nat Rev Microbiol 3:722–732

Gardner TS, Cantor CR, Collins JJ (2000) Construction of a genetic toggle switch in Escherichia coli. Nature 403(6767):339–342

Goñi-Moreno A, Amos M, de la Cruz F (2013) Multicellular computing using conjugation for wiring. PLoS ONE 8(6):e65986. doi:10.1371/journal.pone.0065986

Guet CC, Elowitz MB, Hsing W, Leibler S (2002) Combinatorial synthesis of genetic networks. Science 296:1466–1470

Harvey I, Tomko N (2010) Binomics—where metagenomics meets the binary world. In: Proceedings of the Alife XII conference, 370–377

Kreft J et al (2001) Individual-based modelling of biofilms. Microbiology 147:2897–2912

Krone SM, Lu R, Fox R, Suzuki H, Top EM (2007) Modeling the spatial dynamics of plasmid transfer and persistence. Microbiology 153:2803–2816

Levin BR, Stewart FM (1980) The population biology of bacterial plasmids: a priori conditions for the existence of mobilizable nonconjugative factors. Genetics 94:425–443

Llosa M, Gomis-Rüth FX, Coll M, De La Cruz F (2002) Bacterial conjugation: a two-step mechanism for DNA transport. Mol Microbiol 45:1–8

Mojica FJM, Díez-Villaseñor C, García-Martínez J, Almendros C (2009) Short motif sequences determine the targets of the prokaryotic CRISPR defence system. Microbiology 155:733–740

Mozhayskiy V, Tagkopoulos I (2013) Microbial evolution in vivo and in silico: methods and applications. Integr Biol 5:262–277

Norman A, Hansen LH, Sørensen SJ (2009) Conjugative plasmids: vessels of the communal gene pool. Philos Trans R Soc B 364:2275–2289

Packer MS, Liu DR (2015) Methods for the directed evolution of proteins. Nat Rev Genet 16(7):379–394

Prestes García A, Rodríguez-Patón A (2015a) BactoSim—an individual-based simulation environment for bacterial conjugation. PAAMS 2015:275–279

Prestes García A, Rodríguez-Patón A (2015b) A preliminary assessment of three strategies for the agent-based modeling of bacterial conjugation. PACBB 2015:1–9

Rodrigo G, Carrera J, Jaramillo A (2007a) Genetdes: automatic design of transcriptional networks. Bioinformatics 23:1857–1858

Rodrigo G, Carrera J, Jaramillo A (2007b) Asmparts: assembly of biological model parts. Syst Synth Biol 1:167–170

Seoane J et al (2011) An individual-based approach to explain plasmid invasion in bacterial populations. FEMS Microbiol Ecol 75:17–27

Simonsen L, Gordon DM, Stewart FM, Levin BR (1990) Estimating the rate of plasmid transfer: an end-point method. J Gen Microbiol 136:2319–2325

Sørensen SJ, Bailey M, Hansen LH, Kroer N, Wuertz S (2005) Studying plasmid horizontal transfer in situ: a critical review. Nat Rev Microbiol 3(9):700–710

Sternberg SH, Doudna JA (2015) Expanding the biologist's toolkit with CRISPR-Cas9. Mol Cell 58(4):568–574

Tomko N, Harvey I, Philippides A (2013) Unconstrain the population: the benefits of horizontal gene transfer in genetic algorithms. SmartData, privacy meets evolutionary robotics. Springer, Berlin, pp 117–127

The BACTOCOM project web page. http://bactocom.eu/

The PLASWIRES project web page. http://www.plaswires.eu/

Yokobayashi Y, Arnold FH (2005) A dual selection module for directed evolution of genetic circuits. Nat Comput 4(3):245–254
Acknowledgements
This work was supported by the European Union projects BACTOCOM (248919/FP7-ICT-2009-4), PLASWIRES (612146/FP7-ICT-FET-Proactive) and EVOPROG (610730/FP7-ICT-FET-Proactive), by the National Programme of Sustainability (NPU II) of the Czech Republic, project IT4Innovations Excellence in Science—LQ1602, by the Silesian University in Opava under the Student Funding Scheme, project SGS/13/2016, and by Spanish projects TIN2012-36992 and TIN2016-81079-R.
About this article
Cite this article
Beneš, D., Rodríguez-Patón, A. & Sosík, P. Directed evolution of biocircuits using conjugative plasmids and CRISPR-Cas9: design and in silico experiments. Nat Comput 16, 497–505 (2017). https://doi.org/10.1007/s11047-016-9595-9
Keywords
Directed evolution

Programmed evolution

Evolutionary search

Genetic circuit

Biocircuit

Conjugative plasmid

CRISPR-Cas9