Abstract
Aspergillus fumigatus is a globally distributed opportunistic fungal pathogen capable of causing highly lethal invasive aspergillosis in immunocompromised individuals. Recent studies have indicated that the global population consists of multiple, divergent genetic clusters that are geographically broadly distributed. However, most of the analyzed samples have come from continental Eurasia and the Americas where the effects of ancient versus recent factors are difficult to distinguish. Here, we investigated environmental A. fumigatus isolates from Auckland, New Zealand, a geographically isolated population, and compared them with those from other parts of the world to determine the relative roles of historical differentiation and recent gene flow in shaping A. fumigatus populations. Our data suggest that the Auckland A. fumigatus population contains both unique indigenous genetic elements as well as genetic elements that are similar to those from other regions such as Europe, Africa, and North America. Though the hypothesis of random recombination was rejected, we found abundant evidence for phylogenetic incompatibility and recombination within the Auckland A. fumigatus population. Additionally, susceptibility testing identified two triazole-resistant strains, one of which contained the globally distributed mutation TR34/L98H in the cyp51A gene. Our results suggest that contemporary gene flow, likely due to anthropogenic factors, is a major force shaping the New Zealand A. fumigatus population.
Access options
Buy single article
Instant access to the full article PDF.
US$ 39.95
Tax calculation will be finalised during checkout.
Subscribe to journal
Immediate online access to all issues from 2019. Subscription will auto renew annually.
US$ 119
Tax calculation will be finalised during checkout.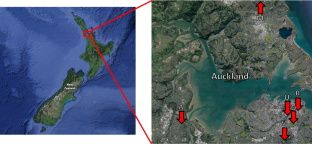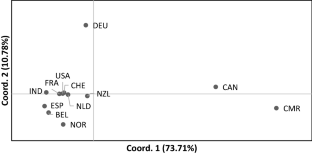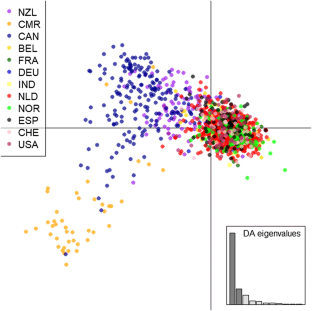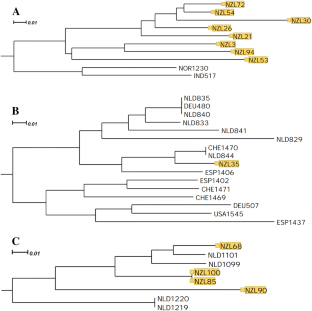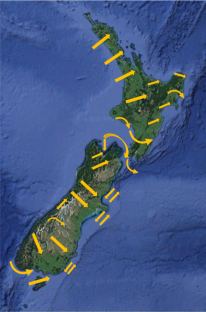 Data Availability
All data described in the study are presented in the manuscript and available from the authors.
References
1.

Kwon-Chung KJ, Sugui JA. Aspergillus fumigatus—what makes the species a ubiquitous human fungal pathogen? PLoS Pathog. 2013;9:e1003743.

2.

Latgé JP. Aspergillus fumigatus and aspergillosis. Clin Microbiol Rev. 1999;12:310–50.

3.

Rhodes JC. Aspergillus fumigatus: growth and virulence. Med Mycol. 2006;44:77–81.

4.

Brakhage AA, Langfelder K. Menacing mold: the molecular biology of Aspergillus fumigatus. Annu Rev Microbiol. 2002;56:433–55.

5.

Dagenais TRT, Keller NP. Pathogenesis of Aspergillus fumigatus in invasive Aspergillosis. Clin Microbiol Rev. 2009;22:447–65.

6.

Seufert R, Sedlacek L, Kahl B, Hogardt M, Hamprecht A, Haase G, et al. Prevalence and characterization of azole-resistant Aspergillus fumigatus in patients with cystic fibrosis: a prospective multicentre study in Germany. J Antimicrob Chemother. 2018;73(8):2047–53.

7.

Shah A, Panjabi C. Allergic bronchopulmonary aspergillosis: a perplexing clinical entity. Allergy Asthma Immunol Res. 2016;8:282–97.

8.

Maschmeyer G, Haas A, Cornely OA. Invasive aspergillosis. Drugs. 2007;67:1567–601.

9.

Schwartz S, Ruhnke M, Ribaud P, Corey L, Driscoll T, Cornely OA, et al. Improved outcome in central nervous system aspergillosis, using voriconazole treatment. Blood. 2005;106:2641–5.

10.

Dockrell DH. Salvage therapy for invasive aspergillosis. J Antimicrob Chemother. 2008;61:41–4.

11.

Venanzi E, Martín-Dávila P, López J, Maiz L, Gómez-García de la Pedrosa E, Gioia F, Escudero R, Filigheddu E, Moreno S, Fortún J. Aerosolized lipid amphotericin B for complementary therapy and/or secondary prophylaxis in patients with invasive pulmonary aspergillosis: a single-center experience. Mycopathologia. 2019;184:239–50.

12.

Güngör Ö, Sampaio-Maia B, Amorim A, Araujo R, Erturan Z. Determination of azole resistance and TR34/L98H mutations in isolates of Aspergillus section Fumigati from Turkish cystic fibrosis patients. Mycopathologia. 2018;183:913–20.

13.

Chang H, Ashu E, Sharma C, Kathuria S, Chowdhary A, Xu J. Diversity and origins of Indian multi-triazole resistant strains of Aspergillus fumigatus. Mycoses. 2016;59:450–66.

14.

Ashu EE, Hagen F, Chowdhary A, Meis JF, Xu J. Global population genetic analysis of Aspergillus fumigatus. mSphere. 2017;2:e00019-17.

15.

Ashu EE, Korfanty GA, Xu J. Evidence of unique genetic diversity in Aspergillus fumigatus isolates from Cameroon. Mycoses. 2017;60:739–48.

16.

Snelders E, Huis In't Veld RAG, Rijs AJMM, Kema GHJ, Melchers WJG, Verweij PE. Possible environmental origin of resistance of Aspergillus fumigatus to medical triazoles. Appl Environ Microbiol. 2009;75:4053–7.

17.

Chowdhary A, Randhawa HS, Sundar G, Kathuria S, Prakash A, Khan Z, et al. In vitro antifungal susceptibility profiles and genotypes of 308 clinical and environmental isolates of Cryptococcus neoformans var. grubii and Cryptococcus gattii serotype B from north-western India. J Med Microbiol. 2011;60:961–7.

18.

Badali H, Vaezi A, Haghani I, Yazdanparast SA, Hedayati MT, Mousavi B, et al. Environmental study of azole-resistant Aspergillus fumigatus with TR34/L98H mutations in the cyp51 A gene in Iran. Mycoses. 2013;56:659–63.

19.

de Valk HA, Meis JFGM, Curfs IM, Muehlethaler K, Mouton JW, Klaassen CHW. Use of a novel panel of nine short tandem repeats for exact and high-resolution fingerprinting of Aspergillus fumigatus isolates. J Clin Microbiol. 2005;43:4112–20.

20.

Wu J, Guo H, Yi G, Zhou L, He X, Huang X, et al. Prevalent drug resistance among oral yeasts from asymptomatic patients in Hainan, China. Mycopathologia. 2014;177:299–307.

21.

Ashu E, Samarasinghe H, You M, Pum N, Korfanty GA, Yamamura D, et al. Widespread amphotericin B-resistant strains of Aspergillus fumigatus in Hamilton, Canada. Infect Drug Resist. 2018;11:1549–55.

22.

Chowdhary A, Kathuria S, Xu J, Sharma C, Sundar G, Singh PK, et al. Clonal expansion and emergence of environmental multiple-triazole-resistant Aspergillus fumigatus strains carrying the TR34/L98H mutations in the cyp51A gene in India. PLoS ONE. 2012;7:e52871.

23.

Verweij PE, Mellado E, Melchers WJG. Multiple-triazole-resistant Aspergillosis. N Engl J Med. 2007;356:1481–3.

24.

van der Linden JWM, Snelders E, Kampinga GA, Rijnders BJA, Mattsson E, Debets-Ossenkopp YJ, et al. Clinical implications of azole resistance in Aspergillus fumigatus, The Netherlands, 2007–2009. Emerg Infect Dis. 2011;17:1846–54.

25.

Bueid A, Howard SJ, Moore CB, Richardson MD, Harrison E, Bowyer P, et al. Azole antifungal resistance in Aspergillus fumigatus: 2008 and 2009. J Antimicrob Chemother. 2010;65:2116–8.

26.

Lee HJ, Cho SY, Lee DG, Park C, Chun HS, Park YJ. TR34/L98H mutation in CYP51A gene in Aspergillus fumigatus clinical isolates during Posaconazole Prophylaxis: first case in Korea. Mycopathologia. 2018;183:731–6.

27.

International Travel and Migration—ITM. International visitor arrivals to New Zealand: April 2018|Stats NZ [Internet]. 2018.

28.

Paoletti M, Rydholm C, Schwier EU, Anderson MJ, Szakacs G, Lutzoni F, et al. Evidence for sexuality in the opportunistic fungal pathogen Aspergillus fumigatus. Curr Biol. 2005;15:1242–8.

29.

Rex JH, Alexander BD, Andes D, Arthington-Skaggs B, Brown SD, Chaturveli V, et al. Reference method for broth dilution antifungal susceptibility testing of filamentous fungi; approved standard, 2nd edn. 2008. CLSI document M38-A2. Clinical and Laboratory Standards Institute, Pennsylvania

30.

Peakall R, Smouse PE. Genalex 6: genetic analysis in Excel. Population genetic software for teaching and research. Mol Ecol Notes. 2006;6:288–95.

31.

Peakall R, Smouse PE. GenAlEx 6.5: genetic analysis in Excel. Population genetic software for teaching and research—an update. Bioinformatics. 2012;28:2537–9.

32.

Jombart T, Ahmed I. adegenet 1.3-1: new tools for the analysis of genome-wide SNP data. Bioinformatics. 2011;27:3070–1.

33.

Kamvar ZN, Tabima JF, Grünwald NJ. Poppr: an R package for genetic analysis of populations with clonal, partially clonal, and/or sexual reproduction. PeerJ. 2014;2:e281.

34.

Agapow P-M, Burt A. Indices of multilocus linkage disequilibrium. Mol Ecol Notes. 2001;1:101–2.

35.

Ashu EE, Kim GY, Roy-Gayos P, Dong K, Forsythe A, Giglio V, et al. Limited evidence of fungicide-driven triazole-resistant Aspergillus fumigatus in Hamilton, Canada. Can J Microbiol. 2018;64:119–30.

36.

Hua W, Vogan A, Xu J. Genotypic and phenotypic analyses of two "Isogenic" strains of the human fungal pathogen Cryptococcus neoformans var. neoformans. Mycopathologia. 2019;184:195–212.

37.

Xu J, Kerrigan RW, Callac P, Horgen PA, Anderson JB. Genetic structure of natural populations of Agaricus bisporus, the commercial button mushroom. J Hered. 1997;88:482–8.

38.

Imshenetsky AA, Lysenko SV, Kazakov GA. Upper boundary of the biosphere. Appl Environ Microbiol. 1978;35:1.

39.

Wolf FT. The microbiology of the upper air. Bull Torrey Bot Club. 1943;70:1–14.

40.

Lu J, Vecchi GA, Reichler T. Expansion of the Hadley cell under global warming. Geophys Res Lett. 2007;34:L06805.

41.

Held IM, Suarez MJ, Held IM, Suarez MJ. A proposal for the intercomparison of the dynamical cores of atmospheric general circulation models. Bull Am Meteorol Soc. 1994;75:1825–30.

42.

Walker CC, Schneider T. Response of idealized Hadley circulations to seasonally varying heating. Geophys Res Lett. 2005;32:L06813.

43.

Böhner J, Antonić O. Chapter 8 land-surface parameters specific to topo-climatology. Dev Soil Sci. 2009;33:195–226.

44.

Kousky VE, Kagano MT, Cavalcanti IFA. A review of the southern oscillation: oceanic-atmospheric circulation changes and related rainfall anomalies. Tellus A. 1984;36A:490–504.

45.

Knox BP, Blachowicz A, Palmer JM, Romsdahl J, Huttenlocher A, Wang CCC, et al. Characterization of Aspergillus fumigatus isolates from air and surfaces of the international space station. mSphere. 2016;1:e00227-16.

46.

Jeanvoine A, Rocchi S, Reboux G, Crini N, Crini G, Millon L. Azole-resistant Aspergillus fumigatus in sawmills of Eastern France. J Appl Microbiol. 2017;123:172–84.

47.

Bromley MJ, van Muijlwijk G, Fraczek MG, Robson G, Verweij PE, Denning DW, et al. Occurrence of azole-resistant species of Aspergillus in the UK environment. J Glob Antimicrob Resist. 2014;2:276–9.

48.

Liu M, Zeng R, Zhang L, Li D, Lv G, Shen Y, et al. Multiple cyp51A-based mechanisms identified in azole-resistant isolates of Aspergillus fumigatus from China. Antimicrob Agents Chemother. 2015;59:4321–5.

49.

Riat A, Plojoux J, Gindro K, Schrenzel J, Sanglard D. Azole resistance of environmental and clinical Aspergillus fumigatus isolates from Switzerland. Antimicrob Agents Chemother. 2018;62(4):e02088-17.

50.

Bader O, Tünnermann J, Dudakova A, Tangwattanachuleeporn M, Weig M, Groß U, et al. Environmental isolates of azole-resistant Aspergillus fumigatus in Germany. Antimicrob Agents Chemother. 2015;59:4356–9.

51.

Prigitano A, Esposto MC, Biffi A, De Lorenzis G, Favuzzi V, Koncan R, et al. Triazole resistance in Aspergillus fumigatus isolates from patients with cystic fibrosis in Italy. J Cyst Fibros. 2017;16:64–9.

52.

Karthaus M. Prophylaxis and treatment of invasive aspergillosis with voriconazole, posaconazole and caspofungin: review of the literature. Eur J Med Res. 2011;16:145–52.

53.

Forsythe A, Giglio V, Asa J, Xu J. Phenotypic divergence along geographic gradients reveals potential for rapid adaptation of the White-nose Syndrome pathogen, Pseudogymnoascus destructans, in North America. Appl Environ Microbiol. 2018;84(16):e00863-18.
Acknowledgements
This study was supported by grants from the Natural Sciences and Engineering Research Council (NSERC) (Grant No. CRDPJ 474638-14) of Canada and by McMaster University.
Ethics declarations
Ethical Approval
We confirm that all methods in this study were carried out in accordance with relevant guidelines and regulations. In addition, all experimental protocols were approved by McMaster University. No human nor animal was used as subject in this research.
Conflict of interest
The authors declare that we have no conflict of interest or other interests that might be perceived to influence the results and/or discussion reported in this manuscript.
Additional information
Publisher's Note
Springer Nature remains neutral with regard to jurisdictional claims in published maps and institutional affiliations.
Handling Editor: Vishnu Chaturvedi.
Electronic supplementary material
Below is the link to the electronic supplementary material.
About this article
Cite this article
Korfanty, G.A., Teng, L., Pum, N. et al. Contemporary Gene Flow is a Major Force Shaping the Aspergillus fumigatus Population in Auckland, New Zealand. Mycopathologia 184, 479–492 (2019). https://doi.org/10.1007/s11046-019-00361-8
Received:

Accepted:

Published:

Issue Date:
Keywords
Microsatellite genotyping

Triazole resistance

Cyp51A gene

Recombination

Gene flow

Global population structure