Abstract
Purpose
To characterize the clinical and mycological features of favus of scrotum due to Trichophyton rubrum.
Methods
A single-site prospective study was carried out in an outpatient dermatology clinic. Microscopic examination and fungal culture were done using skin scrapings. Scales on the scrotum were stained with PAS and visualized by microscopy, including in vivo reflectance confocal microscopy (RCM). Two strains were analyzed by RAPD typing. Scutular lesions were fixed for scanning electron microscopy (SEM) and transmission electron microscopy (TEM).
Results
Cultures of the scale from the scrotum and/or groin in all patients showed a growth of T. rubrum. T. rubrum strains from scrotum and groins in one patient were demonstrated as the same strain by RAPD typing. The average age of patients was 34.1 ± 12.78 years. The mean course was 8.2 ± 5.07 days. All the patients received only topical treatment for 2 weeks without recurrence. Direct smear, calcofluor-white staining and in vivo RCM study of the scrotal favus in patients showed a massive number of septate branching hyphae, while fewer septate hyphae in scales in the groin. Abundant hyphae were found only in the outer layer of the stratum corneum of the scrotum under SEM and TEM with intact bilateral cell walls, and normal nucleus, liposomes and reticulum. Few distorted hyphae structures, cell wall degeneration, degenerated cytoplasm and the autophagy phenomenon could be seen in scales from groin under TEM.
Conclusions
Scrotal favus due to T. rubrum is still a true infection, which most often occurred in immunocompetent patients.
This is a preview of subscription content, log in to check access.
Access options
Buy single article
Instant access to the full article PDF.
US$ 39.95
Price includes VAT for USA
Subscribe to journal
Immediate online access to all issues from 2019. Subscription will auto renew annually.
US$ 199
This is the net price. Taxes to be calculated in checkout.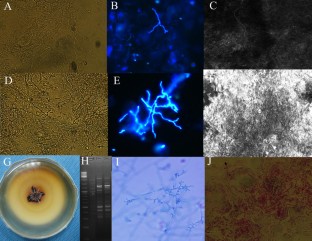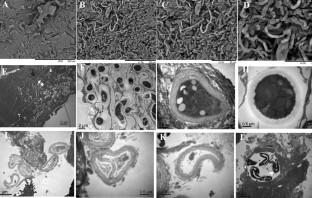 References
1.

Ilkit M. Favus of the scalp: an overview and update. Mycopathologia. 2010;170:143–54.

2.

de Hoog GS, Dukik K, Monod M, et al. Toward a novel multilocus phylogenetic taxonomy for the dermatophytes. Mycopathologia. 2017;182:5–31.

3.

Bakos L, Bonamigo RR, Pisani AC, Mariante JC, Mallmann R. Scutular favus-like tinea cruris et pedis in a patient with AIDS. J Am Acad Dermatol. 1996;34:1086–7.

4.

Miranda MF, de Brito AC, Zaitz C, de Carvalho TN, Carneiro FR. Microsporum gypseum infection showing a white-paint-dot appearance. Int J Dermatol. 1998;37:956–7.

5.

Qiangqiang Z, Limo Q, Qixian Q. Case report. Disseminated tinea of the verrucous type due to epidermophyton floccosum. Mycoses. 2001;44:326–9.

6.

Prochnau A, de Almeida HL Jr, Souza PR, et al. Scutular tinea of the scrotum: report of two cases. Mycoses. 2005;48:162–4.

7.

Lu S, Xi LY, Zhang JM, Lu CM. Pseudomembranous-like tinea of the scrotum: report of six cases. Mycoses. 2009;52:282–4.

8.

Li J, Li Y, Liu X, et al. Pseudomembranous-like tinea of the scrotum: two cases. Eur J Dermatol. 2013;23:416–7.

9.

Chen Z, Bi X, Gu J, et al. White paint dot-like lesions of the scrotum: Microsporum gypseum infection. Australas J Dermatol. 2013;54:e95–6.

10.

Tan H, Lan XM, Zhou CJ, Yang XC. Pseudomembranous-like tinea of the scrotum infected by Microsporum gypseum in a young man. Indian J Dermatol. 2015;60:422.

11.

Hui D, Xue-Cheng S, Ai EX. Evaluation of reflectance confocal microscopy in dermatophytosis. Mycoses. 2013;56:130–3.

12.

Baeza LC, Matsumoto MT, Almeida AM, Mendes-Giannini MJ. Strain differentiation of Trichophyton rubrum by randomly amplified polymorphic DNA and analysis of rDNA nontranscribed spacer. J Med Microbiol. 2006;55:429–36.

13.

Xia XJ, Zhang Y, Zhong Y, et al. Novel in vivo observations of scrotal Nannizzia gypsea infection. Br J Dermatol. 2018;179:499–501.

14.

Vallarelli AF. Goya and tinea favosa. An Bras Dermatol. 2014;89:992–4.

15.

Yin S, Xie X, Li M, et al. Prevalence of low inflammatory tinea genitalis in southern China. Mycoses. 2019;62:284–90.

16.

Schmitt EC, Camozzi S, Vigo G, Tadini G. Tinea corporis resembling dermatophyte colonies on Sabouraud's agar in a patient with the human immunodeficiency virus. Arch Dermatol. 1996;132:233–4.

17.

de Almeida Junior HL, Duquia RP, Zavascki AP, de Castro LA, Rocha NM. Scanning electron microscopy of scutular tinea. J Eur Acad Dermatol Venereol. 2009;23:325–7.

18.

Liu ZH. Cover image: Trichophyton rubrum penetration of horny cells in dermatophytosis. Br J Dermatol. 2018;179:1016.

19.

Martinez-Rossi NM, Peres NT, Rossi A. Pathogenesis of dermatophytosis: sensing the host tissue. Mycopathologia. 2017;182:215–27.

20.

Palmer GE, Kelly MN, Sturtevant JE. Autophagy in the pathogen Candida albicans. Microbiology. 2007;153:51–8.

21.

Gratton LM, Lopez-Arias T, Calza G, Oss S. The whiteness of things and light scattering. Phys Educ. 2009;44:411–4.

22.

Skandhan KP, Rajahariprasad A. The process of spermatogenesis liberates significant heat and the scrotum has a role in body thermoregulation. Med Hypotheses. 2007;68:303–7.

23.

Waites GM. Thermoregulation of the scrotum and testis: studies in animals and significance for man. Adv Exp Med Biol. 1991;286:9–17.

24.

Kleisner K, Ivell R, Flegr J. The evolutionary history of testicular externalization and the origin of the scrotum. J Biosci. 2010;35:27–37.
Acknowledgements
We would like to thank Dr. Roderick Hay for his helpful comments and advice in preparing this manuscript. We would like thank Jun-Ying Li, Nian-Hang Rong for their help of electronic microscopy examination.
Funding
This work was supported by Hangzhou Science and Technology Bureau (No. 20100733Q09), the Zhejiang Provincial Natural Science Foundation of China (No. LY15C070001), and the Science Technology Department of Zhejiang Province (No. 2013C33093).
Ethics declarations
Conflict of interest
The authors declare that they have no conflict of interest.
Ethical Approval
The study was approved by the hospital ethical committee.
Informed Consent
Informed consent was obtained for the study of medical records.
Additional information
Publisher's Note
Springer Nature remains neutral with regard to jurisdictional claims in published maps and institutional affiliations.
Handling Editor: Stephane Ranque.
Electronic supplementary material
Below is the link to the electronic supplementary material.
Supplementary material 1 (MOV 9784 kb)
About this article
Cite this article
Liu, Z., Xia, X., Zhang, Y. et al. Favus of Scrotum Due to Trichophyton rubrum in Immunocompetent Patients: A Clinical, Mycological and Ultrastructural Study. Mycopathologia 184, 433–439 (2019). https://doi.org/10.1007/s11046-019-00337-8
Received:

Accepted:

Published:

Issue Date:
Keywords
Favus

Scrotum

Trichophyton rubrum

Reflectance confocal microscopy

Scanning electron microscopy

Transmission electron microscopy