Abstract
Background
Chromoblastomycosis is a chronic fungal infection of the skin and subcutaneous tissues caused by different melanized fungi. The disease occurs worldwide, particularly in tropical and subtropical regions but not reported in Vietnam.
Case Summary
A 47-year-old women was admitted to hospital 103, Hanoi, Vietnam, with a 10-year lasting lesion on backside of her right shank. Diagnosis of chromoblastomycosis was made after discovery of a muriform cell in histopathological examination. A black, slow-growth fungus was isolated and identified as Fonsecaea pedrosoi after molecular analysis. After 1-month treatment with itraconazole, the lesion has significant improvement.
Conclusion
This is the first case of chromoblastomycosis caused by Fonsecaea pedrosoi reported in Vietnam.
Access options
Buy single article
Instant access to the full article PDF.
US$ 39.95
Tax calculation will be finalised during checkout.
Subscribe to journal
Immediate online access to all issues from 2019. Subscription will auto renew annually.
US$ 119
Tax calculation will be finalised during checkout.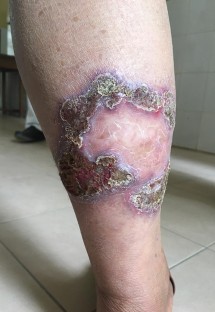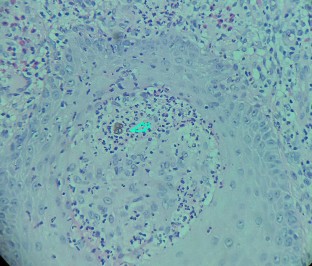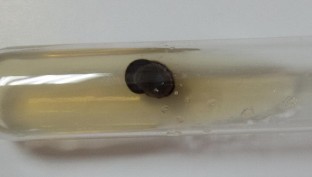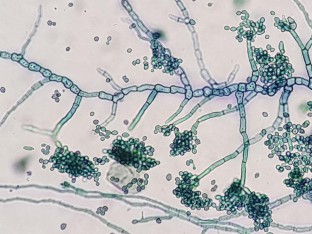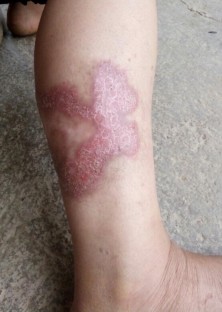 Abbreviations
CBM:

Chromoblastomycosis, chromomycosis

KOH:

Potassium hydroxide

DNA:

Deoxyribonucleic acid

dNTP:

Deoxynucleotide

PCR:

Polymerase chain reaction
References
1.

Martınez RL, Tovar LJM. Chromoblastomycosis. Clin Dermatol. 2007;25:188–94.

2.

Ghanshyam Kumar Verma SV, Singh G, Shanker V, Tegta GR, Minhas S, Sharma V, et al. A case of extensive chromoblastomycosis from North India. Braz J Microbiol. 2014;45(1):275–7.

3.

Attapattu M. Chromoblastomycosis—a clinical and mycological study of 71 cases from Sri Lanka. Mycopathologia. 1997;137(3):145–51.

4.

Sophie B, Coralie Z, Ba HM, Annie L, Dea G-H, Liliane L, et al. First case of chromoblastomycosis from Bangladesh. Med Mycol Case Rep. 2015;10:1–3.

5.

Kim DM, Hwang SM, Suh MK, Ha GY, Choi GS, Shin J, et al. Chromoblastomycosis caused by Fonsecaea pedrosoi. Ann Dermatol. 2011;23(3):369–74.

6.

Kondo M, Hiruma M, Nishioka Y, Mayuzumi N, Mochida K, Ikeda S, et al. A case of chromomycosis caused by Fonsecaea pedrosoi and a review of reported cases of dematiaceous fungal infection in Japan. Mycoses. 2005;48:221–5.

7.

Pho MT, Burgin S. Right buttock rash for thirty years in a patient from China. Clin Infect Dis. 2009;49(3):432–78.

8.

Xi L, Sun J, Lu C, Liu H, Xie Z, Fukushima K, et al. Molecular diversity of Fonsecaea (Chaetothyriales) causing chromoblastomycosis in southern China. Med Mycol. 2009;47(1):27–33.

9.

Yang C, Chen C, Lee Y, Yang C, Chang Y, Chung W, et al. Chromoblastomycosis in Taiwan: a report of 30 cases and a review of the literature. Med Mycol. 2017;[Epub ahead of print].

10.

McDaniel P, Walsh DS. Chromoblastomycosis in Western Thailand. Am J Trop Med Hyg. 2010;83(3):448.

11.

Alora M, Bulmer G. Chromomycosis: report of a case successfully treated with itraconazole. Philipp J Microbiol Infect Dis. 1993;22:23–7.

12.

Queiroz-Telles F, de Hoog S, Santos DWCL, Salgado CG, Vicente VA, Bonifaz A, et al. Chromoblastomycosis. Clin Microbiol Rev. 2017;30(1):233–76.

13.

Esterre P, Andriantsimahavandy A, Ramarcel E, Pecarrere J. Forty years of chromoblastomycosis in Madagascar: a review. Am J Trop Med Hyg. 1996;55(1):45–7.

14.

Silva J, de Souza W, Rozental S. Chromoblastomycosis: a retrospective study of 325 cases on Amazonic Region (Brazil). Mycopathologia. 1999;143(3):171–5.

15.

Queiroz-telles F, Esterre P, Perez-blanco M, Vitale RG, Salgado CG, Bonifaz A. Chromoblastomycosis: an overview of clinical manifestations, diagnosis and treatment. Med Mycol. 2009;47(Special Issue):3–15.

16.

White T, Bruns T, Lee S, Taylor J. Amplification and direct sequencing of fungal ribosomal RNA genes for phylogenetics. In: Innis MA, Gelfand DH, Sninsky JJ, White TJ, editors. Protocols and applications—a laboratory manual. 1st ed. Cambridge: Academic Press; 1990. p. 315–22.

17.

Kurtzman C, Robnett C. Identification of clinically important ascomycetous yeasts based on nucleotide divergence in the 5′ end of the large-subunit (26S) ribosomal DNA gene. J Clin Microbiol. 1997;35(5):1216–23.

18.

Queiroz-telles F, Mcginnis MR, Salkin I, Graybill JR. Subcutaneous mycoses. Infect Dis Clin N Am. 2003;1(17):59–85.

19.

Rubin H, Bruce S, Rosen T, McBride M. Evidence for percutaneous inoculation as the mode of transmission for chromoblastomycosis. J Am Acad Dermatol. 1991;25:951–4.

20.

Correia RTM, Valente NYS, Criado PR, da Martins JEC. Chromoblastomycosis: study of 27 cases and review of medical literature. An Bras Dermatol. 2010;85(4):448–54.

21.

Ramraje SN, Gokhale J, Gupta S. Cutaneous chromoblastomycosis. J Case Rep. 2013;3(2):286–90.

22.

Yang Y, Li W, Huang W, Zhou Y, Fan Y. Chromoblastomycosis caused by Fonsecaea: clinicopathology, susceptibility and molecular identification of seven consecutive cases in southern China. Clin Microbiol Infect. 2013;19:1023–8.

23.

Shi D, Zhang W, Lu G, De Hoog GS, Liang G, Mei H, et al. Chromoblastomycosis due to Fonsecaea monophora misdiagnosed as sporotrichosis and cutaneous tuberculosis in a pulmonary tuberculosis patient. Med Mycol Case Rep [Internet]. 2016;11:57–60. https://doi.org/10.1016/j.mmcr.2016.05.001.

24.

Kauffman CA, Pappas PG, Sobel JD, Dismukes WE. Essentials of clinical mycology. 2nd ed. New York: Springer; 2011.
Acknowledgements
The authors are grateful to Mr. Robert Mayrhofer and Ms. Linh Khanh Le for revising the English text.
Authors' Contributions
KLN and NAD conducted the study, as well as morphological and molecular analyses of the isolated strain. MHP collected clinical data. TTV made the histopathological examination. TAL designed the study and created the final draft of the manuscript. All authors read and approved the final manuscript.
Ethics declarations
Conflict of interest
The authors declare that they have no competing interests.
Availability of Data and Material
The sequence generated and analyzed during the current study is available in the GenBank under the code MF MF173064.
Consent for Publication
The authors agreed to publish this article in Mycopathologia.
Ethics Approval and Consent to Participate
Written informed consent was obtained from the patient for the publication of this case report and any accompanying images. A copy of the written consent is available for review by the Editor of this journal.
Additional information
Handling Editor: Yuping Ran.
About this article
Cite this article
Le, TA., Nguyen, KL., Pham, MH. et al. Case Report: A Case of Chromoblastomycosis Caused by Fonsecaea pedrosoi in Vietnam. Mycopathologia 184, 115–119 (2019). https://doi.org/10.1007/s11046-018-0284-3
Received:

Accepted:

Published:

Issue Date:
Keywords
Case report

Fonsecaea pedrosoi

Chromoblastomycosis

Human

Vietnam

Molecular analysis