Abstract
Bat white-nose syndrome, caused by the psychrophilic fungus Pseudogymnoascus destructans, has dramatically reduced the populations of many hibernating North American bat species. The search for effective biological control agents targeting P. destructans is of great importance. We report that the sesquiterpene trans, trans-farnesol, which is also a Candida albicans quorum sensing compound, prevented in vitro conidial germination for at least 14 days and inhibited growth of preexisting hyphae of five P. destructans isolates in filtered potato dextrose broth at 10 °C. Depending on the inoculation concentrations, both spore and hyphal inhibition occurred upon exposure to concentrations as low as 15–20 µM trans, trans-farnesol. In contrast, most North American Pseudogymnoascus isolates were more tolerant to the exposure of trans, trans-farnesol. Our results suggest that some Candida isolates may have the potential to inhibit the growth of P. destructans and that the sesquiterpene trans, trans-farnesol has the potential to be utilized as a biological control agent.
This is a preview of subscription content, log in to check access.
Access options
Buy single article
Instant access to the full article PDF.
US$ 39.95
Price includes VAT for USA
Subscribe to journal
Immediate online access to all issues from 2019. Subscription will auto renew annually.
US$ 199
This is the net price. Taxes to be calculated in checkout.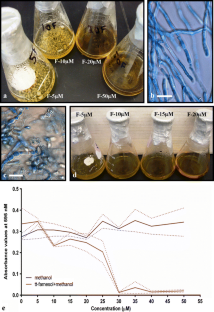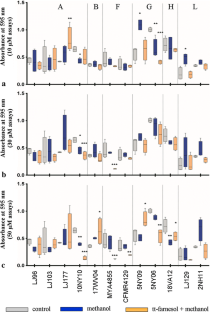 References
1.

Blehert DS, Hicks AC, Behr MJ, Meteyer CU, Berlowski-Zier BM, Buckles EL, Coleman JT, Darling SR, Gargas A, Niver R, Okoniewski JC, Rudd RJ, Stone WB. Bat white-nose syndrome: an emerging fungal pathogen? Science. 2009;323:227.

2.

Wibbelt G, Kurth A, Hellmann D, Weishaar M, Barlow A, Veith M, Prüger J, Görföl T, Grosche L, Bontadina F, Zöphel U, Seidl HP, Cryan PM, Blehert DS. White-nose syndrome fungus (Geomyces destructans) in bats. Eur Emerg Infect Dis. 2010;16:1237–43.

3.

Bandouchova H, Bartonicka T, Berkova H, Brichta J, Cerny J, Kovacova V, Kolarik M, Köllner B, Kulich P, Martínková N, Rehak Z, Turner GG, Zukal J, Pikula J. Pseudogymnoascus destructans: evidence of virulent skin invasion for bats under natural conditions, Europe. Transbound Emerg Dis. 2014;. doi:10.1111/tbed.12282.

4.

Lorch JM, Muller LK, Russel RE, O'Connor M, Lindner DL, Blehert DS. Distribution and environmental persistence of the causative agent of white-nose syndrome, Geomyces destructans, in bat hibernacula of the Eastern United States. Appl Environ Microbiol. 2013;74:1293–301.

5.

Raudabaugh DB, Miller AN. Nutritional capability of and substrate suitability for Pseudogymnoascus destructans, the causal agent of bat white-nose syndrome. PLoS ONE. 2013;8(10):e78300. doi:10.1371/journal.pone.0078300.

6.

Reynolds HT, Barton HA. Comparison of the white-nose syndrome agent Pseudogymnoascus destructans to cave-dwelling relatives suggests reduced saprotrophic enzyme activity. PLoS ONE. 2014;9(1):e86437. doi:10.1371/journal.pone.0086437.

7.

Chaturvedi S, Rajkumar SS, Li X, Hurteau GJ, Shtutman M, Chaturvedi V. Antifungal testing and high-throughput screening of compound library against Geomyces destructans, the etiologic agent of geomycosis (WNS) in bats. PLoS ONE. 2011;6(3):e17032. doi:10.1371/journal.pone.0017032.

8.

Cornelison CT, Gabriel KT, Barlament C, Crow SA Jr. Inhibition of Pseudogymnoascus destructans growth from conidia and mycelial extension by bacterially produced volatile organic compounds. Mycopathologia. 2014;177:1–10.

9.

Hoyt JR, Cheng TL, Langwig KE, Hee MM, Frick WF, Kilpatrick AM. Bacteria isolated from bats inhibit the growth of Pseudogymnoascus destructans, the causative agent of white-nose syndrome. PLoS ONE. 2015;10(4):e0121329. doi:10.1371/journal.pone.0121329.

10.

Perryman J, Turner G, Overton B. Evaluation of Epicoccum nigrum Link and polyethylene glycol (PEG 8000) in the control of Pseudogymnoascus destructans (Blehert & Gargas) Minnis & D.L. Lindner. In: 7th Annual White-nose syndrome workshop oral presentation and poster abstracts. 2014. https://www.whitenosesyndrome.org/sites/default/files/wns_2014-abstracts-final.pdf. Accessed 5 May 2015.

11.

Weber K, Sohr R, Schulz B, Fleischhacker M, Ruhnke M. Secretion of E, E-farnesol and biofilm formation in eight different Candida species. Antimicrob Agents Chemother. 2008;52:1859–61.

12.

Semighini CP, Hornby JM, Dumitru R, Nickerson KW, Harris SD. Farnesol-induced apoptosis in Aspergillus nidulans reveals a possible mechanism for antagonistic interactions between fungi. Mol Microbiol. 2006;59:753–64.

13.

Jeon JG, Pandit S, Xiao J, Gregoire S, Falsetta ML, Klein MI, Koo H. Influences of trans-trans farnesol, a membrane-targeting sesquiterpenoid, on Streptococcus mutans physiology and survival within mixed-species oral biofilms. Int J Oral Sci. 2011;3:98–106.

14.

Brilhante RS, de Lima RA, Caetano EP, Leite JJ, Castelo-Branco Dde S, Ribeiro JF, Bandeira Tde J, Cordeiro Rde A, Monteiro AJ, Sidrim JJ, Rocha MF. Effect of farnesol on growth, ergosterol biosynthesis, and cell permeability in Coccidioides posadasii. Antimicrobial Agents Chemother. 2013;57:2167–70.

15.

Ghannoum MA, Rice LB. Antifungal agents: mode of action mechanisms of resistance, and correlation of these mechanisms with bacterial resistance. Clin Microbiol Rev. 1999;12:501–17.

16.

Johnson LJ, Miller AN, McCleery RA, McClanahan R, Kath JA, Lueschow S, Porras-Alfaroa A. Psychrophilic and psychrotolerant fungi on bats and the presence of Geomyces spp. on bat wings prior to the arrival of white nose syndrome. Appl Environ Microbiol. 2013;79:5465–71.

17.

Lorch JM, Lindner DL, Gargas A, Muller LK, Minnis AM, Blehert DS. A culture-based survey of fungi in soil from bat hibernacula in the eastern United States and its implications for detection of Geomyces destructans, the causal agent of bat white-nose syndrome. Mycologia. 2013;105:237–52.

18.

Palmer JM, Kubátová A, Nováková A, Minnis AM, Kolarik M, Lindner DL. Molecular characterization of a heterothallic mating system in Pseudogymnoascus destructans, the fungus causing white-nose syndrome of bats. G3: genes genomes. Genetics. 2014;. doi:10.1534/g3.114.012641.

19.

Nickerson KW, Atkin AL, Hornby JM. Quorum sensing in dimorphic fungi: farnesol and beyond. Appl Environ Microbiol. 2006;72:3805–13.

20.

Lorch JM, Meteyer CU, Behr MJ, Boyles JG, Cryan PM, Hicks AC, Ballmann AE, Coleman JH, Redell DN, Reeder DM, Blehert DS. Experimental infection of bats with Geomyces destructans causes white-nose syndrome. Nature. 2011;480:376–8.

21.

Darby RT. Fungicide assay by spore germination in shaker flasks. Appl Microbiol. 1960;8:146–8.

22.

Broekaert WF, Terras FRG, Cammue BPA, Vanderleyden J. An automated quantitative assay for fungal growth inhibition. FEMS Microbiol Lett. 1989;69:55–60.

23.

Minnis AM, Lindner DL. Phylogenetic evaluation of geomyces and allies reveal no close relatives of Pseudogymnoascus destructans, comb. nov., in bat hibernacula of eastern North America. Fungal Biol. 2013;117:638–49.

24.

Liu P, Shi Y, Chen L, Long C. Farnesol produced by the biocontrol agent Candida ernobii can be used in controlling the postharvest pathogen Penicillium expansum. Afr J Microbiol Res. 2014;8:922–8.

25.

Henriques M, Martins M, Azeredo J, Oliveira R. Effect of farnesol on Candida dubliniensis morphogenesis. Lett Appl Microbiol. 2007;44:199–205.

26.

Hornby JM, Jensen EC, Lisec AD, Tasto JJ, Jahnke B, Shoemaker R, Dussault P, Nickerson KW. Quorum sensing in the dimorphic fungus Candida albicans is mediated by farnesol. Appl Environ Microbiol. 2001;67:2982–92.

27.

Jillson OF, Nickerson WJ. Mutual antagonism between pathogenic fungi. Inhibition of dimorphism in Candida albicans. Mycologia. 1948;40:369–85.

28.

Semighini CP, Murray N, Harris SD. Inhibition of Fusarium graminearum growth and development by farnesol. FEMS Microbiol Lett. 2008;279:259–64.

29.

Liu P, Luo L, Guo J, Liu H, Wang B, Deng B, Long C. Farnesol induces apoptosis and oxidative stress in the fungal pathogen Penicillium expansum. Mycologia. 2010;102:311–8.

30.

Fairn GD, MacDonald K, McMaster CR. A chemogenomic screen in Saccharomyces cerevisiae uncovers a primary role for the mitochondria in farnesol toxicity and its regulation by the Pkc1 pathway. J Biol Chem. 2007;282:4868–74.

31.

Navarathna DH, Hornby JM, Krishnan N, Parkhurst A, Duhamel GE, Nickerson KW. Effect of farnesol on a mouse model of systemic candidiasis, determined by use of a DPP3 knockout mutant of Candida albicans. Infect Immun. 2007;75:1609–18.
Acknowledgments
The authors wish to thank Andrea Porres-Alfaro, Dan Lindner, and Barrie Overton for providing isolates used in this study and Elizabeth Bach for technical support. The authors also wish to thank two anonymous reviewers who offered helpful insights to a previous version of this manuscript. This study was funded through awards given by the Illinois Department of Natural Resources State Wildlife Grants Program (Project Number T-78-R-1) and the Section 6 Endangered and Threatened Species Program (Project Number E-54-R-1) to the Illinois Natural History Survey.
About this article
Cite this article
Raudabaugh, D.B., Miller, A.N. Effect of Trans, Trans-Farnesol on Pseudogymnoascus destructans and Several Closely Related Species. Mycopathologia 180, 325–332 (2015). https://doi.org/10.1007/s11046-015-9921-2
Received:

Accepted:

Published:

Issue Date:
Keywords
Biological control

Candida albicans quorum sensing compound

Sesquiterpene

White-nose syndrome