Abstract
Aspergillosis is one of the most frequent mycosis affecting avian species. Here is reported an outbreak of aspergillosis affecting 60-day-old white Pekin mallards (Anas platyrhynchos). About 10 % of animals in a lot of 200 mallards from a commercial husbandry presented respiratory disorders and skin lesions at slaughter. Three out of 13 animals sent to diagnosis showed, simultaneously, airsacculitis, lung and liver presenting white nodules with variable diameters and elevated, yellowish brown, crusted, multifocal skin lesions located at the base of the feather follicles in the breast. Histopathological examination of lung and liver samples revealed nodules of different sizes with small areas of necrosis surrounded by intense granulomatous inflammation and the presence of fungal hyphae. The skin samples showed dermatitis surrounding a severe necrotizing folliculitis, associated with fungal hyphae. Mycological evaluation of tissues allowed the isolation of Aspergillus fumigatus from the skin samples and Aspergillus flavus from lungs and liver samples. The application of quicklime (CaO) in the litter as part of the disinfection procedures could have contributed to the development of skin lesion in the mallards, predisposing the fungal installation in the damaged site. The occurrence of cutaneous lesions associated with A. fumigatus is a rare manifestation of aspergillosis in birds, and this appears to be the first case reported in white Pekin mallards.
Access options
Buy single article
Instant access to the full article PDF.
US$ 39.95
Tax calculation will be finalised during checkout.
Subscribe to journal
Immediate online access to all issues from 2019. Subscription will auto renew annually.
US$ 119
Tax calculation will be finalised during checkout.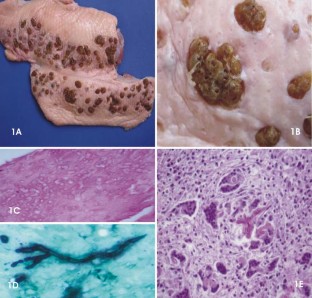 References
1.

Oliveira MA, Araripe MAE, Saunders AM. Resultados econômicos da criação de marrecos de Pequim (Anas platyrinchos Linnaeus, 1758) consorciados com carpa comum (Cyprinus carpio L. 1758 vr. communis) no Vale do Curu - Pentecoste, Ceará-Brasil. Ciênc Agron. 1991;22:155–61.

2.

Herman CM. An outbreak of mycotic pneumonia in mallards. Calif Fish Game. 1943;29:204.

3.

Neff JA. Outbreak of aspergillosis in mallards. J Wildl Manag. 1955;19(3):415–6.

4.

Pearson GL. Aspergillosis in wintering mallards. Wildl Dis. 1969;5(4):404–5.

5.

Adrian WJ, Spraker TR, Davies RB. Epornitics of aspergillosis in mallards (Anas platyrhynchos) in North Central Colorado. J Wildl Dis. 1978;14(2):212–7.

6.

Bair WC, Simpson SG, Windingstad RM. Acute aspergillosis in mallards at Oahe Seep near Pierre, South Dakota. Prairie Nat. 1988;20(3):153–6.

7.

Schwarz M, Lindbloom A. Fungal infection results in mallard die-off near Pierre, South Dakota. http://www.fws.gov/mountain-prairie/pressrel/11-15.htm (2011). Accessed in Feb 2014.

8.

Tell LA. Aspergillosis in mammals and birds: impact on veterinary medicine. Med Mycol. 2005;1:S7–73.

9.

Ainsworth GC, Austwick PK. Fungal diseases of animals. Farnham Royal: Commonwealth Agricultural Bureaux; 1973.

10.

Sharma VD, Sethi MS, Joshi HC. Acute aspergillosis in chick. Indian Vet J. 1979;56:151–2.

11.

Zafra R, Perez J, Perez-Ecija RA, Borge C, Bustamante R, Carbonero A, Tarradas C. Concurrent aspergillosis and ascites with high mortality in a farm of growing broiler chickens. Avian Dis. 2008;52(4):711–3.

12.

Ononiwu JC, Momoh MA. An outbreak of aspergillosis in turkey poults. Bull Anim Health Prod Afr. 1983;31:75–7.

13.

Olias P, Hauck R, Windhaus H, van der Grinten E, Gruber AD, Hafez HM. Articular aspergillosis of hip joints in turkeys. Avian Dis. 2010;54(3):1098–101.

14.

Okoye JO, Gugnani HC, Okeke CN. Pulmonary infections due to Aspergillus flavus in turkey poults and goslings. Mycoses. 1982;32(7):336–9.

15.

Beytut E, Ozcan K, Erginsoy S. Immunohistochemical detection of fungal elements in the tissues of goslings with pulmonary and systemic aspergillosis. Acta Vet Hung. 2004;52:71–84.

16.

Olson LD. Case report—aspergillosis in Japanese quail. Avian Dis. 1969;13(1):225–7.

17.

Reissig EC, Uzal FA, Schettino A, Robles CA. Pulmonary aspergillosis in a great rhea (Rhea americana). Avian Dis. 2002;46(3):754–6.

18.

Copetti MV, Segabinazi SD, Flores ML, Alves SH, Santurio JM. Pulmonary aspergillosis outbreak in Rhea americana in Southern Brazil. Mycopathologia. 2004;157(3):269–71.

19.

Perelman B, Kuttin ES. Aspergillosis in ostriches. Avian Pathol. 1992;21:159–63.

20.

Ghori HM, Edgar SA. Comparative susceptibility of chickens, turkeys, and Coturnix quail to aspergillosis. Poult Sci. 1973;52:2311–5.

21.

Ghori HM, Edgar SA. Comparative susceptibility and effect of mild Aspergillus fumigatus infection on three strains of chickens. Poult Sci. 1979;58(1):14–7.

22.

Arne P, Thierry S, Wang D, Deville M, Le Loch G, Desoutter A, Féménia F, Nieguitsila A, Huang W, Chermette R, Guillot J. Aspergillus fumigatus in poultry. Int J Microbiol. 2011;746356. doi:10.1155/2011/746356.

23.

Pitt JI, Hocking AD. Fungi and food spoilage. 3rd ed. New York: Springer; 2009.

24.

Jungerman PF, Schwartzman RM. Veterinary medical micology. Philadelphia: Lea & Fabiger; 1972.

25.

Kunkle RA. Fungal infections. In: Saif YM, editor. Diseases of poultry. Iowa: Iowa State Press; 2003. p. 883–95.

26.

Nardoni S, Ceccherelli R, Rossi G, Mancianti F. Aspergillosis in Larus cachinnans micaellis: survey of eight cases. Mycopathologia. 2006;161:317–21.

27.

Van Burik JA, Colven R, Spach DH. Cutaneous aspergillosis. J Clin Microbiol. 1998;36:3115–21.

28.

Perez J, Carrasco JP. Diagnóstico histopatológico de micosis em patologia veterinária. Rev Iberoam Micol. 2000;17:18–22.

29.

Tomee JFCH, Kauffman HF. Putative virulence factors of Aspergillus fumigatus. Clin Exp Allergy. 2000;30:476–84.

30.

Mycosis Bauck L. In: Ritchie BW, Harrison GJ, Harrison LR, editors. Avian medicine: principles and application. Lake Worth: Wingers; 1994. p. 998–1006.

31.

Garcia RG, Almeida-Paz ICL, Caldara FR, Nääs IA, Bueno LGF, Freita LW, Graciano JD, Sim S. Litter materials and the incidence of carcass lesions in broilers chickens. Braz J Poult Sci. 2012;14(1):27–32.

32.

Anonymous. Material safety data sheet for quick lime. Oldcastle industrial minerals. https://ehs.cranesville.com/msds.pdfs/MSDS(L012).pdf (2007). Accessed in Feb 2014.

33.

Coward RP, Casteel SW, Pace LW. Case study: dermal necrosis and mortality from alkali exposure in a group of finisher pigs. J Swine Health Prod. 2000;8(5):225–7.

34.

Abrams GA, Paul-Murphy J, Ramer JC, Murphy CJ. Aspergillus blepharitis and dermatitis in a peregrine falcon-gyrfalcon hybrid (Falco peregrinus × Falco rusticolus). J Avian Med Surg. 2001;15(2):114–20.

35.

Abou-Gabal M, Malik G. The role of Aspergillus fumigatus Fresenius in dermatitis of chickens. Mycosen. 1978;21(8):271–6.

36.

Chute HL, Richard JL. Fungal infections. In: Calnek BW, Barnes HJ, Beard CW, McDougald LR, Saif YM, editors. Diseases of poultry. 10th ed. Iowa: Iowa State University Press; 1997. p. 351–60.
About this article
Cite this article
Copetti, M.V., da Silva Barcelos, A., Kommers, G.D. et al. Cutaneous, Respiratory and Hepatic Aspergillosis in Brazilian White Pekin Mallards (Anas platyrhynchos). Mycopathologia 179, 321–325 (2015). https://doi.org/10.1007/s11046-014-9833-6
Received:

Accepted:

Published:

Issue Date:
Keywords
Mycotic disease

Systemic aspergillosis

Waterfowl

Aspergillus fumigatus
Aspergillus flavus