Abstract
Purpose
We report a case of mycotic keratitis caused by a rare fungus Schizophyllum commune.
Methods
Clinical examination, slit-lamp examination, and microbiological evaluation of the corneal ulcer were done, and its treatment outcome was studied. The fungal etiology was established by conventional microbiological techniques, polymerase chain reaction and speciation by DNA sequencing.
Results
Corneal scraping showed the presence of fungal filaments. The fungus was identified as S. commune based on DNA sequence analysis of the internal transcribed spacer region. The organism was susceptible to amphotericin B and voriconazole and demonstrated resistance to anidulafungin, itraconazole, and fluconazole. Therapeutic keratoplasty was performed but there was recurrence of the infection in the graft, which was controlled with topical voriconazole and intracameral amphotericin B. At the end of 3 months, the affected eye had developed phthisis bulbi.
Conclusion
The best of our knowledge, this is the first reported case of keratitis caused by the rare fungus S. commune. Management of these cases is difficult, and surgical procedures may be needed.
Access options
Buy single article
Instant access to the full article PDF.
US$ 39.95
Tax calculation will be finalised during checkout.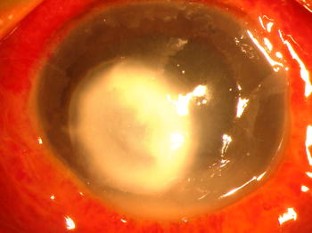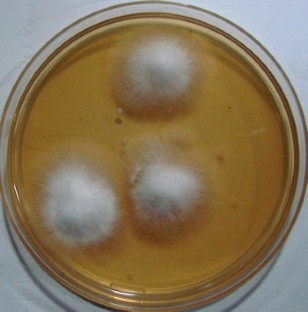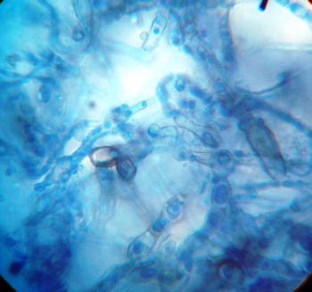 References
1.

Swain B, Panigrahy R, Panigrahi D. Schizophyllum commune sinusititis in an immunocompetent host. Indian J Med Microbiol. 2011;29(4):439–42.

2.

Gibertoni TB, Ryvarden L, Maria AC. New records of Aphyllophorales (Basidiomycota) in the Atlantic rain forest in Northeast Brazil. Acta Bot Bras. 2004;18:975–9.

3.

Kernl ME, Uecker FA. Maxillary sinus infection caused by the homobasidiomycetous fungus Schizophyllum commune. J Clin Microbiol. 1986;23:1001–5.

4.

Saha S, Banerjee D, Khetan A, Sengupta J. Epidemiological profile of fungal keratitis in urban population of West Bengal, India. Oman J Ophthalmol. 2009;2:114–8.

5.

Srinivasan M, Gonzales CA, George C, et al. Epidemiology and aetiological diagnosis of corneal ulceration in Madurai, South India. Br J Ophthalmol. 1997;81:965–71.

6.

Guarro J, Hofling-Lima AL, Gene J, et al. Corneal ulcer caused by the new fungal species Sarcopodium oculorum. J Clin Microbiol. 2002;40:3071–5.

7.

Guarro J, Vieira LA, De FD, et al. Phaeoisaria clematidis as a cause of keratomycosis. J Clin Microbiol. 2000;38:2434–7.

8.

Sigler L, Abbott SP. Characterizing and conserving diversity of filamentous basidiomycetes from human sources. Microbiol Cult Collect. 1997;13:21–7.

9.

Taguchi K, Oharaseki T, Yokouchi Y, Kawabata T, Wakayama M, Ogoshi T, et al. Allergic fungal sinusitis caused by Bipolaris spicifera and Schizophyllum commune. Med Mycol. 2007;45:559–64.

10.

Rihs JD, Padhye AA, Good CB. Brain abscess caused by Schizophyllum commune: an emerging basidiomycete pathogen. J Clin Microbiol. 1996;34:1628–32.

11.

Greer DL. Basidiomycetes as agent of human infection: a review. Mycopathologia. 1977;65:133–9.

12.

Saha S, Sengupta J, Banerjee D, Khetan A. Lasiodiplodia theobromae Keratitis: a case report and review of literature. mycopathologia. DOI 10.1007/s11046-012-9546-7.

13.

Nobles MK. Identification of cultures of wood inhabiting hymenomycetes. Can J Bot. 1965;43:1097–9.

14.

Peric A, Vojvodic D, Zolotarevski L, Peric A. Nasal polyposis and fungal Schizophyllum Commune infection: a case report. Acta Medica. 2011;54:83–6.

15.

Baron O, Cassang S, Percodani J, et al. Nucleotide sequencing for diagnosis of sinusal infection by Schizophyllum commune, an uncommon pathogenic mucus. J Clin Microbiol. 2006;44:3042–3.
About this article
Cite this article
Saha, S., Sengupta, J., Banerjee, D. et al. Schizophyllum commune: A New Organism in Eye Infection. Mycopathologia 175, 357–360 (2013). https://doi.org/10.1007/s11046-013-9625-4
Received:

Accepted:

Published:

Issue Date:
Keywords
Voriconazole

Keratitis

Anidulafungin

Natamycin

Fungal Keratitis