Abstract
Pseudocercospora griseola is the causal agent of angular leaf spot of common bean (ALS). It has undergone parallel coevolution with its host and two major groups have been defined, "Andean" (P. griseola f. griseola) and "Mesoamerican" (P. griseola f. mesoamericana). The aim of this study was to analyze the nature and the level of the dark pigment synthesized by the representatives of each group. After 21 days of incubation on potato dextrose agar medium, P. griseola f. griseola isolate S3b developed colonies with diameters of 17.5 ± 1.3 mm and concentric rings of pigmentation. Isolate T4 of P. griseola f. mesoamericana presented smaller colonies (9.9 ± 0.3 mm) with a uniform dark-gray color. Both isolates, S3b and T4, produced the same pigment, a 1,8-dihydroxynaphthalene-melanin, although different in quantity and structural features as suggested by the IR spectrum. The P. griseola f. griseola isolate S3b had a higher growth rate and melanin content as well as smaller sensitivity to melanin synthesis inhibitors compared to the isolate T4 of P. griseola f. mesoamericana. These results suggest a possible link between melanin and growth in P. griseola.
This is a preview of subscription content,
to check access.
Access this article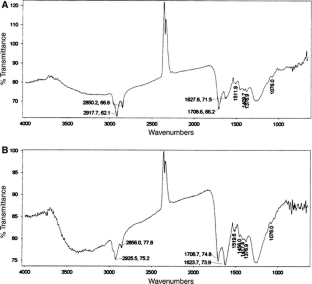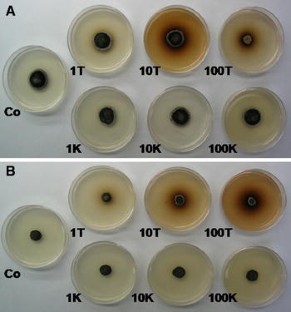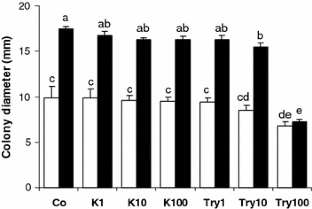 References
Schwartz HF, Gálvez GE. Problemas de producción del frijol: Enfermedades, insectos, limitaciones edáficas y climáticas de Phaseolus vulgaris. Cali: Centro Internacional de Agricultura Tropical (CIAT); 1980. 344 pp.

Schwartz HF, Pastor-Corrales MA, Singh SP. New sources of resistance to anthracnose and angular leaf spot of beans (Phaseolus vulgaris L.). Euphytica. 1982;31:741–54. doi:10.1007/BF00039213.

Cardona C, Flor CA, Morales FJ, Pastor-Corrales MA. Problemas de campo en los cultivos de frijol en el trópico. Cali: Centro Internacional de Agricultura Tropical (CIAT); 1997. 220 pp. ISSN: 958-9183-55-7.

Ellis MB. Dematiaceus hyphomycetes. Kew England: Commonwealth Mycological Institute; 1971.

Crous PW, Liebenberg MM, Braun U, Groenewald JZ. Re-evaluating the taxonomic status of Phaeoisariopsis griseola, the causal agent of angular leaf spot of bean. Stud Mycol. 2006;55:163–73.

Silvera CGA. Evaluación de la resistencia de frijol a la mancha angular, algunos aspectos fisiológicos de Isariopsis griseola Sacc. y patogenicidad de algunas cepas colectadas en Costa Rica. MSc Thesis, Intituto Interamericano de Ciencias Agrícolas de OEA, Turrialba; 1967.

Stenglein SA. Mancha angular del poroto. Variabilidad del agente etiológico Phaeoisariopsis griseola y tolerancia de Phaseolus vulgaris var. aborigineus. Tesis doctoral. Escuela para Graduados. Facultad de Agronomía, Universidad de Buenos Aires; 2007. 203 pp.

Fermoselle GE, Saparrat MCN, Balatti PA. Diversidad genética y morfológica de aislamientos de Phaeoisariopsis griseola. Libro de Resúmenes del XI Congreso Argentino de Microbiología. Rev Argent Microbiol. 2007;39(Suplemento 1):54.

Goodwin SB, Dunkle LD, Zismann VL. Phylogenetic analysis of Cercospora and Mycosphaerella based on the internal transcribed spacer region of ribosomal DNA. Phytopathology. 2001;91:648–58. doi:10.1094/PHYTO.2001.91.7.648.

Crous PW, Wingfield MJ, Mansilla JP, Alfenas AC, Groenewald JZ. Phylogenetic reassessment of Mycosphaerella spp. and their anamorphs occurring on Eucalyptus. II. Stud Mycol. 2006;55:99–131.

Cooke RC, Whipps JM. Ecophysiology of fungi. London: Blackwell Scientific Publications; 1993. 337 pp.

Moore-Landecker E. Fundamentals of the fungi. 4th ed. New Jersey: Prentice Hall; 1996.

Henson JM, Butler MJ, Day AW. The dark side of the mycelium: melanins of phytopathogenic fungi. Annu Rev Phytopathol. 1999;37:447–71. doi:10.1146/annurev.phyto.37.1.447.

Chaskes S, Frases S, Cammer M, Gerfen G, Casadevall A. Growth and pigment production on D-tryptophan medium by Cryptococcus gattii, Cryptococcus neoformans, and Candida albicans. J Clin Microbiol. 2008;46:255–64. doi:10.1128/JCM.01721-07.

Bell AA, Wheeler MH. Biosynthesis and functions of fungal melanins. Annu Rev Phytopathol. 1986;24:411–51. doi:10.1146/annurev.py.24.090186.002211.

Onofri S, Barreca D, Selbmann L, Isola D, Rabbow E, Horneck G, et al. Resistance of Antarctic black fungi and cryptoendolithic communities to simulated space and Martian conditions. Stud Mycol. 2008;61:99–109.

Singaravelan N, Grishkan I, Beharav A, Wakamatsu K, Ito S, Nevo E. Adaptive melanin response of the soil fungus Aspergillus niger to UV radiation stress at "Evolution Canyon", Mount Carmel, Israel. PLoS ONE. 2008;3(8):e2993. doi:10.1371/journal.pone.0002993.

Taborda CP, da Silva MB, Nosanchuk JD, Travassos LR. Melanin as a virulence factor of Paracoccidioides brasiliensis and other dimorphic pathogenic fungi: a minireview. Mycopathologia. 2008;165:331–9.

Carzaniga R, Fiocco D, Bowyer P, O'Connell RJ. Localization of melanin in conidia of Alternaria alternata using phage display antibodies. Mol Plant Microbe Interact. 2002;15:216–24. doi:10.1094/MPMI.2002.15.3.216.

Yurlova NA, de Hoog GS, Fedorova LG. The influence of ortho- and para-diphenoloxidase substrates on pigment formation in black yeast-like fungi. Stud Mycol. 2008;61:39–49.

Stenglein SA, Balatti PA. Genetic diversity of Phaeoisariopsis griseola in Argentina as revealed by pathogenic and molecular markers. Physiol Mol Plant Pathol. 2006;68:158–67. doi:10.1016/j.pmpp.2006.10.001.

Gadd GM. Effects of media composition and light on colony differentiation and melanin synthesis in Microdochium bolleyi. Trans Br Mycol Soc. 1982;78:115–22.

Suryanarayanan TS, Ravishankar JP, Venkatesan G, Murali TS. Characterization of the melanin pigment of a cosmopolitan fungal endophyte. Mycol Res. 2004;108:974–8. doi:10.1017/S0953756204000619.

Loganathan P, Paramasivan P, Kalyanasundaram I. Melanin as the spore wall pigment of some myxomycetes. Mycol Res. 1989;92:286–92.

Elliott ML. Effect of melanin biosynthesis inhibiting compounds on Gaeumannomyces species. Mycologia. 1995;87:370–4. doi:10.2307/3760835.

Saparrat MCN, Arambarri AM, Balatti PA. Growth and extracellular laccase production in liquid cultures of Minimidochium parvum LPSC # 548 strain. Bol Soc Argent Bot. 2007;42:39–44.

Lee I-Y, Jung K-H, Lee C-H, Park Y-H. Enhanced production of laccase in Trametes versicolor by the addition of ethanol. Biotechnol Lett. 1999;21:965–8. doi:10.1023/A:1005646812381.

Babitskaya VG, Shcherba VV, Filimonova TV, Grigorchuk EA. Melanin pigments from the fungi Paecilomyces variotii and Aspergillus carbonarius. Appl Biochem Microbiol. 2000;36:128–33. doi:10.1007/BF02737906.

Ratto M, Chatani M, Ritschkoff AC, Viikari L. Screening of micro-organisms for decolorization of melanins produced by bluestain fungi. Appl Microbiol Biotechnol. 2001;55(2):210–3. doi:10.1007/s002530000516.

Saparrat MCN, Hammer E. Decolorization of synthetic dyes by the deuteromycete Pestalotiopsis guepinii CLPS no. 786 strain. J Basic Microbiol. 2006;46:28–33. doi:10.1002/jobm.200410543.

Ellis DH, Griffiths DA. The location and analysis of melanins in the cell walls of some soil fungi. Can J Microbiol. 1974;20:1379–86.

Amany H, Ellil AA. Melanin inhibitors and dicarboximide interconversion in some phytopathogenic fungi. Egypt J Phytopathol. 2005;33(1):21–32.

Kukulyanskaya TA, Kurchenko NV, Kurchenko VP, Babitskaya VG. Physicochemical properties of melanins produced by the sterile form of Inonotus obliquus ("Chagi") in natural and cultivated fungus. Appl Biochem Microbiol. 2002;38:58–61. doi:10.1023/A:1013204706055.

Hampson MC, Amarowicz R, Shahidi F. The presence of melanin in Synchytrium endobioticum. Mycologia. 1996;88:647–50. doi:10.2307/3761161.

Lanisnik Rizner T, Wheeler MH. Melanin biosynthesis in the fungus Curvularia lunata (teleomorph: Cochliobolus lunatus). Can J Microbiol. 2003;49:110–9. doi:10.1139/w03-016.

Brush L, Money NP. Invasive hyphal growth in Wangiella dermatitidis is induced by stab inoculation and shows dependence upon melanin biosynthesis. Fungal Genet Biol. 1999;28:190–200. doi:10.1006/fgbi.1999.1176.

Frederick BA, Caesar-TonThat TC, Wheeler MH, Sheehan KB, Edens WA, Henson JM. Isolation and characterisation of Gaeumannomyces graminis var. graminis melanin mutants. Mycol Res. 1999;103:99–110. doi:10.1017/S0953756298006959.

Tsuji G, Sugahara T, Fujii I, Mori Y, Ebizuba Y, Shiraishi T, et al. Evidence for involvement of two naphthol reductases in the first reduction step of melanin biosynthesis pathway of Colletotrichum lagenarium. Mycol Res. 2003;107:854–60. doi:10.1017/S0953756203008001.

Edens WA, Goins T, Dooley Q, Henson JM. Purification and characterization of a secreted laccase of Gaeumannomyces graminis var tritici. Appl Environ Microbiol. 1999;65:3071–4.

Kishore KH, Sanjit K, Sunil M, Reddy CR, Murty US. Comparative chemical characterization of pigmented and less pigmented cell walls of Alternaria tenuissima. Curr Microbiol. 2005;51:399–401. doi:10.1007/s00284-005-0098-7.

Heinzkill M, Messner K. The ligninolytic system of fungi. In: Anke T, editor. Fungal biotechnology. Weinheim: Chapman & Hall; 1997. p. 213–227. ISBN: 3-8261-0090-5.

Evans CS. Enzymes of lignin degradation. In: Betts WB, editor. Biodegradation: natural and synthetic materials. Berlin: Springer-Verlag; 1991. p. 175–184. ISBN: 3-540-19705-2.
Acknowledgments
Saparrat, M. C. N. and Stenglein, S. A. are researchers from the Consejo Nacional de Investigaciones Científicas y Técnicas (CONICET), Argentina. Balatti, P. A. is a researcher from the Comisión de Investigaciones Científicas de la Provincia de Buenos Aires (CICBA), Argentina. This research was partially supported by grants from CONICET, CICBA, UNLP (A173 Project), Argentina.
About this article
Cite this article
Saparrat, M.C.N., Fermoselle, G.E., Stenglein, S.A. et al. Pseudocercospora griseola Causing Angular Leaf Spot on Phaseolus vulgaris Produces 1,8-Dihydroxynaphthalene-Melanin. Mycopathologia 168, 41–47 (2009). https://doi.org/10.1007/s11046-009-9194-8
Received:

Accepted:

Published:

Issue Date:

DOI: https://doi.org/10.1007/s11046-009-9194-8
Keywords